Volcanoes and Cultures - Adventures in the South Sea
15-day volcano and photo expedition to Ambrym and Yasur volcanoes, Vanuatu
"Your Vanuatu Volcano tour was a fantastic mix of hard core volcanoes and cultural Vanuatu life." (Shellie B., Australia)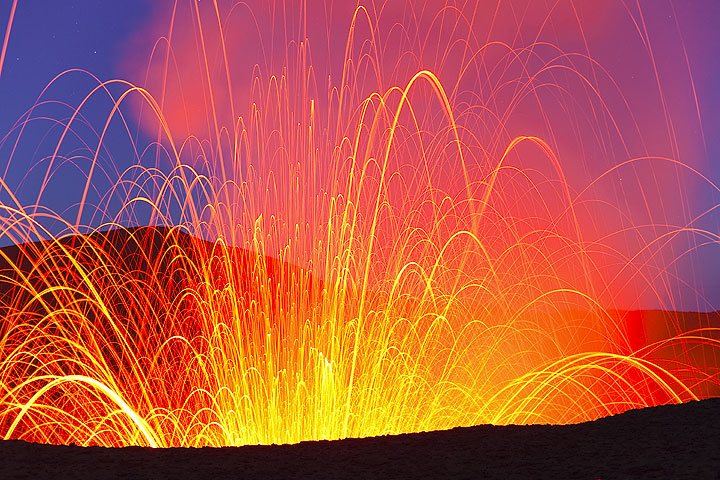 Strombolian activity of Yasur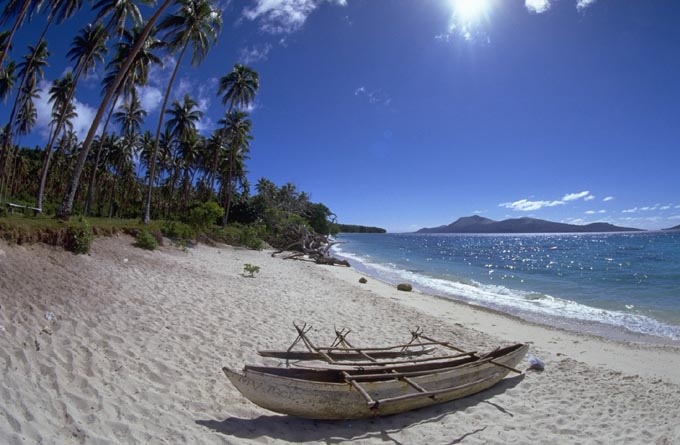 Beach on Ambrym (Photo: Marco Fulle)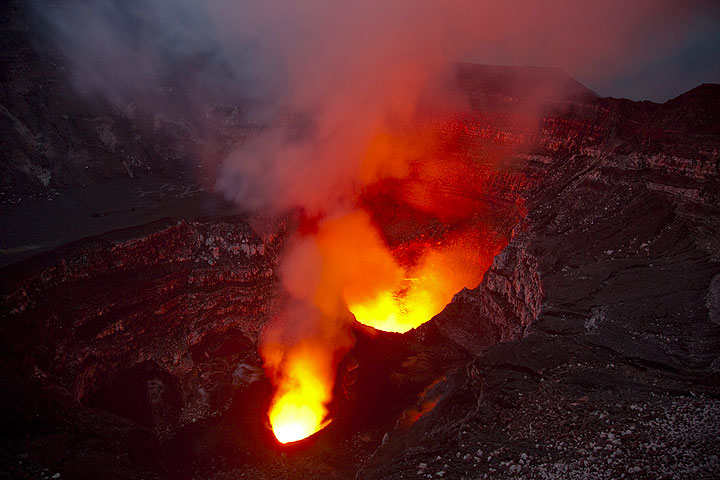 The active vents in Benbow crater, in 2017 (Ambrym volcano)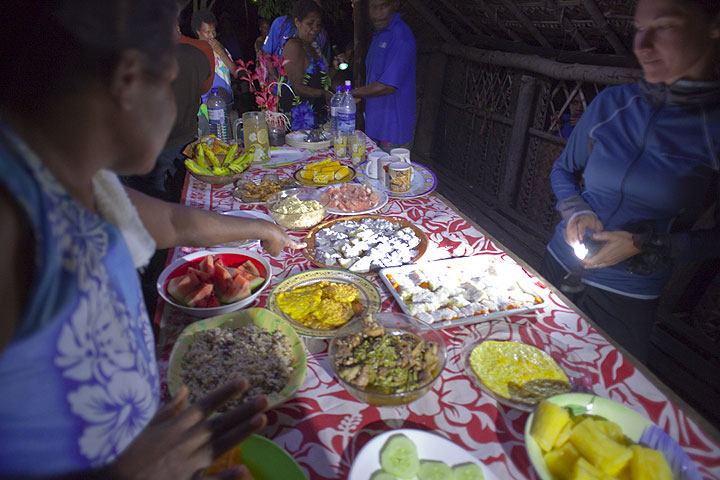 Traditional food in Lalinda (Ambrym)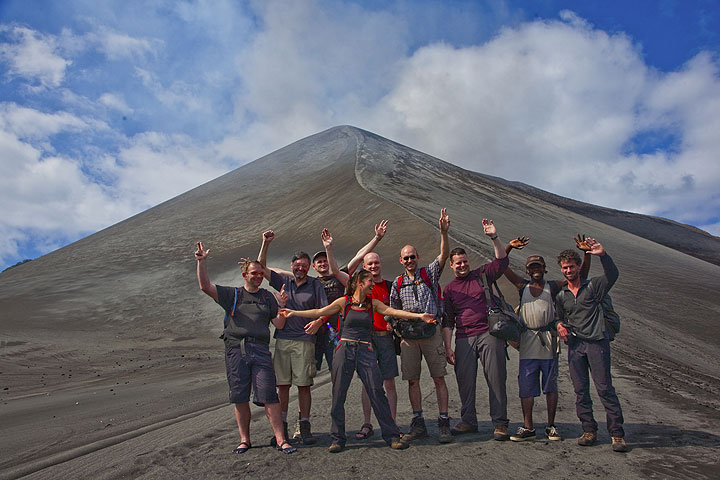 Group at Yasur volcano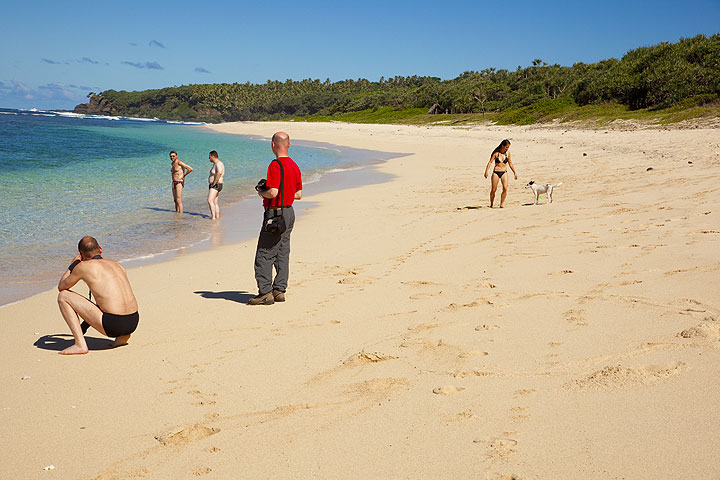 Port Resolution beach break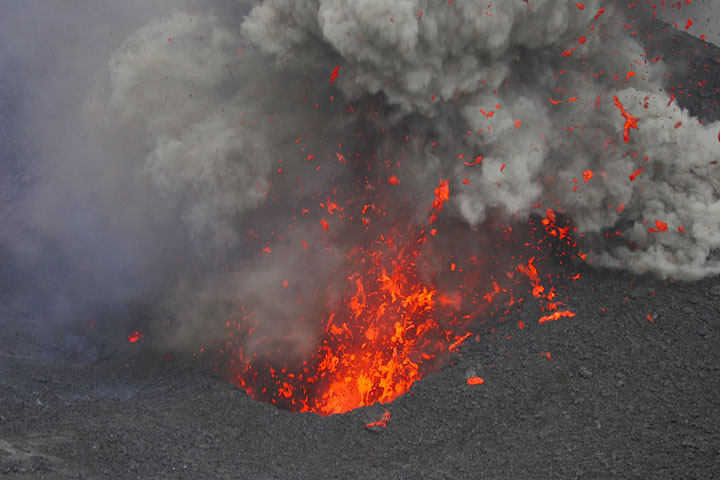 Strombolian activity at Yasur volcano
Yashmin at the lava lake of Marum2017 (Ambrym)
Group at a guesthouse in Tanna Island (photo: Yashmin Chebli)
Custom dance (photo: Yashmin Chebli)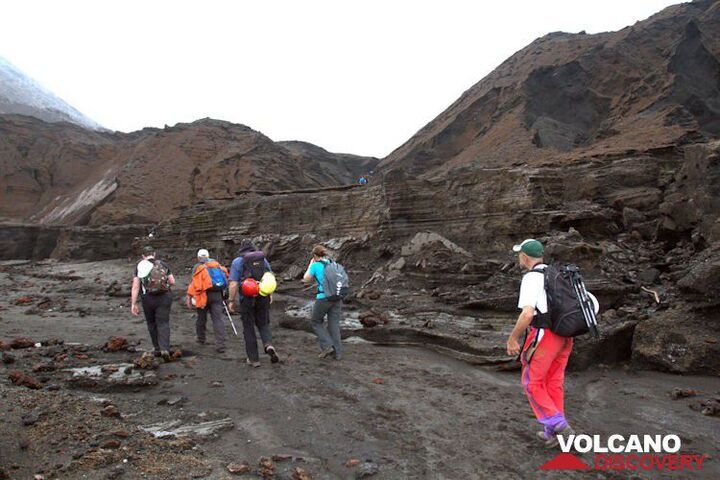 Group walking through the Ambrym caldera (photo: Yashmin Chebli)
Are you ready for adventure?
The contrast between unspoiled rain-forest, coconut palm beaches, primitive culture and moon-like landscapes surrounding lava-spitting volcanoes could not be bigger: join us on an expedition to the two most active volcanoes of Vanuatu: Ambrym and Yasur.
The expedition is also an immersion into the diverse and rich traditional culture of the islands, the daily life in remote jungle villages where you meet the very hospitable and welcoming people of Vanuatu.
A great mix of adventure, breathtaking landscapes, unspoiled tropical beaches, friendly people and exotic culture awaits you.
Multiple days for close observation of the active volcanoes Ambrym and Yasur
Option to abseil into Bembow crater on Ambrym
Charter flight Port Vila to Ambrym with scenic rounds over Lopevi and Ambrym volcano for aerial photography
Breathtaking moonscapes, unspoiled rainforests, pristine beaches
Intense experience of traditional life and culture of Vanuatu
Delicious food (rich buffets with roasted pig and chicken, vegetables, tropical fruits etc)
Custom dances and local music
Small groups
Accompanying geologist/volcanologist expert in Vanuatu's volcanoes
Tanna + Ambrym 15 days (itinerary when no lava lakes on Ambrym)
Day 1:

Arrival on Vanuatu (Port Vila, Efate Island)

Arrival at the Airport of Port Vila & transfer to Port Vila town.
Day 2:

Flight to Tanna - Transfer to Yasur volcano

In the morning, we fly to Tanna island. A 4WD pick-up brings us accross the island to a simple, but charming guesthouse

directly at the feet of Mt. Yasur

volcano. After lunch, we drive and hike to Yasur volcano to enjoy its

spectacular volcanic activity from close

, as long as we wish...
Day 3:

Day-trip to Port Resolution beach & Yasur volcano

Relaxing day-trip to

Port Resolution

combined with a magnificent lunch on one of the world's most beautiful beaches... Visit of

Yasur volcano

for sunrise/sunset.
Day 4:

Custom dances of Imao - John Frum village - Yasur

Optional early morning / sunrise excursion to

Yasur volcano

. Walk to the

village of Imao

to see

unique custom dances

with an

amazing panoramic view on Yasur volcano.

After lunch, transfer to the

village of John Frum

: meeting (and lunch) with village chief; side-trip to

Sulfur Bay at the foot of Yasur to bathe in hot springs

, visit of the local museum dedicated to the memory of John Frum.

If this falls on Friday, option to assist the all-night long dancing celebrations

. Option to visit Yasur volcano again in the evening / night.
Day 5:

Flight Tanna - Port Vila, free afternoon

Optional morning visit to

Yasur volcano

.

Transfer to airport, flight Tanna - Port Vila. Transfer to the hotel, free lunch & afternoon. Farewell dinner at the seafront (not included).
Day 6:

Flight PV to Ambrym. Port Vato

Flight to Ambrym. Panoramic flight in a private charter to see the Lopevi volcano and fly over the Ambrym caldera (Weather permitting). Road to the village of Port-Vato and welcome ceremony. Possibility to discover the spectacular customary dances, ROM DANCE from the north of the island. Dinner with local music. Accommodation in very simple homestay accommodation. bamboo bed or on traditional mats. Normally simple accommodation but with a lot of charm in a village family. (The charm of the accommodation is not guaranteed this year because Ambrym suffered a very strong cyclone in March 2020, so the reconstruction of the houses can take several months or a year).
Day 7:

Hike into the Ambrym caldera

Hike with porters into the caldera of Ambrym, set up base camp.
Day 8-9:

2 spare days on Ambrym

Depending on conditions and preferences, these 2 days could be used for additional excursions in the caldera or in one of the villages of Ambrym.
Day 10:

Crossing of the caldera - descend to Endu

Cross the entire caldera and descend to the east coast of the island to the charming and unspoiled village of Endu on the east coast, where you'll be welcomed with lots of smiles. A

welcome ceremony and a wonderful local dinner

wait for you.
Day 11-12:

Culture and Traditions of Endu

Two full days to discover the traditional culture and life of the

village Endu

: visit the schools, see dances, magic, medicine, local crafts and assist the preparation of the pig - the highest of ceremonial meals.
Day 13:

Endu - Lopevi volcano and lava tubes - flight back to Port Vila

Transfer early morning to Toak or Penapo village; views of

Lopevi stratovolcano

. Discover the famous tradition and art of

sand-drawing of Toak, a declared Unesco immaterial heritage.

On the way to the airport, visit lava tubes in Penapo; refreshment and flight back to Port Vila. After transfer to the previous hotel.
Day 14:

Tour around Efate island

Day-tour to explore Efate island: visit a famous waterfall and the "Blue Hole".
Day 15:

End of tour

Transfer to airport or own extension (recommended: 1-day tour on Efate).
Arrival info:
The tour starts and ends in the capital Port Vila on Efate Island where international flights arrive (usually from Brisbane or Sydney in Australia or via Aukland New Zealand). Participants normally arrange their own flight tickets, but on request we can help with that.
Tour type:
Volcano expedition: photography - active volcanoes - nature & culture
Difficulty:
Moderate
Group size:
4-10
Duration:
15 days / 14 nights
Dates:
2-16 Jul 2023
Price (per person): 4150 € $£¥
Included:
All transfers as described in the itinerary
Charter flight Port Vila to Ambrym with scenic rounds over Lopevi and Ambrym volcanoes (great for aerial shots!) (min 4 participants)
Domestic flights between Efate, Ambrym and Tanna
Full board on Vanuatu (including table water) except a few meals as specified
Accommodation in guesthouses, hotels and camping
Porters, camp hands and local guides
Camp kitchen
Entry fees for villages, the Ambrym caldera etc
Up to 4 visits to Yasur volcano (additional visits at extra cost)
Volcanologist guide / expedition organizer (Yashmin Chebli)
Tour guide:
The expedition will be accompanied by VolcanoDiscovery team volcanologist
Yashmin Chebli
. Yashmin is trained geologist with a university Master's degree and member of SGF (Société Géologique de France). He has been working as tour guide and expedition leader to actives volcanoes, volcano photographer and consultant for more than 30 years. His areas of expertise include the active volcanoes in Italy, Vanuatu, the Hawaiian Islands, Guatemala, RD of Congo, Tanzania, Costa Rica and others. Besides his mother tongue French, Yashmin speaks several languages including English, Italian, and Spanish.
Website:
www.vanuatu-expedition.com
(photos) and
Youtube channel
!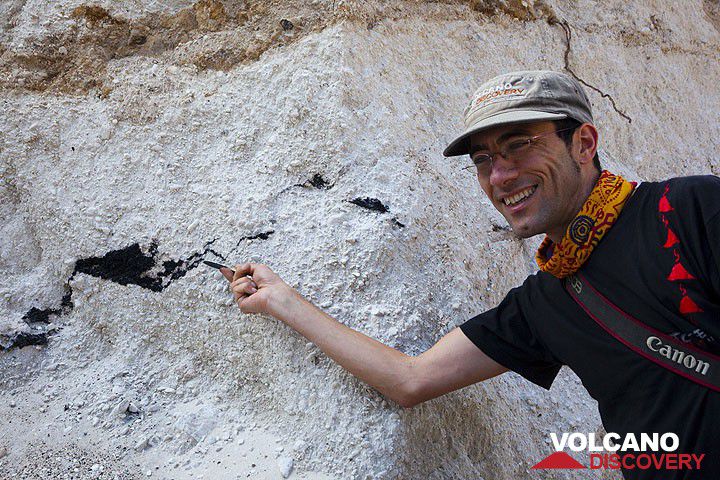 Yashmin Chebli explaining a pumice deposit
Important note:
Early booking essential:
Due to the limited availability of flights and numerous logistic challenges involved in this expedition, you should sign up
at least 6 months in advance
. This is also normally the date when we need to decide whether or not a tour can run.
Tour photos: