Colors of Iceland: Fire, Earth, Ice & Water
15-day geology and photo tour to Iceland
I rate this trip as the best guided tour we have yet done (Eric C., Orange, Australia)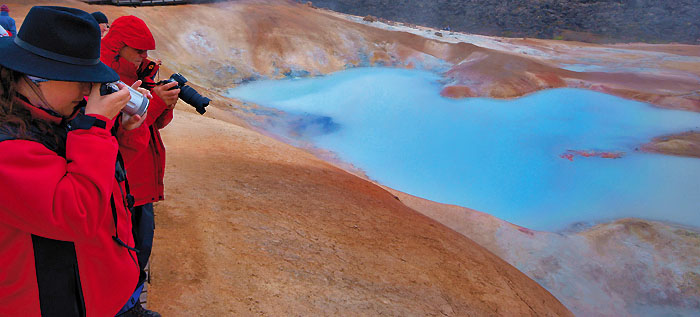 Solfatara at the eruptive fissure of Krafla volcano (north Iceland)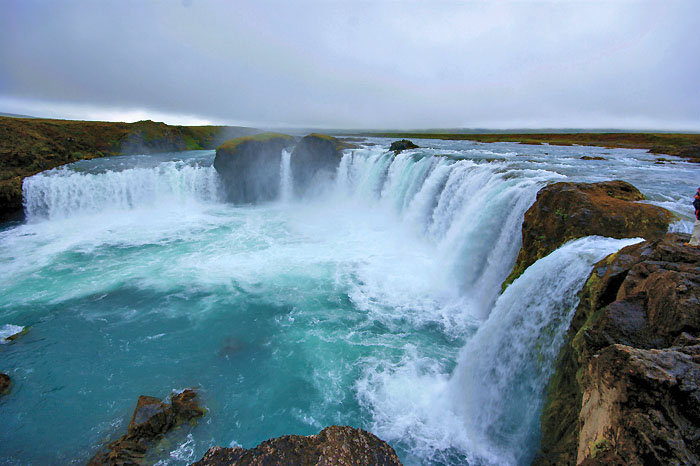 Godafoss - the waterfall of the gods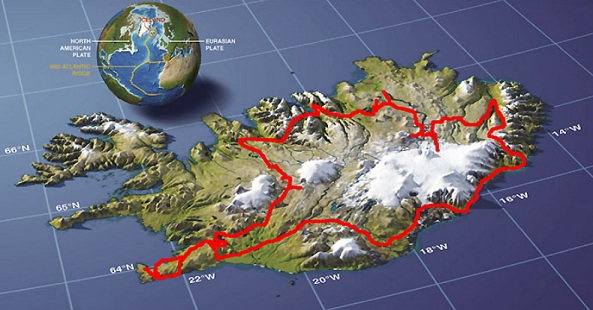 Tour itinerary around Iceland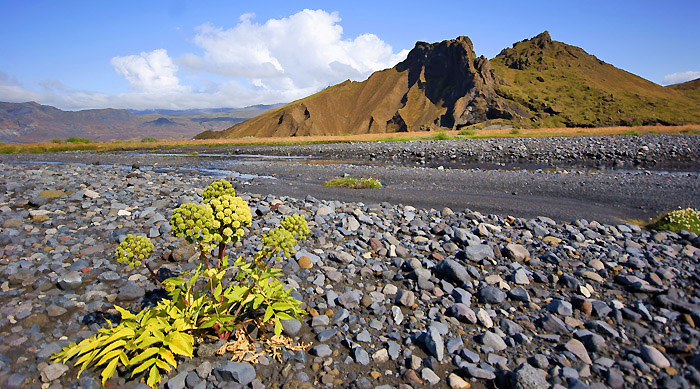 Thorsmörk valley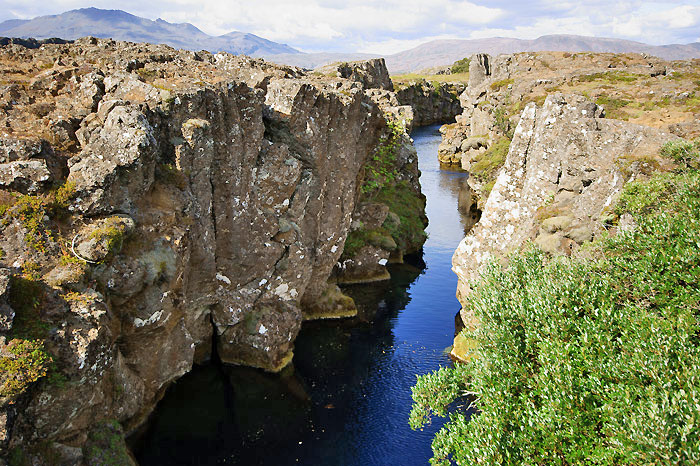 Thingvellir - the ancient Icelandic parliament's site, and the place where the European and American tectonic plates spread apart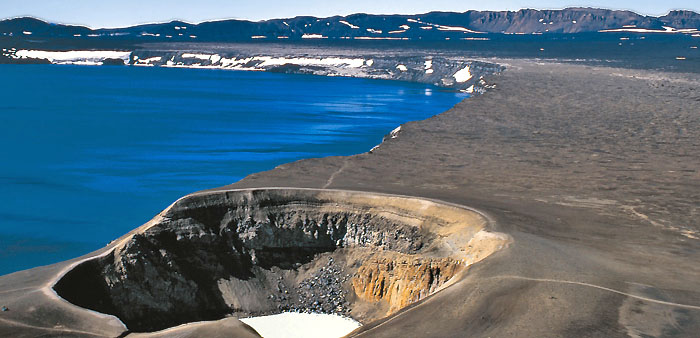 The large volcanic massif of Dynjufjöll in the center of Iceland with the young Öskjuvatn Lake and explosion crater Viti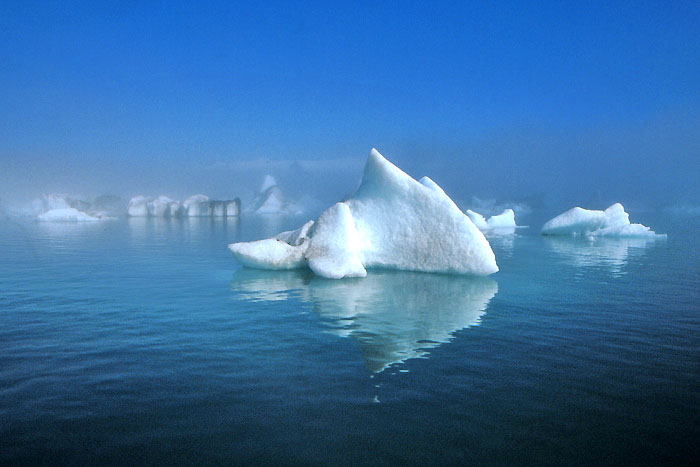 Ice lagoon at the foot of Vatnajökull glacier
Puffin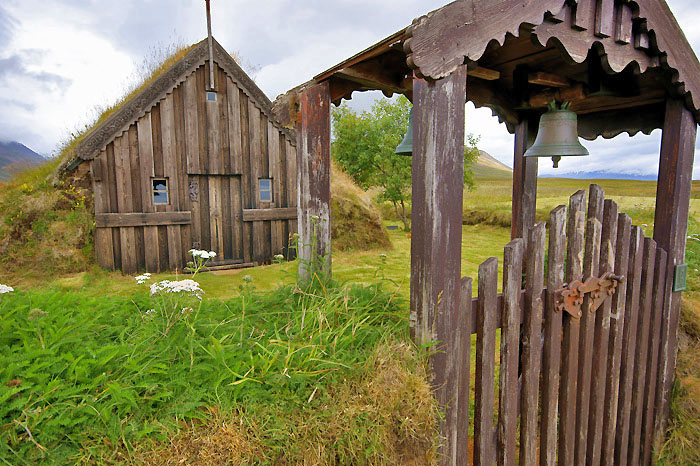 Grafakirkja - the oldest church of Iceland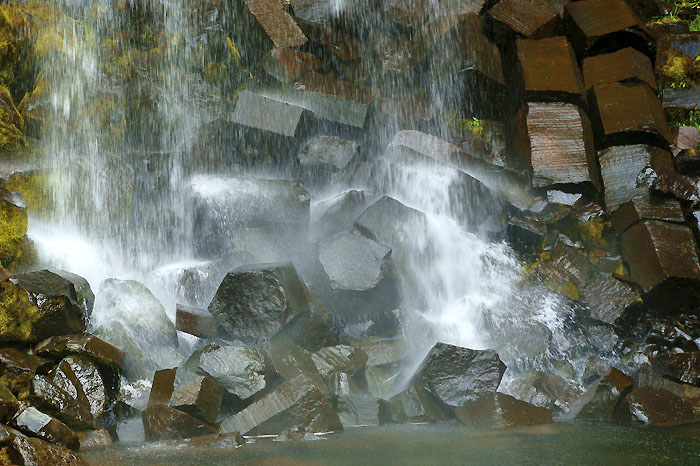 Svartifoss waterfall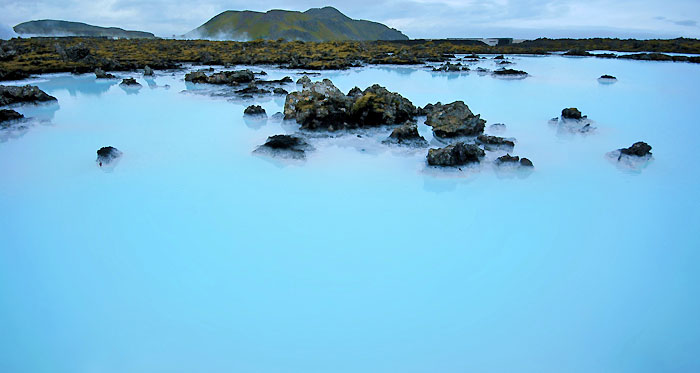 Blaá Lonid - the Blue Lagoon is a unique spa experience

Hiking on Iceland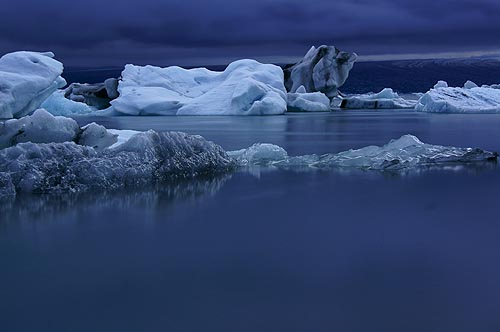 Icebergs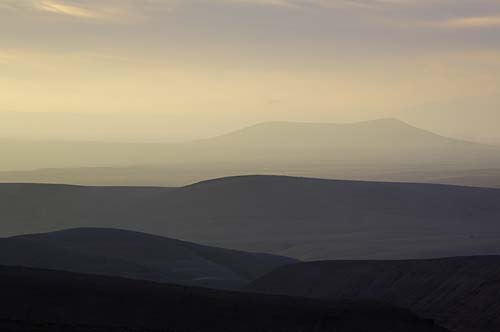 Highlands
Highlands
Naumaskard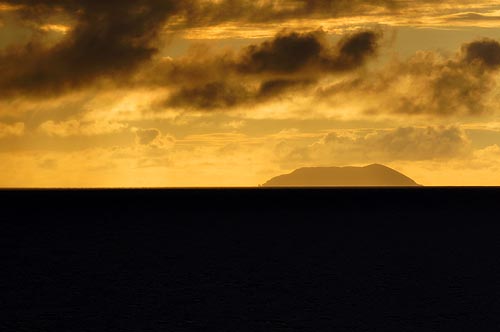 Surtsey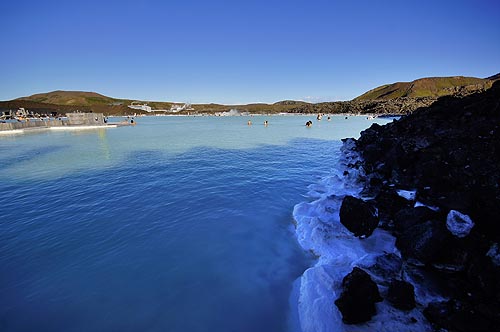 Geothermal pools at the Blue Lagoon
A world of surprising contrasts, incredible colors and natural impressions!
Mighty waterfalls, hot pools and geysers, giant glaciers , ... Explore the variety of Iceland´s landscapes learn how they were formed through tectonic plates drifting apart and different types of volcanism.
Round trip of Iceland including all natural highlights
Extraordinary landscapes and colourful moonscapes
Unique fauna and flora
Glaciers, volcanoes, geothermal fields, geysirs, waterfalls,...
Competent introduction to Iceland's unique geological history
Adventures into the wildernesses of Iceland's interior
Experienced volcanologist and photographer as tour guide
Small international groups
15 days Iceland (summer)
Day 1:

Arrival & meeting in Reykjavik

Arrival in Iceland, Keflavik airport and own transfer (25 km) to the guesthouse in central Reykjavik (by regular flybus or taxi). Meeting of the group in the evening (around 8 pm).
Day 2:

From Reykjavik via Geysir / Gullfoss to Kerlingarfjöll

Some first day natural highlights whilst traveling from Reykjavik via Geysir / Gullfoss to Kerlingarfjöll!
Day 3:

Kerlingarfjöll - the golden mountains

Easy hikes in the geothermally active area of Kerlingarfjöll, one of Iceland's most spectacular landscapes and known for its multi-colored and bizarre rock formations, geysers, warm ponds, and fumaroles.
Day 4:

Kerlingarfjöll - Dalvik

the thermal area of Hveravellir – a fascinating world of hot thermal springs, where we can take a hot bath. Continue via to small village of Hofsós and admire particularly slender basalt columns on the coast. Next is a wonderful scenic drive around the large Tröllaskagi Peninsula and through the dreamy fishing villages Siglufjördur and Olafsfjördur to Dalvik.
Day 5:

Whale-Watching - Godafoss waterfall - Mývatn

After breakfast go for whale-watching in the large Eyafjördur near Dalvik (optional 75 EUR).

Continue Akureyri to the legendary horseshoe-shaped Goðafoss waterfall, whose waters cascade dramatically over several parallel steps into the depths of a gorge. Discover the natural beauties around Mývatn lake, a place full of unique volcanic features: pseudo-craters, deep fissures, explosion craters, ancient lava lakes and much more.
Day 6:

Dettifoss and Malefactor Desert

Drive to the the huge Dettifoss waterfall to discover one of the most pristine glacial river landscapes in the world. Continue our way to the south to Askja volcano and take a hike inside the huge Askja caldera to visit Víti crater created in 1875. Visit nearby Öskjuvatn, the deepest lake in Iceland and return to Myvatn in the late afternoon.
Day 7:

Húsavik- Dettifoss and Puffin

Drive to the great glacial gorge of Ásbyrgi via Húsavik on the north coast and on to Dettifoss, the most powerful waterfall in Europe. In the afternoon continue to Bakkagerdi, where one of the world's best observation sites for puffins is located (sightings possible until about August 5).
Day 8:

Off to East Iceland

Сontinue to the East fjords with their dramatic landscape.
Day 9:

Waterfalls and icebergs

On the way to the South the waterfalls visit at the Öxi Pass. Continue the way and watch the wide delta of the glacier river Jökulsáí Lóni in the afternoon, home to thousands of whooper swans in summer. In the evening take an excursion to the fascinating ice world of the Jökulsárlón Glacier Lagoon.
Day 10:

Waterfalls and icebergs

Day to explore the wonderland created by larger and smaller glacier tongues and lagoons of the region. Additional visit of Jökulsárlón Glacier Lagoon in the evening when light is best for photography.
Day 11:

Via Skaftafell to Landmannalaugar - mountains, glaciers and volcanoes

From the glacier lagoon onwards to explore Skaftafell national park with Svartifoss waterfall before traveling to the southern highlands and arriving at Landmannalaugar.
Day 12:

Landmannalaugar - colourful mountains and hot springs

Entire day to explore the colourful scenery of Landmannalaugar and the area´s hot springs.
Day 13:

From Landmannalaugar to Cape Dyrhólaey

Drive back to the south coast for a second chance to admire and photograph the magnificent mountain landscape in a better light. Continue to Cape Dyrhólaey, the huge rock arch at the southern tip of Iceland, and stroll around the large black beach Reynisfjara in the afternoon and evening, located right near our guest house.
Day 14:

Return to Reykjavik

On the way back to Reykjavik, the visit of two large, beautiful waterfalls Skogarfoss and Seljalandsfoss at the feet of infamous Eyafjallajökull volcano.
Day 15:

Departure from Iceland

Own transfer to the airport in time for your flight.
Arrival info:
The tour starts and ends in Reykjavik. Flights are not included by default, because participants come from different countries. On request, we can include your flight to Iceland.
Tour type:
Photography tour: geology & volcanism - photography - wildlife
Difficulty:
Moderate
Group size:
5-7
Duration:
15 days / 14 nights
Dates:
16-30 Jul 2022
Price (per person): 3925 € $£¥
Included:
All transfers in private spacious 4x4 bus from Reykjavik to Reykjavik
Accommodation (in guesthouses, sleeping bag accommodation and mountain huts)
Experienced geologist & photographer as tour guide
Full board from D2 to D14 (breakfast B, lunch L, dinner D)
Tour guide
This tour is organised by German volcanologist and photographer Chris Hug-Fleck who has extensively traveled in Iceland, the Azores and many other volcanic destinations over the past 30 years. As a result, he has guided many tours there and published a number of geological and photographic textbooks on this fascinating country.
Volcanologist and photographer Chris Hug-Fleck who organises and guides the Iceland volcano adventures.