Colors of Iceland: Fire, Earth, Ice & Water
15-day geology and photo tour to Iceland
I rate this trip as the best guided tour we have yet done (Eric C., Orange, Australia)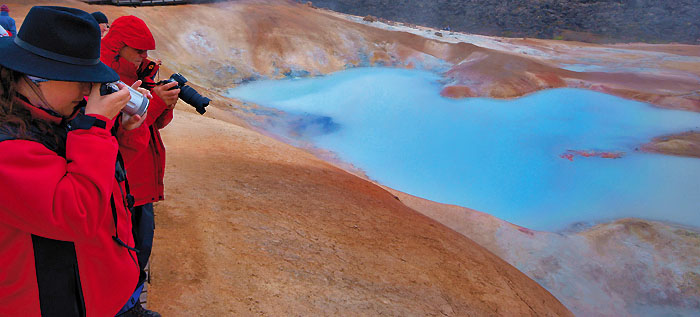 Solfatara at the eruptive fissure of Krafla volcano (north Iceland)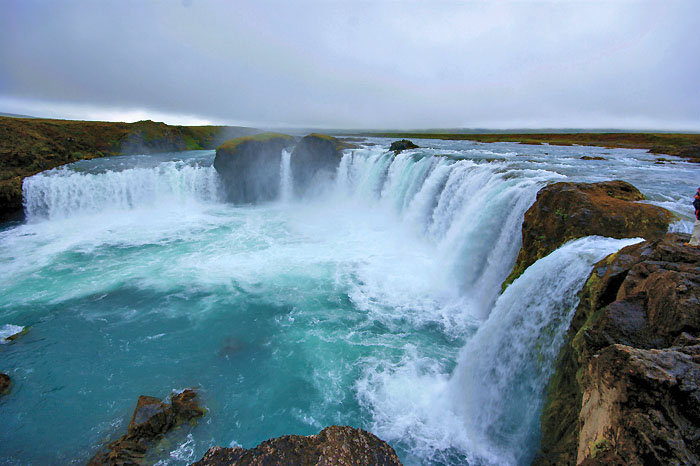 Godafoss - the waterfall of the gods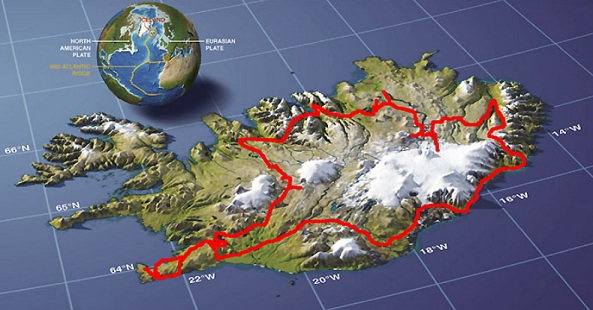 Tour itinerary around Iceland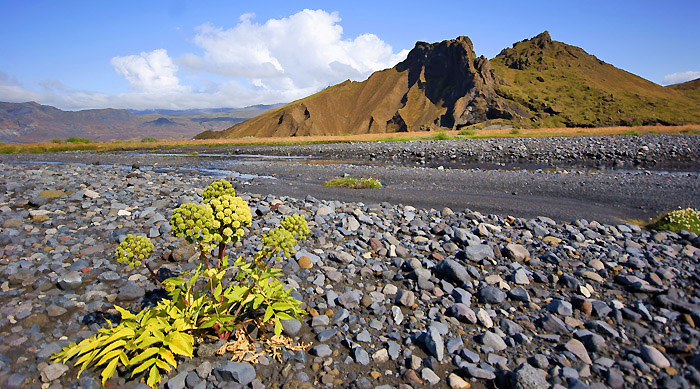 Thorsmörk valley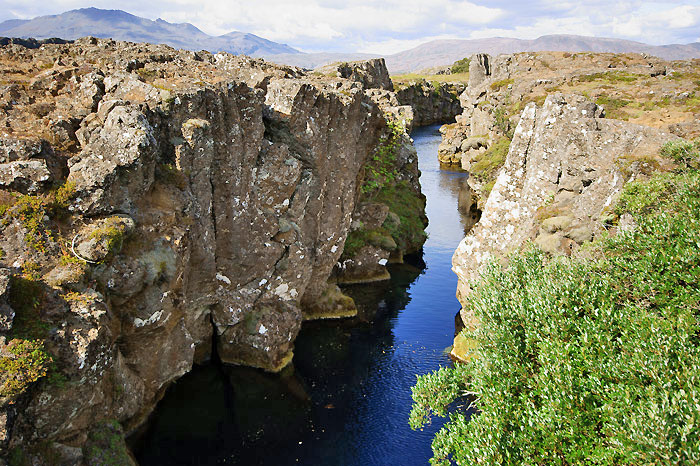 Thingvellir - the ancient Icelandic parliament's site, and the place where the European and American tectonic plates spread apart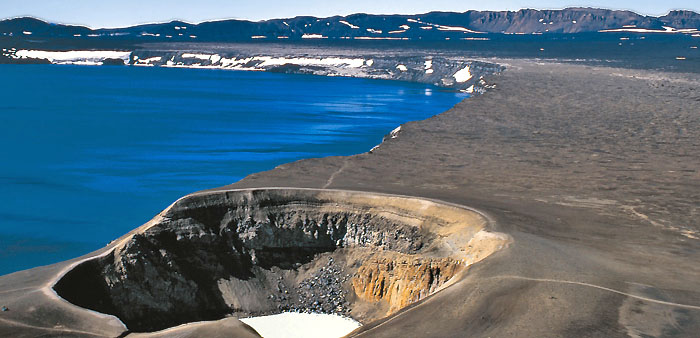 The large volcanic massif of Dynjufjöll in the center of Iceland with the young Öskjuvatn Lake and explosion crater Viti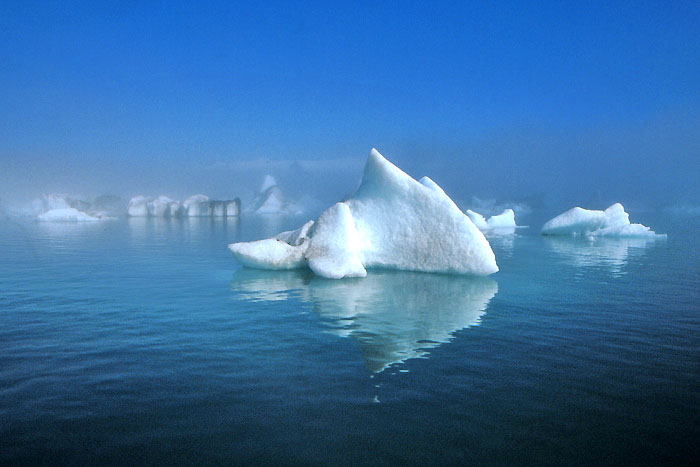 Ice lagoon at the foot of Vatnajökull glacier
Puffin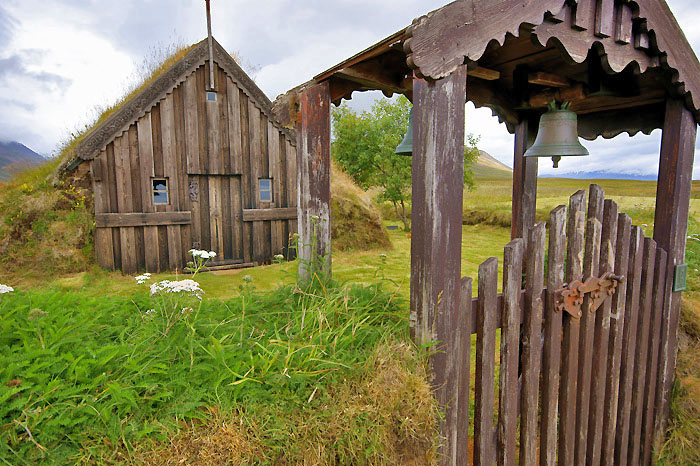 Grafakirkja - the oldest church of Iceland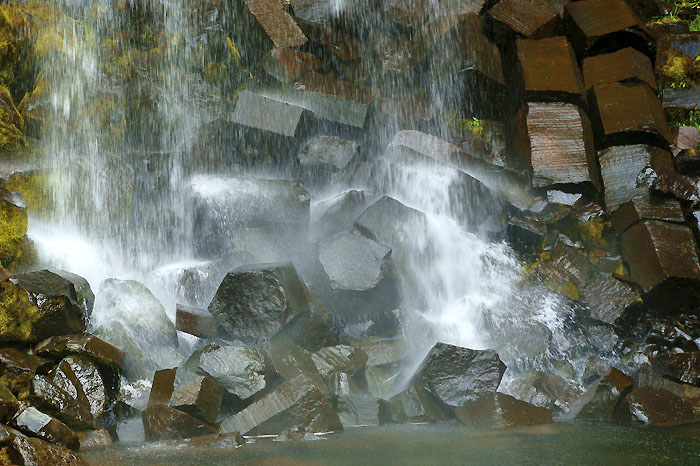 Svartifoss waterfall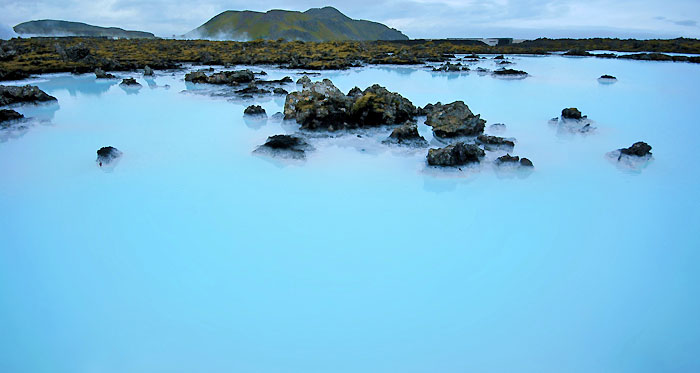 Blaá Lonid - the Blue Lagoon is a unique spa experience

Hiking on Iceland
Northern lights
Fjallabak
Fossardalur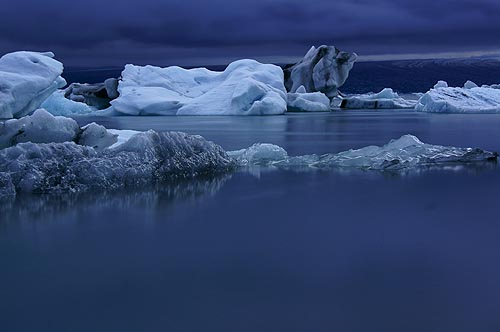 Icebergs
Highlands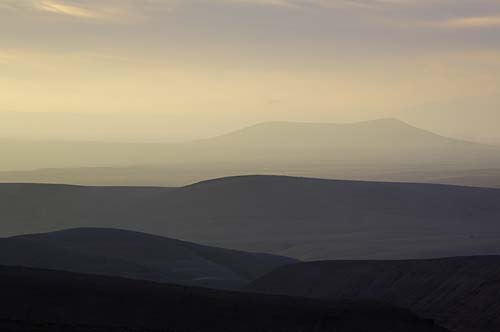 Highlands
Highlands
Naumaskard
Viti crater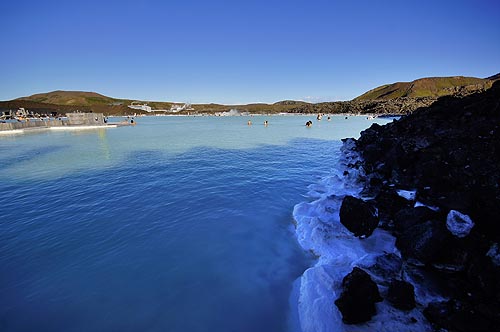 Geothermal pools at the Blue Lagoon
A world of surprising contrasts, incredible colors and natural impressions!
Mighty waterfalls, hot pools and geysers, giant glaciers , ... Explore the variety of Iceland´s landscapes learn how they were formed through tectonic plates drifting apart and different types of volcanism.
Round trip of Iceland including all natural highlights
Extraordinary landscapes and colourful moonscapes
Unique fauna and flora
Glaciers, volcanoes, geothermal fields, geysirs, waterfalls,...
Competent introduction to Iceland's unique geological history
Adventures into the wildernesses of Iceland's interior
Experienced volcanologist and photographer as tour guide
Small international groups
15 days Iceland (summer)
Day 1:

Arrival & meeting in Reykjavik

Arrival in Iceland, Keflavik airport and own transfer (25 km) to the guesthouse in central Reykjavik (by regular flybus or taxi). Meeting of the group in the evening (around 8 pm).
Day 2:

From Reykjavik via Geysir / Gullfoss to Kerlingarfjöll

Some first day natural highlights whilst traveling from Reykjavik via Geysir / Gullfoss to Kerlingarfjöll!
Day 3:

Kerlingarfjöll - the golden mountains

Easy hikes in the geothermally active area of Kerlingarfjöll, one of Iceland's most spectacular landscapes and known for its multi-colored and bizarre rock formations, geysers, warm ponds, and fumaroles.
Day 4:

Kerlingarfjöll to lake Myvatn

Hot springs of Hveravellir, drive over Kjölur highlands to the old chruch of Vidimyri and the old farmhouse "Glaumbær", both built in a traditional way with peat in the 18th century. Late drive to the waterfall "Godafoss" and lake Myvatn.
Day 5:

Lake Myvatn and surroundings

Entire day to explore the unique volcanic area around Myvatn lake and thermal bath in the evening.
Day 6:

Dettifoss waterfall and the volcanic desert

Morning exploration of the area around Dettifoss waterfall and afternoon drive through volcanic desert into the central highland.
Day 7:

Askja caldera - Kverkfjöll

We undertake a hike into the Askja caldera to explore the 1875 Viti crater and then travel to Kverkfjöll volcano near Vatnajökull glacier.
Day 8:

Kverkfjöll - A landscape with high dynamics

Today we explore the impressive Kverkfjöll area on a long hike (optional).
Day 9:

From Kverkfjöll to Berufjörður

Traveling east to leave the high lands, crossing the Kárahnjúkar dam and arriving in the East Fjords.
Day 10:

Berufjörður - waterfalls, puffins and icebergs

Exploring the area around Berufjörður with its waterfalls and bird sanctuary before traveling southward across a glacier river from Vatnajökull.
Day 11:

Via Skaftafell to Landmannalaugar - mountains, glaciers and volcanoes

From the glacier lagoon onwards to explore Skaftafell national park with Svartifoss waterfall before traveling to the southern highlands and arriving at Landmannalaugar.
Day 12:

Landmannalaugar - colourful mountains and hot springs

Entire day to explore the colourful scenery of Landmannalaugar and the area´s hot springs.
Day 13:

From Landmannalaugar to the forest of Thor

We continue our travels passing by Hekla volcano and into the forest of Thor where we can enjoy once more the beauty of Iceland´s green scenery with glaciers, volcanoes, waterfalls and dramatic relief.
Day 14:

Return to Reykjavik

Drive back to Reykjavik with optional visit of the old town or the hydrothermal waters at the Blue Lagoon.
Day 15:

Departure from Iceland

Transfer to the airport in time for your flight.
15 days Iceland (winter program)
Note:
Wintertime in the arctic is a unique experience, especially when it is not dark the hole day. In March we have 12 hours light a day and the air is very clear, the light is the most time edge light. These are beautiful conditions for a very impressing photo-excursion deep into a country which is worldwide singular.
Join us for this arctic experience underneath the arctic circle. We move anticlockwise around the biggest volcanic island and will see impressing icy waterfalls, frozen glacier lakes, rough north Atlantic Sea, volcanic crater, lonely landscape and a lot of hot springs in a winter and authentic scenery. And last but not least we will see the amazing glow of the northern light which it is not possible during summertime.
All in all: we will witness Iceland which is completely different to the well known Iceland during the summertime.
Day 1:

Arrival & meeting in Reykjavik

Arrival in Iceland, Keflavik airport and own transfer (25 km) to the guesthouse in central Reykjavik (by regular flybus or taxi). Meeting of the group in the evening (around 8 pm).
Day 2:

Reykjanes over geyser - the Stöng Highlands - Gullfoss

Visit the Nesjavellir geothermal area and Thingvellir national park - Gullfoss waterfall & Geysir.
Day 3:

Winter Adventures in the Highlands

Today we will start at Hrauneyjar and explore the winter highlands and the sourrounding lakes. May be we will get to the direction of Landmannalaugar and will have a warm bath at the feet of the obsidian flow or we will discover the waterfalls around us.
Day 4:

Tour from Thorsádalur to the South Coast

Today we head south through the wide valley of Thorsa and past the famous volcano Hekla in direction to the south coast. We visit the two magnificent waterfalls Seljalandsfoss and Skogarfoss at the foot of the now worldwide known volcano Eyjafjallajökull.
Day 5:

Great South Coast

Lake Mývatn and its geologically interesting sourroundings: mud and steam springs of Námaskarð,"Krafla" volcano, tectonic plates fissures, ancient lava lakes and pseudo-craters. Drive to Dettifoss and Askja.
Day 6:

Jökulsárlón and East Fjords

If the weather is favorable, we revisit the glacier lagoon before continuing along the wild east coast Djúpivogur. When possible, we will make a detour on the peninsula Stokksnes.
Day 7:

From Fossadalur to Myvatn

The whole day for exploring the exceptional surroundings: Walk to the 1900 m high cater an geothermal area of mount "Kverkfjöll" which is coverd by the glacier. Or walking around the periglacial flood plains of the glacier "Dynjujökull", or walking up to the postglacial eruption fissures near the glacier.
Day 8:

Myvatn

Today we have the whole day to explore the many volcanic phenomena around the Myvatn lake: explosion craters, volcanoes, columns, huge chasms, pseudo craters, solidified lava lakes and boiling solfatara. The fascinating day will end up with a hot bath in the "earthbath" or "hot pot"
Day 9:

Wintry North Coast

Drive towards Dettifoss, Europe's mightiest waterfall and to the peninsula and to the fishing town of Husavik Tjörnes. Visit of Godafoss.
Day 10:

Fishing villages of the north

We leave Akureyri in north direction and pass through the fishing villages of Dalvik, Ólafsfördur Siglufjördur and in the wide area of Skagafjördur.
Day 11:

Let´s go to the west coast on Breidarfjördur and to Arnastapi

Drive to the west and reaching the west coast of Breidarfjördur and the peninsula Snaefjellnes. Two days at Arnastapi.
Day 12:

Far away...

Today we have plenty time to take photos the whole day around the Snaefjell area. We can explore the bizarre coastlines in our area or (optional, depending on weather and snow) do a snowmobile excursion to Snaefjell.
Day 13:

Plenty of hot water

We have a look at the most plentiful hot springs in Europe, which can deliver up to 180 liters of boiling water per second.
Day 14:

Over Reykjavík to the peninsula Reykjanes

We leave the Reykholtsdalur to Reykjavík.
Day 15:

Departure from Iceland

Transfer to the airport in time for your flight.
Arrival info:
The tour starts and ends in Reykjavik. Flights are not included by default, because participants come from different countries. On request, we can include your flight to Iceland.
Tour type:
Photography tour: geology & volcanism - photography - wildlife
Difficulty:
Moderate
Group size:
5-7
Duration:
15 days / 14 nights
Dates:
16-31 Jul 2022
Price (per person): 3595 € $£¥
Included:
All transfers in private spacious 4x4 bus from Reykjavik to Reykjavik
Accommodation (in guesthouses, sleeping bag accommodation and mountain huts)
Experienced geologist & photographer as tour guide
Full board from D2 to D14 (breakfast B, lunch L, dinner D)
Tour guide:
This tour is organised by German volcanologist and photographer Chris Hug-Fleck who has extensively traveled in Iceland, the Azores and many other volcanic destinations over the past 30 years. As a result, he has guided many tours there and published a number of geological and photographic textbooks on this fascinating country.
Volcanologist and photographer Chris Hug-Fleck who organises and guides the Iceland volcano adventures.
Watch the introductory video: