In andere valuta's weergeven
Volcanoes and Cultures - Adventures in the South Sea
15 days volcano and photo expedition to Ambrym and Yasur volcanoes, Vanuatu
"I can recommend this tour to anyone who wants to see, hear, feel, and smell the furious boiling lava of Vanuatu" (Andrew M., Australia)
Strombolian activity of Yasur
Strand op Ambrym (Foto: Marco Fulle)
The active vents in Benbow crater, in 2017 (Ambrym volcano)
Traditioneel eten in Lalinda (Ambrym)
Groep bij Yasur-vulkaan
Havenresolutie Havenresolutie
Stromboliaanse activiteit bij Yasur-vulkaan
Yashmin at the lava lake of Marum2017 (Ambrym)
Groeperen in een guesthouse op Tanna Island (foto: Yashmin Chebli)
Aangepaste dans (foto: Yashmin Chebli)
Groep die door de Ambrym-caldera loopt (foto: Yashmin Chebli)
Are you ready for adventure?
The contrast between unspoiled rain-forest, coconut palm beaches, primitive culture and moon-like landscapes surrounding lava-spitting volcanoes could not be bigger: join us on an expedition to the two most active volcanoes of Vanuatu: Ambrym and Yasur.
The expedition is also an immersion into the diverse and rich traditional culture of the islands, the daily life in remote jungle villages where you meet the very hospitable and welcoming people of Vanuatu.
A great mix of adventure, breathtaking landscapes, unspoiled tropical beaches, friendly people and exotic culture awaits you.
Meerdere dagen (4 dagen elk) voor nauwkeurige observatie van de actieve vulkanen Ambrym en Yasur
Optie om Yasur elke ochtend / elke nacht (6-7 keer totaal) inclusief te stijgen
Optie om te abseilen naar de Bembow-krater op Ambrym
Chartervlucht Port Vila naar Ambrym met panoramische rondes over Lopevi en Ambrym-vulkaan voor luchtfotografie
Adembenemende maanlandschappen, ongerepte regenwouden, ongerepte stranden
Intense ervaring met het traditionele leven en de cultuur van Vanuatu
Heerlijk eten (rijke buffetten met geroosterd varken en kip, groenten, tropisch fruit, enz.)
Aangepaste dansen en lokale muziek
Kleine groepen
Begeleider van geoloog / vulkanoloog in de vulkanen van Vanuatu
Tanna + Ambrym 15 days (itinerary when no lava lakes on Ambrym)
Dag 1:

Arrival on Vanuatu (Port Vila, Efate Island)

Arrival at the Airport of Port Vila & transfer to Port Vila town.
Dag 2:

Flight to Tanna - Transfer to Yasur volcano

In the morning, we fly to Tanna island. A 4WD pick-up brings us accross the island to a simple, but charming guesthouse

directly at the feet of Mt. Yasur

volcano. After lunch, we drive and hike to Yasur volcano to enjoy its

spectacular volcanic activity from close

, as long as we wish...
Dag 3:

Day-trip to Port Resolution beach & Yasur volcano

Relaxing day-trip to Port Resolution combined with a magnificent lunch on one of the world's most beautiful beaches... Visit of Yasur volcano in the evening/night.
Dag 4:

Custom dansen van Imao - John Frum dorp - Yasur

Optionele excursie vroeg in de ochtend / zonsopgang naar de Yasur-vulkaan. Loop naar de dorpen van Imao om unieke aangepaste dansen te zien met een geweldig panoramisch uitzicht op de Yasur-vulkaan. Na de lunch, transfer naar het dorp van John Frum: vergadering (en luch) met dorpshoofd; uitstapje naar Sulphur Bay aan de voet van Yasur om te baden in warmwaterbronnen, bezoek aan het plaatselijke museum ter nagedachtenis aan John Frum. Als dit op vrijdag valt, biedt het de mogelijkheid om de hele nacht dansfeesten bij te wonen. Optie om de Yasur-vulkaan opnieuw te bezoeken in de avond / nacht.
Dag 5:

Flight Tanna - Port Vila, free afternoon

Optional morning visit to

Yasur volcano

.

Transfer to airport, flight Tanna - Port Vila. Transfer to the hotel, free lunch & afternoon. Farewell dinner at the seafront (not included).
Dag 6:

Flight PV to Ambrym. Port Vato

Flight to Ambrym. Panoramic flight in a private charter to see the Lopevi volcano and fly over the Ambrym caldera (Weather permitting). Road to the village of Port-Vato and welcome ceremony. Possibility to discover the spectacular customary dances, ROM DANCE from the north of the island. Dinner with local music. Accommodation in very simple homestay accommodation. bamboo bed or on traditional mats. Normally simple accommodation but with a lot of charm in a village family. (The charm of the accommodation is not guaranteed this year because Ambrym suffered a very strong cyclone in March 2020, so the reconstruction of the houses can take several months or a year).
Dag 7:

Hike into the Ambrym caldera

Hike with porters into the caldera of Ambrym, set up base camp.
Dag 8-9:

2 spare days on Ambrym

Depending on conditions and preferences, these 2 days could be used for additional excursions in the caldera or in one of the villages of Ambrym.
Dag 10:

Crossing of the caldera - descend to Endu

Steek de hele caldera over en daal af naar de oostkust van het eiland naar het charmante en ongerepte dorpje Endu aan de oostkust, waar je met veel plezier verwelkomd wordt. Een welkomstceremonie en een heerlijk lokaal diner wachten voor je.
Dag 11-12:

Cultuur en tradities van Endu

Twee volle dagen om de traditionele cultuur en het leven van het dorp te ontdekken: bezoek de scholen, zie dansen, magie, medicijnen, lokale ambachten en help de voorbereiding van het varken - de hoogste ceremoniële maaltijden.
Dag 13:

Endu - Lopevi vulkaan en lavabuizen - vlucht terug naar Port Vila

Overdracht vroeg in de ochtend naar het dorp Toak of Penapo; uitzicht op Lopevi stratovulkaan. Ontdek de beroemde traditie en kunst van het zandtrekken van Toak, een verklaard immaterieel erfgoed van de Unesco. Op weg naar de luchthaven, bezoek lavabuizen in Penapo; verfrissing en vlucht terug naar Port Vila. Na transfer naar het vorige hotel.
Dag 14:

Tour around Efate island

Day-tour to explore Efate island: visit a famous waterfall and the "Blue Hole".
Dag 15:

End of tour

Transfer to airport or own extension (recommended: 1-day tour on Efate).
Aankomst info:
The tour starts and ends in the capital Port Vila on Efate Island where international flights arrive (usually from Brisbane or Sydney in Australia or via Aukland New Zealand). Participants normally arrange their own flight tickets, but on request we can help with that.
Soort reis:
Vulkaan expeditie: fotografie - actieve vulkanen - natuur
Moeilijkheidsgraad:
Matige
Group size:
4-10
Duur:
14-20 days
Datums:
20 Jun - 4 Jul 2021
26 Sep - 10 Oct 2021
Price (per person): 4150 € $£¥
Inbegrepen:
Alle transfers zoals beschreven in de reisbeschrijving
Chartervlucht Port Vila naar Ambrym met panoramische rondes over Lopevi en Ambrym-vulkanen (ideaal voor luchtfotochr('39')s!) (Min. 4 deelnemers)
Binnenlandse vluchten tussen Efate, Ambrym en Tanna
Volpension op Vanuatu (inclusief tafelwater), met uitzondering van een paar maaltijden zoals vermeld
Accommodatie in pensions, hotels en op de camping
Portiers, kampeerhanden en lokale gidsen
Kampkeuken
Entry fees for villages, the Ambrym caldera etc
Up to 4 visits to Yasur volcano (additional visits at extra cost)
Vulkanoloog gids / expeditie organisator (Yashmin Chebli)
Tour guide:
De expeditie zal worden vergezeld door vulkanoloog Yashmin Chebli van het VolcanoDiscovery-team, die een universitaire opleiding in geologie heeft gevolgd en sinds meer dan 15 jaar werkzaam is als gespecialiseerde vulkaan-gids met de nadruk op Vanuatu en Hawaichr('39')i. Website: www.vanuatu-expedition.com (fotochr('39')s) en Youtube-kanaal !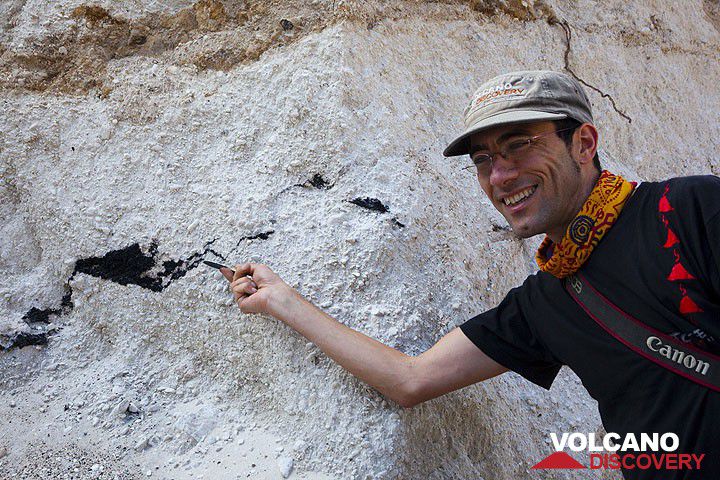 Yashmin Chebli explaining a pumice deposit
Important note:
Early booking essential:
Due to the limited availability of flights and numerous logistic challenges involved in this expedition, you should sign up
at least 6 months in advance
. This is also normally the date when we need to decide whether or not a tour can run.
Tour photos: