9-day walking & study tour to Stromboli, Lipari, Vulcano and Etna with our expert volcanologist
"Hey, Tom! Thanks again for a really terrific trip. I think I can easily say that it was the most memorable trip of my life! If you ever need anyone else to give a recommendation, feel free to call on me." (Steve L., Chicago)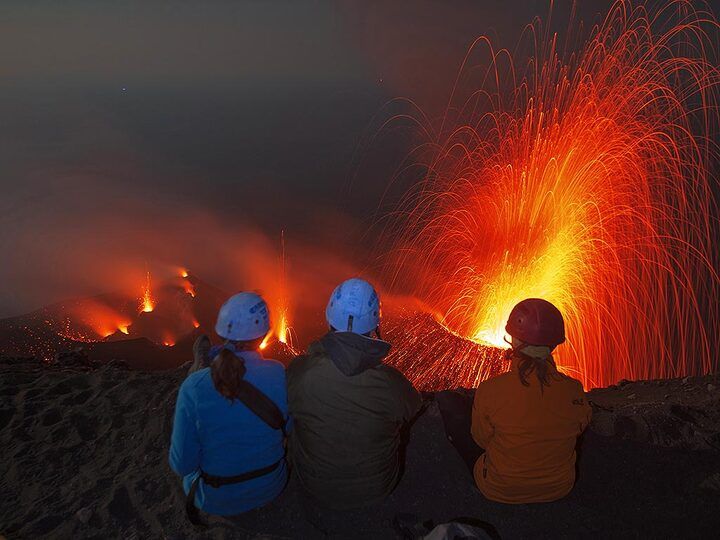 Observing volcanic activity from Stromboli´s summit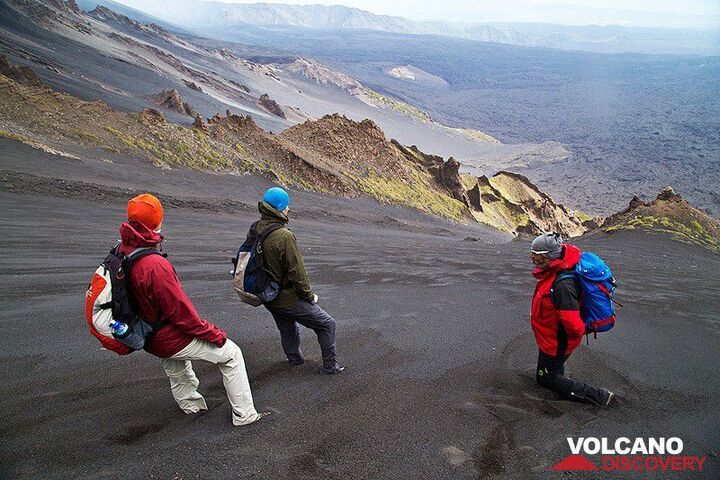 Descending along Etna´s steep ash slopes into the Valle del Bove
From Stromboli to Etna
9-day walking & study tour to Stromboli, Lipari, Vulcano and Etna with our expert volcanologist
Tour type
Walking & study tour: active volcanoes - geology & volcanism - nature & culture
Difficulty
Easy to Moderate
Duration
9 days / 8 nights
A classic among our volcano adventures, this tour takes you to some of the most active and interesting volcanoes in the world: Etna, the giant ever-changing volcano that dominates Sicily; Vulcano, in the Ancients'belief home to Vulcanus, God of Fire; Lipari with its spectacular obsidian and pumice deposits; and Stromboli, "Lighthouse of the Tyrrhenian Sea", the permanently active volcano that gave its name to the Strombolian type of volcanic eruptions
Active volcanoes Etna and Stromboli
Travel in a small international group
Good balance between physical effort and relaxation
Expert volcanologist tour guide
Delicious south-Italian food and wine
Nice beaches and great accommodation
Varying scenery and beautiful landscapes
Itinerary 9 days
Day 1:

Arrival in Catania, Sicily

Arrival at and pick-up from Catania airport, transfer to a hotel in the old city center
Day 2:

Transfer to Vulcano island and La Fossa crater

Boat transfer to Vulcano island to visit the warm fumaroles on the beach, climb the volcano´s active La Fossa crater and optional swimming in the volcanic mud pools.
Day 3:

Transfer to Stromboli and hike to Sciara del Fuoco

Morning transfer by boat from Vulcano to Stromboli, evening hike to the Sciara del Fuoco viewpoint
Day 4:

Climb to Stromboli's summit and close range eruption viewing

Free morning before we set off on a late afternoon climb to Stromboli's summit with active craters. One hour of eruption viewing around sunset before nighttime descend.
Day 5:

Boat trip around Stromboli island

Morning boat trip around the island and visit of the village Ginostra and lunch. Afternoon and evening free to relax and/or undertake an additional climb to the summit craters, hike to the Sciara del Fuoco,...
Day 6:

Lipari island - history, obsidian flow and pumice deposits

Transfer to Lipari island and visit of the castle and archaeological museum followed by a hike to the obsidian and pumice deposits and afternoon transfer to Etna
Day 7:

Excursion to Etna's summit craters

Full day excursion on the summit region of Mt Etna to observe its smoking craters, volcanic phenomena and moonlike landscapes (weather and volcanic activity permitting)
Day 8:

Etna excursion to the Valle del Bove

Second full day excursion on Mt Etna which focuses on a spectacular hike into the giant Valle del Bove depression on the volcano´s SE flank.
Day 9:

Tranfer to Catania - end of tour

Transfer from Etna to Catania and end of tour with drop off at the airport or own extension program
Note:
Due to weather conditions and volcanic activity, the exact itinerary might vary slightly.
Arrival info:
The tour starts and ends in Catania, Sicily´s second largest city, which is easily reached by plane or train from Rome or other large Italian cities. Travel arrangements to and from Catania are not included in the tour package in order to give everybody maximum flexibility to plan his/her trip. Please let us know if you like any assistance with your international travel to Italy and/or Catania - we will be happy to help.
Tour guide
Since we started organizing this tour in 2002 it has been guided mainly by volcanologist Dr. Tom Pfeiffer or astronomer Dr. Marco Fulle, and occasionally by geologist Yashmin Chebli from the VolcanoDiscovery team, who many will know from our volcano expeditions in Vanuatu and on Hawaii.
These long-term friends are volcano photographers who frequently traveled to Etna, Stromboli and many other volcanoes when they erupted over the past two decades. They both know Etna and the Eolian Islands very well - including the best local restaurants and nicest hikes!
Physical requirements
Good general physical condition and hiking experience on loose ground are required, participants should have no difficulties to hike 5-10 km or climb up to about 1000 m in a single day. The time spent on individual excursions ranges from about 1 to 7 hours, but may become (much) longer in case of unexpected volcanic activity that is worth the effort of an extra hike and/or extended observation of the eruption in the field.