"a wonderful experience with you"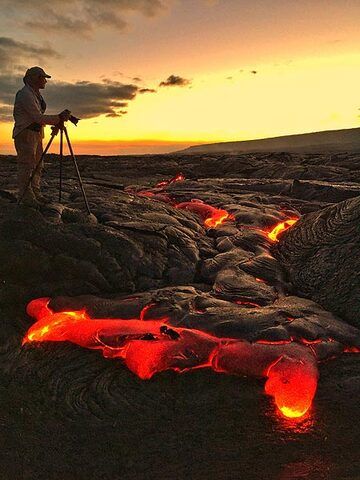 Tom photographing the lava flows (image: Leland L.)
"Tom,

After spending the last 5 days together, our quick farewell seemed a bit anti-climatic. Please know that Mimi and I had a wonderful experience with you and we will treasure it for a very long time!
Your knowledge, guiding and patience makes you stand out as an exceptional volcano/geologist professional!

Mahalo, and please keep in touch, Leland and Mimi"
(Leland L., from L.A. about the Kilauea Volcano Special in March 2017)
"... an amazing day on our trip! ..."
"Aloha Philip!
Dawn and I can not thank you and Arthur enough for giving us an amazing day on our trip! I just submitted my review below to Tripadvisor and couldn't say enough good things about our experience with VolcanoDiscovery...
Take care, Rick

"Amazing 12 hours with VolcanoDiscovery!"
We spent 12 hours with Arthur on Feb. 10th, 2011 and it will be a day we'll never forget. I first contacted VolcanoDiscovery in December through their web site and promptly was contacted by Philip via email. I was initially considering the 6-hr Lava Proximity Hike but decided to book the 12-hr Active Eruption Combination Tour based on Philip's responses to my many questions. Booking through their web site was fast and easy. Philip gave us the option to advertise our tour on the web site so others could join us to reduce cost. Arthur called me the day before to arrange our pick up and discuss what we were interested in doing/learning so he could tailor our day to us. He was able to schedule a 2-hr tour of the Kazumura Lava Tube to start our day off which was incredible!
It was clear right away that Arthur was very focused on making sure we were getting the best experience possible. He had several local food items and drinks for us and checked often to make sure that we were happy with what we were doing and with our plans for the rest of the day. He took us to the National Park for several stops and a nice hike to Pu'u Huluhulu. After a quick stop for some food, he drove us to check in at Kalapana for the Lava Proximity Hike and we were off to see the lava up close. Once we got to the lava, he made sure to position us in the best place to get some great pics. Arthur acted as our photographer throughout the day and knew how to make both of our cameras get the best pics. I should also mention that Arthur's personality fits perfectly with his job. He was very friendly and personable. He also has a true spirit of Aloha and was well liked by everyone we interacted with during the tour.
Those 12 hours went by way too fast and the experience we had with VolcanoDiscovery was more than worth the cost! I had originally thought that we could tour on our own for a similar experience and boy was I WRONG!"
(Rick L., USA, about a Private Tour on Kilauea volcano, Hawai'i)
... had a wonderful tour on the lava fields (Lava hike on Kilauea
"Hi Tom-
Happy New Year!
We did your tour with Phillip last night on the Big Island and had a wonderful tour on the lava fields.

Thanks!
Alex" (Lava hike on Kilauea)
4-Day Kilauea Volcano Special Group Tour, December 2008:
"Hi, ... I just viewed the DVD I bought and thought I could hear the sounds and smell the smells! I really had a great time on our trip and appreciated your knowledge and experience and your company! It was, for me, an experience of a lifetime! Mahalo, once more, and all the best! Fondly -- Regina"
"Tom Pfeiffer proved to be a knowledgeable and trustworthy guide throughout our trip. He communicated not only a wealth of information and his passion for the subject of volcanology, but also his delight in the drama and beauty of the world of volcanoes. Respectful of individual needs and interests, he made the experience both educational and most enjoyable. Regina Bringolf, Hancock, New Hampshire, U.S.A."

2-Day Active Eruption Private Tour w/Philip, November 2008:
Dear Philip, dear Tom,

in November after an really exciting day, we´ve promised Philip to send some pictures.
Well, it was not forgotten, we just had to cover with Christmas, new year and, of course we had to sort through our pictures first. We did, and you can find the photos here. As you can see, Tom, you have the right fireproof man out there on Hawaii. Thank you again for taking us on that trip, showing us what kind of stuff lava really is!
We wish both of you a happy new year, full of adventures and new experiences. Stay healthy!

Regards and "auf Wiedersehen"

Sabine + Egon

4-Day Kilauea Volcano Special Private Tour w/Tom, July 2007:
"We have arrived at home last night as per schedule...We could enjoy our tour very much and we think that our tour aim was 100% satisfied. We could have
wonderful experience that we could never forget
. Thank you very much for your guide. Later, by mail, I will send two video files, mpeg2 format and mpeg4 format, that recorded the lava. Sincerely, Seiji" (S. Takeda, Japan,
Kilauea Volcano Special
tour July 07)
8-hr Lava Proximity Hike (Private Tour) w/Philip, January 2007:
"We hiked the volcanic lava with Philip on Jan. 30 and what a thrill it was for us! Philip was able to point out various configurations and structures that we saw along the way and explain their existence because of his background as a geologist and volcanologist, and that just made the whole trip for us. He also took us close to a skylight where we could see the glow from the lava flowing through the tube and be the first people to walk on the new lava around it, and that was definitely a thrilling experience! We have shown just about everyone we've met the pictures of the skylight and have told them about your company, so hope you get some business out of it. There was certainly a lot of interest.
Anyway, I just wanted to thank you for enabling us to have such a wonderful experience, and to thank Philip again for taking us on such a fascinating hike. It was the highlight of our cruise around the Hawaiian islands. We're glad that we got to ride in Philip's old hunker of a jeep as it made it a bit funky for us, but hope he enjoys his new vehicle." (Sheila, US)

13-Day Heartbeat of the Earth Private Tour w/Philip, November 2006:
"Aloha Tom
Just wanted to give you some feedback from the above trip. It was FANTASTIC!!!!!. As you know I was the only participant which worked well for me as we had a suggested itinerary, but was able to modify to suit my requirements, including the incredible boat trip to view lava. I have travelled extensively, and this boat trip is definitely up there at the top with other unbeatable life experiences. Philip Ong is one of the kind. His knowledge and passion for the Big Island is unsurpassable. His friendly disposition enjoyable. I loved every minute I spent with him, will treasure the discussions about anything and everything we undertook. The joking and laughs we shared - he really made the experience work. Also I would like to thank you for all the emailing and sorting of dates etc that you did to make my trip possible. Phil has some fantastic ideas and plans to include in future tours, which will make it even better - if that is possible. An amazing experience that I will never forget and a new friend made. Mahalo!! Denise Ellson"

VolcanoDiscovery featured in Endless Vacation magazine:
4-Day Kilauea Volcano Special reviews, 2005:
"The Tom Pfeiffer & Phil Ong tour is the
ultimate volcano live performance
..." -> Read the
FULL REPORT
!
(Britt and Finn Pedersen, Denmark; 1 March 2005)
"
Thank you both for an amazing trip
. Pele pulled out all the stops, which I will forever appreciate (I'm pretty sure I'm hooked on lava), but so did you guys. It would have been fun hanging out with you anywhere, but it was best to do it on a volcano.
Unforgettable.
<...>Thanks again. I had a blast. Next, Santorini (and you have to come too, Phil!). Be careful, don't do anything too crazy, and have a Thai meal and a beer for me. Love, Pam." (Pam Petro, Massachussets; 26 Feb. 2005)