D
esert,
S
alt and
V
olcanoes
14 days expedition to Erta Ale volcano and Dallol hydrothermal field (Danakil desert, Ethiopia)
"A very memorable trip ... exactly the kind of thing I've been looking for" (Jim K., UK - November 2015)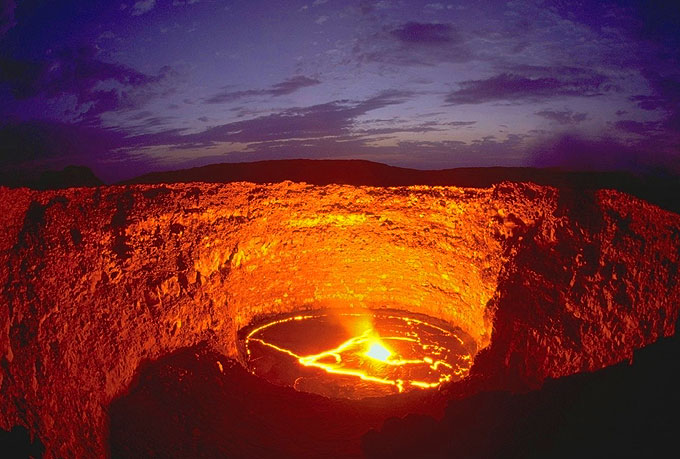 Erta Ale's lava lake in 2008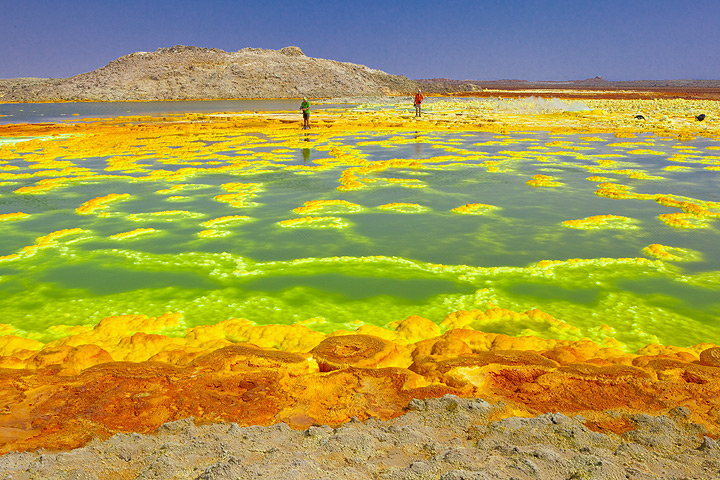 Green ponds and yellow-brown salt deposits at Dallol
Exploding lava bubble on the lava lake of Erta Ale volcano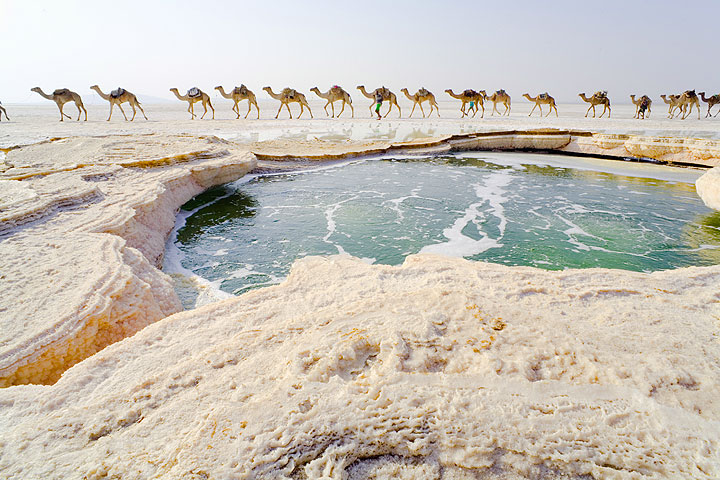 Camel caravan passing a hot spring on the salt lake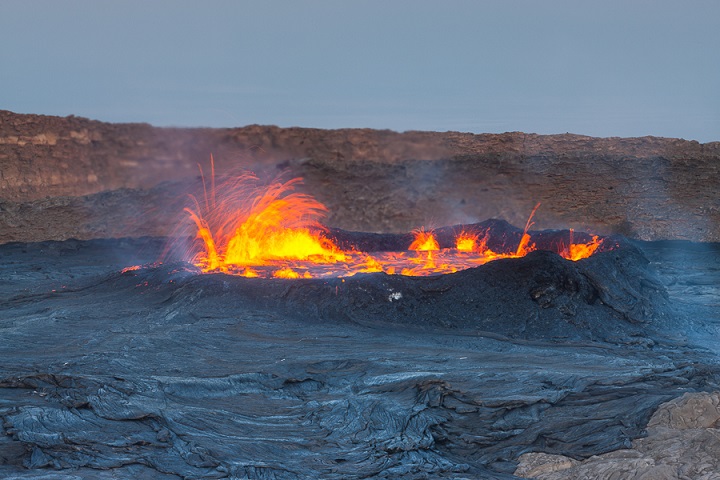 Erta Ale´s perched lava lake ready to overflow in late 2010 (Roland Gerth)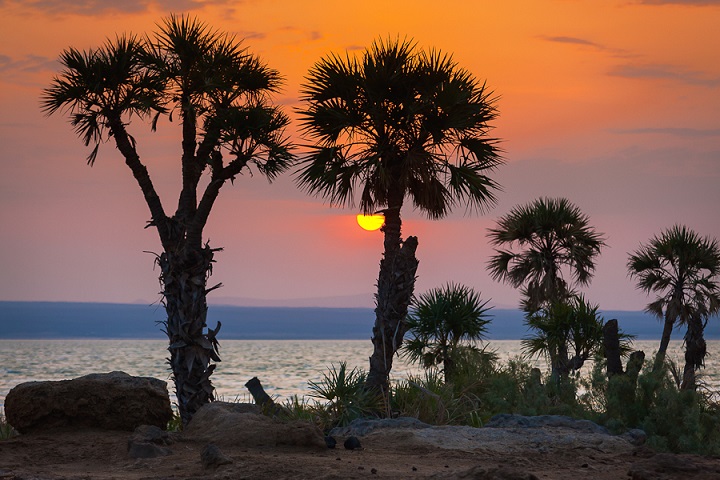 Sunrise at the shore of Afdera salt lake (Roland Gerth)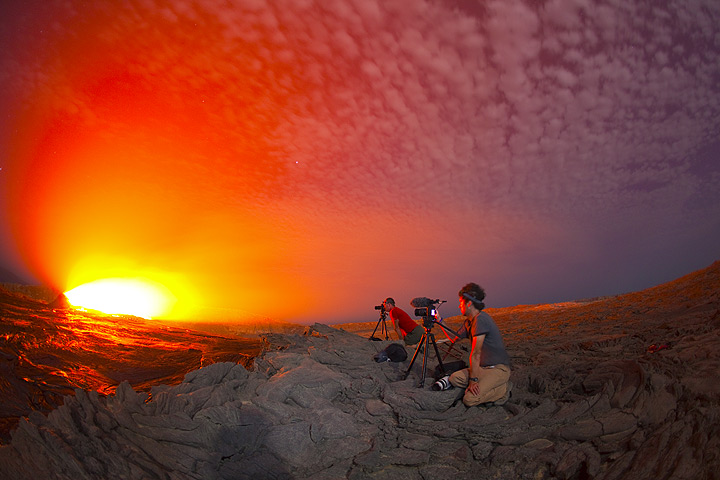 Lava glow and moon light illuminating observers of the lava lake
One of the many camels that bring up luggage to Erta Ale´s caldera rim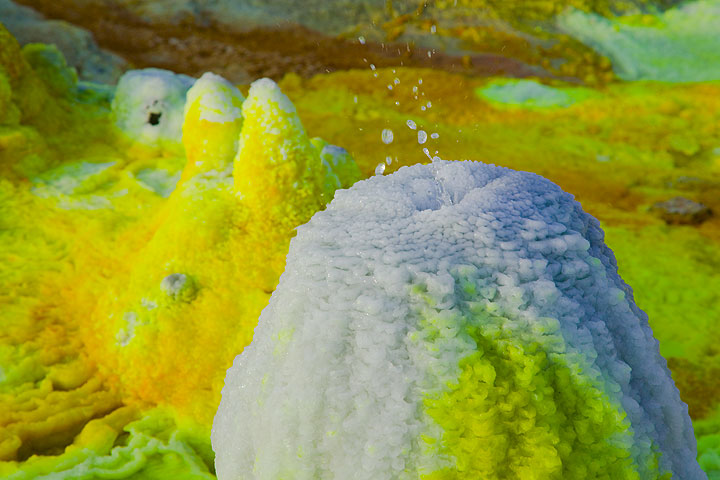 Bizarre salt geysers at Dallol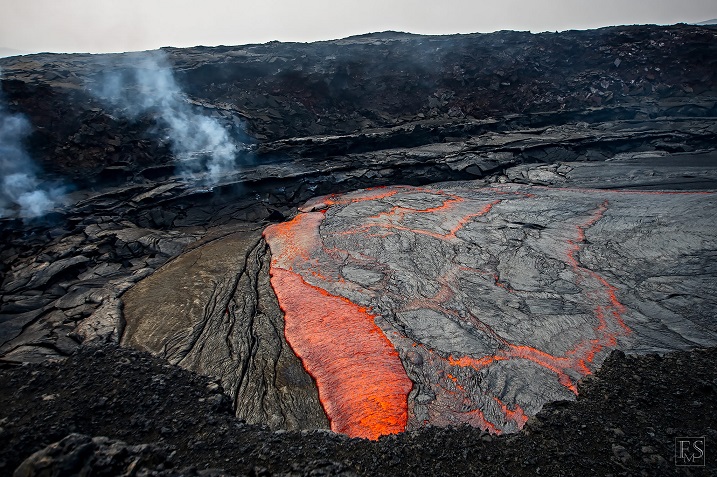 Overturning of the crust on a lava lake in the new fissure eruption site (Stefan Tommasini)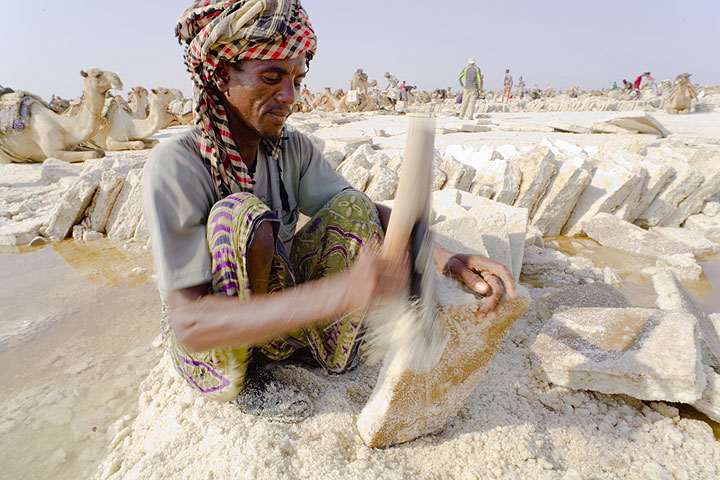 Cutting salt blocks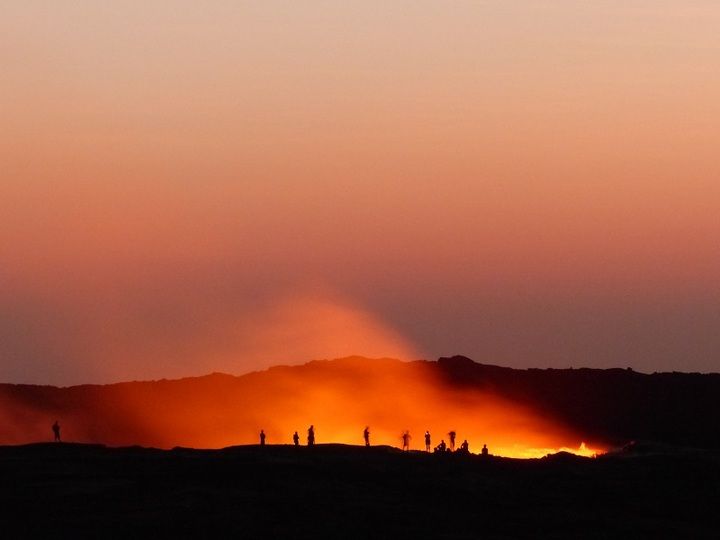 Observing the active lava lake at sunrise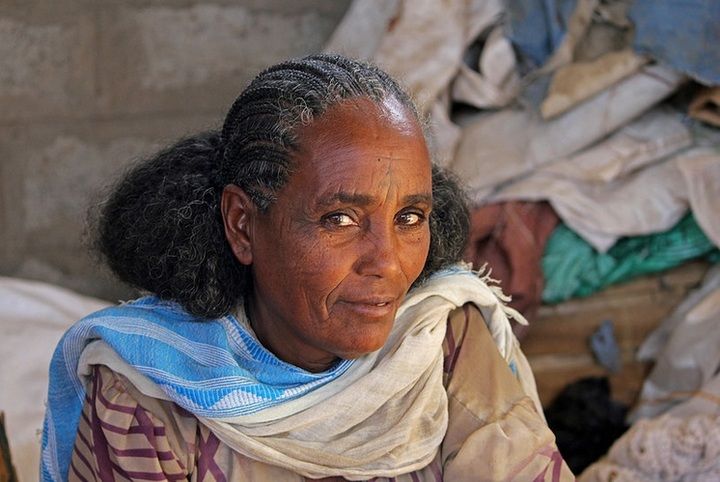 Tigray lady at the marker in Wakru (Jay Ramji)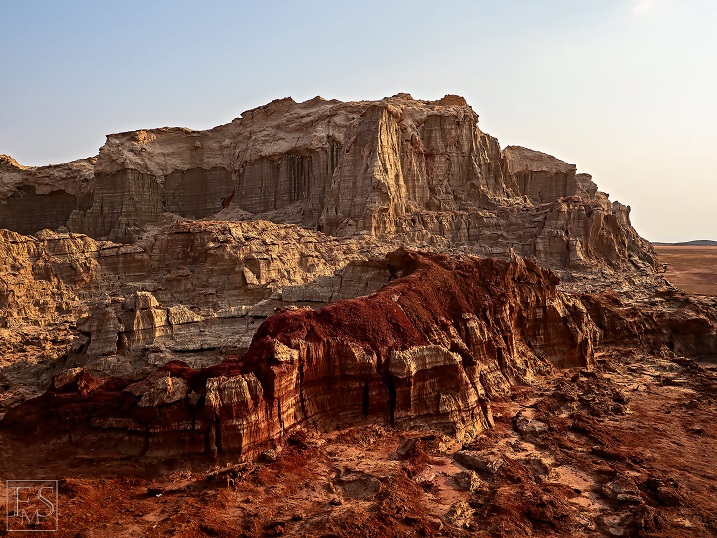 Canyons cut out in the Dallol salt dome (Stefan Tommasini)
Green ponds of acid hydrothermal water at Dallol (Jay Ramji)
Experience one of the geologically most active areas on the planet! The Danakil desert is famous for Erta Ale, one of the world´s few permanently active volcanoes. Until 2017, it hosted a spectacular boiling lava lake, which is now gradually returning (as of late 2020). Don't miss your chance to see the surreal landscapes of colors, salt, geysers and hot springs at the hydrothermal area of Dallol.

See the dramatic change of environment when the jeep expedition starts in Addis Ababa (at 2355 m), and gradually descents into the Danakil depression, passing through Awash National Park before reaching the banks of Afrera salt lake (at - 100 m). The journey continues as we climb Erta Ale shield volcano and spend 3 full days and nights exploring the volcano´s caldera. We then set up camp at the Afar village of Hamed Ela and have 2 full days to discover the hydrothermal area of Dallol and Assale salt lake, including the centuries-old ritual of salt cutting. Finally explore the UNESCO world heritage site of the rock hewn churches of Lalibela.

We have been organising tours to the Danakil since early 2007 and hence have expertise in arranging such expeditions. Our highly competent Ethiopian main guide and volcanologist Enku and his friendly team will safely take you through the desert in 4x4 jeeps. The sometimes Spartan character of living conditions in the Danakil are partially compensated by the large variety of meals freshly prepared by our cook!
Spectacular, varied scenery of forested highlands, upland grassland, steppe, desert, shield volcano and salt lake deposits
Short morning safari in Awash National Park
Afrera salt lake camping with hot springs bath under the stars
3 full days/nights on the summit of Erta Ale active volcano
2 visits to the colourful and fascinating hydrothermal activity at Dallol
Century-old salt mining and camel caravans at Lake Assale
Full day for Lalibela rock hewn churches (UNESCO world heritage site)
Small international groups
Experience - we organise Danakil adventures since 2007
Professionally outfitted expedition and thorough preparation
Excellent Ethiopian volcanologist as main guide
Comfortable travel in 4x4 jeeps (window seat guaranteed)
Dedicated supply vehicle and experienced cook
Competent and friendly local team and drivers
No rushing from place to place - plenty photographic opportunities
Interaction with local people, introduction into local customs
14 days itinerary
Day 1:

Arrival in Addis-Abeba

Arrival at the airport of Addis Ababa, transfer to the hotel and welcome dinner
Day 2:

From Addis Ababa to Awash

Morning start of our jeep expedition: driving into the Rift Valley and arrive in Awash by the evening. Besides lunch, there are a few stops planned along the way to take in the changing landscape and get an introduction into its geological formation.
Day 3:

Awash National Park and drive to Logiya

Morning safari in Awash National Park and continuing our drive through the Rift Valley to the small town of Logiya.
Day 4:

From Logiya into the Danakil, camping at Afdera salt lake

Continue driving along the main road from Logiya to Serdo, then turn northward through a volcanic desert landscape into the Danakil depression - campsite at the shore of Afdera salt lake.
Day 5:

From Afdera salt lake to Erta Ale base camp

Morning option to further explore the salt works and mining town before we drive onward to the Erta Ale´s base camp, the final hours being a proper off-road 4x4 drive through the Afar desert.
Day 6:

Early morning ascend - daytime exploring of Erta Ale´s caldera

Early morning ascend to Erta Ale´s summit (ca. 3 h, 10 km, 500 m height), breakfast on the rim and morning group tour around Erta Ale´s caldera. After lunch, free to relax and explore the summit caldera.
Day 7:

Exploring Erta Ale´s fissure eruption site

Hiking expedition to the site on the volcano's flank where since January 2017 a new eruption is going on.
Day 8:

Descend from Erta Ale to basecamp, drive to Hamed Ela

Early morning descend from Erta Ale back down to basecamp, breakfast, 4X4 drive to return to the main road and continue our journey to the Afar village of Hamed Ela.
Day 9:

Full day to explore Dallol

This day focuses on discovering the colourful alien landscape of the hydrothermal system at Dallol. We organise two visits - around sunrise and sunset - to optimise light conditions for photography whilst also minimising exposure to the mid-day sun and heat.
Day 10:

Lake Assale, salt mining and camel loading – and transfer to Abala

Morning visit of Lake Assale, salt mining and camel loading – and transfer to Abala

This day is reserved for the glistening plane of Assale salt lake, traditional salt cutting and camel loading, and the irregularly formed salt deposits and colourful acid ponds south of Dallol. In the afternoon we leave the Dallol area and drive up to the highlands and spend the night in Abala.
Day 11:

Drive from Abala Through Mille/Chefera to Woldia

Full day (about 400 km) drive from Abala (Afar region) southwards to Woldia (Amhara region)
Day 12:

Drive from Woldia to Lalibela

Today we drive from Woldia to Lalibela,

Which is one of the most historic towns in Ethiopia due to its world famous and travelling will be through the most scenery /landscape, UNESCO world heritage, rock hewn churches.
Day 13:

Lalibela rock hewn churches

Full day visit of the UNESCO world heritage site of the rock hewn churches of Lalibela.
Day 14:

Flight from Lalibela to Addis Ababa - end of tour

A morning flight takes us back to Addis Ababa, free afternoon prior to international flight
Arrival info:
The expedition starts and ends in Addis Ababa, Ethiopia´s capital. International flights to and from Ethiopia are not included as default, but feel free to contact us if you would like any assistance with finding the best flight connections for you.
Tour type:
Expedition: active volcanoes - photography - adventure
Difficulty:
Moderate
Group size:
4-11
Duration:
14 days / 13 nights
Dates:
no scheduled dates at present
Price (per person): $ 4530 €£¥
Included:
Accommodation in double rooms / tents
Full board from dinner on the first day until breakfast after last hotel night
Drinking water, up to 8 liters per person per day from day 4 to 10
Professional Ethiopian guide who is an English-speaking geologist
Private transport in 4WD vehicles
Guaranteed window seat in 4WD jeeps
Experienced 4WD drivers and cook
Full camping equipment
Camels, camel drivers and porters to and from Erta Ale´s summit
Armed Afar guards and guides on Erta Ale and in Dallol
All fees for transits, entries etc.
Tips for local staff (porters, camel drivers, guards, local guides, ...)
Internal flight from Mekele back to Addis Ababa
Tour guide:
Enku is the main guide on all our Danakil volcano expeditions. After obtaining a Diploma in Travel Organising and completing his BSc in Geology at the University of Addis Ababa, he spend
10 years
traveling through Ethiopia whilst working both as
free-lance travel guide and a contracted mining geologist
for different oil and gold mining companies.
Since 2006
he
specialised
in
geological travel
guidance for the
Danakil depression
and hence has lots of
experience and competence
in organizing
expeditions to Erta Ale and Dallol
. He likes to share his vast knowledge on the geology of the Danakil but will also gladly answer any questions you might have regarding Ethiopia´s fauna and flora, culture, history, food or traditions!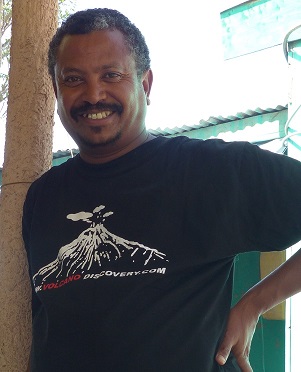 Our excellent Ethiopian main guide and geologist Enku!