11 day itinerary with 8 full days spend on Ambrym
Note:
For an expedition like this, any program presented must be considered indicative: unexpected changes in flight schedules, volcanic and weather conditions etc. could make modifications in the actual itinerary necessary. In particular, it could result in that the return to Port Vila must be anticipated by one day. In this (unlikely) case, the additional day on Efate would be dedicated to a scenic round trip around Efate.
On request, modifications are possible as well - e.g. to spend one more day inside the caldera and one day less in Toak (although we highly recommend the presented itinerary).
Day 1:

Arrival on Vanuatu (Port Vila, Efate Island)

Arrival at the Airport of Port Vila & transfer to Port Vila town.
Day 2:

Efate - Ambrym (charter flight with sightseeing)

Morning departure from Efate (Port Vila) to Ambrym (chartered plane) with scenic overfly to

Lopevi volcano

and the

Ambrym caldera

.

Meeting with the exceptional family of your guide and transfer to the village with a stop at the hot springs of Sesivi with a refreshment at the ocean shore. Welcome ceremony. Afternoon & evening to discover the village.
Day 3:

Ascend into the caldera - Marum volcano

Hike and ascent into the caldera. Installation of the base camp, picnic lunch with traditional food and hike to discover Marum volcano.
Day 4:

Benbow volcano

Expedition to the crater of

Benbow

. Descend (abseiling) into its crater optional, conditions permitting (trained guides assist you with professional equipment). Return to the base camp in the evening.
Day 5-6:

Marum & Benbow - spare days in the caldera

2 more days in the Ambrym caldera to discover

Marum and Benbow

inside the large Ambrym caldera in order to maximize photo / video opportunities.
Day 7:

Crossing of the caldera - descend to Endu

Cross the entire caldera and descend to the east coast of the island to the charming and unspoiled village of Endu on the east coast, where you'll be welcomed with lots of smiles. A

welcome ceremony and a wonderful local dinner

wait for you.
Day 8-9:

Culture and Traditions of Endu

Two full days to discover the traditional culture and life of the

village Endu

: visit the schools, see dances, magic, medicine, local crafts and assist the preparation of the pig - the highest of ceremonial meals.
Day 10:

Return flight to Port Vila

Transfer from ENDU to the Penapo village to discover one of the largest Banyan trees on the island. After lunch flight to Port Vila. Free time, relax.
Day 11:

End of tour

Transfer to airport or own extension (recommended: 1-day tour on Efate).
Arrival info:
This adventure starts and ends in Port Vila on Efate Island, Vanuatu's capital. The day of departure is depending on the domestic flight schedule of AirVanuatu (alternatively: charter flights). It is both a perfect stand-alone program if you only have limited time to visit Vanuatu and follow the priciple "less is more", or can be combined with visits to other islands, e.g. Tanna with active Yasur volcano - for example, our program "Yasur Volcano Adventure".
Tour guide
The expedition will be accompanied by VolcanoDiscovery team volcanologist
Yashmin Chebli
. Yashmin is trained geologist with a university Master's degree and member of SGF (Société Géologique de France). He has been working as tour guide and expedition leader to actives volcanoes, volcano photographer and consultant for more than 30 years. His areas of expertise include the active volcanoes in Italy, Vanuatu, the Hawaiian Islands, Guatemala, RD of Congo, Tanzania, Costa Rica and others. Besides his mother tongue French, Yashmin speaks several languages including English, Italian, and Spanish.
Website:
www.vanuatu-expedition.com
(photos) and
Youtube channel
!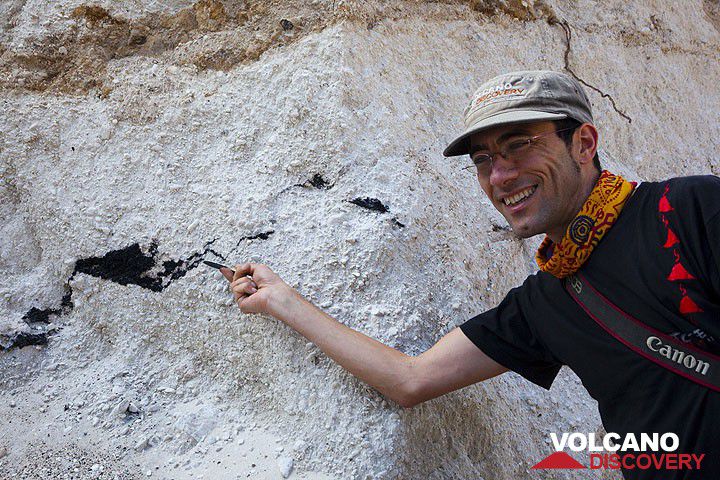 Yashmin Chebli explaining a pumice deposit