2 weeks Hawaii: Oahu - Kauai - Maui - Hawaii
Note:
Days 1 and 2 are mainly to adjust to the jet lag and gather the group. You can shorten the itinerary to 13 days if you like to arrive (or if your flight connection can only arrive) in Honolulu on D2 in the program. In this case, you receive a 5% reduction on the price.
The exact itinerary on the spot, in particularly the program around Kilauea volcano during our stay on Hawai'i Island, could be modified as a function of weather conditions, volcanic activity and other factors out of our hands. We will always try to optimize it accordingly.
Day 1:

Arrival in Honolulu - Waikiki beach

Arrival in Honolulu, pick-up from airport and transfer to hotel in Waikiki beach.
Day 2:

Waikiki, Oahu Island - surfer's paradise

Free day to relax at Waikiki beach or optional day-trip around Oahu island with its famous surfing beaches and other sites (e.g. Hanauma Bay).

Note: you can also arrive and join the group on this day.
Day 3:

Honolulu - Kauai

After breakfast in the hotel transfer to airport and short inter-island flight to Kauai.

Transfer to sea side hotel in Lihue and time to relax (swimming etc). Introduction to the geology and volcanic history of Hawaii and Kauai in particular.

Group dinner with traditional Luau and Hawaiian dances.
Day 4:

Kauai Island and Waimea Canyon

Day trip to the spectacular Waimea canyon, an open-air geology museum. Half-day hike, various viewpoints and visit of the Koke'e museum.
Day 5:

Kauai to Maui Island

Flight to Kahului on Maui island. Visit of surf beach and camp on the slopes of Haleakala shield volcano.
Day 6:

Haleakala volcano sunrise and hike

Sunrise from Haleakala volcano, the "House of the Sun" - one of the most famous locations in the world - and hike in the spectacular caldera of the (occasionally still active) shield volcano of Maui.
Day 7:

Lahaina town: relax day - beach, optional whale watching tour

Descend to hotel in Lahaina / Ka'anapali. Free afternoon: relax on beach (great swimming & snorkeling), visit Lahaina town or optional whale watching tour.
Day 8:

Maui - Hawai'i (Big Island) - Kilauea volcano

Flight to Hilo on Hawai'i (Big Island), transfer to seafront hotel and check-in.

Briefing and volcanological explanations about Kilauea volcano. In the afternoon, we will drive to the huge caldera of Kilauea volcano for observations and hiking
Day 9-10:

Kilauea volcano

Two full days to explore Kilauea volcano and the eruption 2018: the exact program will be adapted at the place.
Day 11:

Spare day

Spare day. Excursion to a beautiful tropical garden, waterfall, and Waipio valley.
Day 12:

Punalu'u sea turtles, Green Sand Beach, Pu'uhonua o Honaunau Hawaiian monument

Discover the southern part of the island: Punalu'u black sand beach (sea turtles) and hike to scenic Green Sand Beach near South Point. Visit Pu'uhonua o Honaunau and/or a surfer's beach in the afternoon. Drive back to Hilo via the very scenic saddle road.
Day 13:

Mauna Loa and Mauna Kea

Day to visit Mauna Loa, the largest volcano in the world. Ascend to Mauna Kea summit for sunset.
Day 14:

Departure from Hilo

Departure (transfer to airport) from Hilo airport or extension program.
Tour guide
The expedition will be accompanied by VolcanoDiscovery team volcanologist
Yashmin Chebli
. Yashmin is trained geologist with a university Master's degree and member of SGF (Société Géologique de France). He has been working as tour guide and expedition leader to actives volcanoes, volcano photographer and consultant for more than 30 years. His areas of expertise include the active volcanoes in Italy, Vanuatu, the Hawaiian Islands, Guatemala, RD of Congo, Tanzania, Costa Rica and others. Besides his mother tongue French, Yashmin speaks several languages including English, Italian, and Spanish.
Website:
www.vanuatu-expedition.com
(photos) and
Youtube channel
!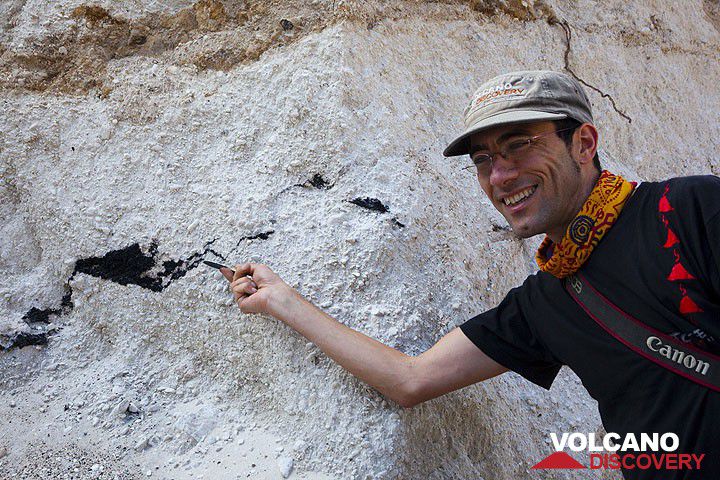 Yashmin Chebli explaining a pumice deposit