3-day private tour on Milos - sample itinerary
Note:
Here's a suggested tour that reveals the best and most interesting sites of geological, natural and historical interest. It can be adapted according to weather, fitness level and personal preferences.
Day 1:

Meeting in Milos at the evening

Meet in a wonderful seaside tavern over dinner and plan the next days in detail.
Day 2:

Abandoned sulfur mine and mineral beach

Start the morning with one of the most intriguing geo-sites of the island – an abandoned sulfur mine on the western coast (spectacular scenery). Head on to the paradise-like beach of Paleochori, with its hot springs, fumaroles, and colorful rocks, that expose the pre-volcanic basement rocks covered by Roman-era volcanic deposits featuring large ancient pottery fragments.

Relax over lunch at a wonderful beach restaurant and take a swim if you feel like it. Take an afternoon walk in the area or visit other places of interest by car.

Return to the main town of Milos, Adamas, in the late afternoon and visit the interesting small Mining Museum before dinner.
Day 3:

Walk over fossilized volcanic seafloor

Take a superb half-day excursion to the spectacular north coast to visit three key geological areas: Phylakopi, the ancient obsidian trade center of the island, the sea caves of Papafrankos and white cliffs of Sarakiniko. Picnic lunch and optional swim at Sarakiniko.

In the afternoon, visit the island's fascinating medieval capital, Plaka, along with its hilltop fortress, early-Christian catacombs, and ancient acropolis with its Greek theater where the famous statue of Venus de Milo was found. Optional scenic hike back to the hotel.
Arrival info:
Depends on your arrival at Athens aiport. There are two possibilities how to get to Milos. You can get a direct flight to Milos airport or you can take a ferry boat from Piraeus harbour (about 4-7 h to Milos Island). It is possible to get earlier to Athens and to stay one or more nights there for sightseeing. A hotel room in Athens is about 80-120 € a double room.
Tour guide
The tour is normally guided either by German volcanologist Dr. Tom Pfeiffer or photographer and amateur geologist Tobias Schorr. Both have been traveling on the Greek volcanic areas (Methana, Milos, Santorini, Nisyros) for more than 20 years and know the islands better than even most local people do.
Tom completed his PhD studies on the topic of the great Minoan eruption of Santorini. He made the important discovery of a 3600-year-old olive tree buried alive in the pumice deposit that now can be seen in the small geological museum in Perissa.
This allowed the most precise dating of one of the most significant natural event in the Bronze age (to 1613+-13 years BC) so far.
His colleague Tobias, with whom Tom alternates on this tour, is a true specialist for Greece in general, boasting in-depth knowledge about its culture, history, people, flora, fauna and of course geology. He is known for his good eye and discoveries of rare minerals, plants, animals, or hidden archeological artifacts during the various excursions.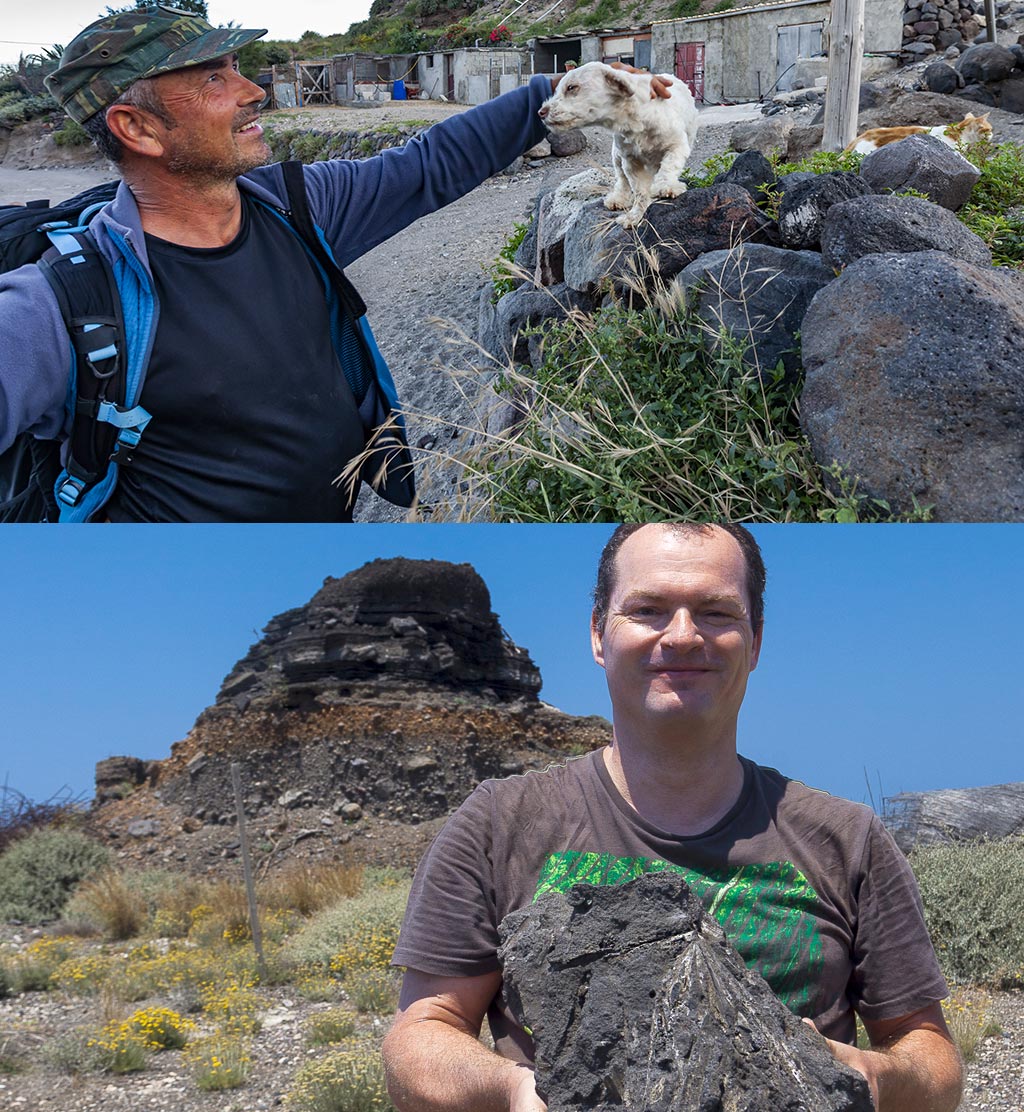 Tom and Tobias on Santorini