Top 5 Volcano Tours to see "Red Hot Lava"
Watching Yasur volcano erupt (Vanuatu) during our Round-The-World tour
Visiting an erupting volcano is an unforgettable experience. If you're particularly looking to see "Red Hot Lava", these are among the best places to go to:
#1: Stromboli volcano - the lighthouse of the Mediterranean
Sicila and Eolian Islands (Italy)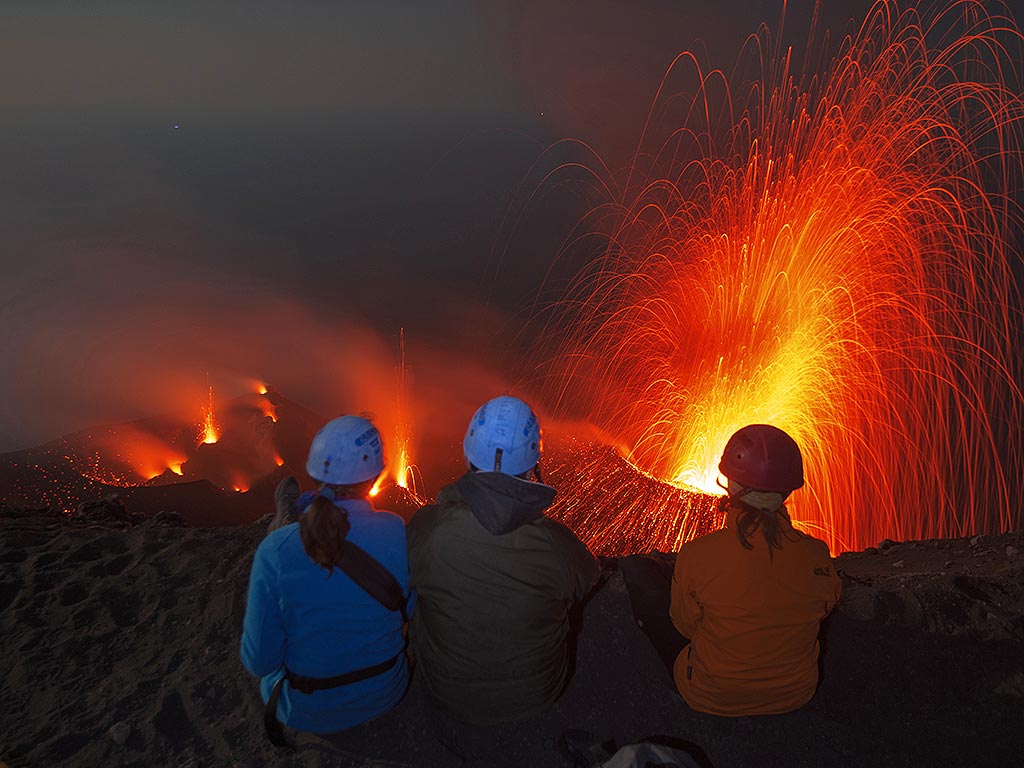 9-day walking & study tour to Stromboli, Lipari, Vulcano and Etna with our expert volcanologist
9 days / 8 nights - Easy to Moderate
2780 € $£¥
10-18 Sep 2022
1-9 Oct 2022
6-14 May 2023
Together with one of our expert volcanologists you will discover some of Italy's most famous and active volcanoes: Mt Etna on Sicily and the Aeolian Islands of Vulcano, Lipari and Stromboli. This itinerary combines exciting hikes, interesting excursions and island relaxation with excellent Mediterranean food and charming accommodation.
more info
#2: Dukono and Ibu - Indonesia's most active volcanoes
N-Sulawesi + Halmahera (Indonesia)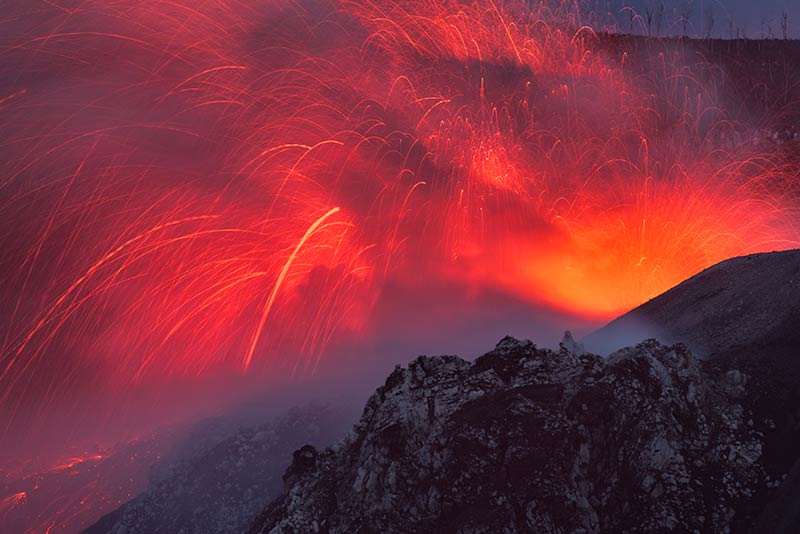 17-day volcano trekking tour to the Molucca Sea: N-Sulawesi, Karangetang and Halmahera
17 days / 16 nights - Moderate
3600 € $£¥
9-25 Oct 2022
6-22 Nov 2022
The legendary Molucca Sea, known for its precious spices that attracted early traders from Europe, is not only one of Indonesia's
most interesting and beautiful areas
. It also has the largest density of active volcanoes of any region in Indonesia, thanks to a very complex and unique tectonic setting.
Two active subduction zones to the west and east have consumed a small oceanic microplate, the Molucca Sea plate, producing two active volcanic arcs in North Sulawesi and in Halmahera. On this tour we visit no less than
5 of the most active volcanoes in the world
, two of which - Dukono and Ibu - have been in near permanent activity for years while the others, Lokon, Soputan and Karangetang erupt frequently.
Each of the volcanoes is completely different in character and provides a
great adventure
to explore. The tour for a small group is an immersion into colorful cultures and an intense meeting with its very friendly people. Last but not least, the delicious, spicy cuisine of the region will enchant you.
more info
#3: Erta Ale, Ethiopia: the best lava lake to see from close
Danakil desert (Ethiopia)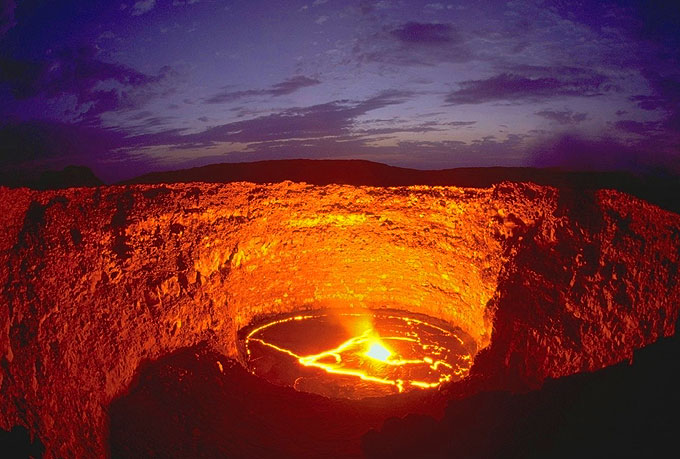 14 days expedition to Erta Ale volcano and Dallol hydrothermal field (Danakil desert, Ethiopia)
14 days / 13 nights - Moderate
$ 4530 €£¥
no scheduled dates at present
Experience one of the geologically most active areas on the planet! The Danakil desert is famous for
Erta Ale
, one of the world´s few permanently active volcanoes. Until 2017, it hosted a spectacular
boiling lava lake
, which is now gradually returning (as of late 2020). Don't miss your chance to see the
surreal landscapes of colors, salt, geysers and hot springs
at the hydrothermal area of
Dallol
.
See the dramatic change of environment when the jeep expedition starts in Addis Ababa (at 2355 m), and gradually descents into the Danakil depression, passing through
Awash National Park
before reaching the banks of
Afrera salt lake
(at - 100 m). The journey continues as we climb Erta Ale shield volcano and spend
3 full days and nights exploring the volcano´s caldera
. We then set up camp at the Afar village of Hamed Ela and have
2 full days
to discover the
hydrothermal area of Dallol and Assale salt lake
, including the
centuries-old ritual of salt cutting
. Finally explore the UNESCO world heritage site of the
rock hewn churches of Lalibela
.
We have been organising
tours to the Danakil since early 2007
and hence have
expertise
in arranging such expeditions. Our
highly competent Ethiopian main guide and volcanologist Enku
and his friendly team will safely take you through the desert in
4x4 jeeps
. The sometimes Spartan character of living conditions in the Danakil are partially compensated by the
large variety of meals
freshly prepared by our cook!
more info
#4: Nyiragongo, DRCongo: the largest lava lake in the world
DR Congo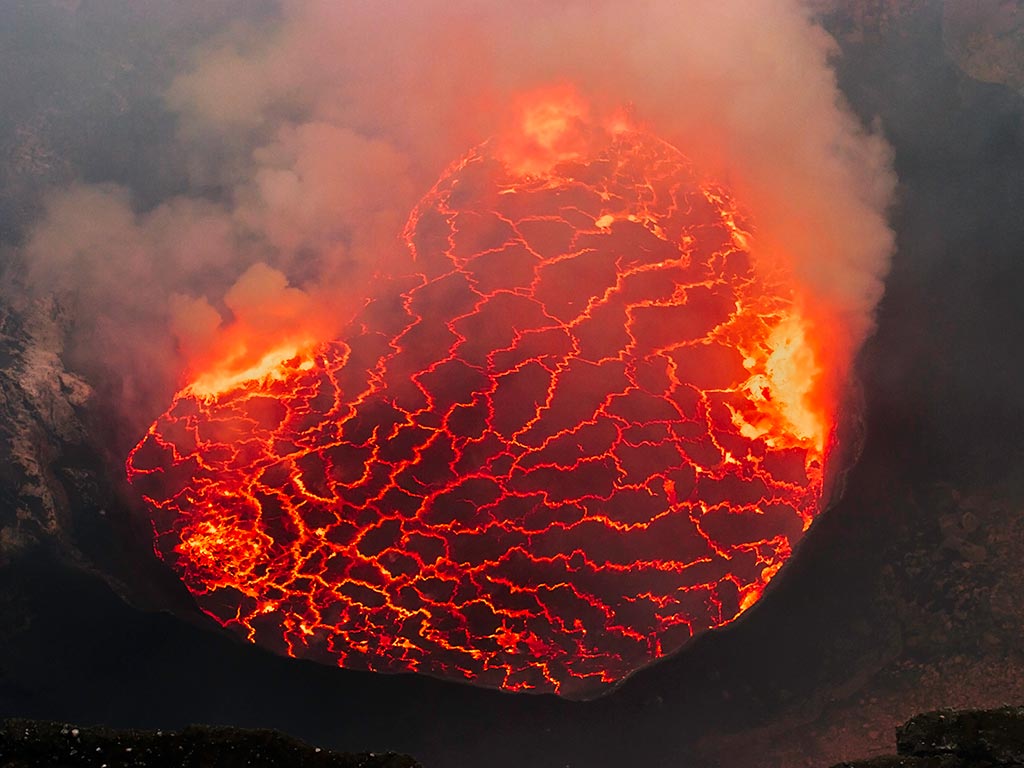 8-days expedition to Nyiragongo volcano & mountain gorillas in Virunga National Park
8 days / 7 nights - Moderate to Challenging
$ 3950 €£¥
no scheduled dates at present
An adventurous trip to The Virunga National Park, DR Congo with a special deal to spend 2 NIGHTS on the crater rim of Nyiragongo volcano (normally, only one is allowed!)! In addition, the lava lake has been particular active with frequent, dramatic overflows lately, so it's a great time to visit!
The heart of this adventurous expedition is
two nights camping on
the rim of the giant summit caldera of
Nyiragongo volcano
, above its violently
active lava lake
which is the word´s largest!
Second highlight is a trek through dense rainforest to
observe a family of mountain gorillas
, endangered primates which found a safe heaven in Virunga National Park.
The itinerary furthermore includes a visit of the
volcano observatory
and
Goma city
, where life goes on from the ashes of the destruction caused by Nyiragongo´s 2002 eruption, and
beautiful and varied scenery
during the drives through western Rwanda and to the start of the volcano hike and gorilla tracking.
An
excellent local guide
who gladly provides insight into the regions history and local culture, the company of a
Goma observatory volcanologist
during the time spent on Nyiragongo,
friendly people, good accommodation and tasty food
make this trip complete!
more info
#5: Fuego, Pacaya & Santiaguito - Guatemala's Fiery Trio
Guatemala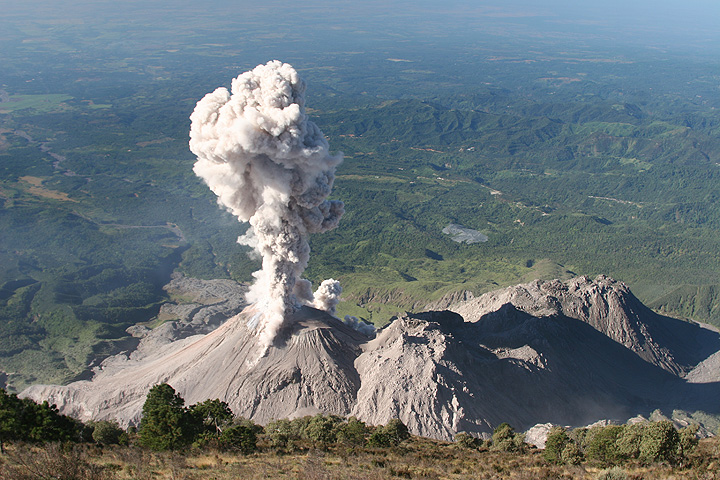 15-day study trip and expedition to Guatemala's volcanoes
15 days / 14 nights - Moderate
$ 3900 €£¥
no scheduled dates at present
Guatemala: a country with
spectacular volcanic activity
, wonderful landscapes, colorful villages and towns, friendly people.
With its 3 active and very distinctly different volcanoes
Pacaya, Fuego and Santiaguito
on a stretch of little more than 200 km, and many impressive conical peaks between them, Guatemala has the highest density of active volcanoes anywhere on the planet.
Accompanied by a trained volcanologist, you
watch active volcanoes from up close
and get an in-depth understanding of the powerful and turbulent natural processes at work.
With its colonial heritage, the lively and colorful town of Antigua is the perfect place to start and end our tour. There is time to explore the Mayan markets, listen and dance to the sounds of Salsa and Merengue, practice your Spanish and get in touch with the friendly and warm Guatemalan people.
more info