Sinabung Volcano Special
5 days volcano expedition to Sinabung volcano, Sumatra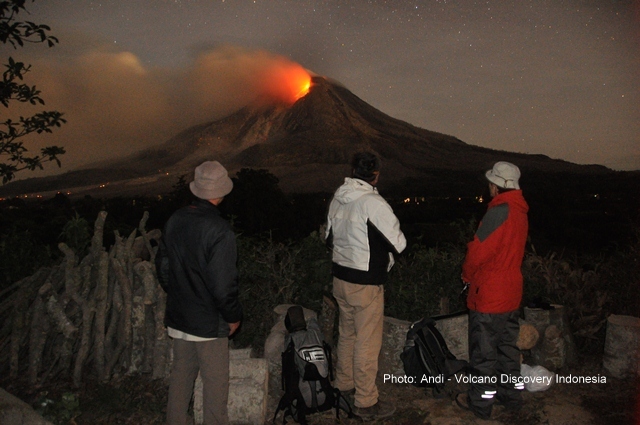 Group observing Sinabung at night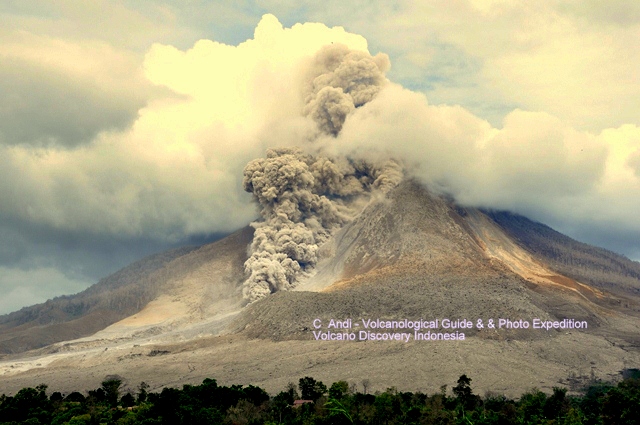 Pyroclastic flow at Sinabung
Seismic recordings at the volcano observatory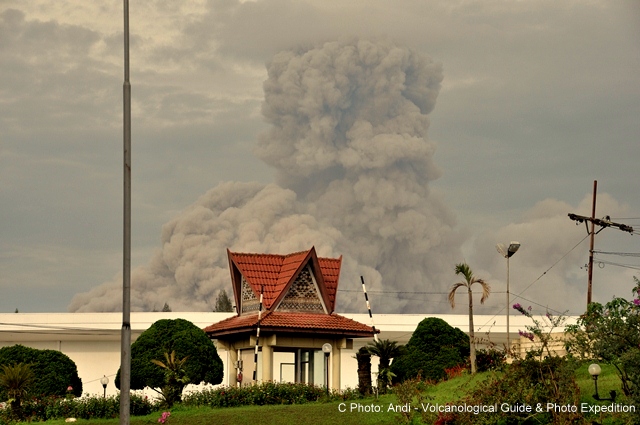 View of the volcano from our hotel
Sinabung volcano on Sumatra has been in eruption since late 2013 and been regularly producing spectacular pyroclastic flows, as viscous lava continues to accumulate as a lava dome and regularly collapses.
Sinabung's eruption is also a text-book example of an erupting subduction zone volcano causing an ongoing crisis, which local people and authorities have learned to live with on a daily basis.
There is no fixed itinerary - we will move around the volcano as a function of weather, activity, the group's main interests and other factors. This tour is mainly intended for those eager to watch, learn about, photograph or film an active volcano, the processes behind, its monitoring and its impacts on human and nature.
observe an active growing lava dome
chances to see pyroclastic flows from safe vantage points
study the effects of an unusually long ongoing eruption on people and landscape
learn about how people live and manage a volcanic crisis
small groups
experienced guide from our Indonesia team
accompanying volcanologist from our team (if groups of 4 or more)
Sinabung volcano expedition (5 days / 4 nights)
Day 1-5:

Sinabung Special 4 nights

Day 1: Meeting in Medan airport by noon, transfer to hotel near Sinabung volcano

Days 2-4: 3 full days / 4 nights for observation of pyroclastic flows and the effects of the eruption on the surroundings

Day 5: transfer back to Medan airport
Arrival info:
The expedition starts and ends in the Kuala Namu International Airport (KNO) near Medan city on Sumatra, which can be easily reached from other cities in the region (e.g. Singapore, Jakarta, Bali). On request, we can provide domestic flights to/from Medan for you. The transfer to and from Sinabung will take about 4 hours.
Tour type:
Volcano expedition: photography - geology & volcanism - adventure
Difficulty:
Easy
Group size:
2-6
Duration:
5 days / 4 nights
Dates:
Custom and group dates
Price (per person): 1490 € $£¥
Included:
Accommodation in hotel
Full board with soft drinks and table water
All transfers from/to Medan airport, private minibus at disposal
Accompanying volcanologist from our team
Tour guide:
The tour will be accompanied / guided on location by one of our professional local guides in Indonesia, typically Andi or Galih. They have extensive knowledge not only about the volcanoes, but also about their country and culture.
Our guides all speak English and Indonesian, some also French.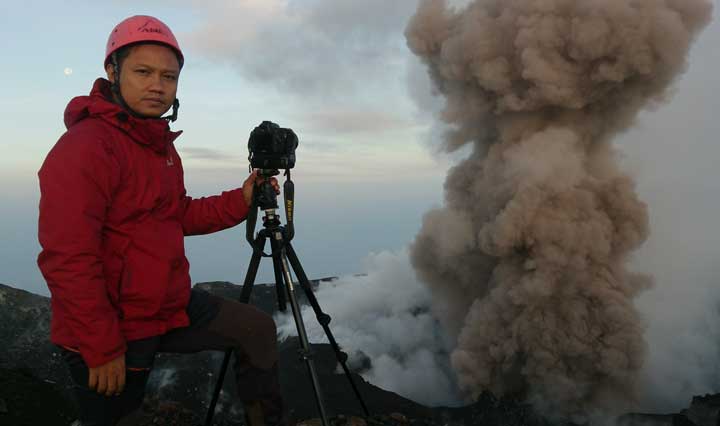 Andi Rosadi, our famous head expedition leader in Indonesia