Sakurajima Volcano Special
5-day volcano expedition to observe Sakurajima volcano's activity from close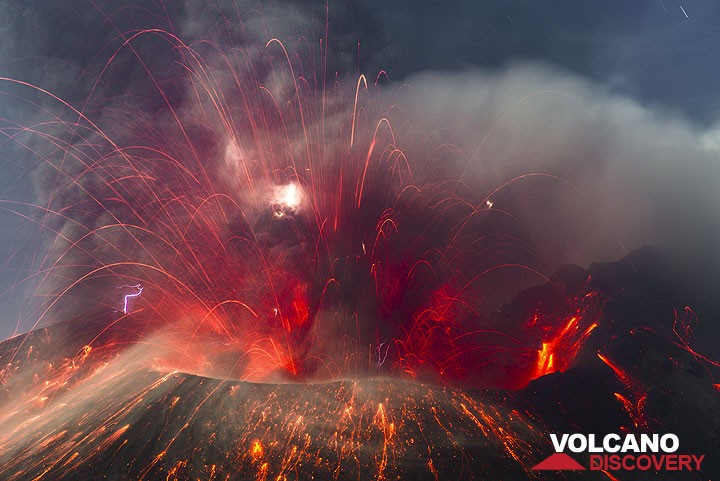 Eruption from Sakurajima volcano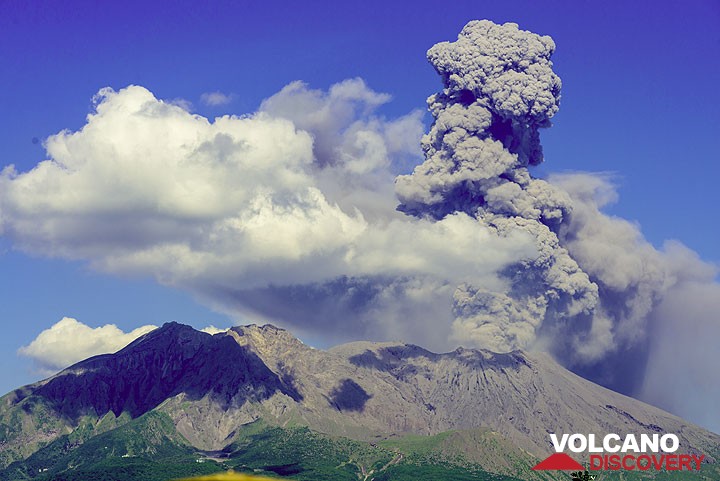 Vulcanian eruption from Sakurajima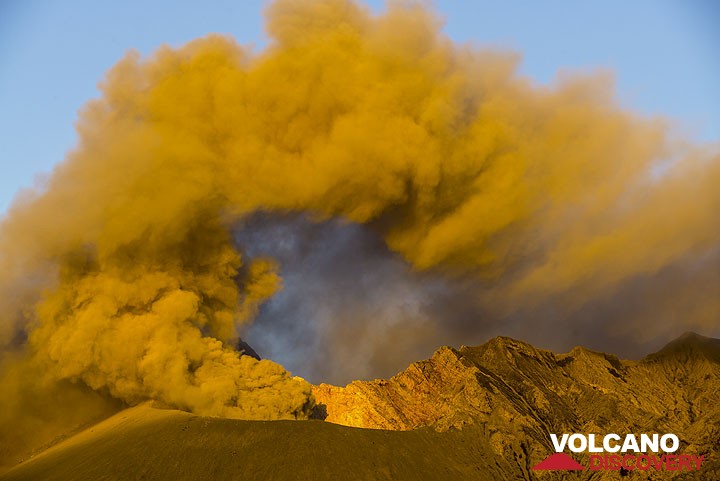 Golden morning light on ash plume from Showa crater
Sakurajima volcano in Japan is the best volcano to visit for spectacular vulcanian-type explosions, often with beautiful volcanic lightning. In addition, it is one of the most beautiful and interesting volcanoes of Japan, when it comes to its geography, geologic history as well as the current activity.
This tour is accompanied by a professional volcanologist and volcano photo expert and aimed towards people eager to get to know and photograph/film Sakurajima volcano.
Japan's most active volcano
Spectacular vulcanian explosions
Multiple-day observation time
Small group
Accompanying volcanologist from our team
Sakurajima Special (5 days)
Day 1:

Arrival Kagoshima

Pick-up at Kagoshima airport or in Kagoshima town. Transfer to hotel at the base of Sakurajima volcano.

Group dinner and optional night-time volcano observation.
Day 2-4:

3 full days at Sakurajima volcano

Multiple full days and nights for volcano observation, visiting multiple points from various angles. We'll have a car available for individual transfers at (almost) any time - for instance, if a part of the group wants to go back to the hotel while others want to stay longer etc.

During the day, we also have time to visit geologic-interest sites, the city and nearby attractions.

Generally, lunch is included as a proper (Japanese meal) in restaurants or at the hotel. Dinner is improvised as a group (take-away food), because typical dinner times coincide with the best times for photography.
Day 5:

Departure or own extension

Transfer to Kagoshima airport / Kagoshima City center, end of tour or own extension.
Arrival info:
The tour starts and ends in Kagoshima airport (KOJ) or at the high-speed train station in Kagoshima Chuo, where we can arrange pick-up / drop-off on the first day. In most cases, you will fly into Fukuoka, Osaka or one of Tokyo's airports and then take a domestic connection flight. Kagoshima can also be easily reached by the Shinkansen train. If you plan to combine the tour with an extended visit to Japan, the Japan Rail Pass could be interesting for you.
Tour type:
Volcano expedition: photography - geology & volcanism - nature & culture
Difficulty:
Easy
Group size:
1-6
Duration:
5 days / 4 nights
Dates:
no scheduled dates at present
Price (per person): on request
Included:
All transfers from / to Kagoshima
Minibus rental, driver, gasoline
Breakfast & lunch (Japanese-style)
Accompanying volcanologist from our team