Raung Volcano Special
Volcano expedition to Raung volcano, East Java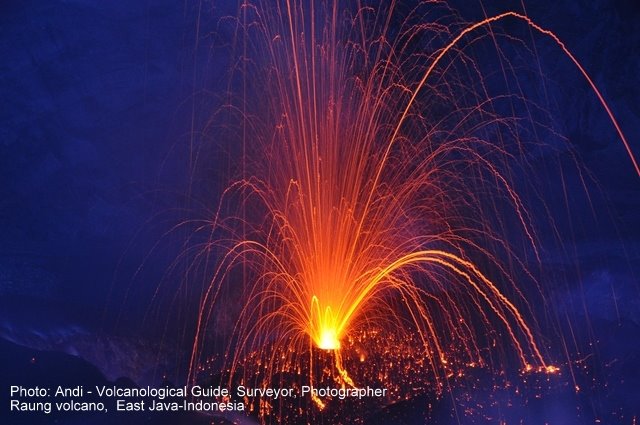 Raung volcano in Feb 2015 (photo: Andi / VolcanoDiscovery Indonesia)
Ash plume from Raung volcano (photo: Instagram @sonyxyde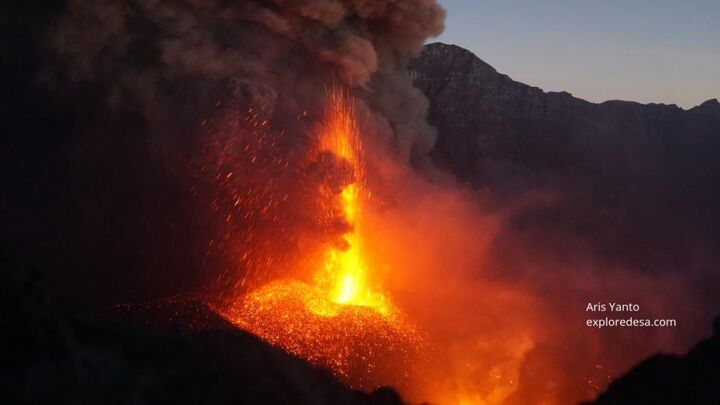 Lava fountain from Raung in July 2015 (photo: Aris Yanto / www.exploredesa.com(
Ash plume from Raung volcano (photo: Instagram @sonyxyde
Raung volcano is the rarely visited large neighbor of more famous Ijen volcano in East Java. The volcano is frequently in eruption, although most activity goes unnoticed as it is usually confined to the large summit caldera.
Since late June 2015, the volcano's activity has drastically increased, producing
spectacular strombolian explosions, lava fountains and lava flows
covering the whole of the caldera floor and producing significant ash emissions. The latter brought Raung into the world-wide news, because the ash plumes have repeatedly caused the closure of regional airports.
We offer you the chance to
trek to the crater rim and camp there
for one night, in order to observe this activity from close.
You can combine this adventure with the preceding
expedition to Sinabung
and/or extend your stay and visit Ijen with its famous blue sulfur flames.
observe the intra-crater activity of Raung volcano
small group
experienced guide from our Indonesia team
accompanying volcanologist from our team (if groups of 4 or more)
Raung volcano expedition (from / to Bali)
Note:
The itinerary can be adapted according to weather and eruption conditions. We can also combine it with a custom-made extension, e.g. to visit Ijen volcano.
Day 1-6:

Bali - Raung volcano - Bali (6 days)

D1: Meeting in Bali - dinner - hotel

D2: Transfer Bali - Banyuwangi (flight if possible, otherwise by land/boat) - transfer by jeep through Ijen caldera

Accommodation with local people

D3: Early climb Raung

Leaving at 4 am, 7h climb plus breaks, breakfast, lunch

Dinner at campsite, camping

D4: Sunrise and summit of Raung - descend back down - transfer by jeep to

Banyuwangi, night in hotel

D5: Transfer from Banyuwangi to Bali (flight if possible), night in hotel

D6: End of tour or extension
Arrival info:
The expedition starts and ends at Bali's international airport (DPS). On request, we can provide domestic flights to/from Bali for you.
Tour type:
Volcano expedition: photography - geology & volcanism - adventure
Difficulty:
Moderate to Challenging
Group size:
2-6
Duration:
6 days / 5 nights
Dates:
no scheduled dates at present
Price (per person): 1560 € $£¥
Included:
Accommodation
Full board with soft drinks and table water
All transfers from/to Bali airport, private minibus at disposal
Experienced guide from our VolcanoDiscovery Indonesia team
Accompanying volcanologist from our team