Krakatau to Bali (16 days Java)
Note:
Depending on weather, volcanic activity, preferences of the group etc. small variations on the actual itinerary could be necessary.
Day 1:

Arrival & meeting in Jakarta

Arrival in Jakarta, transfer to downtown hotel and group dinner.
Day 2:

Transfer to Krakatau volcano

In the morning, a private minibus picks us up at the hotel and brings us straight to the West Coast. After a lunch and a visit to the

Krakatau Volcano Observatory

, we embark on a motor boat that brings us to the

famous island group of Krakatau

, where we will set camp on a

paradise beach

facing the often active Anak Krakatau volcano.

In the afternoon and evening we will

climb the volcano

(conditions allowing) and observe its activity.
Day 3:

Full day on Krakatau

A full day to observe Krakatau, visit the island group, sail around and explore photographic opportunities.
Day 4:

2nd day on Krakatau - return to coast

Second day on Krakatau for observation / visit of Anak Krakatau. After a snorkeling break at a coral reef near Rakata Island return to West coast.
Day 5:

Transfer to Garut in West Java

Transfer day: drive through West Java to the small university town Garut in West Java
Day 6-7:

Papandayan + Galunggung volcano - Cipanas hot springs

Two full days in the beautiful volcanic area to explore hot springs & volcanic craters (Papandayan, Galunggung etc.).
Day 8:

Scenic train ride to Yogyakarta - Prambanan Temple

An early train (first class) brings us comfortably directly to the beautiful, lively city of Yogyakarta, Central Java's capital. The ride is very scenic and takes about 7-8 hrs.
Day 9:

Free day in Yogya

Opportunity to explore downtown Yogya (Sultan's Palace, water castle, museums, markets etc.). Optional fun city-tour on becak (rickshaws). Option to visit the important Hindu

temples of Prambanan

and to attend a Ramayana ballet performance in the evening.
Day 10:

Borobodur temple and Merapi volcano

In the morning, we take time to visit the monumental temple of

Borobodur

, the largest Buddhist temple in Asia. Erected between 750 and 850 AD, then partly buried under volcanic mudflows from Merapi volcano around 1000 AD and again excavated starting in 1815, Borobodur counts as one of Asia's major archaeological sites. The visit to Borobodur will include a guided tour with extra time to spend in or near the complex. After lunch, we drive to the

slopes of Merapi volcano

where we can observe the impressive evidence of its recent eruption (e.g. the fresh deposits and destruction caused by the pyroclastic flows in June 2006).
Day 11:

Flight to East Java, Tengger volcano

Short and scenic flight to Surabaya, transfer to Malang town, lunch. Enter into the Tengger caldera via an impressive route on open jeeps to enjoy the dramatic landscape of deep valleys and steep cliffs.
Day 12:

Bromo volcano & Tengger caldera

Relaxed day to explore Bromo volcano and the Tengger caldera. Visit of the local volcano observatory and introduction to monitoring techniques of the volcano.
Day 13:

Sunrise over the Tengger Kaldera & Transfer to Ijen volcano

Early start & jeep drive to

one of the world's most spectacular sunrise viewpoints

over the huge Tengger caldera. After returning to the hotel and a breakfast, we leave to the beautiful Ijen Plateau where we will stay two nights in an amazing lodge in the middle of lush gardens and rice fields, with views to Raung and Ijen volcano.
Day 14:

Ijen volcano

Early start to climb Ijen volcano's crater with its

impressive sulfur deposits and the turquoise crater lake.

Observe the medieval-style mining operations inside the crater and learn about the processing of sulfur. Return to relax in the Ijen Lodge in the afternoon.
Day 15:

Transfer to Bali - beach

After a relaxed breakfast in the stunning surroundings of the lodge, we drive to

Bali

, where the trip ends in a hotel on the beach of Jimbaran.
Day 16:

End of tour on Bali

Your tour with us ends on Bali.
20-days itinerary including Semeru trekking
Day 1-11:

as day 1-11 in normal itinerary
Day 12:

First etappe on the trek to Semeru

Start the climb to Semeru through a long but moderate trek until Kalimati camp
Day 13:

Climb to Semeru's summit

Strenous climb up the steep cone of Semeru for sunrise, descend and hike to second camp at a lake.
Day 14:

Hike back to Ranu Pani and 4X4 transfer to Bromo

Hike back to Ranu Pani, 4x4 drive to the Tengger caldera
Day 15:

Transfer to Tumpang & Tengger caldera Day

Transfer to Tumpang & Tengger caldera Day
Day 16-20:

as days 12-16 in normal itinerary (Bromo - Ijen - Bali)
Tour guide
The tour will be accompanied / guided on location by one of our professional local guides in Indonesia, typically Andi or Galih. They have extensive knowledge not only about the volcanoes, but also about their country and culture.
Our guides all speak English and Indonesian, some also French.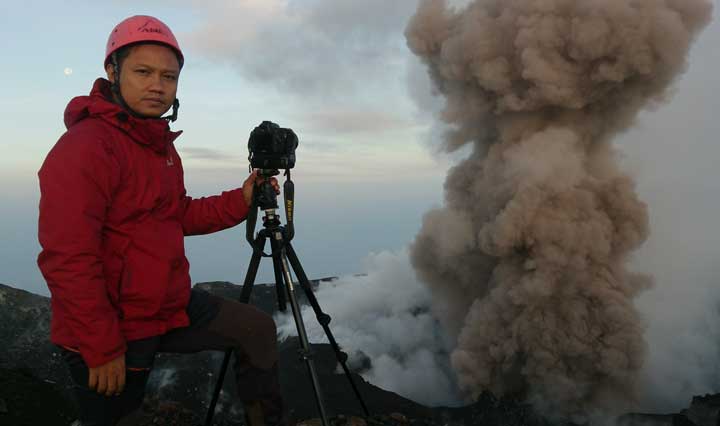 Andi Rosadi, our famous head expedition leader in Indonesia