ПОКАЗАТЬ В ДРУГИХ ВАЛЮТАХ
From Krakatau to Bali
Фото 16-дневный семинар тур вулканов на острове Ява, Индонезия
"Dear Volcanodiscovery and my Tour Guide Andy, I would like to thank you both for the great trip that you provided. I found the organisation was excellent and the food at many of the restaurants was superb." (Anthony E., Melbourne)
Semeru volcano at night
Rakata (Krakatau) (photo: Roland Gerth)
Маршрут тура: от Krakatoa Бали тур, карты, созданные с помощью Voyager карты сервера с лица земли (TM).
Licin (East Java) (photo: Roland Gerth)
Ijen crater lake (photo: Roland Gerth)
Sulphur miner at Ijen volcano
Papandayan volcano (photo: Roland Gerth)
Ulu Watu, Bali (photo: Roland Gerth)
Eruption from Krakatau volcano
Galunggung volcano (photo: Roland Gerth)
Semeru volcano
Merapi volcano (photo: Roland Gerth)
Jumog, Java (photo: Roland Gerth)
Expedition camp kitchen (Krakatau)
Erupting Bromo volcano at sunrise (photo: Roland Gerth)
Licin, East Java (photo: Roland Gerth)
Cikuray volcano (photo: Roland Gerth)
Rakata (Krakatau) (photo: Roland Gerth)
Roland at Krakatau
Penelokan, Bali (photo: Roland Gerth)
Rice field in West Java (photo: Roland Gerth)
Krakatau beach (photo: Roland Gerth)
Balinese temple (photo: Roland Gerth)
Roland at work at the Kajoran waterfall
Photographing the waterfall
The 2-weeks easy study and photography workshop tour crosses Java from West to East and ends on Bali. Its itinerary and focus are optimized in order to provide excellent conditions and locations for photography. Your guide is one of the best available in Indonesia with excellent knowledge of locations, people and photographer's needs. If you are new to photography of volcanoes and landscapes, this is the chance to learn and improve your own photograpy!

The program allows generously for sufficient time to explore the most interesting landscapes of Java and its volcanoes in depth: Krakatoa and Papandayan in West Java, Merapi in Central Java, and the Tengger caldera, Bromo, Semeru and Ijen volcanoes in East Java.

Even if you are not a photographer, you will get an unforgettable and competent introduction to Java's multicolored landscapes, people and their culture.

This tour combines easy to moderate excursions with a portion of luxury. You travel to some of Java's most fascinating landscapes and meet its friendly people and their colorful culture.

Last but not least, an adventurous camp on Krakatau's tropical beach, as well as Indonesia's delicious cuisine will round out the trip.

The tour can be combined with a flexible add-on program on Bali, where you and your guide decide which areas you are visiting, based on your preferences. There is no predefined program: after more than 2 weeks, you have become a close team and since the groups are always small, the best recipe for a great extension is to stay completely flexible and decide on the spot where to go and what to visit. Please inquire with us for details how to book this trip with an flexible extension on Bali (or elsewhere, of course).
Лучшие фото мест на Java
Эксперт руководство с отличным знанием Java
Эксклюзивные малые размеры групп = оптимальную гибкость
Все крупнейшие вулканы Java в один тур, включая 2 ночи на Кракатау
Достаточно времени для изучения интересных мест
Возможность добавлять Бали, как гибкая программа
Дождь леса, водопады, тропические пляжи, красочные озера, глубокие кратеры, фумаролы
Культуры выделяет (Борободур, Прамбанан и т.д.)
Связаться с дружественным местным населением
Вкусная еда и отличные отели
Krakatau to Bali (16 days Java)
Note::
Depending on weather, volcanic activity, preferences of the group etc. small variations on the actual itinerary could be necessary.
День 1:

Arrival & meeting in Jakarta

Arrival in Jakarta, transfer to downtown hotel and group dinner.
День 2:

Transfer to Krakatau volcano

In the morning, a private minibus picks us up at the hotel and brings us straight to the West Coast. After a lunch and a visit to the

Krakatau Volcano Observatory

, we embark on a motor boat that brings us to the

famous island group of Krakatau

, where we will set camp on a

paradise beach

facing the often active Anak Krakatau volcano.

In the afternoon and evening we will

climb the volcano

(conditions allowing) and observe its activity.
День 3:

Full day on Krakatau

A full day to observe Krakatau, visit the island group, sail around and explore photographic opportunities.
День 4:

2nd day on Krakatau - return to coast

Second day on Krakatau for observation / visit of Anak Krakatau. After a snorkeling break at a coral reef near Rakata Island return to West coast.
День 5:

Transfer to Garut in West Java

Transfer day: drive through West Java to the small university town Garut in West Java
День 6-7:

Papandayan + Galunggung volcano - Cipanas hot springs

Two full days in the beautiful volcanic area to explore hot springs & volcanic craters (Papandayan, Galunggung etc.).
День 8:

Scenic train ride to Yogyakarta - Prambanan Temple

An early train (first class) brings us comfortably directly to the beautiful, lively city of Yogyakarta, Central Java's capital. The ride is very scenic and takes about 7-8 hrs.
День 9:

Free day in Yogya

Opportunity to explore downtown Yogya (Sultan's Palace, water castle, museums, markets etc.). Optional fun city-tour on becak (rickshaws). Option to visit the important Hindu

temples of Prambanan

and to attend a Ramayana ballet performance in the evening.
День 10:

Borobodur temple and Merapi volcano

In the morning, we take time to visit the monumental temple of

Borobodur

, the largest Buddhist temple in Asia. Erected between 750 and 850 AD, then partly buried under volcanic mudflows from Merapi volcano around 1000 AD and again excavated starting in 1815, Borobodur counts as one of Asia's major archaeological sites. The visit to Borobodur will include a guided tour with extra time to spend in or near the complex. After lunch, we drive to the

slopes of Merapi volcano

where we can observe the impressive evidence of its recent eruption (e.g. the fresh deposits and destruction caused by the pyroclastic flows in June 2006).
День 11:

Flight to East Java, Tengger volcano

Short and scenic flight to Surabaya, transfer to Malang town, lunch. Enter into the Tengger caldera via an impressive route on open jeeps to enjoy the dramatic landscape of deep valleys and steep cliffs.
День 12:

Bromo volcano & Tengger caldera

Relaxed day to explore Bromo volcano and the Tengger caldera. Visit of the local volcano observatory and introduction to monitoring techniques of the volcano.
День 13:

Sunrise over the Tengger Kaldera & Transfer to Ijen volcano

Early start & jeep drive to

one of the world's most spectacular sunrise viewpoints

over the huge Tengger caldera. After returning to the hotel and a breakfast, we leave to the beautiful Ijen Plateau where we will stay two nights in an amazing lodge in the middle of lush gardens and rice fields, with views to Raung and Ijen volcano.
День 14:

Ijen volcano

Early start to climb Ijen volcano's crater with its

impressive sulfur deposits and the turquoise crater lake.

Observe the medieval-style mining operations inside the crater and learn about the processing of sulfur. Return to relax in the Ijen Lodge in the afternoon.
День 15:

Transfer to Bali - beach

After a relaxed breakfast in the stunning surroundings of the lodge, we drive to

Bali

, where the trip ends in a hotel on the beach of Jimbaran.
День 16:

End of tour on Bali

Your tour with us ends on Bali.
Информация о встрече::
??? ?????????? ? ???????? ? ????????????? ?? ????.
????????? ???????????? ?????????? ?????? ???????? ??????? ? ???????? ? ?? ????, ??????? ????? ????? ???????? ???? ???. ? ????????? ?????? ??? ???? ?? ?????? ?????? ? ?????????, ??? ?????? ? ????? ?????? ???????? ????????? ????????????? ???? ?? ????????? ? ???????? (??. 30-50 ???????? ???). ?? ????? ???? ???????? ?????????? ????????????? ??????????? ??? ??? ?? ???????.
Тип тура:
Фотография Тур: Активные вулканы - ПРИРОДА
ТРУДНОСТЬ:
Easy to Moderate
Group size:
3-6
ПРОДОЛЖИТЕЛЬНОСТЬ:
16 days
ДАТЫ:
Индивидуальные и групповые даты
1-16 ноя 2020
18 мая - 2 июн 2021
6-21 июн 2021
Price (per person): 2950 € $£¥
Включено:
Проживание в двухместных номерах (палатки)
Полный пансион (без напитков), за исключением на свободный день в Yogya
Все наземные, морские и воздушные переводов, как указано в программе, в том числе частные лодки для Кракатау
Трансфер из Джакарты и Бали
Входная плата, посещение парков и археологических памятников и т.д., как описано
Местные гиды, повара, носильщики и помощи рук
Индонезийский английский гид тура VolcanoDiscovery
Tour guide:
The tour will be accompanied / guided on location by one of our professional local guides in Indonesia, typically Andi or Galih. They have extensive knowledge not only about the volcanoes, but also about their country and culture.
Our guides all speak English and Indonesian, some also French.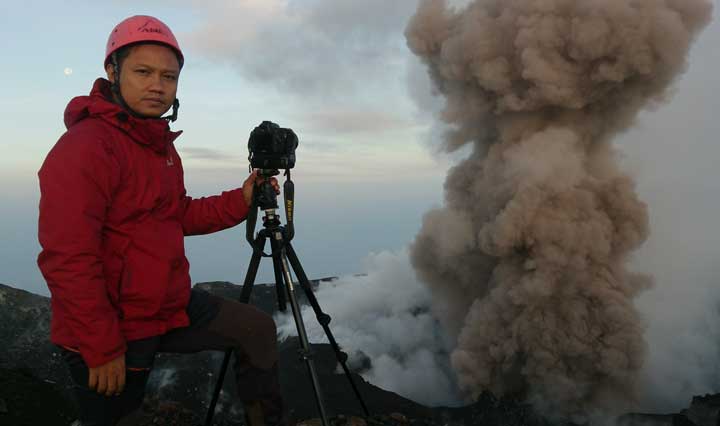 Andi Rosadi, our famous head expedition leader in Indonesia
Tour photos: