Kamchatka - Land of Colors
volcano expedition to Kamchatka
..."I had a great time" (Jay R., UK after his tour in Sep 2018)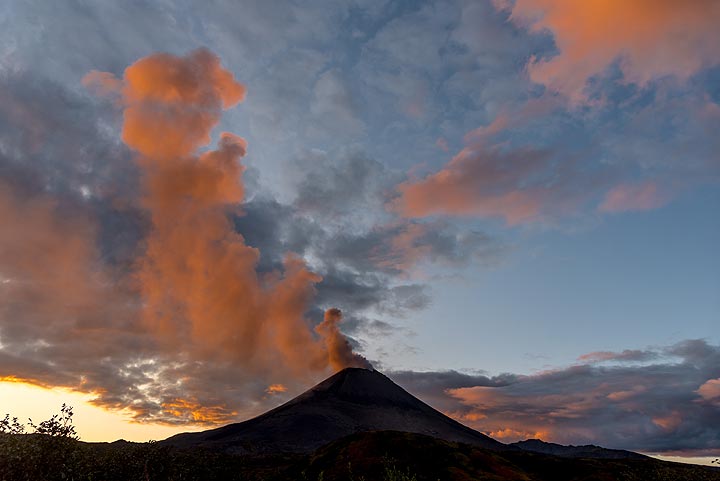 Karymsky volcano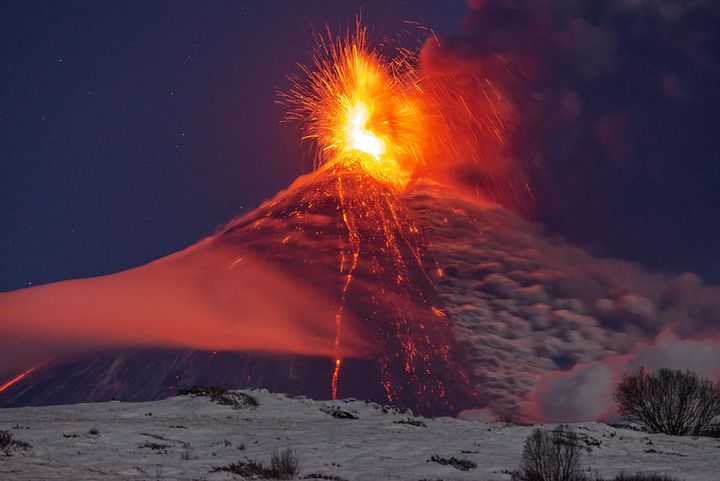 Klyuchevskoy volcano in eruption (photo: Martin Rietze)
Vilyuchinsky volcano (photo: Marco Fulle)
S side of Mutnovsky volcano (photo: Marco Fulle)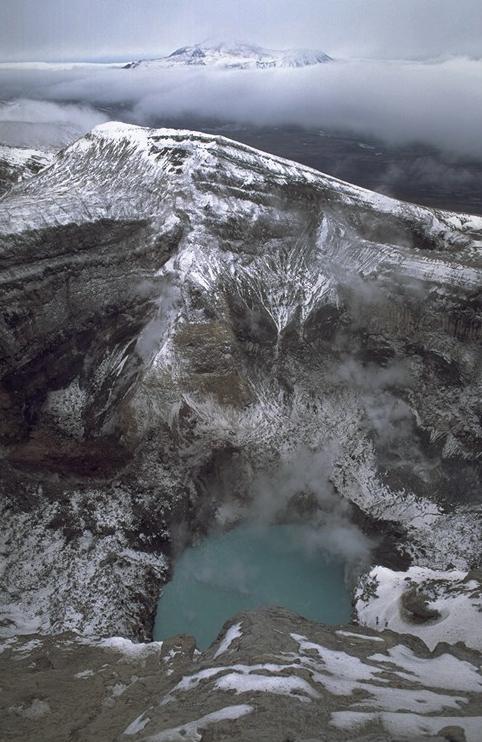 The second and active summit crater of Gorely, with a boiling and acid green lake (photo: Marco Fulle)
SW sides of Ostry Tolbachik (3672 m, left) and Plosky Tolbachik (right) at the sunset light. (photo: Marco Fulle)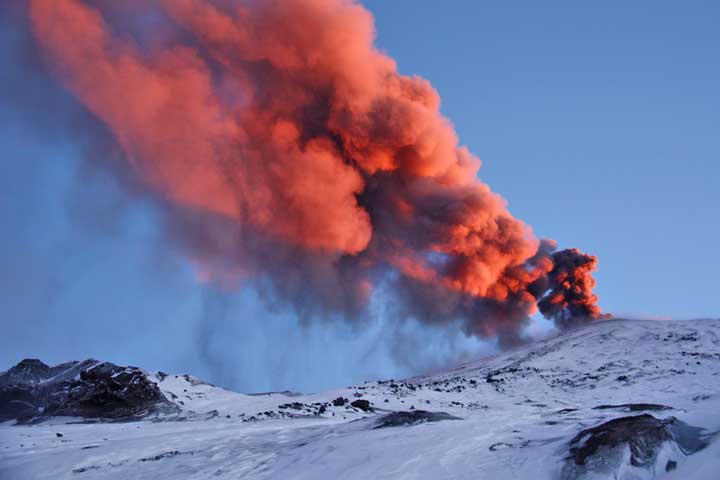 Sunset at Klyuchevskoy
S side of Mutnovsky volcano (2322 m). On the left, the valley of Mutnaya river cuts the crater (photo: Marco Fulle)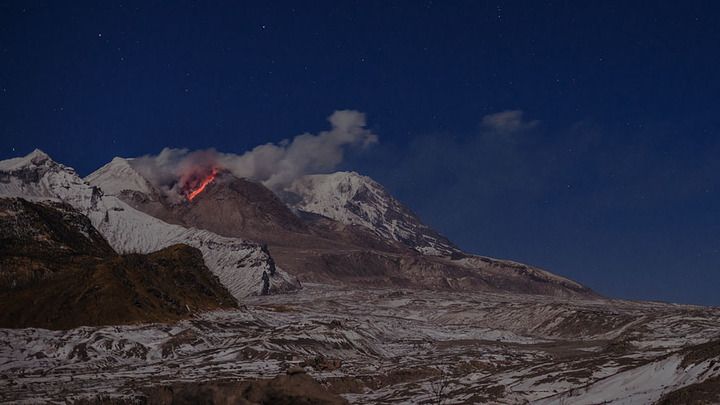 Shiveluch volcano with the active lava dome in moonlight (photo: Martin Rietze)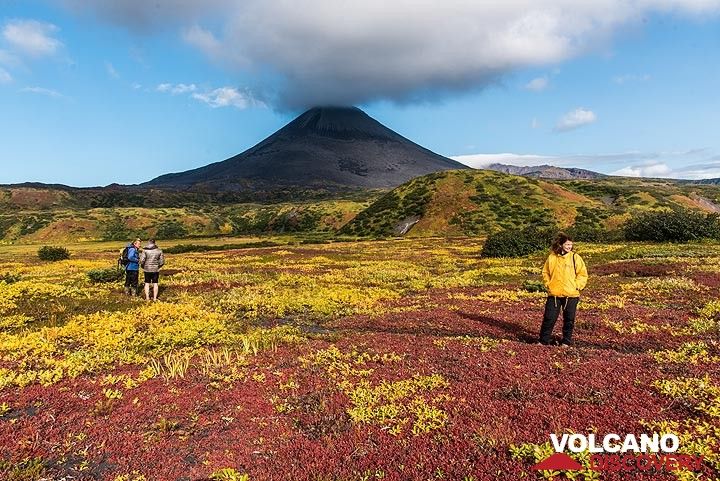 Red meadow with Karymsky
Kamchatka, with its dramatic landscapes, wild, unspoiled nature and many active volcanoes is a great adventure destination. Our tour is aimed towards people with an interest in volcanoes enjoying photography and adventure in a small group.
The tour consists of 4 parts:
First, we plan to spend 3 full days at remote Karymsky volcano, which often has spectacular explosive eruptions of strombolian-vulcanian type. Getting there by helicopter and staying at its feet is certainly going to be a highlight of the trip and something that no other tour operator offers.
During this time, normally, one or several of the local volcanologists also join us and offer interesting insights into actual volcano monitoring, interesting lectures about Kamchatka's volcanoes and volcanic history, ongoing research and more.
The second part is 2-3 days in the southern plateau and includes the relatively easy climbs to spectacular Gorely and Mutnowsky volcanoes. After this first week, we spend 8 days around the northern volcano group around Klyuchevskoy, Sheveluch, Tolbachik volcanoes, where very often at least one volcano is in eruption, typically even two or three... This is usually the most adventurous part that also depends strongest on actual conditions. It involves camping and/or simple huts, easy hikes, and hopefully prolonged observation / photography during day and night in the best viewpoints of the volcanoes.
The tour ends with a few extra days which not only add a safety margin (in case changes are needed on location, or if there is an unexpected eruption that merits going), but normally offer the chance to take part in the classic, but truly rewarding excursions to famous Valley of Geysers/Uzon caldera and the Kurile Lake (for bear observations), both available as day-trips by helicopter. And like a cherry on a pie: a boat trip to Avacha Bay: a great Pacific ocean lies before you, sea animals such as sea lions, orcas and sea birds greets you, and delicious food is served.

During the largest part of the tour, we will have our own cook who provides us with excellent and plentiful Russian and local cuisine. Volcanological explanations during wait times, tea or dinner etc and in the field round out the tour.
Scenic helicopter flights to/from Karymsky
3 days / nights at remote Karymsky volcano for extended observations in an idyllic setting
The most active volcanoes of Kamchatka: Avachinsky, Koryaksky, Klyuchevskoi, Shiveluch, Tolbachik, Bezymianny
Scenic Mutnovsky and Gorely volcano with spectacular craters, fumaroles
Unspoiled nature and beautiful landscapes
Autumn colors of forests and tundra
Possibility to see bears
Options for helicopter excursions to Valley of Geysers/Uzon caldera and Kuril Lake
Boat trip in Avachinsky Bay
Small group
Adventure and fun guaranteed
Delicious local and Russian food (incl. sea food)
Accompanying volcanologist from our team
On Karymsky: accompanying volcanologist from the Institute of Volcanology and Seismology in Petropavlovsk
19 days program (2022)
Note:
The following is a rough schedule of the program, based on our successful trips during 2017-19 which turned out to be very good. Due to weather, volcanic and other conditions out of our hand, it is possible that the actual program on location will be adapted.
If you are not interested in the additional excursions (Valley of Geysers, Kuril Lake) at the end of the main part of the tour, you can also of course shorten the tour (without no refund in days calculations)
Day 1:

Arrival in Kamchatka

Arrival at Elizovo airport (Kamchatka), pickup and transfer to our guesthouse.

Time to relax, enjoy great views. Dinner and briefing in the evening.
Day 2:

Flight to Karymsky volcano

Helicopter flight (45 mins) to Karymsky volcano.
Day 3-4:

Karymski volcano

2 full days at Karymsky volcano. Observation of volcanic activity, option for short hikes in the area (e.g. to the Akademia Nauk (or Karimskoe) caldera lake, base of the active cone).

Presentation (lectures) about Kamchatka's volcanic activity and volcanic processes, typically given by an accompanying volcanologist from the Institute of Sciences in Petropawlowsk.
Day 5:

Half day at Karymsky, scenic helicopter flight back to Elizovo

Half day at Karymsky. Afternoon helicopter flight back to Elizovo.
Day 6-7:

Vilyuchinsky, Gorely and Mutnovsky volcanoes

In the morning, we leave in our comfortable 4x4 truck to the southern plateau (4-5 hours total transfer time). Scenic views of Vilyuchinsky volcano, set up camp at Gorely or Mutnovsky volcano (weather etc dependent).

If good weather, we can use the afternoon to climb Gorely volcano with its

impressive crater lakes

.
Day 8:

Half day for Gorely and return to Elizovo

Half of the day can be used to visit other features in the area (e.g. a large lava cave in the vast lava flow fields of Gorely) before we return to our base in Elizovo in the afternoon / evening.
Day 9-16:

Central Kamchatka volcanoes: Shiveluch, Klyuchevskoy, Bezymianny, Tolbachik

D9: Transfer to Kozyrevsk village - overnight

D10-11: Transfer to the plateau between Tolbachik to the south and the Klyuchevskoy group to the north. Beautiful forest and tundra, possibility to see bears. Camp.

D12-13: Transfer to Klyutchi village - 2 nights camp in view of Klyuchevskoy volcano, option for hikes to best viewpoints of Klyuchevskoy.

D14: Transfer to Shiveluch volcano and camp.

D15: Return to Kozyrevsk village - overnight

D16: Transfer to Elizovo / Petropavovsk
Day 17:

Spare day - optional excursions to Valley of Geysers or Kuril Lake

Spare days with optional excursions (by helicopter, approx 42.000 RUB as of 2019) to Valley of Geysers or Kuril Lake. Please let us know towards the beginning of the trip if you are interested! Both excursions highly depend on weather and are only available if conditions are good, but they are well worth doing!
Day 18:

Boat tour in Avachinskay Bay

Boat tour to Avachinskaya bay: scenic views of dramatic coastline and volcanoes, sea animals and birds, fishing and seafood lunch on board.

Afternoon free to visit Petropavlovsk (souvenir shopping, volcano museum etc).

Farewell group dinner with local specialties.
Day 19:

Departure

Transfer to airport and departure, end of service, or own extension.
Arrival info:
The tour starts and ends at the airport of Petropavlovsk (PKC), usually reached during an overnight domestic flight (7-8 hours) from Moscow.
Tour type:
Expedition: adventure - active volcanoes - photography
Difficulty:
Easy to Moderate
Group size:
6-10
Duration:
16-19 days
Dates:
4-22 Sep 2022
3-21 Sep 2023
Price (per person): 4590 € $£¥
Included:
Accommodation as marked
Full board during tour incl. drinking water, coffee, tea
Helicopter flight to/from Karymsky volcano (1h30m)
Airport transfers, 4x4 transfers
Camping gear
Experienced local expedition guide
Accompanying volcanologist and volcano photographer from our team
Invitation to Kamchatka for tourist visa (Russia)
All entry fees and permits
Boat tour in Avacha Bay (private for our group)
Tour guide
The tour will be guided by Andrej Nikiforov, mountain and expedition leader from Kamchatka. Andrew has spent many years organizing expeditions in his country for local and foreign groups and companies, and also has excellent connections with the scientists from Petropavlovsk's Institute of Volcanology and Seismology.
A volcanologist from our team will also accompany the expedition.
Our expedition leader Andrew Nikiforov
Important note
Due to limited availability of flights on the legs to and from Kamchatka and in order for us to reconfirm a tour early on, you should sign up 9-12 months in advance!
Tour photos: