"Hi Tom, Thank you for the great trip, it was amazing!" (Iris K., Finland - Krakatau special July 09)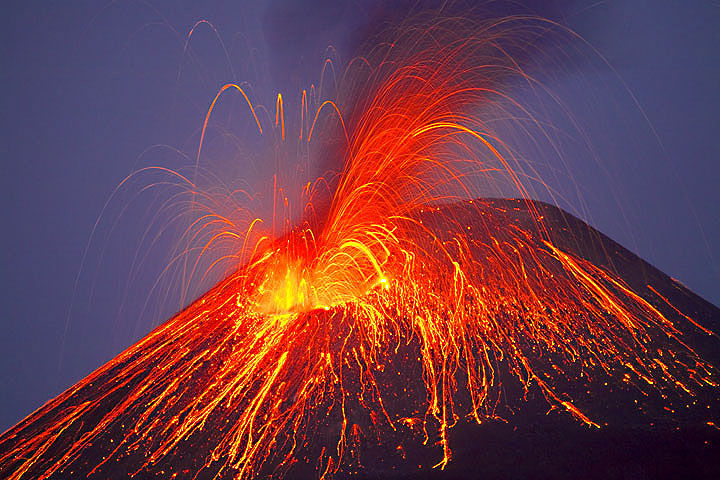 Anak Krakatau in eruption at nighttime in Nov 2007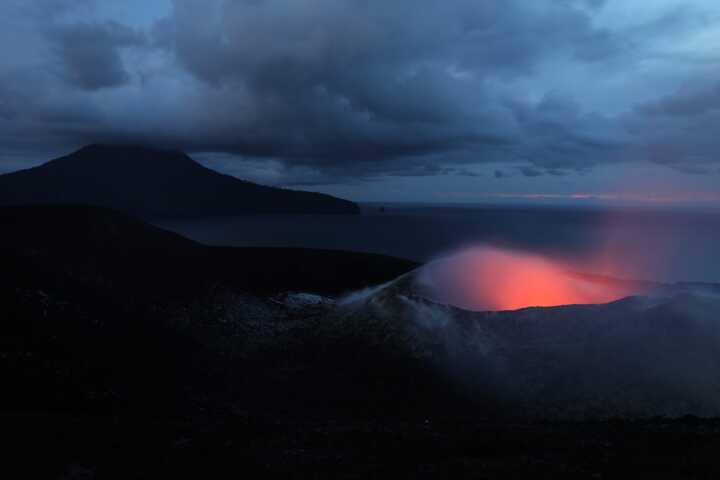 Glow from the new crater on Anak Krakatau in 2023 (image: Andi Rosadi / VolcanoDiscovery Indonesia)
Krakatau Volcano Special
expedition to study & observe Anak Krakatau volcano and its activity
Tour type
Volcano expedition: photography - adventure
This is your chance to get to know one of the most famous volcanoes with an expert and witness the dramatic changes from the Dec 2018 collapse.

During this physically easy expedition, you have the unique opportunity to experience one of the world's most beautiful and powerful volcanoes. The exact itinerary varies from tour date to tour date, but we usually spend between 2 and 4 full days and nights on and around the volcanic islands of Krakatau. Depending on the intensity of Anak Krakatau's activity we either camp on the beach of the active volcano itself or make our camp on one of the surrounding islands. Watching Krakatau's fireworks when it is active is truly spectacular and we will do so from various viewpoints both on Anak Krakatau itself and the neighboring islands, using the chartered boat we have at our disposal.

Even when there is no eruption, the active volcano of Anak Krakatau with its lunar landscapes, fumaroles and frozen lava flows, and the surrounding islands'spectacular pumice cliffs on what remains of the island complex destroyed in 1883, is well worth exploring. Your expedition leader and tour guide Andi has been closely watching this volcano's activity and changes over the past 15 years and will happily share his geological knowledge with you!

Hot springs and beautiful coral reefs and other natural highlights of this unique bioreserve make this a perfect trip if you like a volcano extension out from Jakarta. The tasty camping food with fresh fish and overall excellent organization by our experienced local crew round up this trip into an unforgettable travel adventure.
2-5 full days/nights on Krakatau for extended observation from land and sea
Organised and guided by experienced local volcanologist
Competent logistic support for boat charter, camping and cooking
Exotic setting with hot springs and beautiful coral reefs
Example itinerary 2 days/nights on Krakatau
Note:
We generally organise this expedition when Anak Krakatau is in eruption, but can also arrange such a trip as private tour when the volcano is sleeping.
Depending on our travelers wishes and the volcano's activity, the itinerary of each tour date varies with 2, 3 or 4 full days/nights on Krakatau. We can also customise the start (airport pick up and transfer to west coast on Day 1) and end (returning from Krakatau to the west coast and back to Jakarta on the last day) of our itinerary. Please contact us through tours@volcanodiscovery.com for more information!
Day 1:

Arrival in Jakarta

Arrival in Jakarta, pick-up from airport and welcome dinner
Day 2:

Transfer to the west coast - boat trip to Krakatau

Overland transfer to the west coast of Java, private boat transfer to the islands of Krakatau
Day 3:

Full day on Krakatau

Full day on Krakatau for exploration and photography.
Day 4:

Morning on Krakatau, return to java's west coast

Last morning on Krakatau, boat trip back to the west coast of Java
Day 5:

Return to Jakarta

Return to Jakarta, end of expedition.
Arrival info:
As we have travelers from all over the world joining our expeditions, we can not include your international flights into our tour prices. It is however easy to find convenient flights into and from Jakarta, one can for example check out possible connections using www.momondo.com. Good airlines to choose from include Singapore Airlines, Lufthansa, KLM, Emirates, Quatar, Ethiad, Thai and others.
Tour guide
The tour will be accompanied / guided on location by one of our professional local guides in Indonesia, typically Andi or Galih. They have extensive knowledge not only about the volcanoes, but also about their country and culture.
Our guides all speak English and Indonesian, some also French.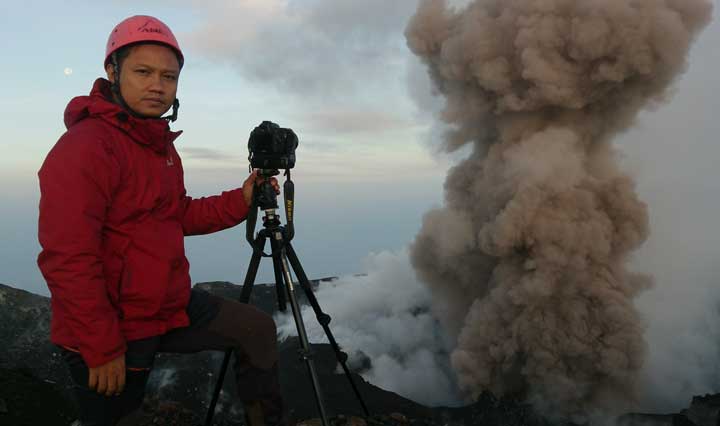 Andi Rosadi, our famous head expedition leader in Indonesia
Physical requirements
There are no difficult hikes on the expedition. Most of the time, we will be either on a small boat or on a beach to observe the activity.
You should have no problems with warm and humid climate.