Volcano Special: Ibu - Dukono - Lokon
14 days volcano tour to erupting Dukono and Ibu volcanoes in Halmahera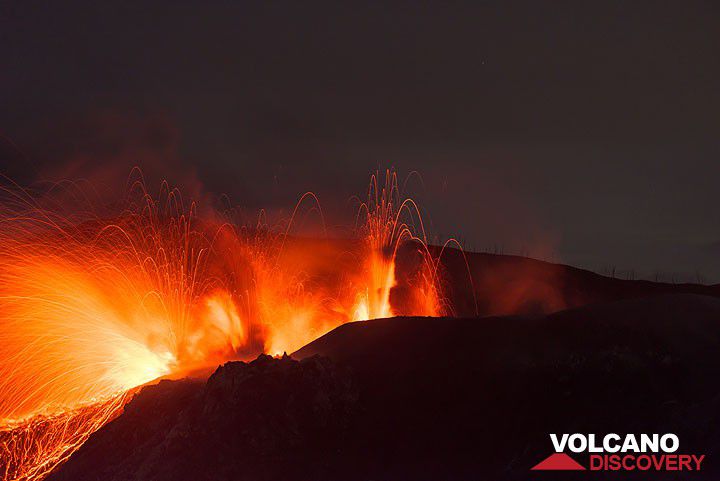 Night time eruption at Ibu volcano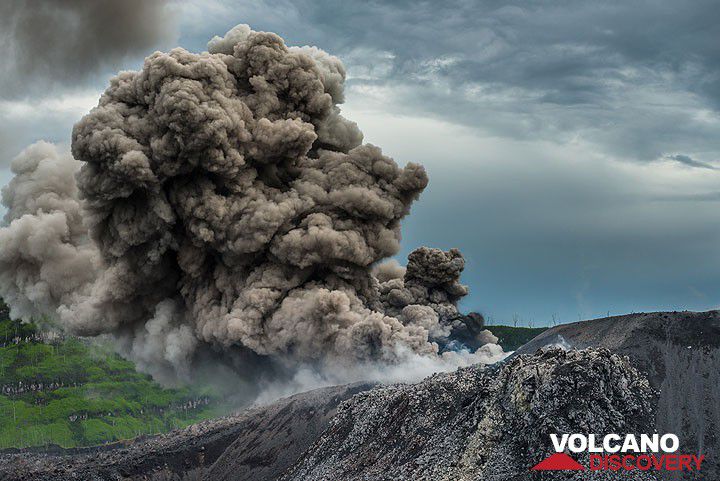 Day time eruption at Ibu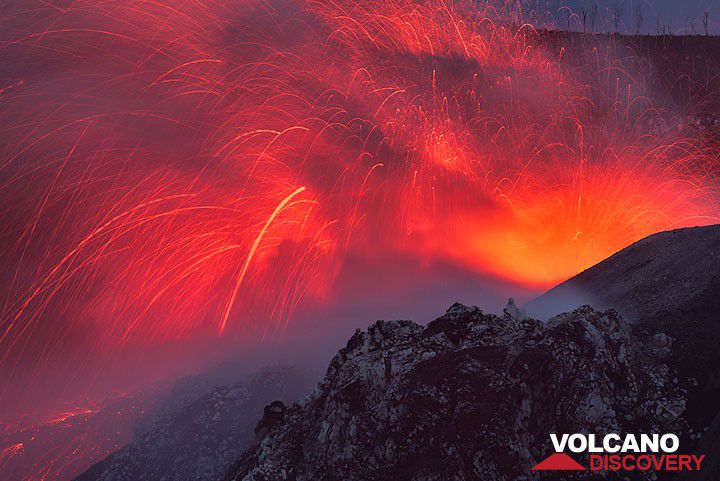 Eruption from Ibu's active dome

Panorama at the rim of Ibu volcano (photo: Gian Schachenmann)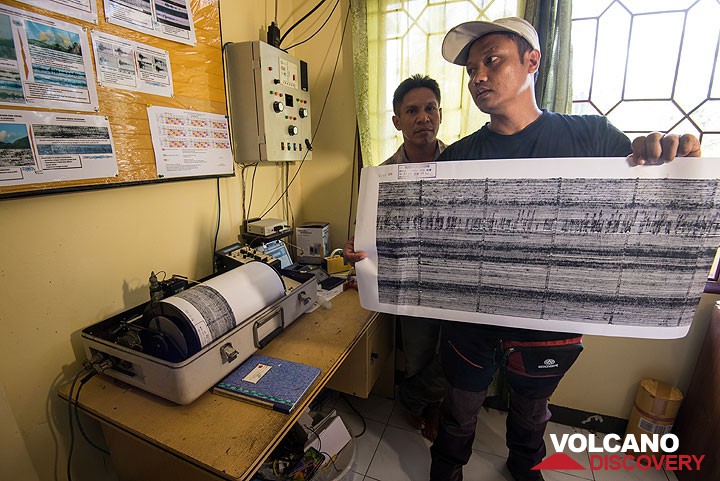 At the volcano observatory of Dukono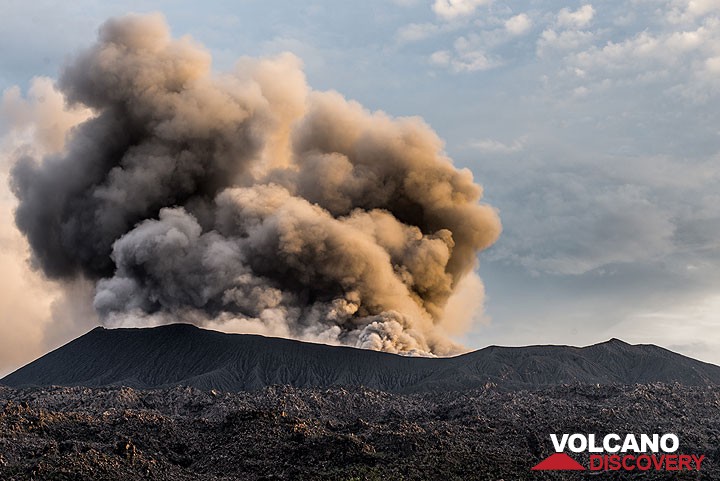 View of Dukono from the camp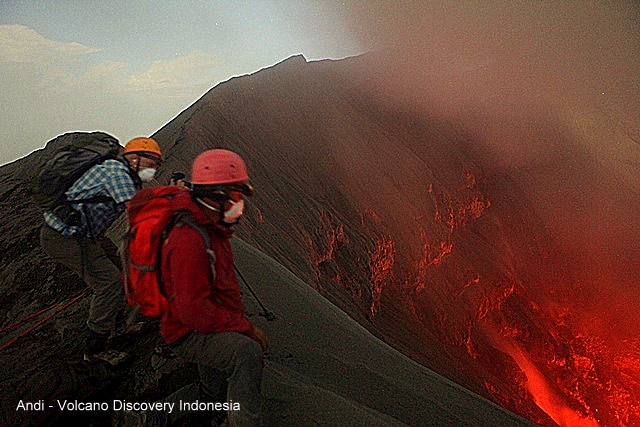 On the rim of Dukono volcano (photo: Andi / VolcanoDiscovery Indonesia)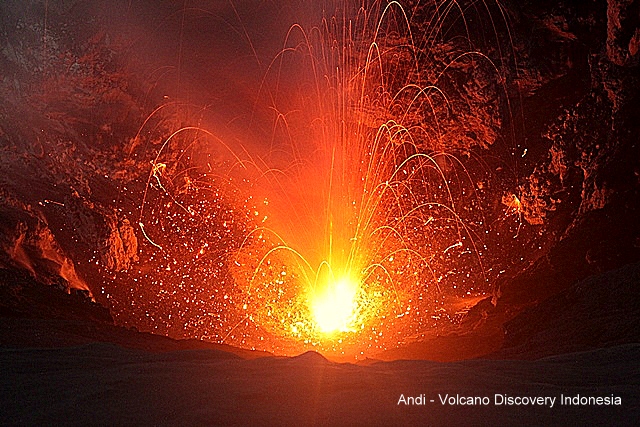 Strombolian activity at Dukono (photo: Andi / VolcanoDiscovery Indonesia)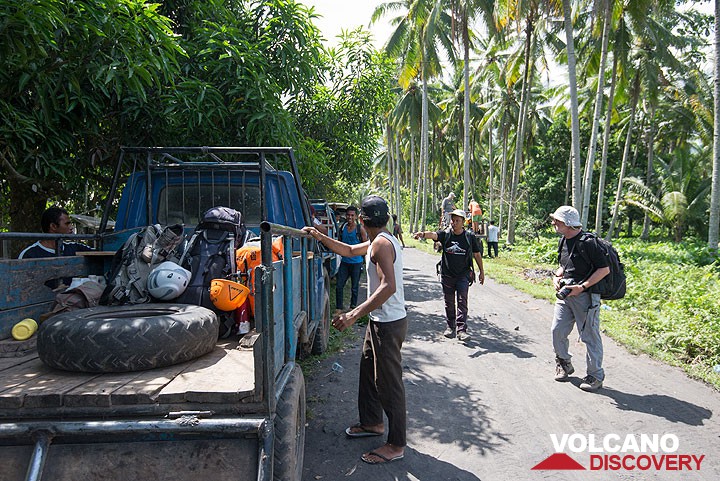 Open truck transfer for part of the way to Dukono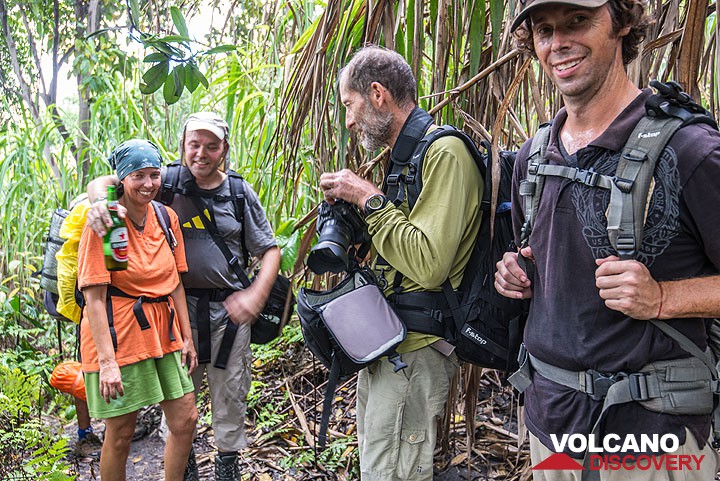 Trekking towards Dukono volcano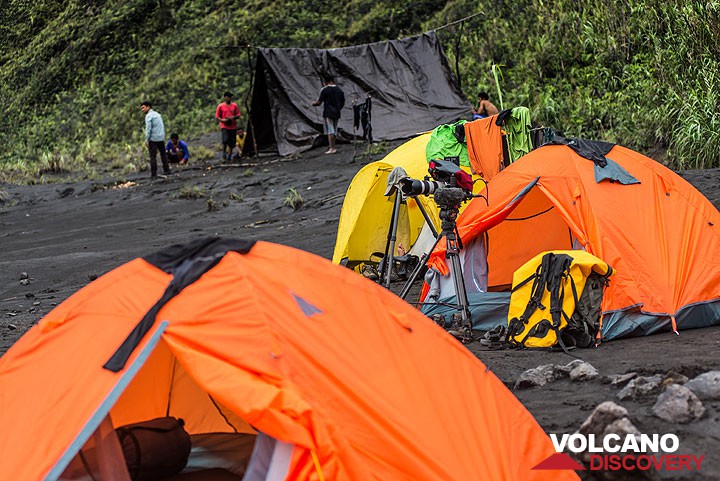 Camp at Dukono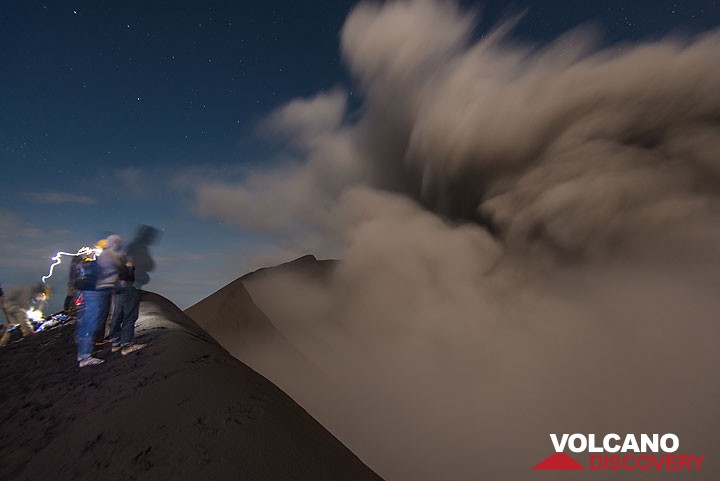 Eruption of Dukono at night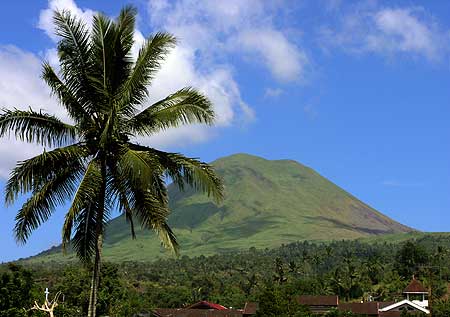 Lokon volcano seen from Tomohon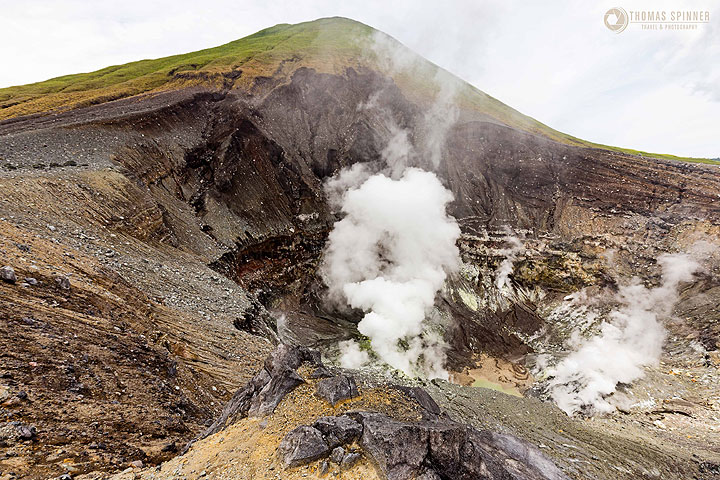 View into the crater of Lokon (photo: Thomas Spinner)
This tour gives you the chance to see some of Indonesia's most active, but rarely visited volcanoes from close: In particular, Ibu and Dukono volcanoes have been in constant, often spectacular activity for years. A visit of frequently active Lokon volcano near Manado rounds out the tour.
If you are into volcano photography or filming, and don't mind the physical challenge (up to 5-6 hrs on steep trail to reach Ibu), this tour is an adventure you will never forget! On Ibu and Dukono, we camp multiple nights in order to maximize observation time and chances to see spectacular eruptions in good weather.
Furthermore, this part of Indonesia is among the least crowded and least visited. The people of Halmahera are very friendly and welcoming to foreigners. As always on our small group tours in Indonesia, it is an occasion to fully immerse into the colorful local culture.
Some of the most active volcanoes in the world: Ibu, Dukono, Lokon
3 days at Ibu and Dukono
Volcanic activity from close
Ternate with its colonial charm and gemstone trade
Delicious food
Very small group
Very colorful and friendly culture
Great mix of adventure, physical effort and relaxation
Excellent opportunity to combine volcanoes with world-class diving experiences
Experienced tour leader from the VolcanoDiscovery Indonesia team
Ibu and Dukono volcano expedition
Day 1:

Arrival and meeting in Manado, N-Sulawesi

Pick-up from airport, transfer to Manado. Group dinner.
Day 2:

Manado – Ternate – Ibu

Fly to Ternate, transfer by speed boat to Jailolo on Halmahera and drive to the foot of Ibu volcano (Duono village).
Day 3:

Ibu volcano

Climb Ibu volcano (approx. 5-6 hrs), camp on crater rim.
Day 4:

Extra day at Ibu volcano

A full day in the camp on Ibu's crater rim for observation of the volcanic activity.
Day 5:

Return from Ibu, continue to Jailolo

Return to Duono, continue to Jailolo. En route visit a hot spring.
Day 6:

Tobelo & Dukono volcano observatory

Transfer to Tobelo. Visit the Dukono volcano observatory and prepare the logistics of the coming adventure.
Day 7:

Climb Dukono volcano

Optional visit of the local market, trek to Dukono volcano (approx. 3 h).
Day 8-9:

2 full days at Dukono volcano

Two full days at Dukono volcano. The crater rim is only about 1.5 hrs easy hike away from the base camp (which already has great views of the volcano).

If weather and eruptive conditions allow, we will try approach the crater rim repeatedly, either for sunrise and/or in the evening, in order to see the spectacular, near-continuous strombolian eruptions at Dukono from close.
Day 10:

Climb crater of Dukono, return to Tobelo

Climb to the rim to see the activity of the volcano (ash eruptions, if condition allowing). Descend back, transfer to Tobelo.
Day 11:

Return to Ternate - gemstone market

Return to Ternate. Visit of a local gem market. Free afternoon.
Day 12:

Return to Manado

Flight back to Manado and transfer to Tomohon city, facing the often active Lokon volcano.
Day 13:

Lokon volcano

Climb Lokon volcano
Day 14:

Transfer to airport

Transfer to the airport and end of service.
Tour type:
Volcano expedition: active volcanoes - nature & culture - photography
Difficulty:
Moderate
Group size:
2-6
Duration:
14 days / 13 nights
Dates:
no scheduled dates at present
Price (per person): 3190 € $£¥
Included:
All accommodation in double rooms / tents
Full board with drinks (excl. alcoholic drinks) as specified in the program (B=breakfast, L=lunch, D=dinner)
All ground, sea and air transfers as described in the program
Airport transfers from and to Manado airport
Entry fees, visits to parks and sites etc. as described by the program
Local guides, cooks and porters
VolcanoDiscovery Indonesia tour guide (normally Andi)
Tour guide:
The tour will be accompanied / guided on location by one of our professional local guides in Indonesia, typically Andi or Galih. They have extensive knowledge not only about the volcanoes, but also about their country and culture.
Our guides all speak English and Indonesian, some also French.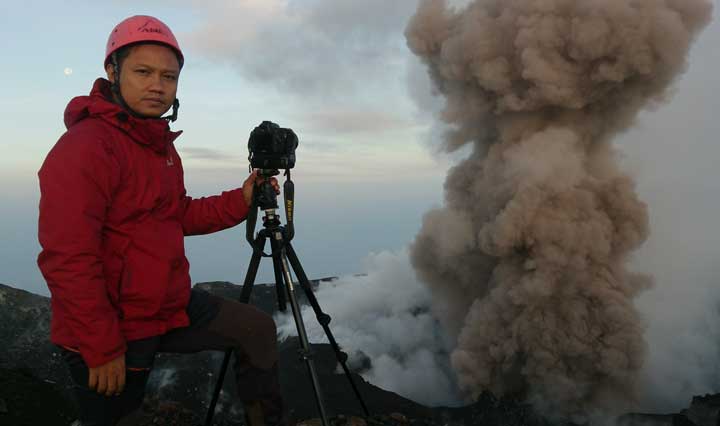 Andi Rosadi, our famous head expedition leader in Indonesia