Ibu and Dukono volcano expedition
Day 1:

Arrival and meeting in Manado, N-Sulawesi

Pick-up from airport, transfer to Manado. Group dinner.
Day 2:

Manado – Ternate – Ibu

Fly to Ternate, transfer by speed boat to Jailolo on Halmahera and drive to the foot of Ibu volcano (Duono village).
Day 3:

Ibu volcano

Climb Ibu volcano (approx. 5-6 hrs), camp on crater rim.
Day 4:

Extra day at Ibu volcano

A full day in the camp on Ibu's crater rim for observation of the volcanic activity.
Day 5:

Return from Ibu, continue to Jailolo

Return to Duono, continue to Jailolo. En route visit a hot spring.
Day 6:

Tobelo & Dukono volcano observatory

Transfer to Tobelo. Visit the Dukono volcano observatory and prepare the logistics of the coming adventure.
Day 7:

Climb Dukono volcano

Optional visit of the local market, trek to Dukono volcano (approx. 3 h).
Day 8-9:

2 full days at Dukono volcano

Two full days at Dukono volcano. The crater rim is only about 1.5 hrs easy hike away from the base camp (which already has great views of the volcano).

If weather and eruptive conditions allow, we will try approach the crater rim repeatedly, either for sunrise and/or in the evening, in order to see the spectacular, near-continuous strombolian eruptions at Dukono from close.
Day 10:

Climb crater of Dukono, return to Tobelo

Climb to the rim to see the activity of the volcano (ash eruptions, if condition allowing). Descend back, transfer to Tobelo.
Day 11:

Return to Ternate - gemstone market

Return to Ternate. Visit of a local gem market. Free afternoon.
Day 12:

Return to Manado

Flight back to Manado and transfer to Tomohon city, facing the often active Lokon volcano.
Day 13:

Lokon volcano

Climb Lokon volcano
Day 14:

Transfer to airport

Transfer to the airport and end of service.
Tour guide
The tour will be accompanied / guided on location by one of our professional local guides in Indonesia, typically Andi or Galih. They have extensive knowledge not only about the volcanoes, but also about their country and culture.
Our guides all speak English and Indonesian, some also French.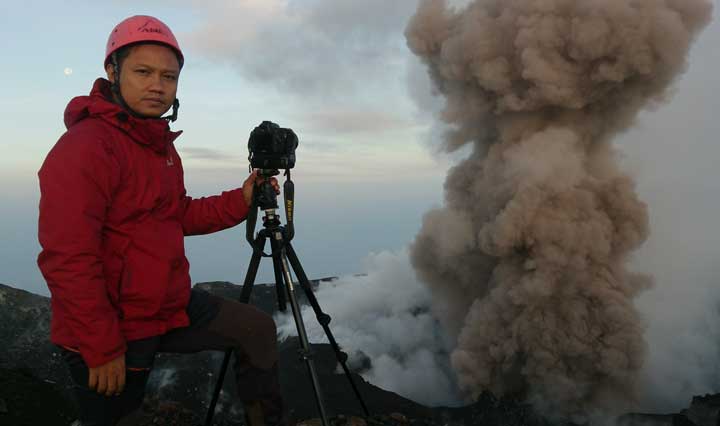 Andi Rosadi, our famous head expedition leader in Indonesia