trekking tour to Semeru, Bromo, Ijen volcanoes (East Java)
"... Just wanted to let you know what a great trip to East Java we had ..." (Elke + Kai from Malaysia)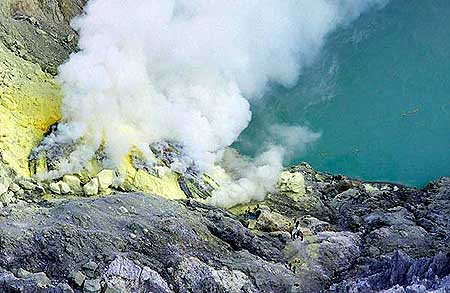 Bromo, Semeru, Ijen
trekking tour to Semeru, Bromo, Ijen volcanoes (East Java)
Tour type
Trekking: active volcanoes - adventure
Difficulty
Moderate to Challenging
Price per person
depending on nr of persons and itinerary
Climb and explore E-Java's most active and beautiful volcanoes: Semeru, Java's highest peak, mysterious Bromo and colorful Ijen with its acid lake and the impressive sulfur deposits.
This is a trekking tour designed for individuals or small groups. If you seek an adventure to combine with your holiday on Bali, this tour is the perfect choice.
Climb East-Java's most famous and active volcanoes
Spectacular scenery
Perfect in combination with beach holiday on Bali
8 days itinerary via Malang
Note:
This is certainly the best itinerary if you have enough time.
Day 1:

Transfer to Semeru

Pickup in the morning from your hotel in the Surabaya or Malang region and transfer to the spectacular Tengger massiv. Arrive in a village at the base for the upcoming trek to Semeru volcano.
Day 2:

First etappe on the trek to Semeru

Start the climb to Semeru through a long but moderate trek until Kalimati camp
Day 3:

Climb to Semeru's summit

Strenous climb up the steep cone of Semeru for sunrise, descend and hike to second camp at a lake.
Day 4:

Hike back to Ranu Pani and 4X4 transfer to Bromo

Hike back to Ranu Pani, 4x4 drive to the Tengger caldera
Day 5:

Bromo volcano & Tengger caldera

Relaxed day to explore Bromo volcano and the Tengger caldera. Visit of the local volcano observatory and introduction to monitoring techniques of the volcano.
Day 6:

Sunrise over the Tengger Caldera - transfer to Ijen volcano

Jeep (or hike) to sunrise viewpoint - transfer to Ijen Plateau, coffee plantations, hot bath in nearby natural hot volcanic springs
Day 7:

Kawah Ijen volcano - transfer to Bali

Climb and visit of Ijen's crater, descend to the sulphur mining area and the turquoise acid crater lake. In the afternoon transfer to Bali.
Day 8:

End of tour / extension program on Bali

The tour ends on Bali, with the possibility for an extension on Bali.
Note:
In case the northern trekking route to Semeru summit is closed we can use a route on the southern slope, conditions permitting, or use the time for volcano observations from other viewpoints or for spontaneous other activities in the area.
Arrival info:
The tour starts in Surabaya and ends on Bali. We can provide you with cononecting flight tickets or land transfers on request at additional cost.
Tour guide
The tour will be accompanied / guided on location by one of our professional local guides in Indonesia, typically Andi or Galih. They have extensive knowledge not only about the volcanoes, but also about their country and culture.
Our guides all speak English and Indonesian, some also French.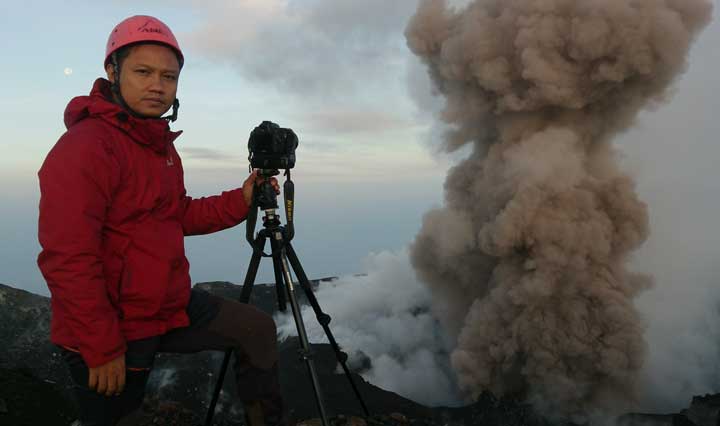 Andi Rosadi, our famous head expedition leader in Indonesia
Physical requirements
Although not extreme, this tour is challenging, in parts strenuous - only suitable for peole in good to excellent physical condition and experience in hiking (walks on partly difficult terrain with steep passages on loose or rocky ground, total hiking walking time up to 8-10 hours, max. horizontal distances up to ca. 15 km, max. climbing during a day: 1000-1500m). If you have doubt about your condition, please contact us.