8 days itinerary
Day 1:

Arrival on Kos Island

Arrival day to explore the charming old city of Kos.
Day 2:

Discovering Kos Island

With a rental car or minibus for ourselves, we will spend the day discovering the natural and geologic, as well as archaeologic, highlights of Kos island, including natural hot springs along a marvellous beach (swimming possible), the impressive Kos ignimbrite, the product of the most violent volcanic eruption in the eastern Mediterranean during the past 200,000 years, raised submarine sediments full of fossils, and much more.
Day 3:

Sailing to Nisyros

Sailing to Nisyros
Day 4:

Walk to the active craters of the caldera

Visit Nikia village, hike into the caldera and the active craters. Hike back to Mandraki in the afternoon.
Day 5:

Summit of Nisyros and the "hanging gardens of Diavatis"

Full-day hike to the summit of the island with gorgeous panoramic views and ancient building sites.
Day 6:

Ancient Roman baths of Avlaki

Today we will take time to first walk to a remote old hot spring near Avlaki on the northern coast dating back to at least Roman times. On its way, there are very interesting lava formations to admire, century-old cave houses, wild gardens, and sometimes rare minerals that can be found in so-called xenoliths that were erupted with the lava flow that created the rugged coast line in this part of Nisyros.
Day 7:

Spare day, hike to Palous Beach

Spare day or optional hike to a fantastic beach.
Day 8:

Return to Kos - bye bye!

Return to Kos, end of the tour (transfer to airport or other destinations on Kos), or own arrangements.
Arrival info:
Arrival at Kos KGS airport and transfer to the hotel in the center of Kos town near the harbor. If the tour guide cannot pick you up in person, a taxi driver will be waiting for you!
Tour guide
The tour is normally guided either by German volcanologist Dr. Tom Pfeiffer or photographer and amateur geologist Tobias Schorr. Both have been traveling on the Greek volcanic areas (Methana, Milos, Santorini, Nisyros) for more than 20 years and know the islands better than even most local people do.
Tom completed his PhD studies on the topic of the great Minoan eruption of Santorini. He made the important discovery of a 3600-year-old olive tree buried alive in the pumice deposit that now can be seen in the small geological museum in Perissa.
This allowed the most precise dating of one of the most significant natural event in the Bronze age (to 1613+-13 years BC) so far.
His colleague Tobias, with whom Tom alternates on this tour, is a true specialist for Greece in general, boasting in-depth knowledge about its culture, history, people, flora, fauna and of course geology. He is known for his good eye and discoveries of rare minerals, plants, animals, or hidden archeological artifacts during the various excursions.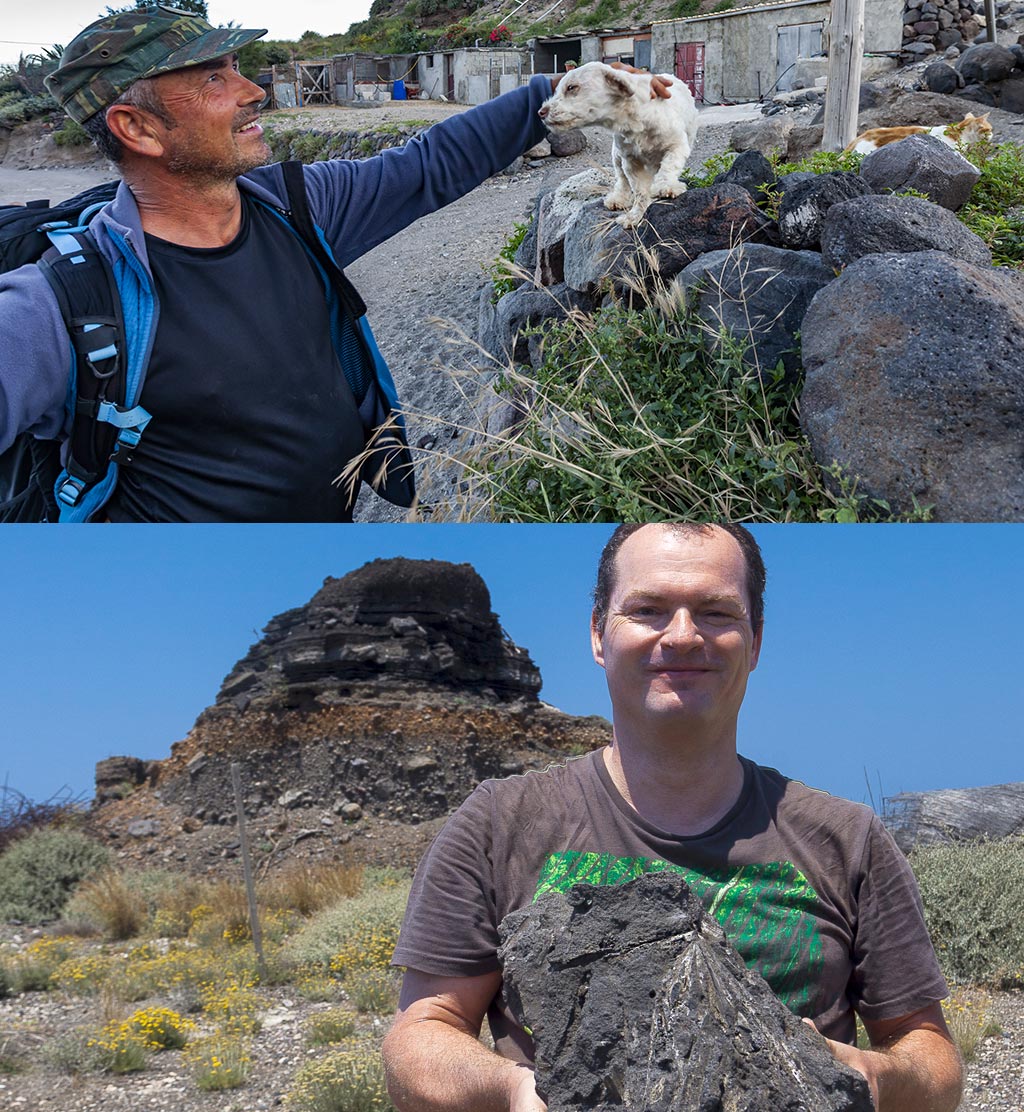 Tom and Tobias on Santorini