3 days Saronic Gulf & Methana
Day 1:

Athens - Canal of Corinth - Epidauros - Lake Psifta - Methana

Meeting at the airport of Athens (typically around 11 am, to be agreed upon), transfer to Methana with stops at places of particular interest: Canal of Korinth, the Isthmus, the remains of the Ancient Greek and Roman port, Epidauros with its Ancient theater.

The route is very scenic and offers breathtaking views over the Saronic Gulf. Lunch in a great tavern, a locals'favorite, along the way.

Before reaching Methana, we visit the Nature reserve of lake Psifta where we can often observe flamingos.

In the afternoon / evening, we arrive in Methana, where we will go out for a good dinner in one of the local taverns.
Day 2:

Discover the volcanically active Methana peninsula with an expert

We will explore the volcanic peninsula of Methana on a combination of short walks and excursions by car. We observe the contact between the basement and the earliest volcanic rocks, examine pumice deposit indicating violent explosive activity in the past, and climb the youngest lava dome (formed during the last eruption on land in 256 BC), with stunning lava formations and views over the area. Lunch in a cozy mountain restaurant or in a beach tavern, depending on weather etc.

Other highlights to visit include the Ancient Acropolis, a famous hot springs described already by Pausanias (2nd century AD), and visit beautiful mountain villages.
Day 3:

Transfer to Poros - return to Athens or own extension

Depending on your schedule, we can use the morning for another excursion on Methana (e.g. hike to an interesting bay with fumaroles), before we drive to the scenic island of Poros, a jewel among the Greek islands. If there is time, the Mycenean acropolis at Galatá can be visited.

Little known is that Poros, too, was formed by volcanic activity. In Poros, you can either return to Athens via hydrofoil or ferry to Pireus, stay longer, or continue to visit other places.
Arrival info:
The tour starts in Athens airport typically at around 11 am and ends two days later on Poros island from where you can return to Athens or extend your stay. On request, we can also return to the airport instead.
Tour guide
The tour is normally guided either by German volcanologist Dr. Tom Pfeiffer or photographer Tobias Schorr. Both have been traveling to the volcanic areas of Greece including the Saronic Gulf for more than 20 years.
Tom finished his PhD studies about the great Minoan eruption of Santorini and spends much of his time in Athens. His friend Tobias, with whom Tom alternates on this tour, is a true specialist for Greece in general: he has lived permanently on Methana for about 10 years and has been returning ever since. He perfectly knows the culture and history, people, flora, fauna and of course geology. He is legendary for his good eye and often discovering rare minerals, plants, animals, or hidden archeological artifacts during the various excursions.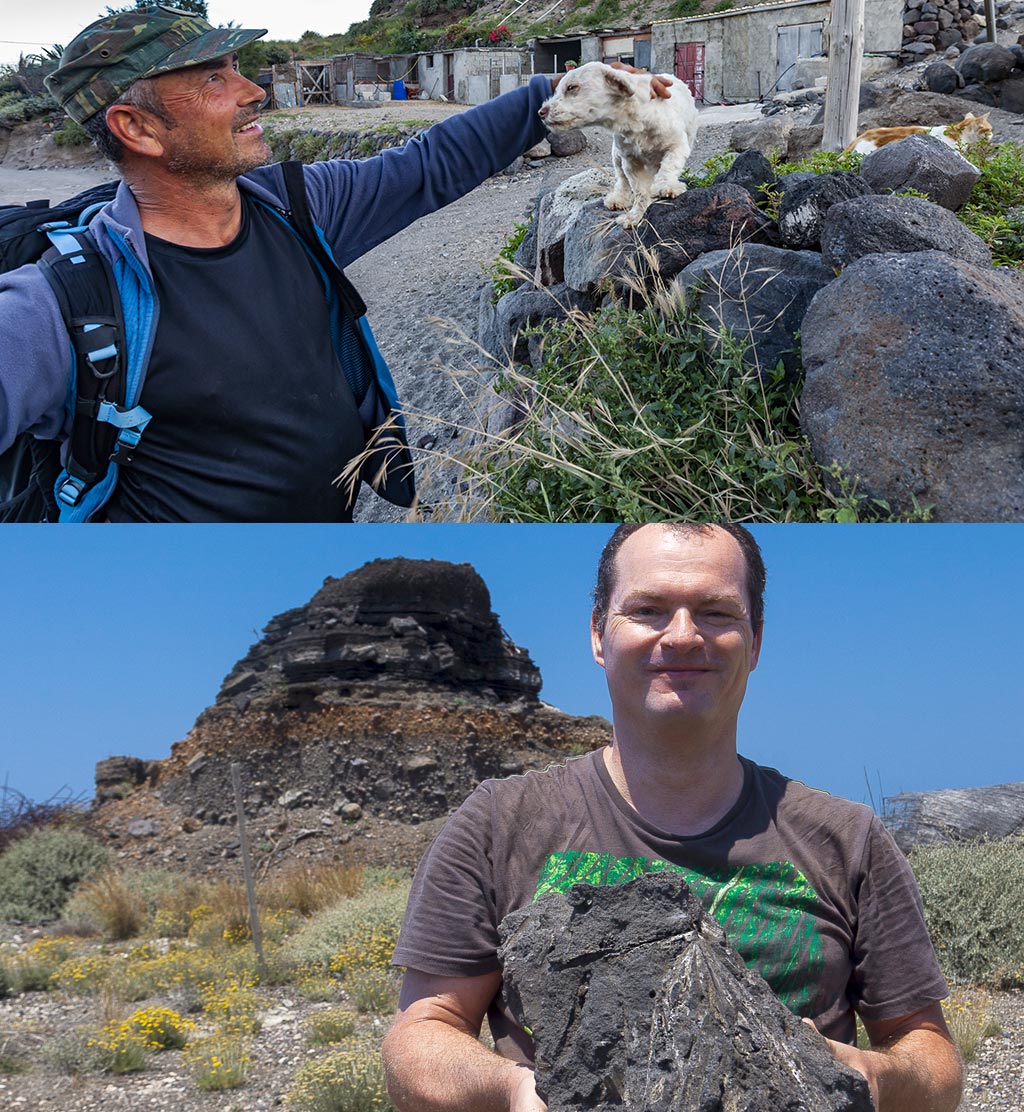 Tom Pfeiffer and Tobias Schorr