Batu Tara Volcano Expedition
expedition to currently active Batu Tara volcano, Indonesia
"Hi Tom, Thank you for the great trip, it was amazing!" (Iris K., Finland - Krakatau special July 09)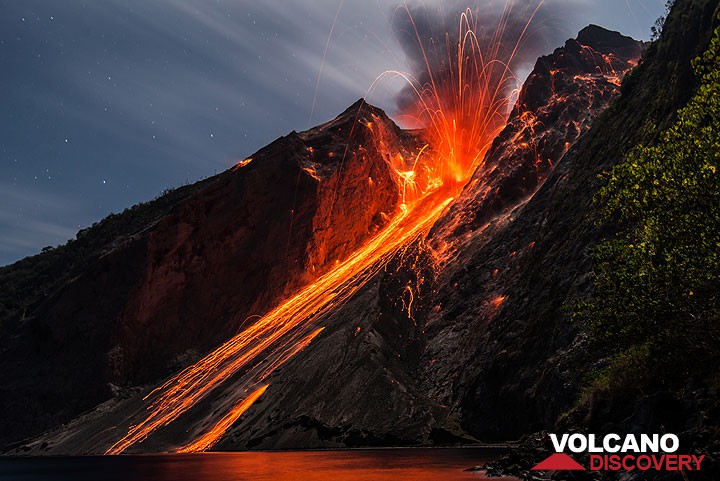 Strombolian activity from Batu Tara volcano - the "Stromboli" of the Banda Sea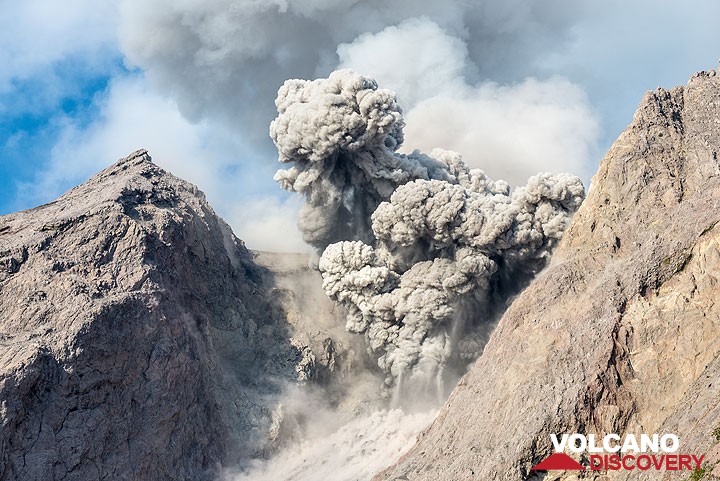 Eruption of Batu Tara volcano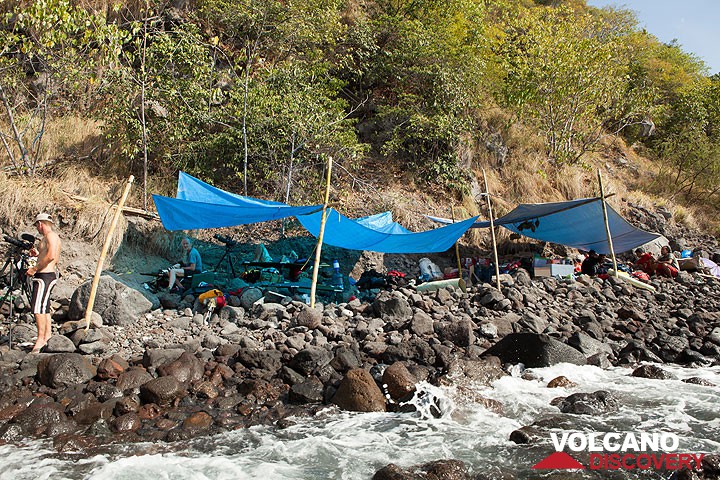 Batu Tara camp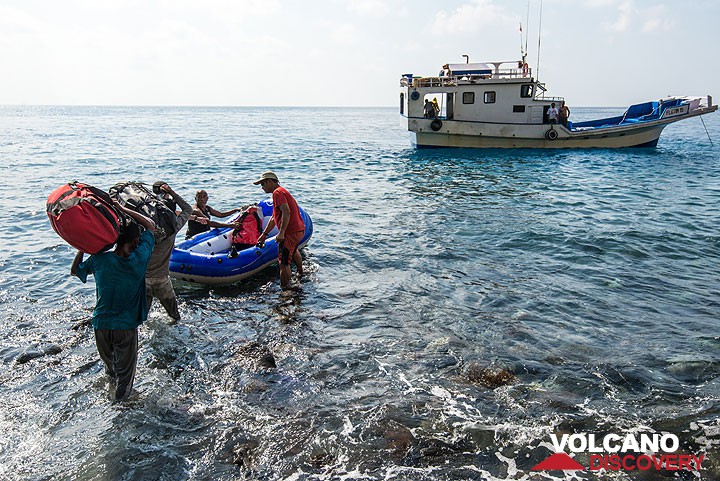 Our boat and shuttle to the beach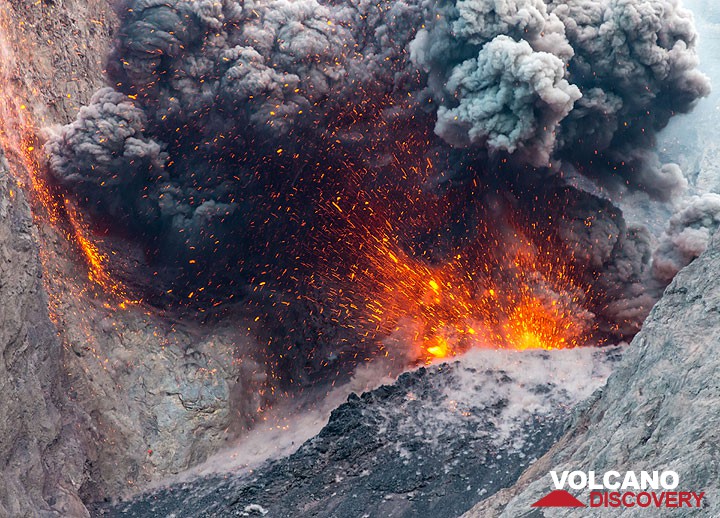 Eruption in the evening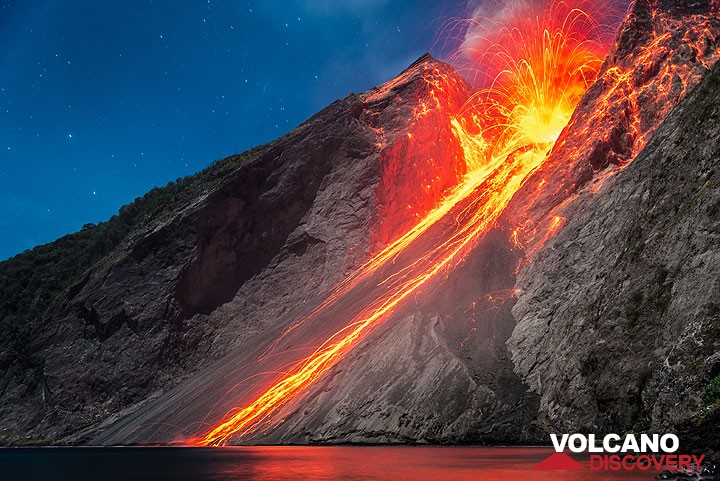 Beach in Larantuka (day 2)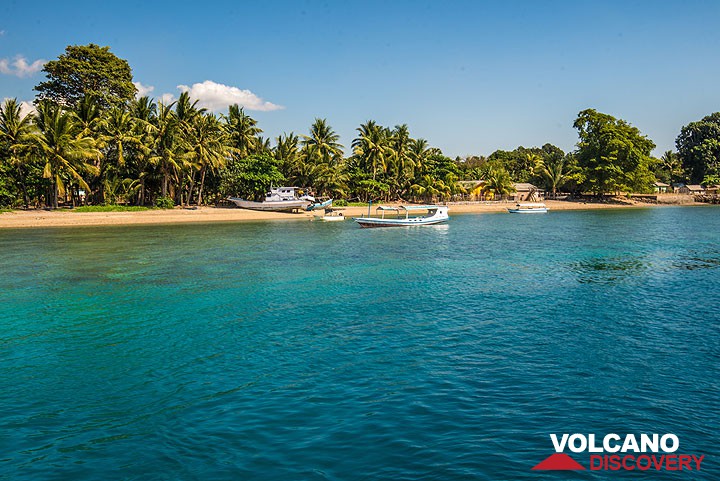 Glowing rockfalls from Batu Tara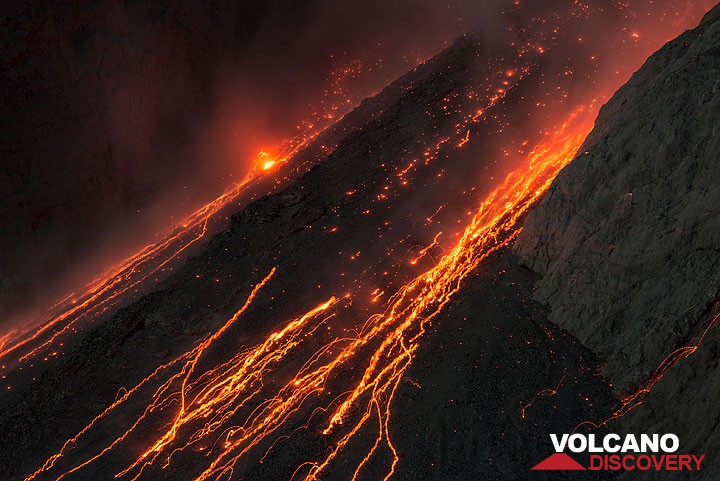 Lewotobi volcano at the eastern end of Flores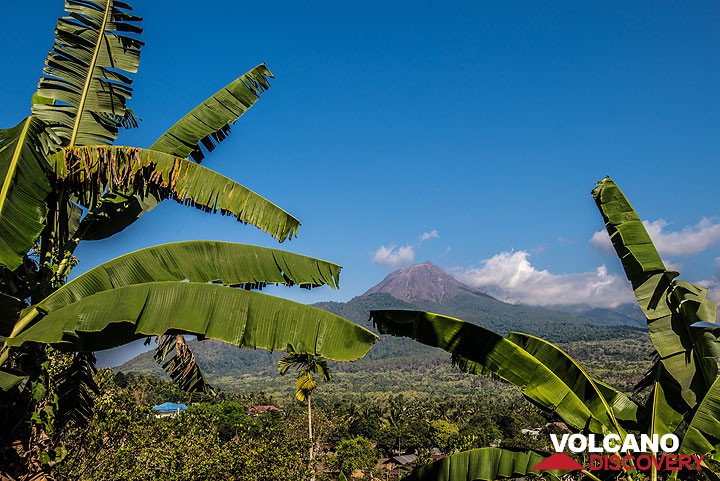 Eruption at night (photo: Gian Schachenmann)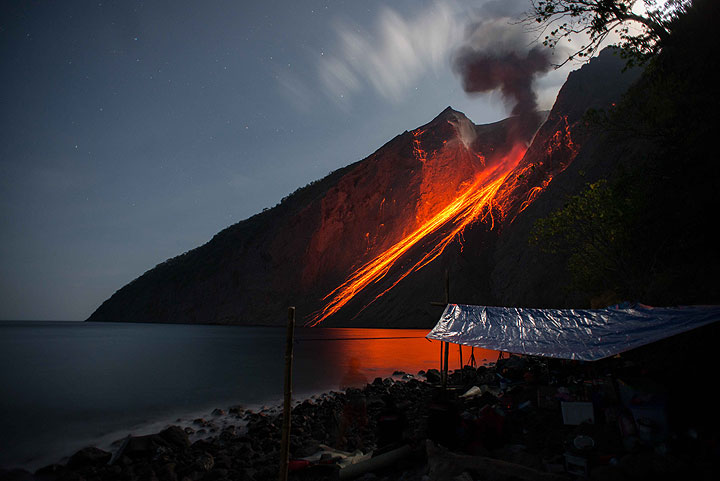 Batu Tara in the Lesser Sunda Islands, Indonesia, is one of the world's few volcanoes with persistent strombolian activity and in fact resembles Stromboli in Italy a lot. The volcano has daily spectacular fireworks, and often produces ash plumes detected on satellite images.
Extension programs: On request, we offer you several extensions as individual add-ons:
1) extension to Semeru & Ijen volcanoes in East Java
2) extension to another currently active volcano in Indonesia, dep. on circumstances
Spectacular volcanic eruptions from close
Adventure
Competent logistic support preparing an incredible camp
Great opportunities for adventure & volcano photography
Great food
Superb swimming & snorkeling
Accompanying volcanologist
Batu Tara 8 days
Note:
The itinerary is a rough outline and due to its expedition character only meant as orientation. Depending on weather, activity and other conditions, the actual itinerary of the expedition might be different.
Day 1-8:

Batu Tara expedition (8 days)

Day 1: Arrival & meeting in Denpasar, Bali

Arrival in Denpasar airport, transfer to hotel at Jimbaran. Group dinner and briefing for the expedition.

Accommodation: beach hotel Sari Segara Jimbaran or similar (D)

Day 2: Denpasar - Maumere - Larantuka

Flight to Maumere, land transfer to Larantuka city (4 hrs) and preparation of the expedition.

Acc.: comfortable beach hotel (B,L,D)

Day 3: Sail to Batu Tara

From Larantuka, we sail to Komba Island on a traditional TUNA fisherman boat to Komba island (8-9 hours) depending on weather conditions. Set up camp site on the beach.

Acc.: camp (B,L,D)

Day 4-5: 2 full days at Batu Tara

Acc.: camp (B,L,D)

Day 6: Sail back to Flores

Acc.: beach hotel on Larantuka (B,L,D)

Day 7: Transfer to Maumere

Transfer back to Maumere, visit traditional sea-salt "factories", scenic photo stops underway (e.g. Lewotobi & Egon volcano)

Acc.: comfortable beach hotel (Sea World) (B,L,D)

Day 8: flight back to Bali, end of expedition

Fly to Denpasar. End of expedition. Participant can extend their stay (e.g. Raung or Ijen)

Acc.: none (B)
Batu Tara + Semeru / Ijen extension
Day 1-7:

Batu Tara expedition

same as above
Day 8-13:

Extension to Semeru & Ijen volcanoes

D8: Maumere - fly to Bali and on to Malang. Night in homestay. (B,L,D)

D9: Malang - Ranupani by jeep - hike to Kalimati camp (5 hrs easy to moderate trek). Camp. (B,L,D)

D10: Climb to the summit of Semeru (4 hrs challenging trek) - return to Ranupani (5 hrs) - transfer to Malang. Homestay (B,L,D)

D11: Malang - transfer Surabaya ( 3 hrs) - flight to Banyuwangi at 12.00. Hotel near Ijen (Ijen resort). (B,L,D)

D12: Climb Ijen at night (if conditions allowing) - return to hotel as before, option to visit volcano observatory and/or sulfur processing factory if operational. (B,L,D)

D13: Morning transfer to Bali by car (6 hrs). End of tour in afternoon, in time for evening departures from Bali. (B,L)
Batu Tara + Flores + Komodo extension
Note:
For the 10-17 Nov expedition, we propose the following extension (highlights of Flores & Komodo):
Day 1-7:

Batu Tara expedition

same as above
Day 8-16:

9 days Flores + Komodo extension

17 Nov: Maumere – Bajo village – Moni from Maumere (B, L, D)

18 Nov: Moni – Kelimutu volcano (B, L, D)

19 Nov: Bajawa – Bena Megalithic village – Ruteng (B, L, D)

20 Nov: Ruteng – Cancar – Denge From Ruteng, transfer to Cancar (B, L, D)

21 Nov: Denge – Waerebo village (B, L, D)

22 Nov: Waerebo – Denge – Labuhan Bajo (B, L, D)

23 Nov: Labuhan bajo – Rinca – Komodo (night on boat) (B, L, D)

24 Nov: Komodo – Pink beach – Labuhan Bajo (B, L, D)

25 Nov: Airport transfer, flight to Bali, end of service (B)

Additional price: 1200 EUR per person

Included: full board, accommodation in double-room in hotels, guesthouses and on boat, all transfers and flights, private local guide, entry fees, boat cruise (2 days) in Komodo National Park

Single supplement: 40 EUR
Arrival info:
The start and end of this expedition is in Bali (DPS intl. airport). If you need connecting domestic flights within Indonesia, we can arrange these for you on request.
Tour type:
Volcano expedition: photography - adventure
Difficulty:
Easy
Group size:
2-8
Duration:
8 days / 7 nights
Dates:
no scheduled dates at present
Price (per person): 2890 € $£¥
Included:
Accommodation
Transfers by air, land and sea
Full board incl.drinking water and soft drinks
Accompanying volcanologist
Full camp gear incl. frame beds and mats, sun shade, generator (to recharge batteries!), kitchen, cool box daily refilled with ice, camp hands etc
Satellite phone for emergency contact
Tour guide
These expeditions are usually accompanied by a volcanologist / geologist from our team (usually Tom Pfeiffer). Please see details for each trip.