In andere valuta's weergeven
Volcanoes and Spices
17 days volcano trekking tour to the Molucca Sea: N-Sulawesi, Karangetang and Halmahera
Eruption from Ibu volcano
Lokon volcano
On the rim of Dukono volcano
Sailing to Bunaken island
Mahawu volcano's crater
Coconuts
Trekking towards Soputan volcano
Eruption of Dukono volcano
At the volcano observatory of Dukono
Loading luggage onto trucks to the start of the trail to Dukono
Group on the way to Dukono
Camp at Dukono
On the rim of Dukono volcano
Panorama at the rim of Ibu volcano (photo: Gian Schachenmann)
Lava flow from Soputan (photo: Andi / VolcanoDiscovery Indonesia)
Strombolian activity at Dukono
The legendary Molucca Sea, known for its precious spices that attracted early traders from Europe, is not only one of Indonesia's most interesting and beautiful areas. It also has the largest density of active volcanoes of any region in Indonesia, thanks to a very complex and unique tectonic setting.
Two active subduction zones to the west and east have consumed a small oceanic microplate, the Molucca Sea plate, producing two active volcanic arcs in North Sulawesi and in Halmahera. On this tour we visit no less than 5 of the most active volcanoes in the world, two of which - Dukono and Ibu - have been in near permanent activity for years while the others, Lokon, Soputan and Karangetang erupt frequently.
Each of the volcanoes is completely different in character and provides a great adventure to explore. The tour for a small group is an immersion into colorful cultures and an intense meeting with its very friendly people. Last but not least, the delicious, spicy cuisine of the region will enchant you.
All major active volcanoes of North Sulawesi: Lokon, Soputan, Karangetang
Ibu and Dukono on Halmahera: two of the world's most active volcanoes
Ternate with its colonial charm and gemstone trade
Delicious food
Very small group
Very colorful and friendly culture
Great mix of adventure, physical effort and relaxation
Excellent opportunity to combine volcanoes with world-class diving experiences
Experienced tour leader from the VolcanoDiscovery Indonesia team
N-Sulawesi - Karangetang - Halmahera
Dag 1:

Arrival & meeting in Manado - transfer to Tomohon

Pick-up from Manado airport and transfer to Tomohon where we will stay the next nights in beautiful bungalows.

Tomohon is renowed for its local products and crafts. The town is located in the notably cooler highland at about 700 m altitude, between Mahawu and Lokon volcanoes, and has a perfect climate.

If your arrival is early, you have time to either explore Tomohon and its markets.
Dag 2:

Lokon volcano

Climb Lokon volcano
Dag 3:

Mahawu volcano - Tondano lake

In the morning, we drive to the trailhead at the foot of Mahawu crater, from where it is an easy, 1-hr hike to its

spectacular crater rim

, with great views on the surrounding volcanic landscape and into its crater with small colored ponds. After a lunch at the

beautiful nearby lake Tondano

, we have time to visit local markets, the lake or other interesting sights.
Dag 4:

Soputan volcano

Trek to Soputan's caldera rim, camp.
Dag 5:

Back to Tomohon / Manado or extra day at Soputan volcano

Spare day - either spent at Soputan (if active) or return to Manado / Tomohon for spontaneous activites.
Dag 6:

Sail to Siau island

Sail from Manado to Siau (overnight)
Dag 7:

Karangetang volcano – Mahoro island

Climb Karangetang volcano (conditions permitting). Sail to unspoilt uninhabited Mahoro island to relax (beach camp).
Dag 8:

Sail back to Manado

Depending on the boat schedules, we sail back to Manado during the day or over night.
Dag 9:

Manado – Ternate – Ibu

Fly to Ternate, transfer by speed boat to Jailolo on Halmahera and drive to the foot of Ibu volcano (Duono village).
Dag 10:

Ibu volcano

Climb Ibu volcano (approx. 5-6 hrs), camp on crater rim.
Dag 11:

Return from Ibu, continue to Jailolo

Return to Duono, continue to Jailolo. En route visit a hot spring.
Dag 12:

Tobelo & Dukono volcano observatory

Transfer to Tobelo. Visit the Dukono volcano observatory and prepare the logistics of the coming adventure.
Dag 13:

Climb Dukono volcano

Optional visit of the local market, trek to Dukono volcano (approx. 3 h).
Dag 14:

Climb crater of Dukono, return to Tobelo

Climb to the rim to see the activity of the volcano (ash eruptions, if condition allowing). Descend back, transfer to Tobelo.
Dag 15:

Return to Ternate - gemstone market

Return to Ternate. Visit of a local gem market. Free afternoon.
Dag 16:

Ternate – Manado - Tomohon

Fly to Manado, transfer to Tomohon. Free afternoon.
Dag 17:

Departure or extension program

The tour ends with transfer to Manado and the airport at the time you need it.
Aankomst info:
The tour starts and ends in North Sulawesi's capital Manado (airport code MDO) which can be reached from many of the larger Indonesian airports, but also through Singapore and other regional cities.
If you need connecting flights within Indonesia, we can provide these for you (approx. 100-150 EUR typically for one leg, e.g. Jakarta-Manado or back).
Soort reis:
Trekking: actieve vulkanen - natuur - fotografie
Moeilijkheidsgraad:
Matige
Group size:
3-6
Duur:
17 days / 16 nights
Datums:
1-17 Nov 2020
2-18 May 2021
15-31 Aug 2021
24 Oct - 9 Nov 2021
Price (per person): 3600 € $£¥
Inbegrepen:
All accommodation in double rooms / tents
Full board with drinks (excl. alcoholic drinks) as specified in the program (B=breakfast, L=lunch, D=dinner)
All ground, sea and air transfers as described in the program
Airport transfers from and to Manado airport
Entry fees, visits to parks and sites etc. as described by the program
Local guides, cooks and porters
VolcanoDiscovery Indonesia tour guide (normally Andi)
Tour guide:
The tour will be accompanied / guided on location by one of our professional local guides in Indonesia, typically Andi or Galih. They have extensive knowledge not only about the volcanoes, but also about their country and culture.
Our guides all speak English and Indonesian, some also French.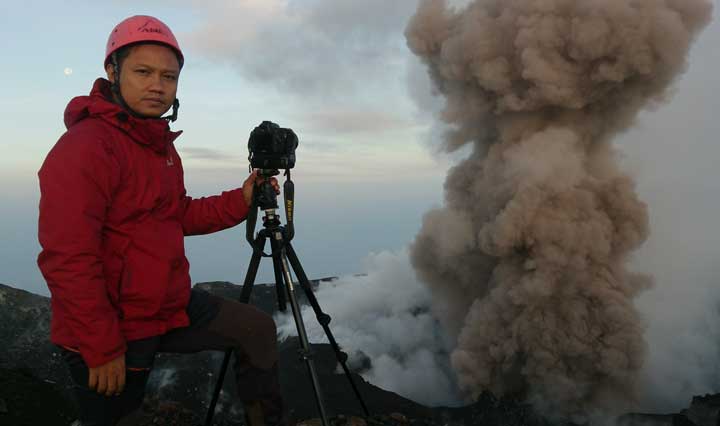 Andi Rosadi, our famous head expedition leader in Indonesia
Tour photos: