Hawaii - Birthplace of Islands
14 days walking and study tour to Oahu, Kauai, Maui, Hawai'i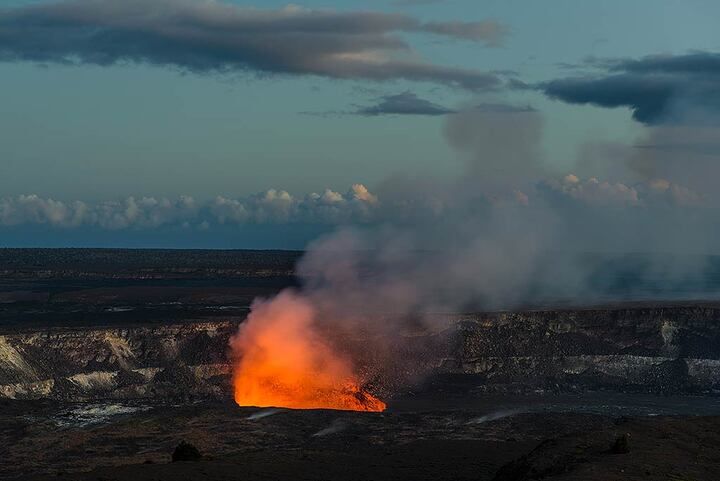 Halema'uma'u crater of Kilauea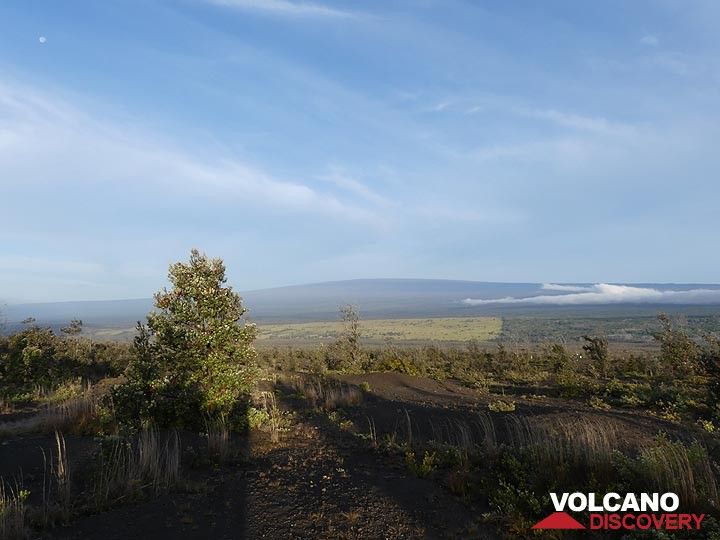 View of Mauna Loa shield volcano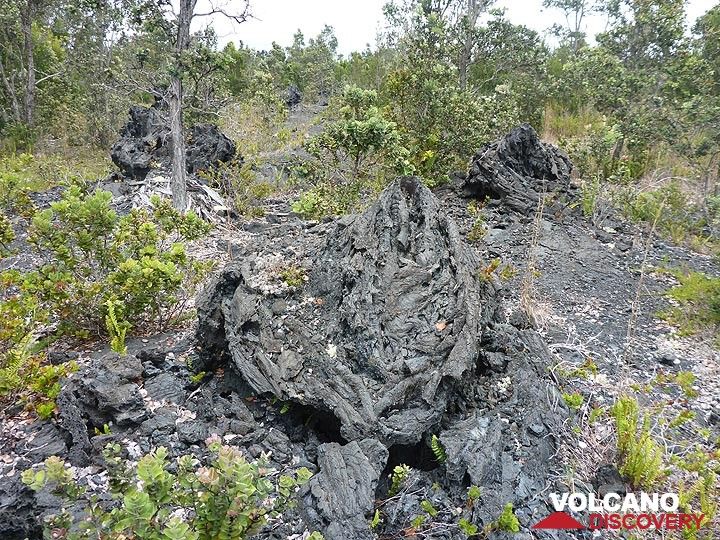 Lava trees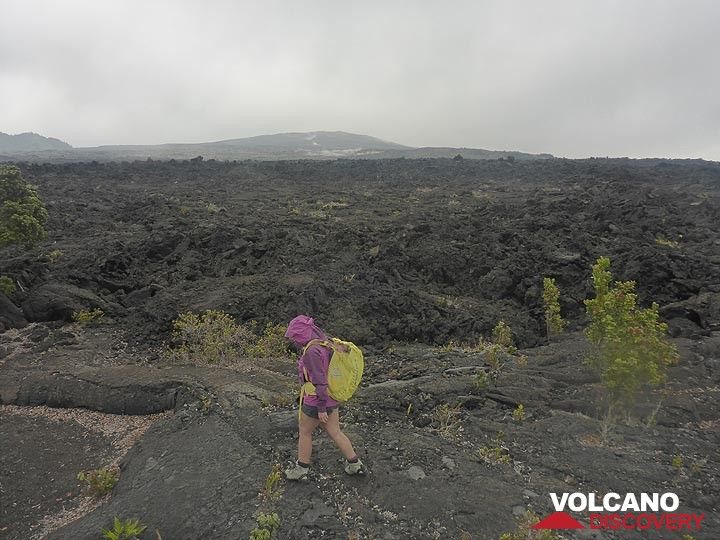 View across the 1969 - 1974 Mauna Ulu lava flows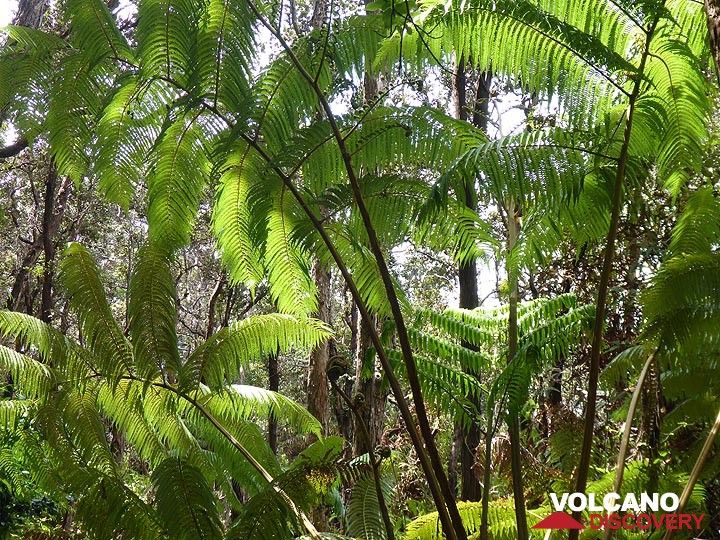 Ferns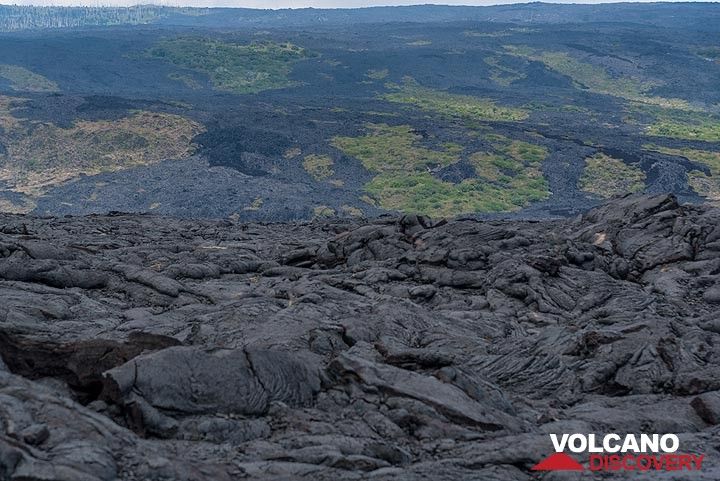 Lava flows from Pu´u O´o east rift zone eruption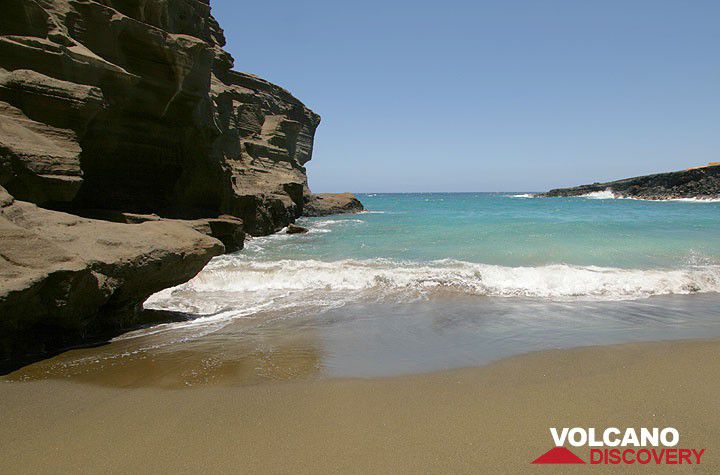 Green Sand Beach
Active lava flows on Kilauea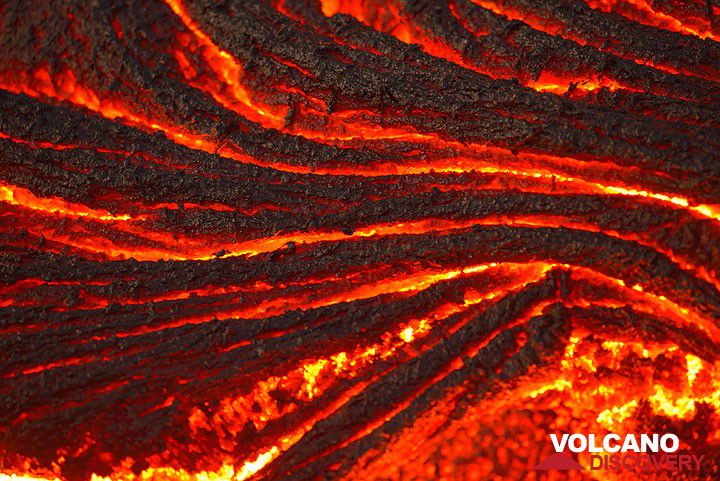 Active pahoehoe lava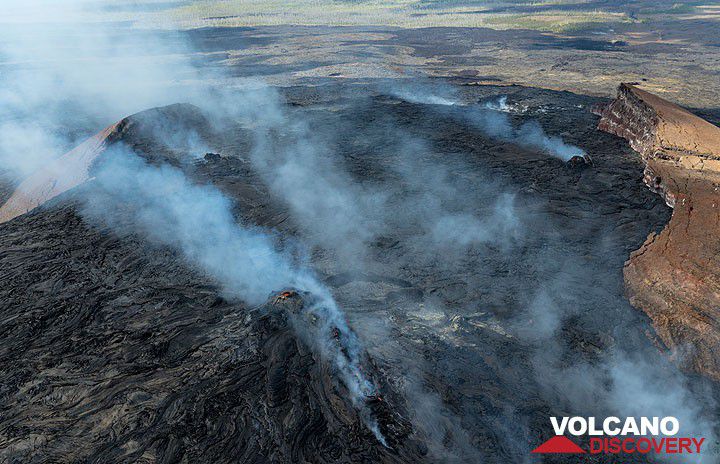 Pu'u 'O'o crater
The Hawaiian islands are an amazing chain of volcanoes far from any other land. They rise from the ocean floor, created by the incessant activity of a powerful hot spot in the earth's mantle as the Pacific Ocean plate slowly drifts by, allowing them to experience their own and unique natural development.
The Hawaiian goddess of fire, Pele, is said to have passed from island to island, starting at the oldest Kauai, until she found her home on Hawai'i, the big island with its presently active volcanoes.
Although there is no more lava lake in Kilauea since late November 2018, however Hawaii remains a very interesting destination and during 16 days we discover 4 volcanic islands: Oahu (Honolulu), Kauai, Maui and Big Island:
Tropical Oahu island with its famous beaches and the buzzing capital Honolulu, wild Kauai island in the far north- the oldest and spectacularly eroded of the larger islands in the chain, sunny Maui with the mythical Haleakala volcano, and Hawai'i, the Big island with its great volcanoes Kilauea and Mauna Loa.

The tour is accompanied by a trained geologist - volcanologist from our team and aimed towards people who like to hike and explore the diverse natural and cultural history of Hawai'i.
Discover 4 of the Hawaiian islands: Oahu, Kauai, Maui, Hawai'i
Extraordinary landscapes, e.g. Napali coast on Kauai, Haleakala volcano on Maui
Tropical rain-forests and waterfalls
The largest volcano in the world: Mauna Loa
Amazing beaches
Hawaiian culture and monuments
Comfortable sea-side hotels
Accompanying experienced geologist / volcanologist from our team
2 weeks Hawaii: Oahu - Kauai - Maui - Hawaii
Remarque:
Days 1 and 2 are mainly to adjust to the jet lag and gather the group. You can shorten the itinerary to 13 days if you like to arrive (or if your flight connection can only arrive) in Honolulu on D2 in the program. In this case, you receive a 5% reduction on the price.
The exact itinerary on the spot, in particularly the program around Kilauea volcano during our stay on Hawai'i Island, could be modified as a function of weather conditions, volcanic activity and other factors out of our hands. We will always try to optimize it accordingly.
J 1:

Arrival in Honolulu - Waikiki beach

Arrival in Honolulu, pick-up from airport and transfer to hotel in Waikiki beach.
J 2:

Waikiki, Oahu Island - surfer's paradise

Free day to relax at Waikiki beach or optional day-trip around Oahu island with its famous surfing beaches and other sites (e.g. Hanauma Bay).

Note: you can also arrive and join the group on this day.
J 3:

Honolulu - Kauai

Petit déjeuner hôtel. Départ vol Honolulu-Kauai.

Installation à l'hôtel en bordure de l'océan Pacifique. Explications géologiques d'Hawaii et de l'île de Kauai. Journée relax: possibilité de baignade sur les plages.

Dîner groupe dans un restaurant et spectacle traditionnel de dance hawaiienne, Luau.
J 4:

KAUAI - Waimea Canyon

Petit déjeuner à l'hôtel. Départ pour la randonnée et l'exploration du Monde de Jurassique Park dans le célèbre Waimea Canyon. Vous découvrirez un environnement multicolore extraordinaire et la célèbre Waipio Fall. Déjeuner pique-nique libre, vue et explications géologiques et volcaniques du paysage d'environ 5 millions d'années et de son abondante végétation tropicale exubérante. Dîner Restaurant.
J 5:

Kauai to Maui Island

Flight to Kahului on Maui island. Visit of surf beach and camp on the slopes of Haleakala shield volcano.
J 6:

Haleakala volcano sunrise and hike

Sunrise from Haleakala volcano, the "House of the Sun" - one of the most famous locations in the world - and hike in the spectacular caldera of the (occasionally still active) shield volcano of Maui.
J 7:

Lahaina town: relax day - beach, optional whale watching tour

Descend to hotel in Lahaina / Ka'anapali. Free afternoon: relax on beach (great swimming & snorkeling), visit Lahaina town or optional whale watching tour.
J 8:

Maui - Hawai'i (Big Island) - Kilauea volcano

Flight to Hilo on Hawai'i (Big Island), transfer to seafront hotel and check-in.

Briefing and volcanological explanations about Kilauea volcano. In the afternoon, we will drive to the huge caldera of Kilauea volcano for observations and hiking
J 9-10:

Kilauea volcano

Two full days to explore Kilauea volcano and the eruption 2018: the exact program will be adapted at the place.
J 11:

Spare day

Spare day. Excursion to a beautiful tropical garden, waterfall, and Waipio valley.
J 12:

Punalu'u sea turtles, Green Sand Beach, Pu'uhonua o Honaunau Hawaiian monument

Discover the southern part of the island: Punalu'u black sand beach (sea turtles) and hike to scenic Green Sand Beach near South Point. Visit Pu'uhonua o Honaunau and/or a surfer's beach in the afternoon. Drive back to Hilo via the very scenic saddle road.
J 13:

Mauna Loa and Mauna Kea

Day to visit Mauna Loa, the largest volcano in the world. Ascend to Mauna Kea summit for sunset.
J 14:

Départ de Hilo

Départ (transfert à l'aéroport) de l'aéroport de Hilo ou programme d'extension.
Thème:
Randonnée et découverte: Nature et Culture - Géologie & Volcanisme - Volcans Actifs
Difficulté:
Modérée
Groupe:
4-7
Durée:
14 days / 13 nights
Départs:
pas de groupe programmé pour le moment
Prix (p. p.): 4990 € $£¥
Le prix comprend:
Inter-island flights (to / from Honolulu) as per program
Land transfers in rental cars or minibus
Accommodation in double rooms as described
Meals as indicated in program
Entry fees to National Parks, museums and monuments
Accompanying experienced VolcanoDiscovery volcanologist and geologist guide
Encadrement:
L'expédition sera accompagnée par le volcanologue de notre équipe
Yashmin Chebli
qui a des tonnes d'expériences sur le Vanuatu et sur d'autres régions volcaniques dans le monde entier. Jetez un oeil sur son site Internet :
www.vanuatu-expedition.com
(photos) et
Youtube
!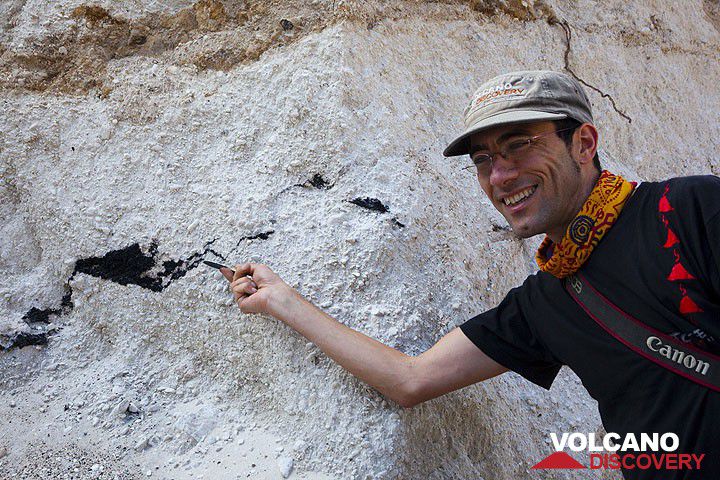 Yashmin Chebli explique un dépôt de ponce