N-Sulawesi - Karangetang - Halmahera
Tag 1:

Arrival & meeting in Manado - transfer to Tomohon

Pick-up from Manado airport and transfer to Tomohon where we will stay the next nights in beautiful bungalows.

Tomohon is renowed for its local products and crafts. The town is located in the notably cooler highland at about 700 m altitude, between Mahawu and Lokon volcanoes, and has a perfect climate.

If your arrival is early, you have time to either explore Tomohon and its markets.
Tag 2:

Lokon volcano

Besteigung des Vulkans Lokon
Tag 3:

Mahawu volcano - Tondano lake

In the morning, we drive to the trailhead at the foot of Mahawu crater, from where it is an easy, 1-hr hike to its

spectacular crater rim

, with great views on the surrounding volcanic landscape and into its crater with small colored ponds. After a lunch at the

beautiful nearby lake Tondano

, we have time to visit local markets, the lake or other interesting sights.
Tag 4:

Soputan volcano

Trek to Soputan's caldera rim, camp.
Tag 5:

Back to Tomohon / Manado or extra day at Soputan volcano

Spare day - either spent at Soputan (if active) or return to Manado / Tomohon for spontaneous activites.
Tag 6:

Sail to Siau island

Sail from Manado to Siau (overnight)
Tag 7:

Karangetang volcano – Mahoro island

Climb Karangetang volcano (conditions permitting). Sail to unspoilt uninhabited Mahoro island to relax (beach camp).
Tag 8:

Sail back to Manado

Depending on the boat schedules, we sail back to Manado during the day or over night.
Tag 9:

Manado–Ternate–Ibu

Flug nach Ternate, Transfer mit dem Schnellboot nach Jailolo auf Halmahera und Fahrt zum Fuß vom Ibu Vulkan (Duono Dorf).
Tag 10:

Vulkan Ibu

Aufstieg zum Vulkan Ibu (ungefähr. 5-6 Stunden), Zelten am Kraterrand.
Tag 11:

Rückkehr vom Vulkan Ibu, Weiterfahrt nach Jailolo

Rückkehr nach Duono, Weiterfahrt nach Jailolo. Auf der Fahrt besuchen wir heiße Quellen.
Tag 12:

Vulkanobservatorium von den Vulkanen Tobelo & Dukono

Transfer nach Tobelo. Besuch des vulkanologischen Observatoriums des Vulkans Dukono. Vorbereitung der Ausrüstung für das kommenden Vulkan-Abenteuer.
Tag 13:

Aufstieg zum Vulkan Dukono

Optional haben Sie die Möglichkeit, den lokalen Markt zu besuchen. Trekking zum Vulkan Dukono(ungefähr. 3 Stunden).
Tag 14:

Auf- und Abstieg zum Krater des Dukono, Rückkehr nach Tobelo

Steigen Sie an den Kraterrand, um die Aktivität des Vulkans zu sehen (Ascheeruptionen, sofern der Zustand dies zulässt). Abstieg zurück, Transfer nach Tobelo.
Tag 15:

Rückkehr nach Ternate - Edelsteinmarkt

Rückkehr nach Ternate. Besuch eines lokalen Edelsteinmarktes. Freier Nachmittag.
Tag 16:

Ternate – Manado - Tomohon

Fly to Manado, transfer to Tomohon. Free afternoon.
Tag 17:

Departure or extension program

The tour ends with transfer to Manado and the airport at the time you need it.
Anreise:
The tour starts and ends in North Sulawesi's capital Manado (airport code MDO) which can be reached from many of the larger Indonesian airports, but also through Singapore and other regional cities.
If you need connecting flights within Indonesia, we can provide these for you (approx. 100-150 EUR typically for one leg, e.g. Jakarta-Manado or back).
Reiseleitung
Die Tour wird vor Ort von einem unserer professionellen lokalen Führer in Indonesien geführt, in der Regel von den bekannten und sehr beliebten erfahrenen Vulkanführern Andi oder Galih.
Sie verfügen neben reichlicher Vulkankenntnis nicht nur über höchstes Organisations- und Improvisationstalent, sondern haben auch umfangreiches Wissen über ihr Land, Kultur und Leute, das sie gerne mit Ihnen teilen.
Alle unsere Guides sprechen Englisch und Indonesisch, manche auch Französisch.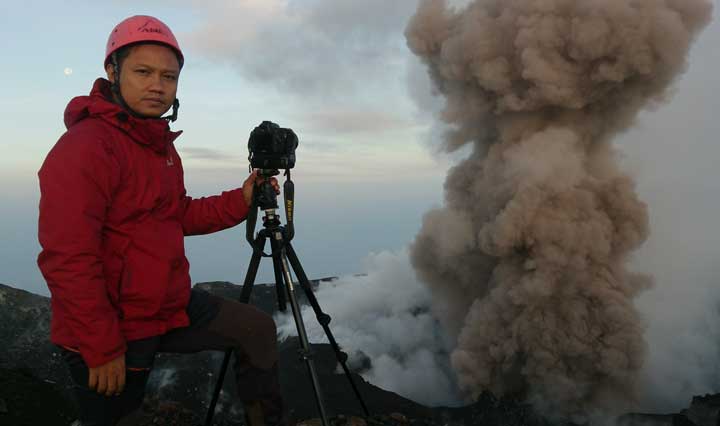 Andi Rosadi, unser berühmter Vulkan-Expeditionsleiter in Indonesien, am Dukono