Pele´s Fire and Myths
7 days walking tour exploring Kilauea´s historic eruption sites, Hawai'i
Glow above Halema´uma´u crater with active lava lake at dawn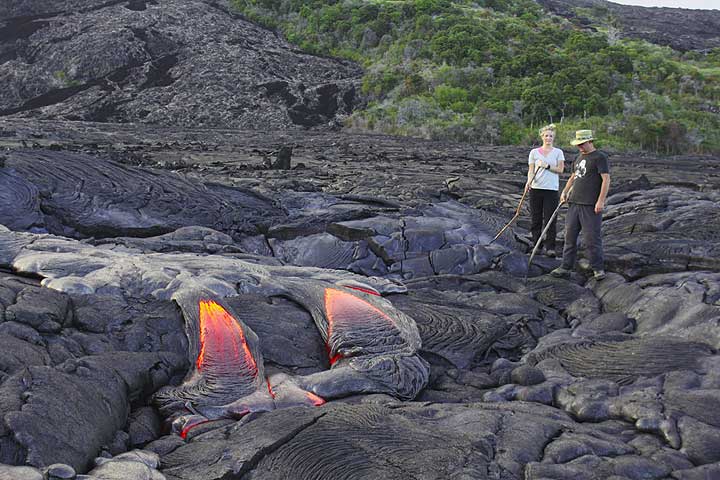 Observing fresh lava outbreaks
The cinder cone formed during the Kilauea Iki eruption
Bamboo orchids
Ocean sunrise
Exploring the Mauna Ulu eruption site
Sulphur crystals and fumaroles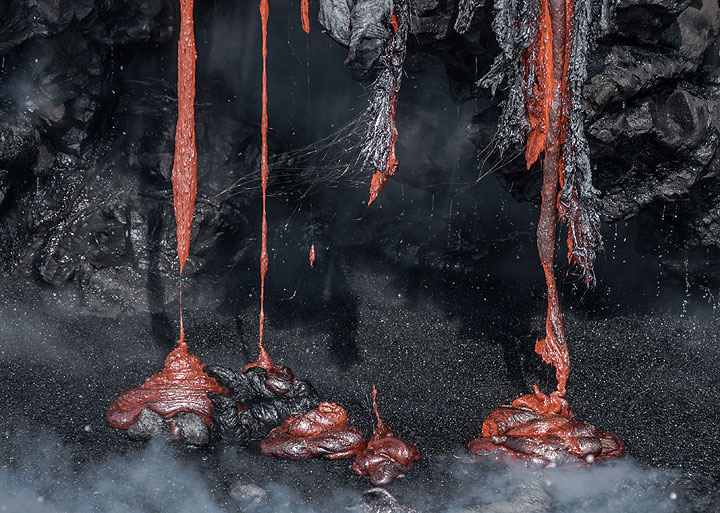 Lava dripping onto the black sand shoreline
The lava ocean entry mid April 2017
Enjoying the varied and tasty food on the Big Island
Ocean waves breaking against the steep lava cliffs
Red-hot lava flowing into the ocean
Although Kilauea is the youngest of the famous Hawaiian shield volcanoes, it is also one of the world´s most active volcanoes! Its volcanic activity has attracted visitors from all over the world since the 1820s and made it into one of the world´s most studied volcanoes and the type location for ´hot spots´.

The primary purpose of this tour is to explore the different volcanic phenomena, historic eruptions and types of activity of Kilauea on the Big Island of Hawaii. Excursions include discovering the 1969-1974 Mauna Ulu eruptionand its lava trees, the frozen lava lake of the 1959 Kilauea Iki eruption, sunrise over the Halema´uma´u active crater, exploring old lava tunnels, visiting the green sand beach, sulphur deposits and fumarole vents, Kilauea´s majestic summit caldera, ... Depending on the volcano´s activity we will also try to get as close as safely possible to any over land lava out breaks, and offer the option of a helicopter tour over the active Pu´u O´o vent or sunrise boat tour in the event of lava entering the ocean. Moderate hikes packed with interesting geological features are alternated with more relaxing activities such as beach visits, delicious meals or exploring the town of Hilo.

This 7 days walking tour is aimed at people who want to learn more about the fascinating world of volcanoes and take a chance to witness a unique volcanic eruption from close in the tropical setting of Hawaii´s Big Island.
Discover Kilauea: the most active volcano of our planet!
Travel in a small international group
Get as close to active lava flows as possible
Explore the volcano´s historic eruptions
Varied scenery and rainforest flora
Spectacular geological features (lava tunnels!)
Good balance between exploring and relaxation
Experienced volcanologist guide
Variety of tasty cuisines
Pele´s Fire and Myths - Kilauea Volcano
J 1:

Arrival in Hilo

Arrival in Hilo, transfer to the hotel and welcome dinner; -optional afternoon visit to the National Park and introduction.
J 2:

Kilauea Iki eruption site - Volcano winery

Morning hike along the Kilauea Iki trail to discover the volcanic deposits of the spectacular 1959 eruption. After a good lunch in Volcano we visit the local winery and have an early dinner near the hotel.
J 3:

Halema´uma´u at sunrise - exploring Kilauea caldera

Night sky observation and sunrise above the caldera is followed by a copious breakfast, exploration of the northern rim of the summit caldera, light lunch in Hilo and a relaxing afternoon.
J 4:

Lava caves and Mauna Ulu eruption site

Morning visit of the unique underground world of lava tubes and their intricate features, lunch in Volcano and afternoon exploration of the Chain of Craters Road with the Mauna Ulu eruption site, lava trees and petroglyphs.
J 5:

Observing Kilauea´s ongoing eruption

This day is dedicated to trying to spot some red hot lava! Depending on the current activity of Kilauea volcano you can undertake optional excursions such as a helicopter ride, ocean boat tour or overland hike to active lava flows. Parts of this day can also be used to explore areas of Hawaii Volcanoes National Park that have not been covered in the previous days or to visit the Botanical gardens and waterfalls near Hilo.
J 6:

Green sand beach and Punalu´u sea turtles

Morning drive to the southernmost point of the Big Island and hike to the famous green sand beach where we have a pick-nick lunch. On the way back to Hilo we take a scenic road and make a stop at the black sand beach to watch sea turtles.
J 7:

Departure or own extension

After breakfast you will be transferred to Hilo airport or a nearby starting point for your own extension.
Thème:
Voyage découverte géologie: Volcans Actifs - Géologie & Volcanisme - Nature et Culture
Difficulté:
Variable (dépendant de l'itinéraire choisi et vos préférences)
Groupe:
2-6
Durée:
7 days / 6 nights
Départs:
Départs sur commande possibles
Prix (p. p.): $ 3470 €£¥
Le prix comprend:
Professional volcanologist /geologist guide
Accommodation in comfortable seaside hotel in Hilo (double-room basis)
All meals from dinner on day 1 to breakfast on day 7
One soft drink with each meal
Multiple entry to Hawaii Volcanoes National Park
Locally guided lava tube tour
Volcano winery tasting
All transfers in a rental car / van
Encadrement:
This volcano adventure will be guided by Belgian volcanologist
Ingrid Smet
who has a university degree in geology and completed a PhD on active volcanoes in Greece. She likes to share her passion about geology and love for nature with anyone interested to learn more - enthusiastically translating her scientific knowledge to a broad audience.
As the newest member of the VolcanoDiscovery team Ingrid started out helping Tom with the organisation of our tours and the website design as well as co-authoring our ´Volcano Discoveries´ photography book. Meanwhile she is the destination manager for all our tours in Ethiopia, DR Congo, Hawaii and Iceland which she sometimes (co-)guides besides acting as an extra geologist tour guide when we travel with larger groups. Besides her Dutch mother tongue Ingrid also speaks fluent English and she can communicate in French and German.
Ingrid on one of her trips to Stromboli volcano, Italy