Shiveluch Volcano Special
8-day expedition to see the ongoing eruption of Shiveluch volcano 16-24 Mar 2019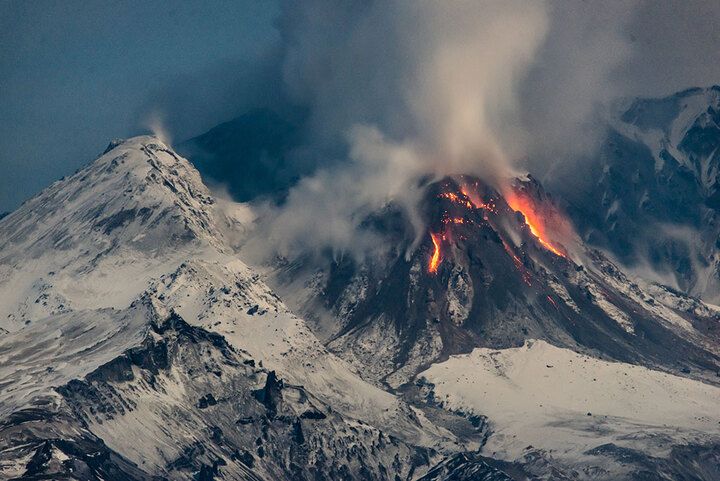 The active dome of Shiveluch as seen during our Shiveluch Special tour in Mar 2019 (image: Tom Pfeiffer)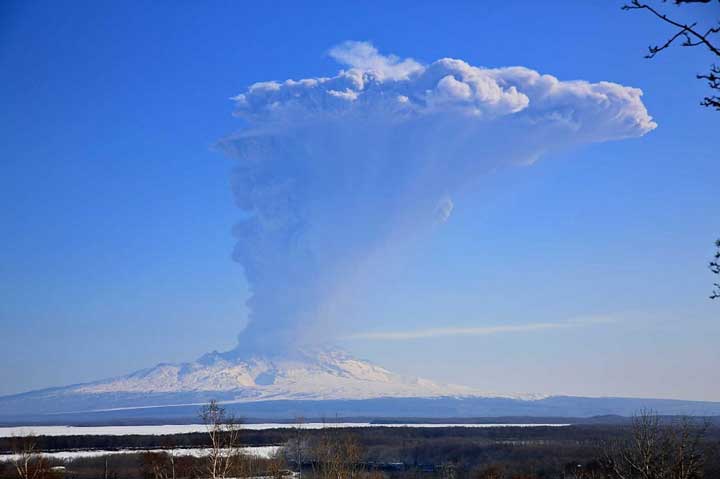 Large eruption of Shiveluch in 2015 (image: Andrej Nikiforov)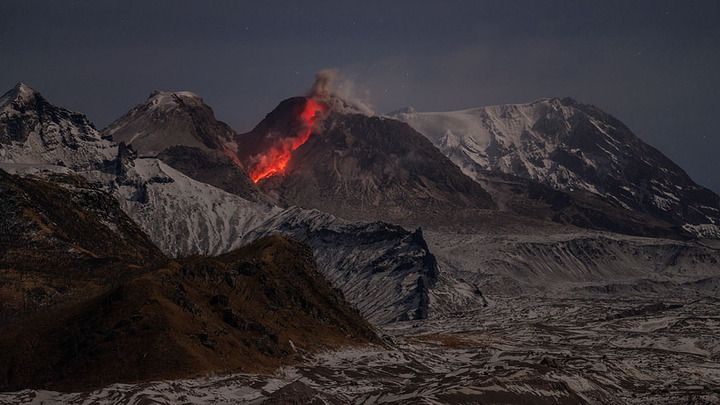 Glowing avalanche from Shiveluch in 2013 (courtesy of Martin Rietze / http://www.mrietze.com)
If the eruption of Shiveluch continues, we plan an expedition for max 6 participants to observe it during 16-24 Mar 2019. Deadline to sign up is Sat, 24 Feb 2019.
The group will be accompanied by part of our team and is organized in cooperation with the local volcano observatory.
Note: There will be little to no physical difficulty, but you will need to be prepared for severe WINTER conditions (temperatures down to -20 deg C) - you will need proper winter clothing for arctic conditions.
Spectacular dome-building eruption
Chances of glowing avalanches
See one of the world's most active volcanoes
Expert team
Shiveluch Special 16-24 Mar 2019
Note:
The following is a very rough outline for the itinerary. Depending on circumstances, significant adaptations on location are possible.
Day 1:

Arrival in Kamchatka

Arrival at Elizovo airport (Kamchatka), pickup and transfer to our guesthouse.

Time to relax, enjoy great views. Dinner and briefing in the evening.
Day 2-8:

Visiting Shiveluch

17 Mar: transfer to Kluchi

18-22 Mar: 5 days in Kluchi, observation of Shiveluch from different points, one day excursion to Kluchevskoi (if group likes)

23 Mar: return to Elizovo
Day 9:

Departure

Transfer to airport and departure, end of service, or own extension.
Tour type:
Volcano expedition: active volcanoes - photography - adventure
Difficulty:
Easy
Group size:
3-6
Duration:
9 days / 8 nights
Dates:
no scheduled dates at present
Price (per person): 2750 € $£¥
Included:
All necessary documents for your visa (invitation letter to Russia, military zone permit etc)
Accommodation: 2 nights in Gelios hotel, 6 nights on the volcanological station in Kluchi village
Full board from lunch on D1 to breakfast on last day
All transfers by land (minibus until Kluchi village and back and 4wd jeep / ski mobiles for the 5 days on location)
Tour guide
The tour will be guided by Andrej Nikiforov, mountain and expedition leader from Kamchatka. Andrew has spent many years organizing expeditions in his country for local and foreign groups and companies, and also has excellent connections with the scientists from Petropavlovsk's Institute of Volcanology and Seismology.
A volcanologist from our team will also accompany the expedition.
Our expedition leader Andrew Nikiforov