La Palma Volcano Special
5-day tour to see the eruption and get to know the island with a volcanologist
Eruption on La Palma in Sep 2021
We offer a short-notice tour to see the eruption on La Palma in a small group guided by a volcanologist (Evelyne Pradal - English and French speaking geologist.
There is no preceise program other than we will try to find the best locations to observe the eruption according to conditions we encounter on location.
Note: The tour will not be given access beyond the police checkpoints (to see lava flows closeer).
See the current eruption from close
Get to know the island with a geologist and volcanologist
Small group size
Volcano Special La Palma eruption
Day 1-5:

La Palma

D1: arrival and pick-up from airport or port, transfer to accommodation, eruption viewing in the evening / night

D2-4: 3 full days to explore the island, but focus on observing the eruption

D5: return to port / airport
Arrival info:
The tour starts in La Palma either at the airport or at the port if you arrive by ferry from Tenerife.
Tour type:
Volcano expedition: active volcanoes - geology & volcanism
Difficulty:
Custom (variable)
Group size:
3-6
Duration:
5 days / 4 nights
Dates:
no scheduled dates at present
Price (per person): 1200 € $£¥
Included:
Transfers with rental car or minibus from/to port/airport and on the island
Accommodation in hotel or guesthouse with breakfast
Accompanying geologist expert on La Palma
Tour guide
Dr. Evelyne Pradal is a trained geologist and volcanologist with a passion of showing and teaching her subject to the general public. Born in Cantal, in the heart of the Auvergne French volcanic field, she studied in the renowned Center of Earth Sciences of the university of Clermont-Ferrand, one of France's leading research institutes in the field of volcanology.
Her research and trips led her to study volcanoes in Mexico, the Caribbean,
East African Rift
and other areas.
After completing her doctorate degree in 1990 she went on to work as consultant and teacher in earth sciences, and she has been organizing expeditions and study trips to volcanoes in
Italy, France, the Caribbean, Ethiopia and Tanzania, Djibouti, Canaries islands, New Hebrides trench, Indonesia,
... designed to share knowledge and the fascination of her subject, the beauty of our living earth, to the general public. She is also (co-)authored the books:
"Tout savoir sur les volcans"
(2018, Ed. Fleurus jeunesse) ("A la découverte des volcans extrêmes" (2013, Vuivert De Boeck Ed) "Au coeur des volcans" (2004, Ed. Fleurus - Geo Ados). Evelyne with her charming smile joined our team in 2010 and guides trips to Ethiopia, the Caribbean, Canaries islands, Italy and new study trips such on Auvergne volcanoes, her homeland, and Tanzanian Rift Valley.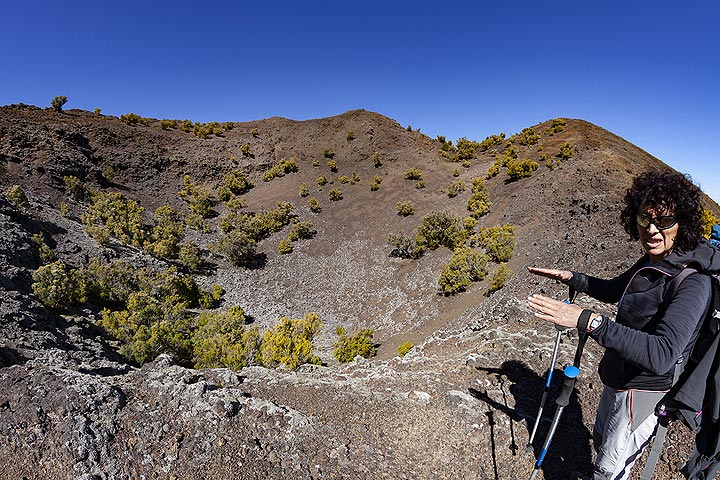 Evelyne Pradal at the Tanganasoga crater on El Hierro (Feb 2019)