Iceland Volcano Special
Day 1:

Arrival in Reykjavik, Iceland (5 Aug)

Depending on individual arrival times, we will schedule meeting / pickup from the airport. Transfer to our accommodation near Reykjavik.

6 nights in hotel
Day 2-6:

Ongoing eruption and highlights of southern Iceland (6-10 Aug)

There is no fixed schedule. Instead, based on the conditions we will find and the preferences of the group, we will be fully flexible to dedicate our time for the ongoing volcanic eruption at Litli Hrutur and other highlights of southern Iceland.

These likely could include some if not all of:

- Fagradallsfjall and Geldindadalur lava fields (2022 et 2021 eruptions sites)

- Blue Lagoon geothermal area and hot springs

- Krisuvik (Seltun) geothermal area

- Kleifarvatn lake

- lava fields of Valahnukur and Gunnuhver geothermal area

- Bru Milli ("a bridge between America and Europe tectonic plates")

- Small typical villages on the Rekjanes peninsula with churches, fishermen old houses (Sungardi, Gardur ...)

- Geysir (Strokkur ) and Gullfoss water fall
Day 7:

Departure or own extension (11 Aug)

We will return to the airport or drop you off in Reykjavik if you plan to stay longer.
Tour guide
Dr. Evelyne Pradal is a trained geologist and volcanologist with a passion of showing and teaching her subject to the general public. Born in Cantal, in the heart of the Auvergne French volcanic field, she studied in the renowned Center of Earth Sciences of the university of Clermont-Ferrand, one of France's leading research institutes in the field of volcanology.
Her research and trips led her to study volcanoes in Mexico, the Caribbean,
East African Rift
and other areas.
After completing her doctorate degree in 1990 she went on to work as consultant and teacher in earth sciences, and she has been organizing expeditions and study trips to volcanoes in
Italy, France, the Caribbean, Ethiopia and Tanzania, Djibouti, Canaries islands, New Hebrides trench, Indonesia,
... designed to share knowledge and the fascination of her subject, the beauty of our living earth, to the general public. She is also (co-)authored the books:
"Tout savoir sur les volcans"
(2018, Ed. Fleurus jeunesse) ("A la découverte des volcans extrêmes" (2013, Vuivert De Boeck Ed) "Au coeur des volcans" (2004, Ed. Fleurus - Geo Ados). Evelyne with her charming smile joined our team in 2010 and guides trips to Ethiopia, the Caribbean, Canaries islands, Italy and new study trips such on Auvergne volcanoes, her homeland, and Tanzanian Rift Valley.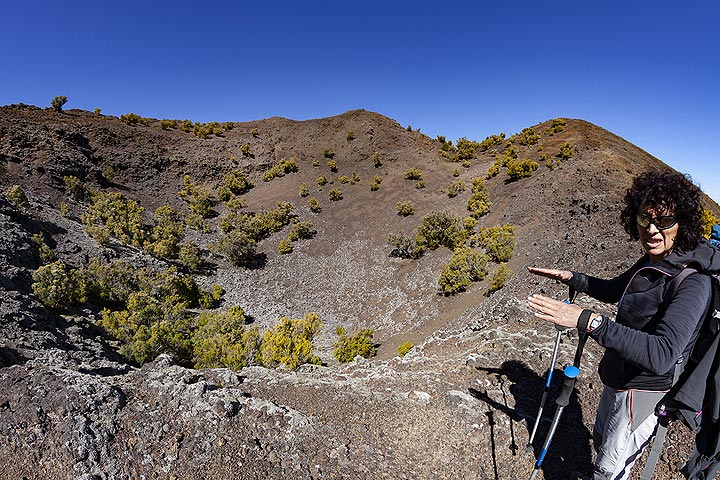 Evelyne Pradal at the Tanganasoga crater on El Hierro (Feb 2019)