Garden of Eden
10-day trekking and wildlife safari to the Ngorongoro Highlands and the Rift Valley, Tanzania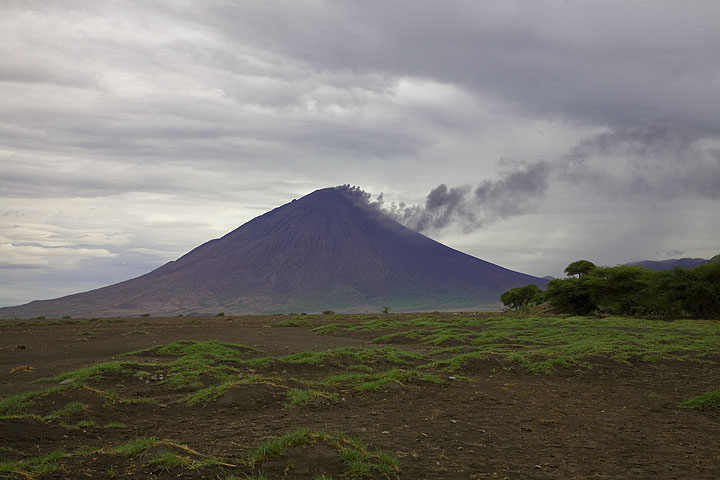 Tour itinerary: Arusha - Lake Manyara - Ngorongoro - Olmoti - Empakai - Lake Natron - Lengai volcano - Arusha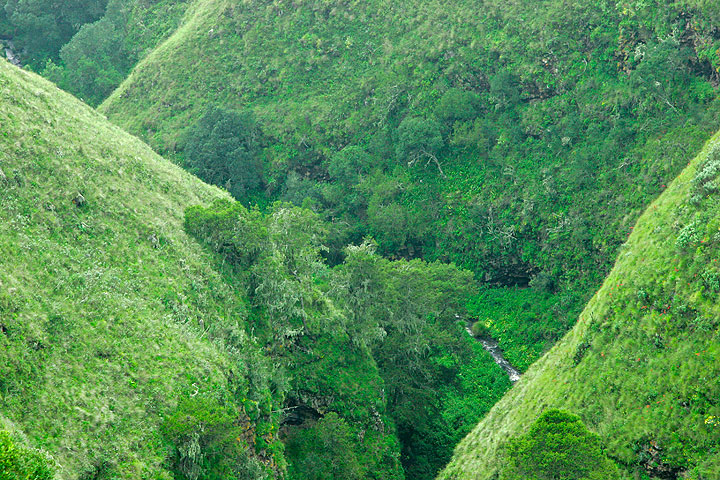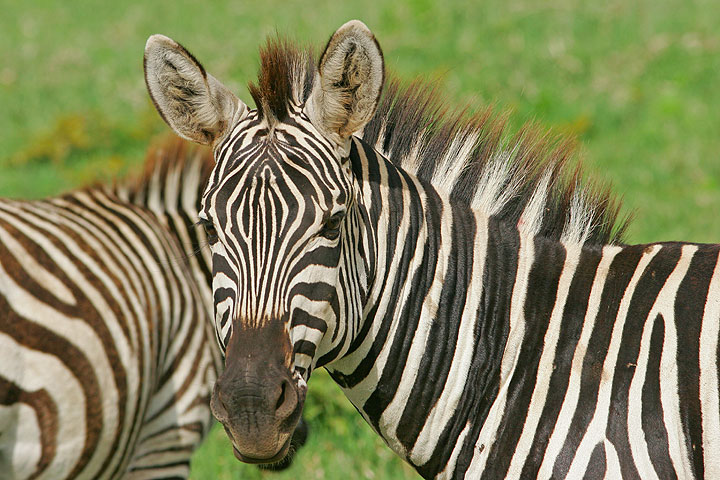 Let us show you some of the most dramatic landscapes and geologic features on earth: the Great East African Rift Valley and Ngorongoro Crater, a true Garden of Eden with its herds of wildlife, and Oldivai Gorge, where some of mankind's earliest ancestors were found.
The contrast between the green highlands with their abundant wildlife and the barren landscapes of the Rift Valley with its salt lakes and the active volcano of Ol Doinyo Lengai is startling and full of surprises. The tour offers a balanced mixture of exciting game drives, relaxed trekking and camping through breathtaking landscapes.
Ngorongoro crater - a wildlife paradise
Dramatic landscapes of the Great Rift Valley
Olmoti, Empakai and active Ol Doinyo Lengai volcanoes
Olduvaï gorge - a birthplace of mankind
Lake Natron with its pink flamingoes
Spectacular, but comfortable trekking
Option to climb Lengai volcano
Accompanying experienced volcanologist from our team
10-days itinerary Rift Valley
Day 1:

Arrival to Arusha

Arrival at Kilimanjaro International Airport. Transfer to the hotel near the airport.
Day 2:

Tanzanian Rift Valley near Manyara

Drive to Arusha and then to the lake Manyara ( 4-5 hours approx). Visit of a coffee plantation. Presentation of the trip and geological/volcanology story of the Rift Valley.
Day 3:

Olduvaï prehistorical site

Cross the southwestern plains of the Ngorongoro Conservation Area (watching wild life - zebra, girafes) to reach the Olduvaï Gorge (3 hours). Visit of the site and associated rich museum.
Day 4:

Empakaï and Olmoti stratovolcanoes on Masaï territory

Climb Olmoti stratovolcano, cross the typical Embulbul Engaruka depression with it's typical masaïs villages, towards Empakai volcano.
Day 5:

Ngorongoro crater and conservation area

Departure for Ngorongoro crater. Day inside the crater with a picnic for lunch. Observation all the famous African animals and numerous birds.
Day 6:

Lake Natron

Discover the floor of the Gregory Rift near Lengaï volcano and Natron lake.
Day 7:

Lake Natron

Discovering Natron lake, its hydrothermal springs and famous flamingo population, prehistorical Homosappiens footprints close to the lake….
Day 8:

Ol Doinyo Lengaï volcano slopes and Ngare Sero gorge

Walk to Ol Doinyo Lengaï volcano and on Ngare Sero river, swim at a water fall. Relax.

Optional: Climbing Ol Doinyo Lengaï with Maasai guides (to be arranged on location)
Day 9:

Mto Wa Mbu

Drive to Mto Mbu village (4h car). Back to Manyara Lake Oremiti lodge. Afternoon either free time with local market place, either Manyara wild area.
Day 10:

Arusha

Transfer to Kilimanjaro Airport for your return flight or to Arusha Airport for your flight to Zanzibar, in option "A la carte"
Arrival info:
The tour starts and ends in Kilimanjaro airport. Or it can end in Arusha airport if you go to Zanzibar afterwards.

Tour type:
Trekking safari: nature & culture - wildlife - photography
Difficulty:
Moderate
Group size:
4-12
Duration:
10 days / 9 nights
Dates:
Custom and group dates
Price (per person): $ 4100 €£¥
Included:
All accommodation (prices based on double / shared room) in comfortable lodges
All transfers according to program in comfortable 4x4 Toyota Land Cruiser or Nissan equipped with a radio and open roof, max 6 clients per vehicle
Full board, all meals from dinner on day 1 to lunch on the last day
Plenty of bottled drinking water per person per day in vehicle + water for dinner at Oremiti Lodge and at Serengeti Tented Camp, included in full-board basis
Professional English-speaking driver guide throughout the trip
Professional volcanologist from the VolcanoDiscovery team
One game safari in Ngorongoro crater
All entry fees in national parks (price is subject to change as it follows the fluctuations of the tax in national parks or the VAT, controlled by the Tanzanian government until the day before your trip)
Tour guide:
Dr. Evelyne Pradal is a trained geologist and volcanologist with a passion of showing and teaching her subject to the general public. Born in Cantal, in the heart of the Auvergne French volcanic field, she studied in the renowned Center of Earth Sciences of the university of Clermont-Ferrand, one of France's leading research institutes in the field of volcanology.
Her research and trips led her to study volcanoes in Mexico, the Caribbean,
East African Rift
and other areas.
After completing her doctorate degree in 1990 she went on to work as consultant and teacher in earth sciences, and she has been organizing expeditions and study trips to volcanoes in
Italy, France, the Caribbean, Ethiopia and Tanzania, Djibouti, Canaries islands, New Hebrides trench, Indonesia,
... designed to share knowledge and the fascination of her subject, the beauty of our living earth, to the general public. She is also (co-)authored the books:
"Tout savoir sur les volcans"
(2018, Ed. Fleurus jeunesse) ("A la découverte des volcans extrêmes" (2013, Vuivert De Boeck Ed) "Au coeur des volcans" (2004, Ed. Fleurus - Geo Ados). Evelyne with her charming smile joined our team in 2010 and guides trips to Ethiopia, the Caribbean, Canaries islands, Italy and new study trips such on Auvergne volcanoes, her homeland, and Tanzanian Rift Valley.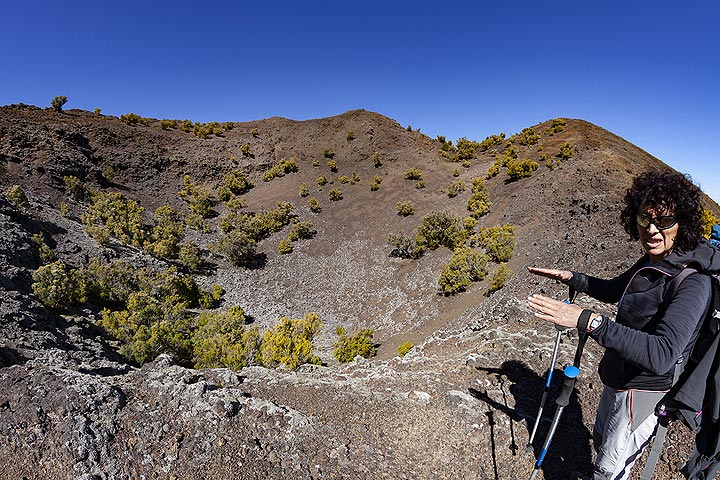 Evelyne Pradal at the Tanganasoga crater on El Hierro (Feb 2019)