In andere valuta's weergeven
Pearl of the Aegean
8 days walking and study tour on Santorini, Greece
...We'd like to say a big thank-you to you all for being such excellent companions during our stay on such a wonderful island. Also a special thank-you to Tobias for being such a understanding and helpful guide for a really wonderful week. A. Frazer, October 2010
Spring at Pláka (c)Tobias Schorr
Chapel at Oía (c)Tobias Schorr
The red beach at Acrotíri (c)Tobias Schorr
The bay of Néa Kaméni (c)Tobias Schorr
View over Néa Kaméni (c)Tobias Schorr
View to Paléa Kaméni (c)Tobias Schorr
Thermal bay at Néa Kaméni (c)Tobias Schorr
Arrival at Paléa Kaméni (c)Tobias Schorr
Crater lake of 726 A.D. on Paléa Kaméni (c)Tobias Schorr
Orchid (c)Tobias Schorr
Spring flowers (c)Tobias Schorr
A relaxed walking study tour through the volcanic landscape of Santorini island. Normally guided by photographer Tobias Schorr, we have time to take photographs and notice the little details, such as minerals, rare animals and plants and prehistoric remains.
You will have lots of contact with the local people and get to know the true Greek hospitality - Tobias who has lived many years in Greece has many friends on the island and knows the country better than anyone.
As an enthusiastic geology and mineralogy fan, he also makes the tour a great introduction to Santorini's fascinating geologic history and its connection to Ancient (Minoan) and modern culture and history.
Nature (many rare kinds of plants & animals)
In spring time: Rare orchids!
Archaeological sites
Volcanological sites
Rare minerals
Beautiful villages
Contact with local people
Boat-trip to the active volcano island Nea Kameni and a visit of the active craters
8 days itinerary Santorini
Dag 1:

Getting to Santorini

Make your way to Santorini and we'll be there to pick you up from the airport or port and take you to your cozy locally run hotel in one of two picturesque villages, Oia or Akrotiri. Enjoy a delicious local dinner in the evening.
Dag 2:

Caldera walking

Take a spectacular walk along the caldera from Fira to Oia after a hearty breakfast. This could arguably be one of the most breathtaking walk of a lifetime, full of great opportunities to take fabulous photos. Get an initial overview on the geology of the island. Relax for dinner at sunset.
Dag 3:

Walk old trails between the castles of Pirgos and Emporio

Start the day with a filling breakfast then visit the charming hilltop village of Pirgos, crowned by its Venetian fortress overlooking the island. Walk the old trail through a pumice canyon to the picturesque village of Emporio, a labyrinthine medieval village with a hidden castle in its midst. Sample the local cuisine for dinner at one of our favorite restaurants.
Dag 4:

Akrotiri excavations, "Red Beach" and the cape Akrotiri

Visit the archeological excavations in Akrotiri, a highly sophisticated Bronze-Age town buried under the volcanic ashes of the Minoan eruption around 1613 BC. A professional archeologist guide brings life on the island 4000 years back to life in our imagination.

Take a walking tour from the village of Akrotiri to the Red Beach and to the area's historic lighthouse on the cape. Discover the oldest volcanic rock formations complete with fossilized sea life and rare minerals!
Dag 5:

Ancient Thira and Perissa beach

Visit the medieval fortified hilltop village of Pyrgos, explore the ancient acropolis of Thira and head down to the famous black sand beach of Perissa or Kamari.
Dag 6:

Boat trip to the Caldera's active volcano islands

Embark on a fascinating tour with a private chartered boat to the volcanic islands Nea and Palea Kameni in the middle of Santorini's caldera. Explore the volcanic craters and old lava flows of some of the world's youngest islands. Meet Sostis, the only man who lives on Palea Kameni island!
Dag 7:

Free day

Take a day off and see the different sides of Santorini for yourself. Go showing, take a swim in the sea or go on a hiking excursion. Meet the group for dinner later on.
Dag 8:

End of tour

Stay on in Santorini if you like or head back home. We'll make sure to take you to the airport or port if you're leaving.
Aankomst info:
This tour starts and ends on Santorini.
Soort reis:
Wandelen: natuur - geologie - Archeologie
Moeilijkheidsgraad:
Easy to Moderate
Group size:
4-8
Duur:
7 nights / 8 days
Datums:
10-17 Apr 2021
22-29 May 2021
Price (per person): 1480 € $£¥
Inbegrepen:
Accommodation in double room
Half-board incl. table water, tea or coffee
All transfers on Santorini
Entrance fees to museums and archeological sites
Guided tour of the prehistoric site of Akrotiri by an official archaeological guide
Tour guide:
Tobias Schorr is a German photographer and hobby-geologist with a long experience in guiding tours. He has been living for many years in Greece and did many tours to the Greek volcanoes Methana, Milos, Santorini, Nisyros and even older volcanoes like Lesvos. He is always having an eye on the small details like orchids, ancient items or even rare minerals.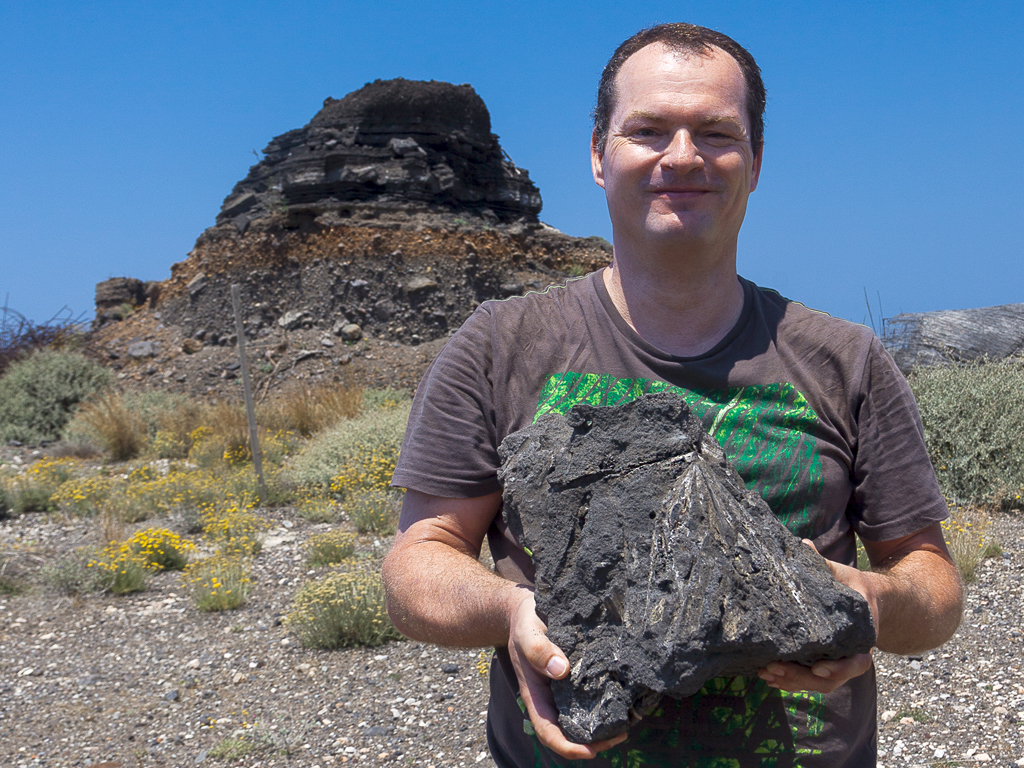 Tobias Schorr with a piece of fossilised palm threes from Santorini island.
Recommended by Ecotourism Greece
Tour photos: