VolcanoDiscovery walking & study tours: volcano classics
Group on Anak Krakatau volcano
Boat tour in the Santorini caldera
Our signature tours for small groups - discover volcanoes and volcanic areas from close with an expert in their field!
these tours have been the backbone of VolcanoDiscovery (the earlier name of our company) since 2004 or even before (Santorini: since 1997!). They are guided by our team volcanologists, many of them by founder volcanologist Dr. Tom Pfeiffer.
These tours are our most popular and have a broad mix of activities and interests from photography, walking, study travel, nature & culture.
Our classic tours:
Santorini Island (Greece)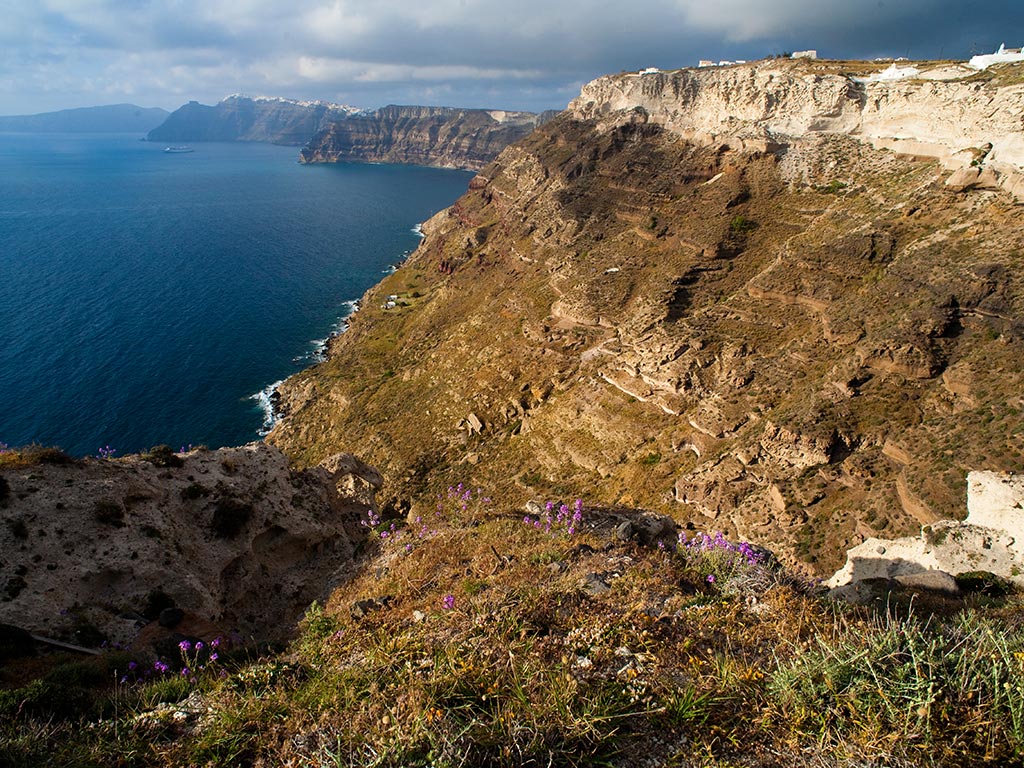 8 (9) days study and walking tour on Santorini, Greece
8 / 9 days - Moderate
1450 € $£¥
no scheduled dates at present
This walking tour for a small group (6-12 participants) explores the fascinating natural and cultural history of the volcanic island of Santorini. The program is a series of excursions with focus on Santorini's outstanding, text-book quality volcanic and geologic features, as well as its natural beauty and cultural history.
more info
Sicila and Eolian Islands (Italy)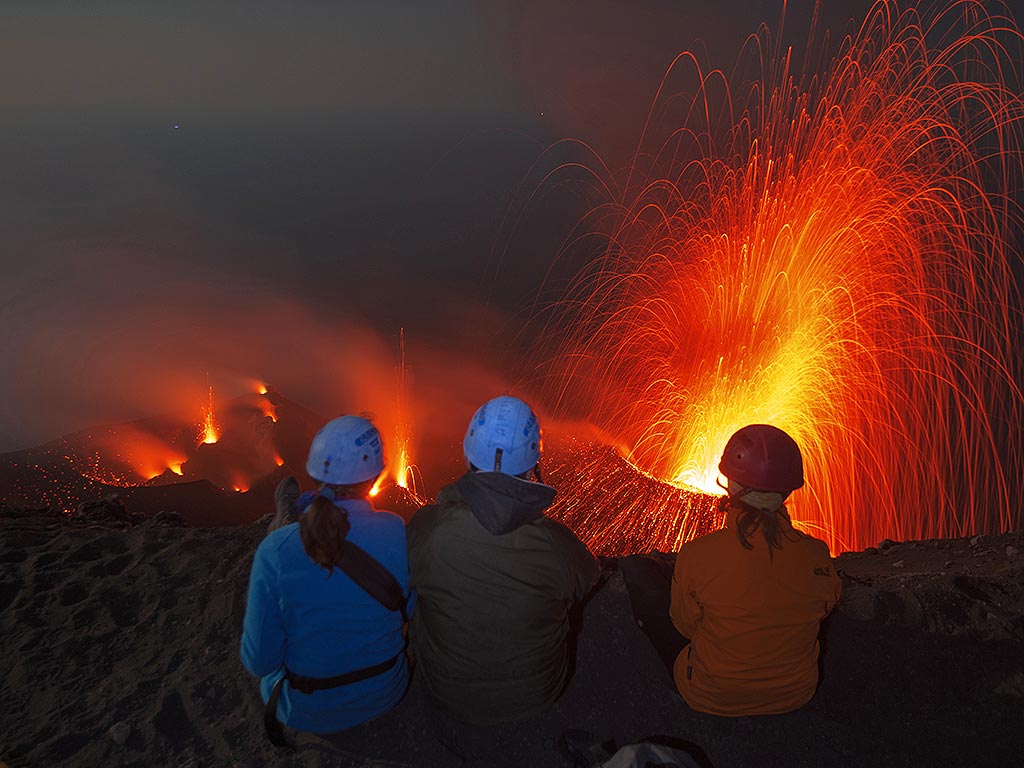 9-day walking & study tour to Stromboli, Lipari, Vulcano and Etna with our expert volcanologist
9 days / 8 nights - Easy to Moderate
2950 € $£¥
1-9 Oct 2022
6-14 May 2023
7-15 Oct 2023
Together with one of our expert volcanologists you will discover some of Italy's most famous and active volcanoes: Mt Etna on Sicily and the Aeolian Islands of Vulcano, Lipari and Stromboli. This itinerary combines exciting hikes, interesting excursions and island relaxation with excellent Mediterranean food and charming accommodation.
more info
Gulf of Naples, Eolian Islands + Etna (Italy)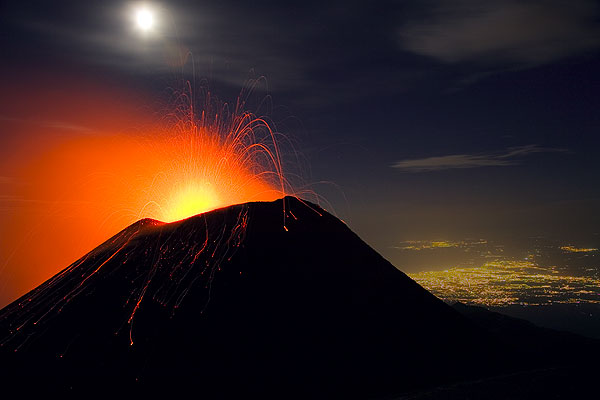 15-days study & walking tour from Vesuvius to Etna
15 days (14 nights) - Easy to Moderate
3590 € $£¥
7-21 Oct 2022
Southern Italy is the birthplace of the relatively young science of volcanology and a place where volcanoes are deeply rooted in history and culture. Guided by our volcanologist expert of Southern Italy you will visit Vesuvius and the Phlegrean fields as well as Pompeii and Herculaneum, the Eolian Islands of Stromboli, Vulcano and Lipari and thoroughly explore Mt Etna. Easy to moderate hikes and excursions by land and see bring you face to face with Europe's most fascinating volcanoes!
more info
Big Island, Hawaiʻi (USA)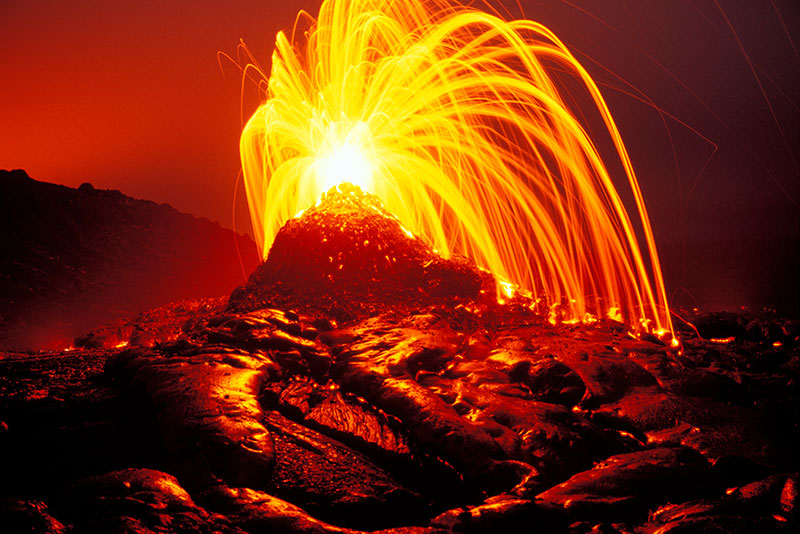 volcano tour to watch the ongoing eruption of Kilauea volcano, Hawai'i
5-7 days / 4-6 nights - Custom (variable)
open
Custom and group dates


NOTICE:
As of end of 2020, Kilauea volcano is not erupting. In addition, global travel restrictions prevent us from being able to offer the tour right now. Once traveling is possible again, the tour can be offered as a geo tour to get to know the volcano from a geological and cultural viewpoint. If it is erupting, focus will be to access and photograph or film the activity from as close as safely possible.
The primary purpose of this expedition is to enable a small group to spend several days on and near the active volcano of Kilauea, Hawaii, to observe volcanic activity if present and study volcanic/ geologic features:
active lava lakes and lava flows
. We will spend several full days and nights to
approach active or geologically interesting areas repeatedly by land, sea and from the air
, depending on circumstances.
more info
Java (Indonesia)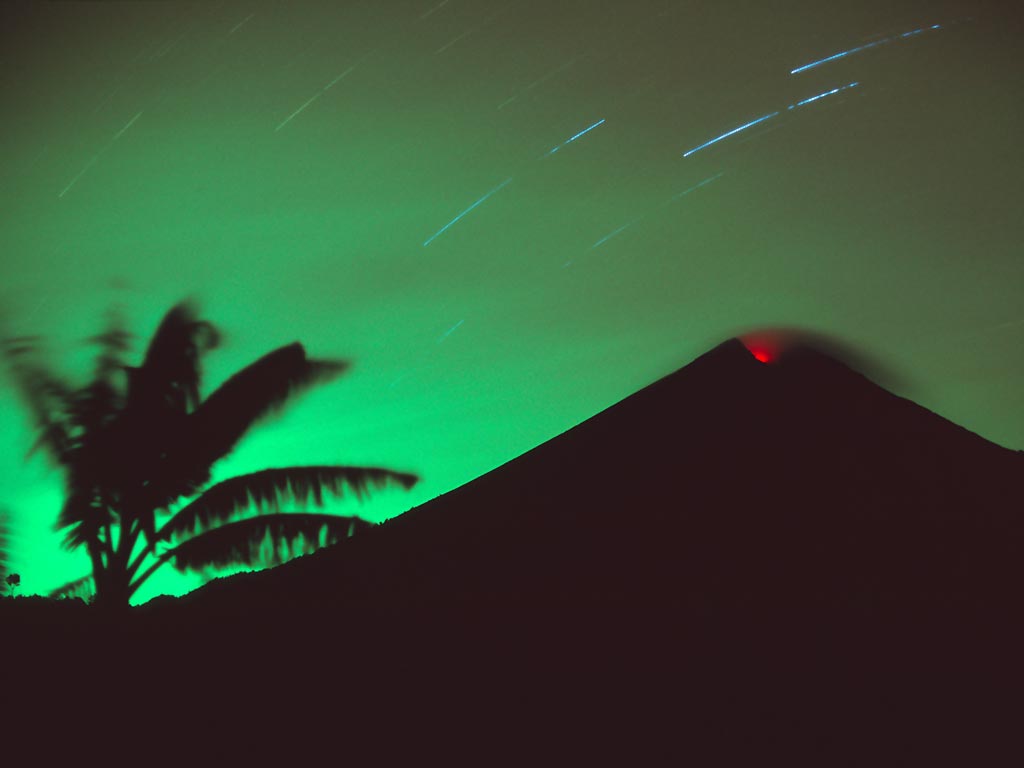 16-day study and photo tour to Java, Indonesia
16 days / 15 nights - Easy to Moderate
2950 € $£¥
Custom and group dates
11-26 Sep 2022
9-24 Oct 2022
This exciting tour crosses
Java from West to East
and ends on Bali. Its itinerary and focus are optimized in order to provide excellent conditions and locations for photography. Your guide is one of the best available in Indonesia with excellent knowledge of locations, people and photographer's needs. If you are new to photography of volcanoes and landscapes, this is the chance to learn and improve your own photography!
The program allows generously for sufficient time to explore the most interesting landscapes of Java and its volcanoes in depth:
Krakatoa and Papandayan
in West Java,
Merapi
in Central Java, and the
Tengger caldera, Bromo, Semeru and Ijen volcanoes
in East Java.
Even if you are not a photographer, you will get an unforgettable and competent introduction to Java's multicolored landscapes, people and their culture.
This tour combines easy to moderate excursions with a portion of luxury. You travel to some of Java's most fascinating landscapes and meet its friendly people and their colorful culture.
Last but not least, an adventurous camp on Krakatau's tropical beach, as well as
Indonesia's delicious cuisine
will round out the trip.
more info
Danakil desert (Ethiopia)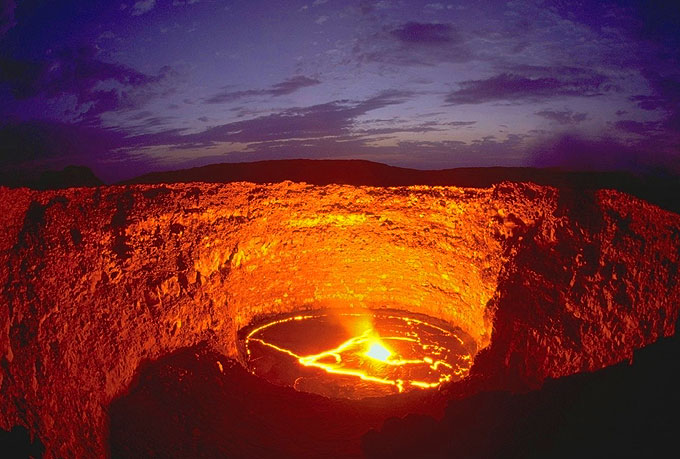 14 days expedition to Erta Ale volcano and Dallol hydrothermal field (Danakil desert, Ethiopia)
14 days / 13 nights - Moderate
$ 4530 €£¥
no scheduled dates at present
Experience one of the geologically most active areas on the planet! The Danakil desert is famous for
Erta Ale
, one of the world´s few permanently active volcanoes. Until 2017, it hosted a spectacular
boiling lava lake
, which is now gradually returning (as of late 2020). Don't miss your chance to see the
surreal landscapes of colors, salt, geysers and hot springs
at the hydrothermal area of
Dallol
.
See the dramatic change of environment when the jeep expedition starts in Addis Ababa (at 2355 m), and gradually descents into the Danakil depression, passing through
Awash National Park
before reaching the banks of
Afrera salt lake
(at - 100 m). The journey continues as we climb Erta Ale shield volcano and spend
3 full days and nights exploring the volcano´s caldera
. We then set up camp at the Afar village of Hamed Ela and have
2 full days
to discover the
hydrothermal area of Dallol and Assale salt lake
, including the
centuries-old ritual of salt cutting
. Finally explore the UNESCO world heritage site of the
rock hewn churches of Lalibela
.
We have been organising
tours to the Danakil since early 2007
and hence have
expertise
in arranging such expeditions. Our
highly competent Ethiopian main guide and volcanologist Enku
and his friendly team will safely take you through the desert in
4x4 jeeps
. The sometimes Spartan character of living conditions in the Danakil are partially compensated by the
large variety of meals
freshly prepared by our cook!
more info
DR Congo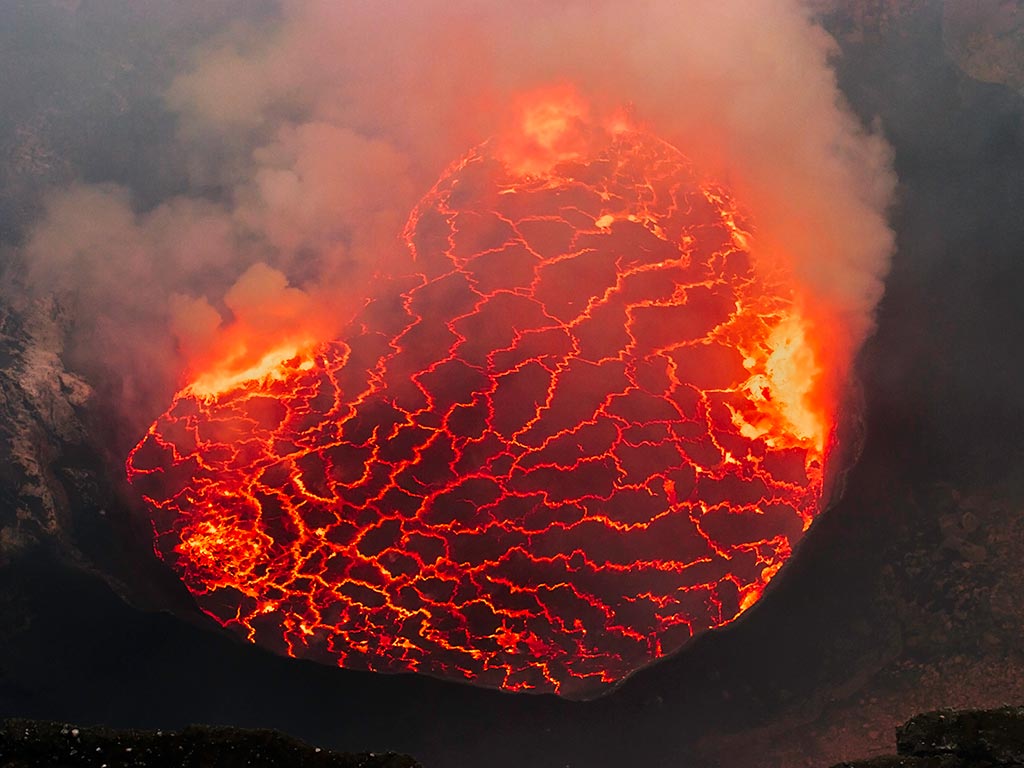 8-days expedition to Nyiragongo volcano & mountain gorillas in Virunga National Park
8 days / 7 nights - Moderate to Challenging
$ 3950 €£¥
no scheduled dates at present
An adventurous trip to The Virunga National Park, DR Congo with a special deal to spend 2 NIGHTS on the crater rim of Nyiragongo volcano (normally, only one is allowed!)! In addition, the lava lake has been particular active with frequent, dramatic overflows lately, so it's a great time to visit!
The heart of this adventurous expedition is
two nights camping on
the rim of the giant summit caldera of
Nyiragongo volcano
, above its violently
active lava lake
which is the word´s largest!
Second highlight is a trek through dense rainforest to
observe a family of mountain gorillas
, endangered primates which found a safe heaven in Virunga National Park.
The itinerary furthermore includes a visit of the
volcano observatory
and
Goma city
, where life goes on from the ashes of the destruction caused by Nyiragongo´s 2002 eruption, and
beautiful and varied scenery
during the drives through western Rwanda and to the start of the volcano hike and gorilla tracking.
An
excellent local guide
who gladly provides insight into the regions history and local culture, the company of a
Goma observatory volcanologist
during the time spent on Nyiragongo,
friendly people, good accommodation and tasty food
make this trip complete!
more info