in response to recent high activitiy in the Southern crater and growing lava lake (Danakil desert, Ethiopia)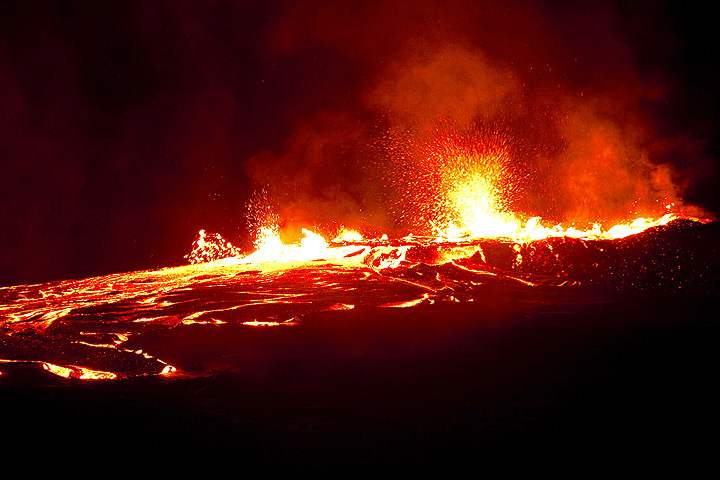 Nighttime impression of lava flow and spattering from the overflowing lava lake (Dec 2010; image: Tom Pfeiffer)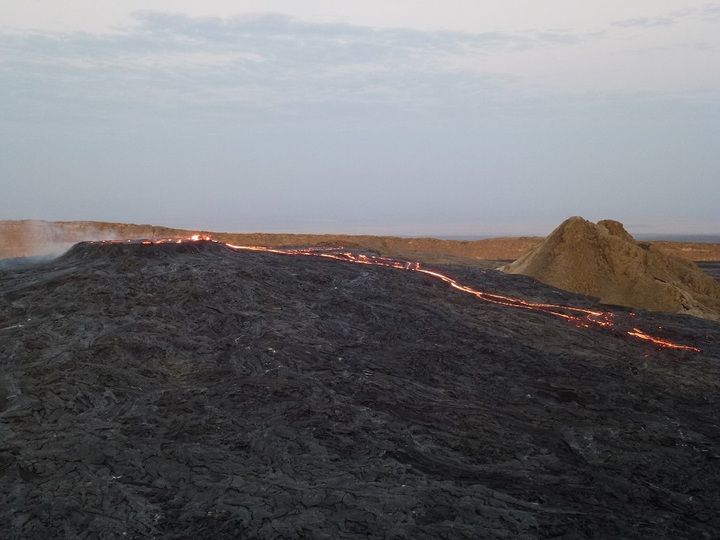 A fresh pahoehoe lava makes its way from the overflowing lake across black lava flows that only recently covered the caldera floor (Nov 2016; image: Hans en Jooske)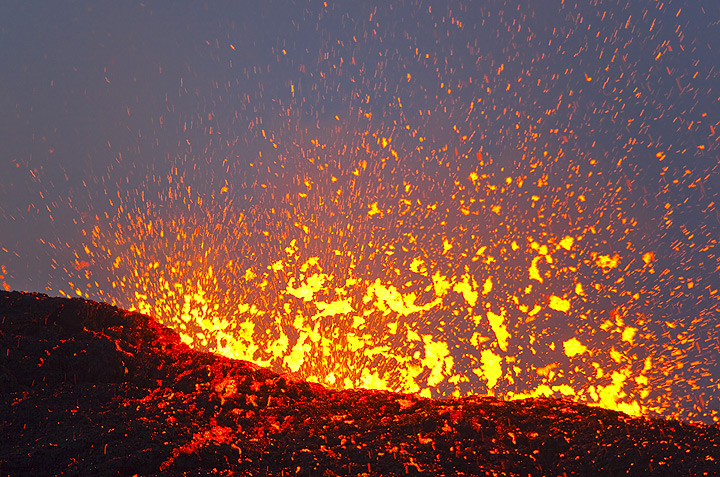 A large lava bubble explodes at the surface of the full lava lake (Dec 2010; image: Tom Pfeiffer)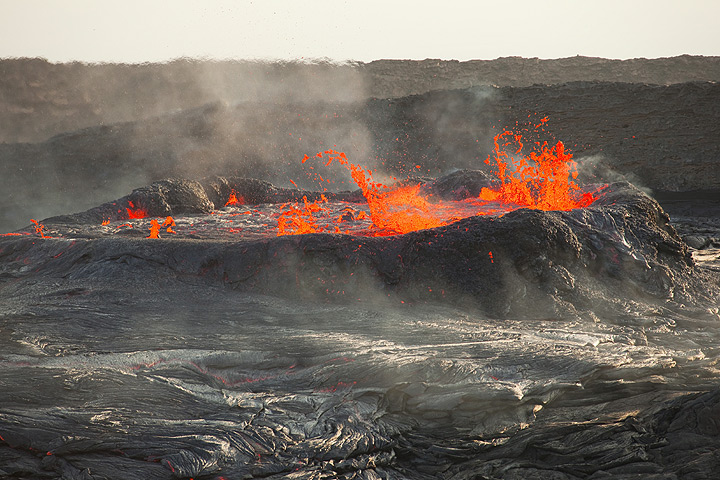 Boiling hot and overflowing Erta Ale lava lake (dec 2010; image: Tom Pfeiffer)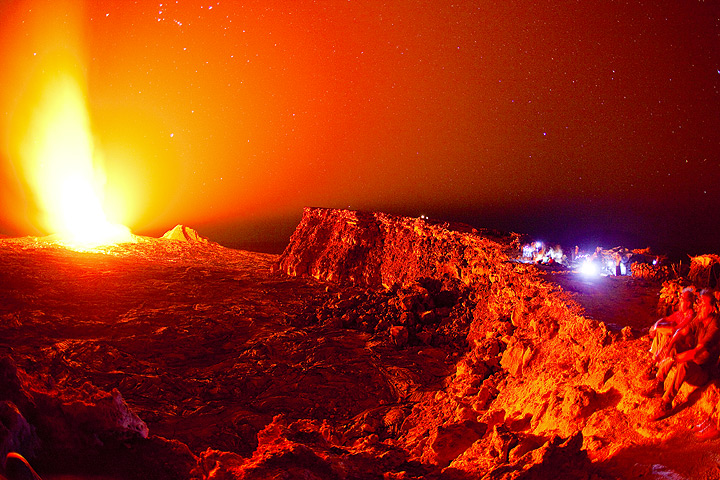 Strong nighttime glow of the active lava lake as seen from the caldera rim (bluish lights to the right are observers at Erta Ale camp site) (Dec 2010; image: Tom Pfeiffer)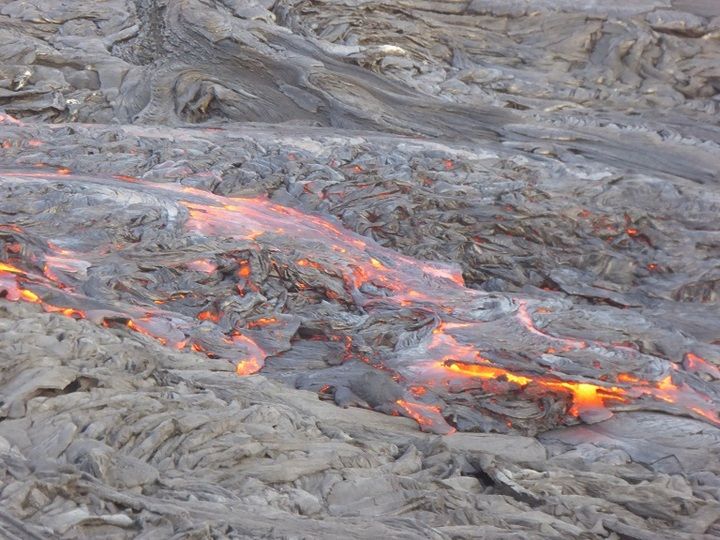 Closer view of the large volumes of fresh pahoehoe lava flows that cover the caldera floor and are still red hot and liquid beneath their thin crusts (Nov 2016; image: Hans en Jooske)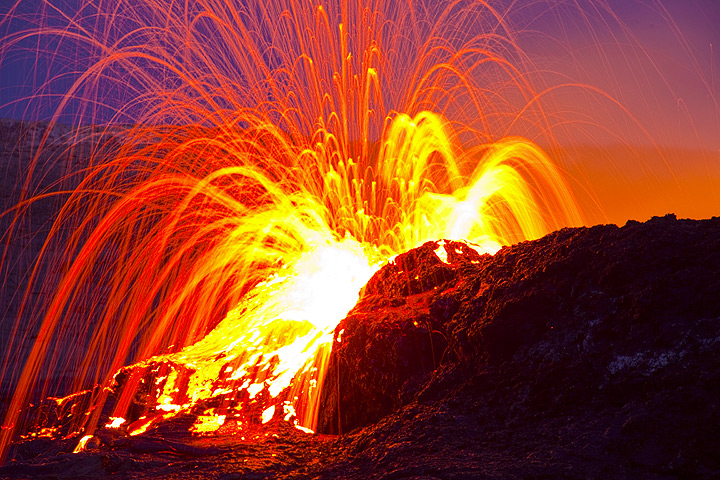 Strong spattering from the boiling lava lake that is about to overflow (Dec 2010; image: Tom Pfeiffer)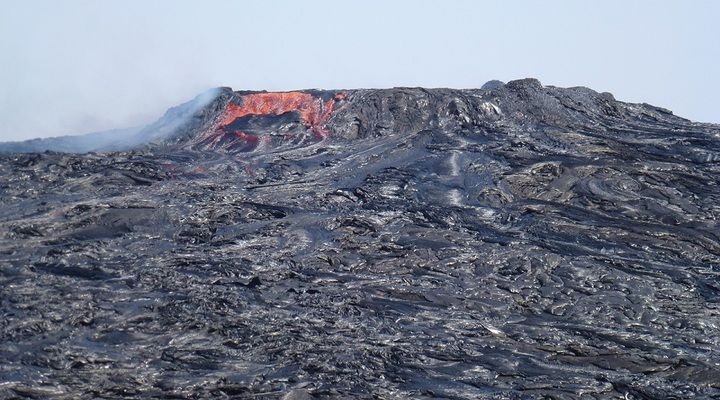 Overflowing ´perched´lava lake of Erta Ale in November 2016 (image: Hans en Jooske)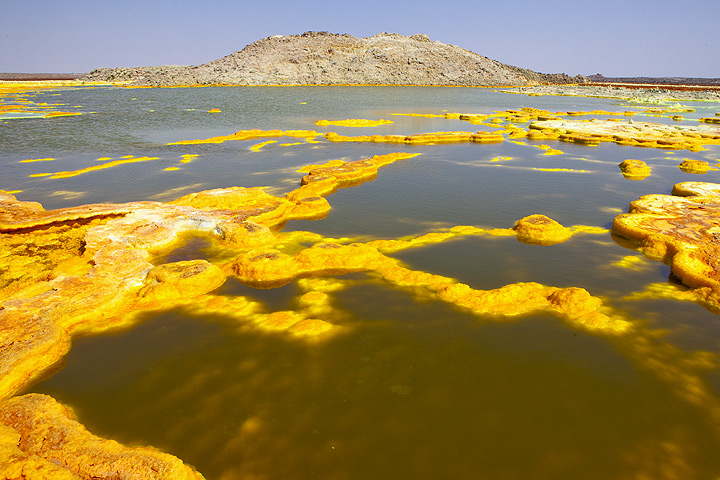 The Dallol salt dome amidst dark green acid ponds with yellow ´salt cakes´ (dec 2010; image: Tom Pfeiffer)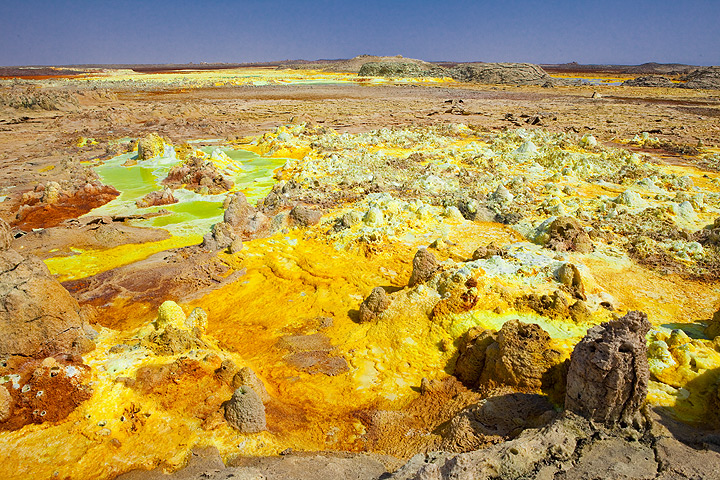 Dallol´s hydrothermal system creates an ever changeing alien landscape of colourful salt deposits, acid ponds and miniatyre geysirs (dec 2010; image: Tom Pfeiffer)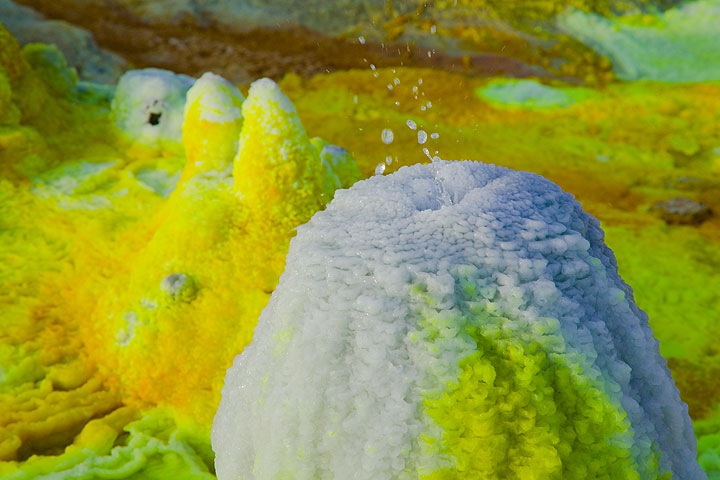 Bizarre miniature geysers or salt springs at Dallol (dec 2010; image: Tom Pfeiffer)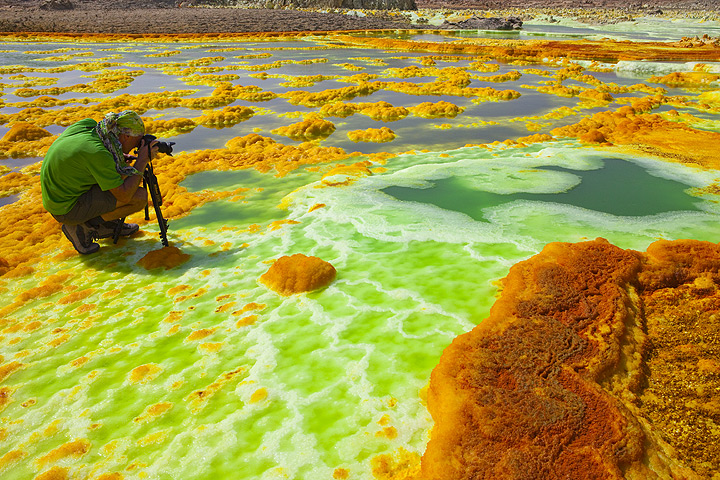 Photographing the abundant green acid ponds amidst the white-yellow-orange salt deposits (Dec 2010; image: Tom Pfeiffer)
Erta Ale volcano has been in
activity
since January 2022:
the lava lake with approx. 200 meters in diameter continues to occupy the central part of the southern crater and is clearly visible and it show signs of constant activity related to the gradual widening of its walls.
For those quick to decide, we offer this Volcano Special tour to watch it and to visit the other best sites of Euthiopia.
2 nights and 1 full day on the summit of Erta Ale active volcano
Exploration of fascinating Dallol
Visit and swim in Afdera Salt Lake
Small international group
Excellent Ethiopian volcanologist as main guide
VolcanoDiscovery guide Tobias Schorr
Dedicated supply vehicle with experienced cook
Competent and friendly local team and drivers
Interaction with local people, introduction into local customs
Experience - we organise Danakil adventures since 2007
8-days itinerary
Day 1:

Arrival to Semera (Asaita)

Arrival at Semera Airport and meeting by Enku, Volcano Discovery Ethiopia Expedition Leader. Briefing about General Ethiopian Geology , Main Ethiopian Rift valley System, Afar / Ethiopian People and culture, Ethiopian Volcanoes and finally about the whole program. In the afternoon visist of Lake Afambo which is about 84Km from Semera and discover the chained lakes of Lake Afambo and Gummare. Return back to Asaita. Overnight at Local Hotel in Asaita small town.
Day 2:

Semera - Afdera Salt Lake

Drive along the main road from Semera to Serdo, then turn northward through a volcanic desert landscape into the Danakil depression - campsite at the shore of Afdera salt lake.
Day 3:

Afdera - Erta Ale summit

Drive to the Summit of Active Lava Lake of Erta Ale. After processing the permit with the local administration of Erta Ale area proceed to the base camp where the cars will be parked.

After relaxed light dinner, we will have 30 Minutes'walk to the Summit crater of Erta Ale. Overnight camping at the Summit crater, open Air without tents (Only Sleeping bags and mattress).
Day 4:

Explore Erta Ale's activity

Full day and night on Erta Ale to observe the volcanic activity and phenomena in the summit caldera
Day 5:

Descend to Dallol

Drive to Dallol. Overnight Camping at Ahmed Ela Small village with open air / Million star Hotel
Day 6:

Dallol-Afdera Lake

Early morning visit of Dallol with Salt Domes and geothermal pools. After completing the visit the drive will proceed back to Afdera for overnight at the Lake Shore. Camping at Afdera Lake.
Day 7:

Afdera - Logia

drive to Logia town and proceed to Allalobad (the water of Allah) Geothermal site. Return back to small town of Logia. Overnaight at Logia Local Hotel / Nazareth Hotel. Farewell Dinner
Day 8:

Flight Addis Abeba and back home or extension

Fly back to Addis and take your international flight back home .

City tour in Addis Abeba can be organized for extra charge or extension program to Lalibela or Semien mountains
Arrival info:
To allow for maximum flexibility for individual participants travel plans, this volcano special expedition starts and ends in Semera. The airline company that service this airport is Ethiopian Airlines. One can easily book this domestic flight from and to Addis Ababa, Ethiopia´s capital, as there are some daily connections. Or you may try to book the tickets: Your place - Addis Ababa-Semera (sometimes it is possible to avoid the night in Addis Ababa). In case you have a stop for a night in Addis Ababa, it is a good chance to get to know the capital of Ethiopia. Your flights to and from Ethiopia are not included as default since we have participants from all over the world. However, please do feel free to contact us if you would like any assistance with finding the best flight connections for you!
Tour type:
Volcano expedition: active volcanoes - photography - adventure
Difficulty:
Moderate
Group size:
3-10
Duration:
8 days
Dates:
Custom and group dates
4-11 Dec 2022
Price (per person): $ 2590 €£¥
Included:
Accommodation in double rooms / tents
Full board from dinner on the first day until breakfast after last hotel night
Drinking water
Professional Ethiopian guide who is an English-speaking geologist
VolcanoDiscovery guide
Private transport in 4WD vehicles
Experienced 4WD drivers and cook
Full camping equipment
Camels, camel drivers and porters to and from Erta Ale´s summit
Armed Afar guards and guides on Erta Ale
Tips for local staff (camel drivers, guards, local guides, ...)
Tour guide
Enku is the main guide on all our Danakil volcano expeditions. After obtaining a Diploma in Travel Organising and completing his BSc in Geology at the University of Addis Ababa, he spend
10 years
traveling through Ethiopia whilst working both as
free-lance travel guide and a contracted mining geologist
for different oil and gold mining companies.
Since 2006
he
specialised
in
geological travel
guidance for the
Danakil depression
and hence has lots of
experience and competence
in organizing
expeditions to Erta Ale and Dallol
. He likes to share his vast knowledge on the geology of the Danakil but will also gladly answer any questions you might have regarding Ethiopia´s fauna and flora, culture, history, food or traditions!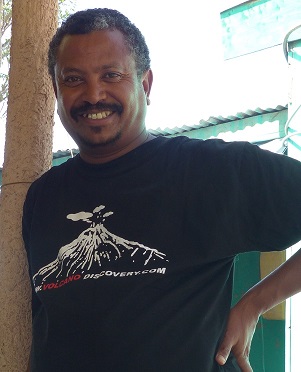 Our excellent Ethiopian main guide and geologist Enku!