Day 1:

Arrival to Santorini - Introduction

Arrival to Santorini - group dinner - introduction
Day 2:

Whole-day walk along the scenic southern peninsula

Whole-day hike: explore the oldest volcanic products (near Akrotiri), observe spectacular geologic features (pillow lavas, fossils, dramatic faults) extraordinary scenery, swimming breaks,

stunning views

from the lighthouse.

See also:

photos from this excursion

in April 2019.
Day 3:

Walk along the caldera - remains of prehistoric settlements - deposits of the Minoan eruption

Hike (3-4 hours total) along the spectacular southern caldera, observation of the spectacular pumice deposits from the past explosions of the volcano, visit to an abandoned quarry with prehistoric settlement remains, pick-nick lunch & swim break. Optional hike (2-3 hours) back along the beach and through pumice canyons and fields (or transfer by minibus).

See also:

photos from this excursion in April 2019

.
Day 4:

Optional boat tour to the volcanic islands Nea + Palea Kameni

Free day to have the the option to arrange a boat tour to the volcanic islands Nea and Palea Kameni, either as private boat trip or joining other groups (depending on group size and preferences). Visit the active craters of

Nea Kameni

, swim in warm volcanic springs!

See also:

photos from this excursion in May 2019

.
Day 5:

Archaeologic highlights - spectacular walk along the caldera to Oia town

Visit the excavated ruins of the Minoan town covered by volcanic ash, then visit the

capital Fira

and its outstanding

archaeological museum

. In the afternoon, we follow a

dramatic trail

around the impressive northern caldera reaching the

picturesque town of Oia

.

See also:

photos from this excursion in April 2019

.
Day 6:

Prof. Ilias mountain - Ancient Thera - Perissa black sand beach

Whole-day hike: visit a Medieval village with its Venetian castle, climb Profitis Ilias Mountain (556m),

Ancient Greek town of Thera

, descend to the black-sand beach of Perissa.

In the evening, we meet for a group dinner in a beach tavern.

See also:

photos from this excursion in May 2019

.
Day 7:

Departure

Departure or extension program.
Arrival info:
The tour starts and ends on Santorini. Participants usually arrange their own arrival to the island where we pick you up. On request, we can include your flight to Santorini or help finding the best connection/fare.
Tour guide
The tour is normally guided either by German volcanologist Dr. Tom Pfeiffer or photographer and amateur geologist Tobias Schorr. Both have been traveling on the Greek volcanic areas (Methana, Milos, Santorini, Nisyros) for more than 20 years and know the islands better than even most local people do.
Tom completed his PhD studies on the topic of the great Minoan eruption of Santorini. He made the important discovery of a 3600-year-old olive tree buried alive in the pumice deposit that now can be seen in the small geological museum in Perissa.
This allowed the most precise dating of one of the most significant natural event in the Bronze age (to 1613+-13 years BC) so far.
His colleague Tobias, with whom Tom alternates on this tour, is a true specialist for Greece in general, boasting in-depth knowledge about its culture, history, people, flora, fauna and of course geology. He is known for his good eye and discoveries of rare minerals, plants, animals, or hidden archeological artifacts during the various excursions.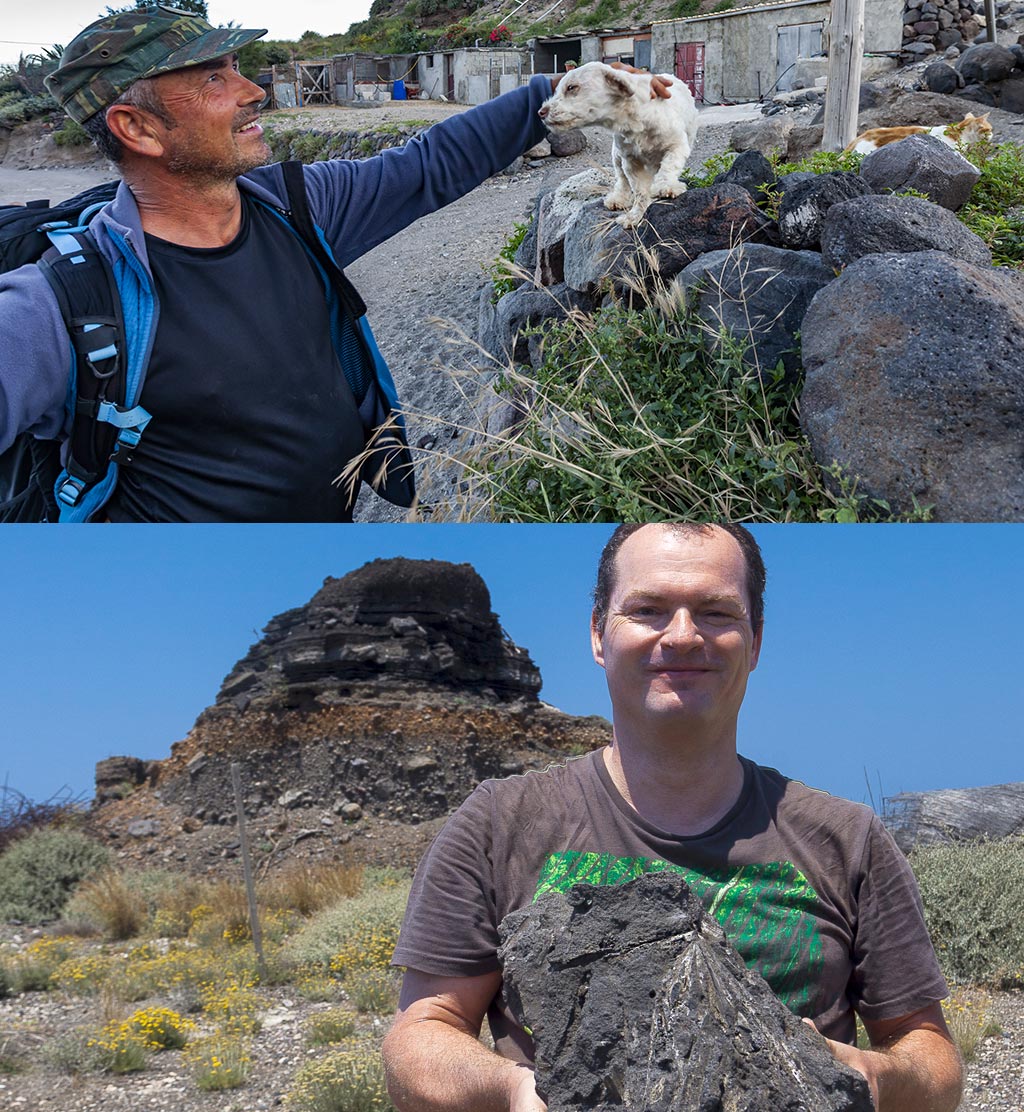 Tom and Tobias on Santorini