Ngorongoro Highlands, Lake Natron and Lengai
12-days trekking and wildlife safari to the Ngorongoro Highlands and the Rift Valley, Tanzania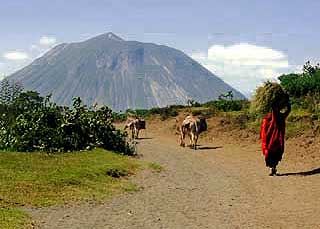 Trekking towards Ol Doinyo Lengai mountain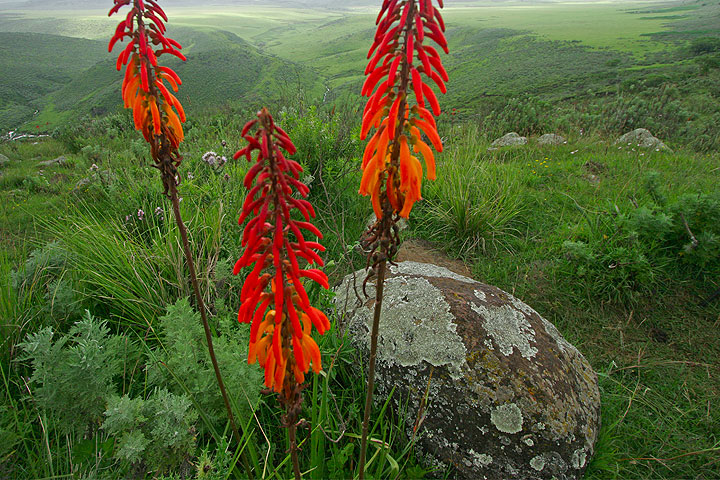 Landscape at Olmoti crater
Tour itinerary: Arusha - Lake Manyara - Ngorongoro - Olmoti - Empakai - Lake Natron - Lengai volcano - Arusha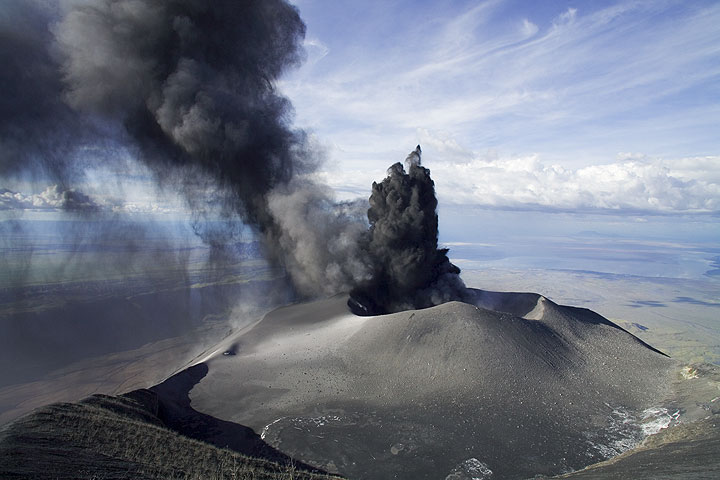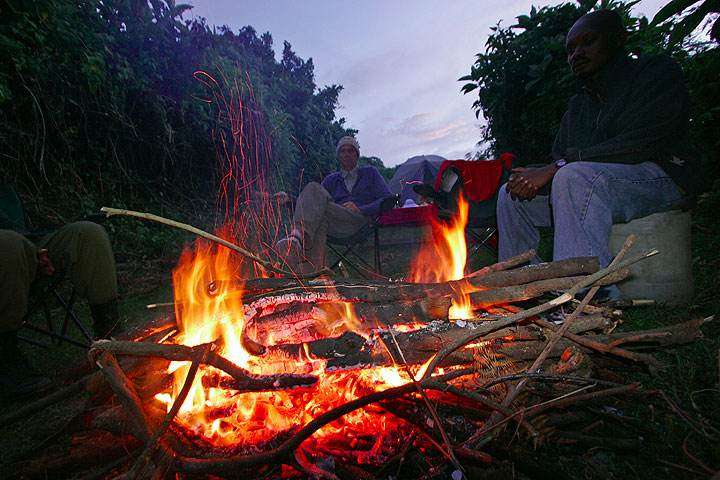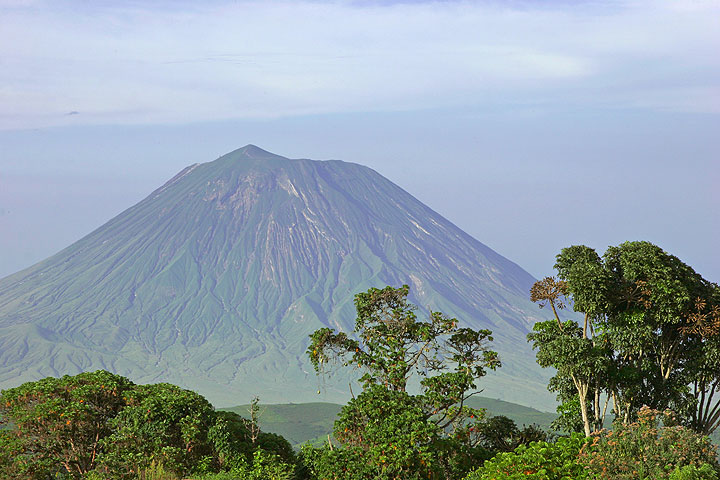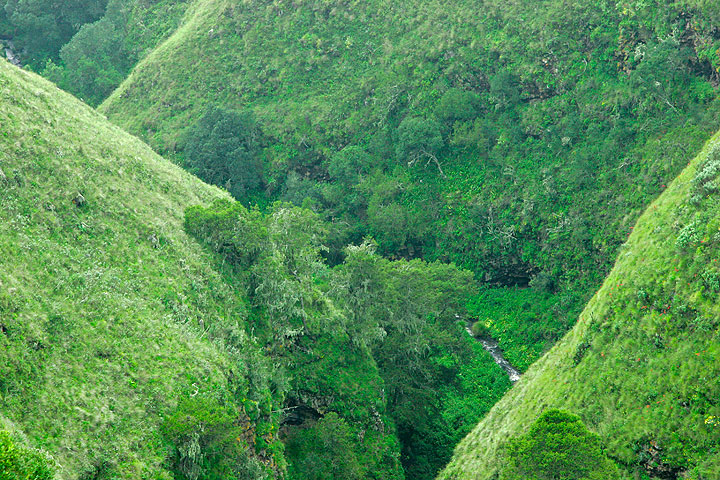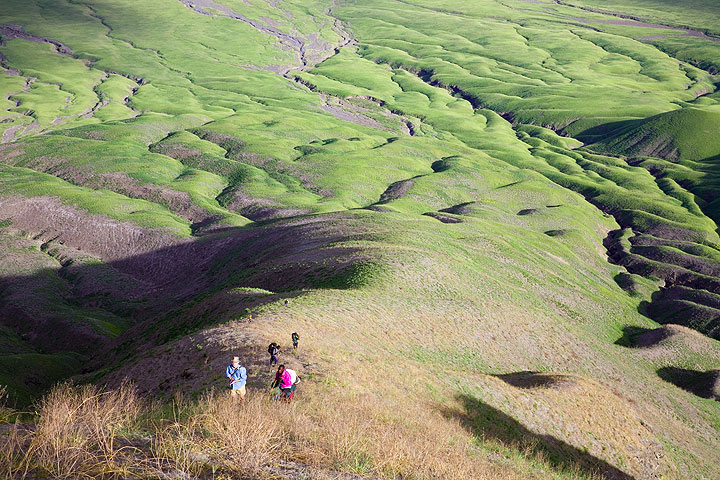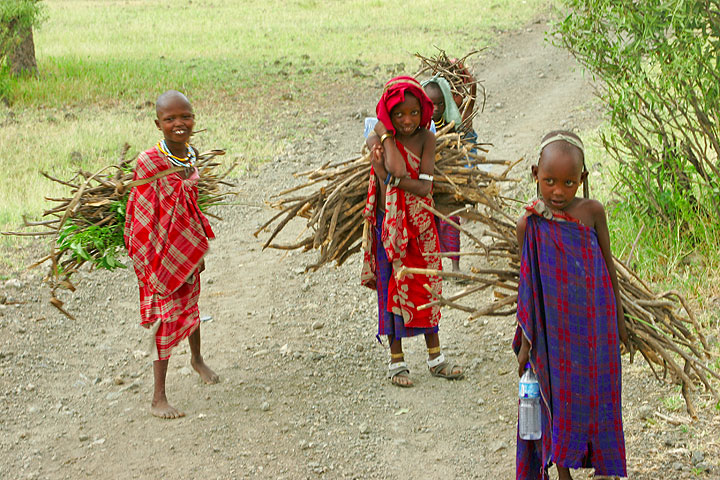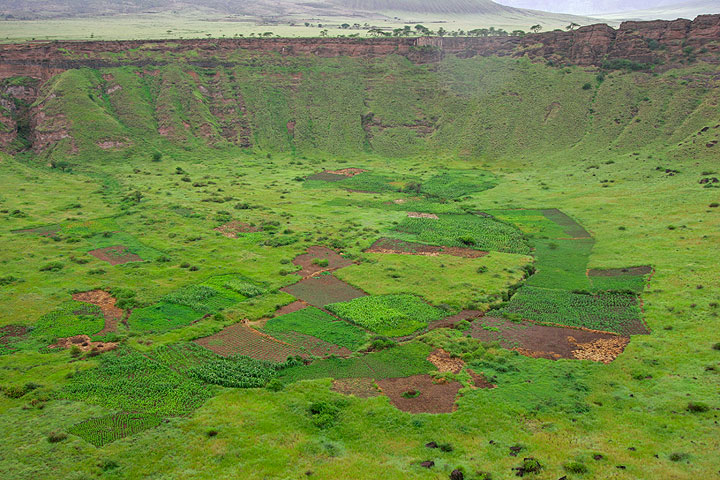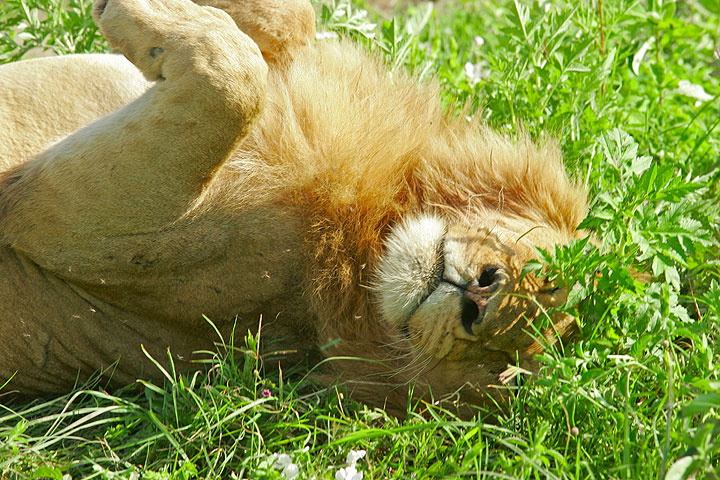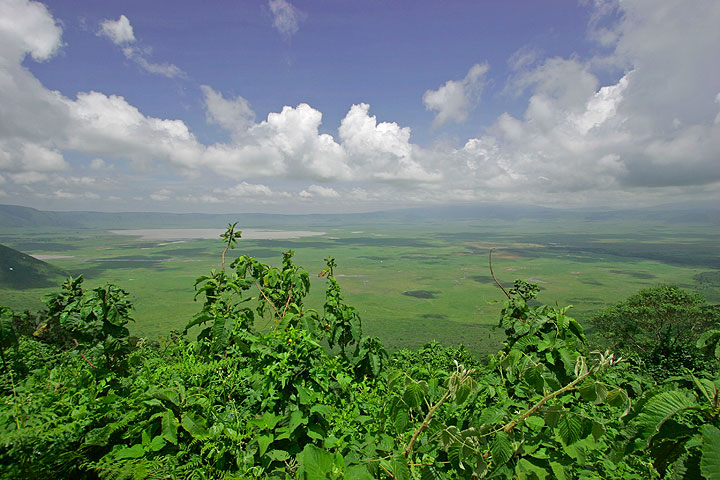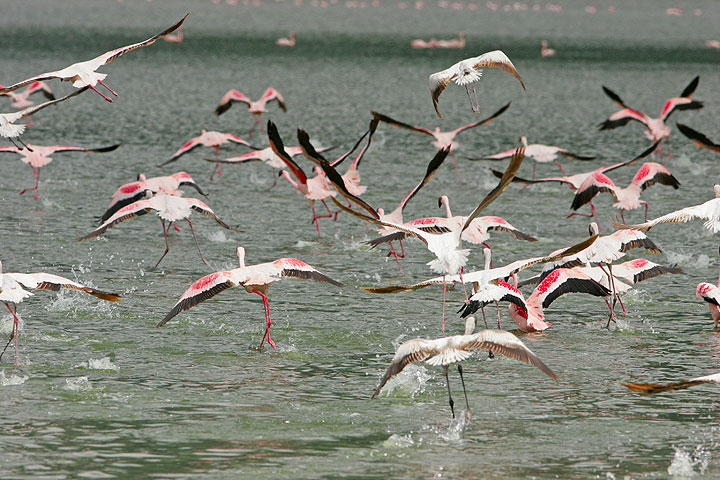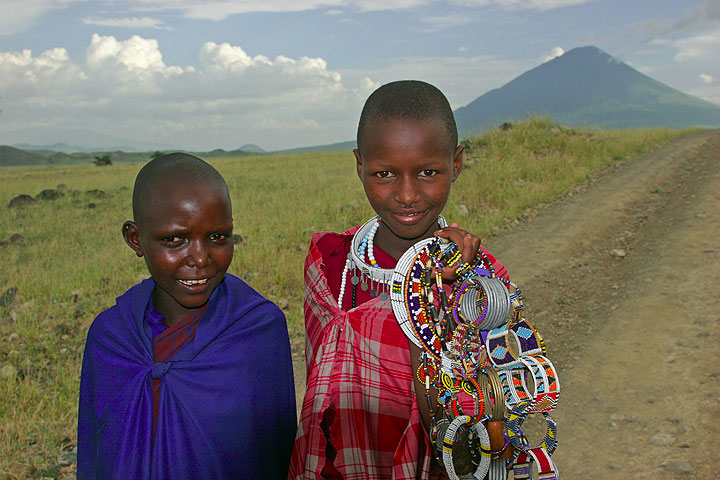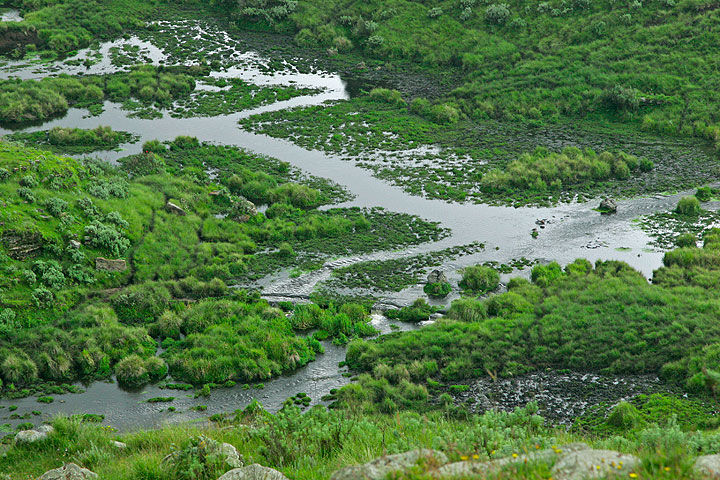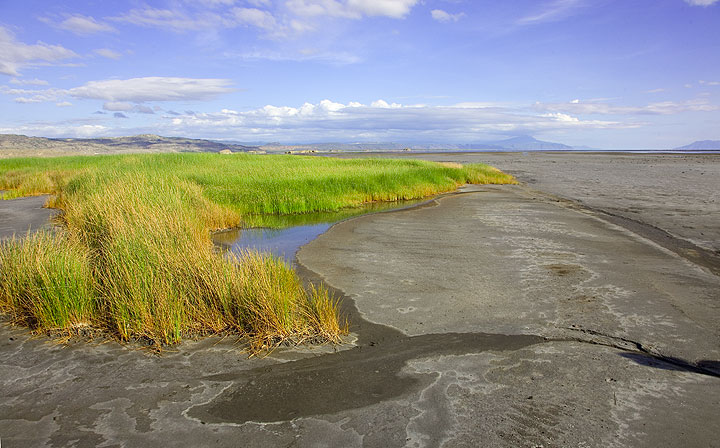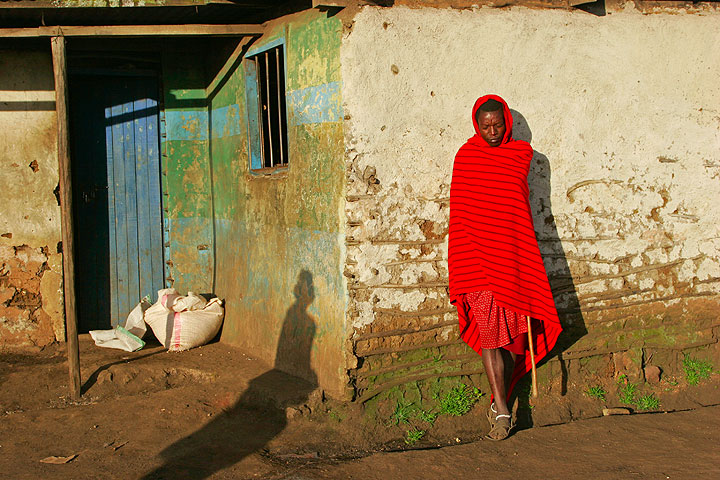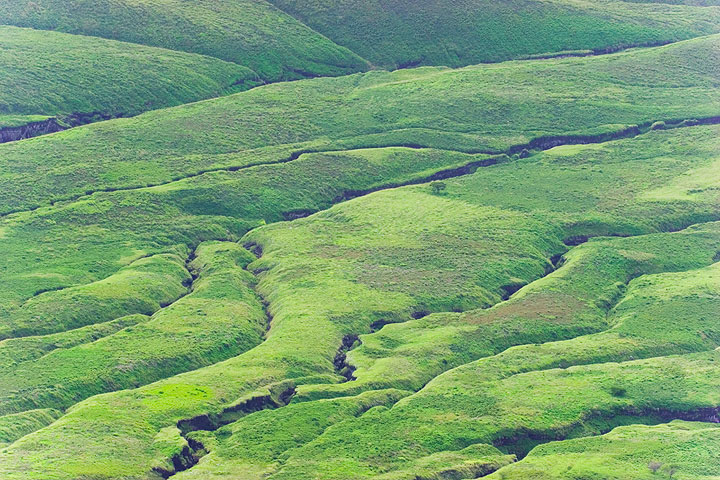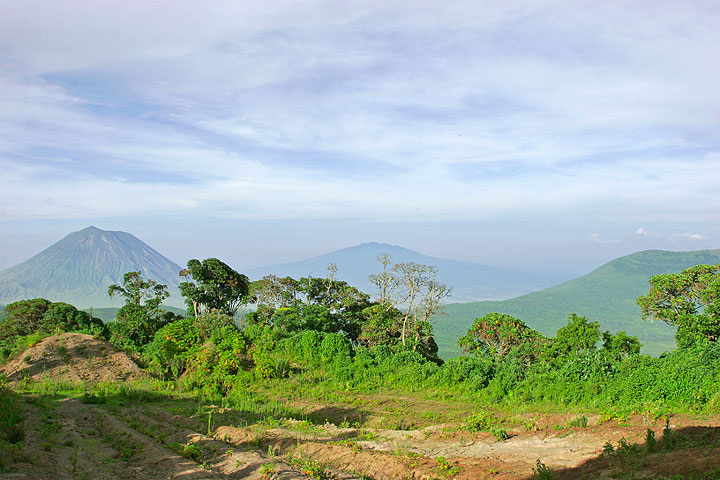 Let us show you some of the most dramatic landscapes and geologic features on earth: the Great East African Rift Valley, Ngorongoro Crater, the startling contrast between the green highlands with their abundant wildlife and the barren landscapes down in the Rift Valley with its salt lakes and the active volcano of Ol Doinyo Lengai full of surprises. Some exciting game drives, relaxed trekking and camping through breathtaking landscapes round out the trip.
Ngorongoro crater
Dramatic landscapes of the Great Rift Valley
Olmoti, Empakai and active Lengai volcanoes
Spectacular, but comfortable trekking
Experience the exotic Maassai culture
12-days: Ngorongoro Highlands - Lake Natron - Lengai - Lake Manyara
Remarque:
This itinerary is a recommended example to truly enjoy what this remarkeable part of Tanzania has to offer. On request, modifications are possible, such as upgrade of accommodation (where available) to lodges.
J 1:

Arrivée / transfert à Arusha

Prise en charge de l'aéroport ou le terminal des bus et transfert à l'hôtel. Réunion du groupe, présentation du programme et groupe de dîner. Pendant la nuit dans un lodge unique conçu et géré par propriétaire à quelques minutes de la ville d'Arusha, situé en privé terrains dans une zone résidentielle calme, appelé Sekei, avec vue sur le mont Meru (la 5e plus haute montagne en Afrique, à 4 655 m). Piscine et salon confortable avec un excellent bar et le menu du dîner, complétée par un personnel amical et attentif.
J 2:

Arusha - Lac Manyara - Ngorongoro Highlands

Après un début précoce, 6-hoursdrive vers et à travers des parties de la vallée du Rift, en passant paysages et des villages spectactular Maassai. Rencontres singes possibles, des girafes, des éléphants et les flamants roses à vue Manyara. En fin d'après midi nous arrivons à notre terrain de camping privé sur le bord du cratère du Ngorongoro grande.
J 3:

Jeu matin conduire à Ngorongoro - randonnée au volcan de Olmoti

Dans la matinée, nous avons inclus un jeu de voiture deuxième cratère du Ngorongoro. Dans l'après-midi, nous encercler le cratère et d'entraînement dans le vaste et rarement visité la partie centrale des Highlands à Olmoti volcan (environ 1 heure de route). Option pour une randonnée facile à la bordure du cratère et en bas des chutes d'eau.
J 4:

Hike from Olmoti to Empakai

Whole-day hike to

Empakai Crater

, through the impressive Embulbul depression. Camp on the crater rim of Empakai.
J 5:

Full day at Empakai crater

We have a

full day to explore Empakai Crater

. Following a narrow trail we descend on foot into the thickly forested Empakai Crater. As we descend through the vines and over roots, we get glimpses of the

emerald green soda lake

which covers about a quarter of the crater floor. The lake is a haven for

flamingoes

. We have a picnic lunch by the lakeside, and then hike around the lakeshore and back to camp (4-6 hours total). Hot showers will be available, and then dinner, as we listen to the flamingoes pass overhead on their nightly journey toward Lake Natron.

Oldonyo Lengai

glows in the afternoon sun, poking its steep sloped top above the depths of the plains which surround its base well below the Rift Valley Escarpment, our next destination.

Notes:

For the walk to Empakai Crater floor, carry your own picnic lunch box in your daypacks, to enjoy at the lakeside. This evening each person will need to prepare a  "light" bag for the donkey trek portion of the next etappe.
J 6:

Hike from Empakai crater to the Rift Valley rim

Using donkeys for camp porterage, we walk from Empakai Crater downward towards the edge of the Rift Valley Escarpment. Camp at an

excellent viewpoint onto the Rift Valley

and the splendid cone of

Lengai volcano

: for the Maassai, the Mountain of God.
J 7:

Hike into the Rift Valley, base of Ol Doinyo Lengai mountain

Hike into the Rift Valley: steep cliffs on one side,

Lake Natron

in front and the impressive stratovolcano of Lengai on the other side. Down in the valley, we relax at a comfortable campsite near the lake.
J 8-9:

2 full days at Lake Natron: waterfalls, the salt lake, Lengai volcano, Maassai etc

Two full days to explore the Lake Natron area: the salt flats at the lakeshore with the

flamingoes

, underdo hikes into a nearby

gorge to some spectacular waterfalls

, observe / climb

Lengai volcano

, visit a traditional Maassai village etc.
J 10:

Découverte du lac Manyara

Transfert à Mto Wa Mbu. Observation de la faune et de la flore sauvage du parc national du lac de Manyara avec un déjeuner pique-nique.
J 11:

Retour à Arusha - nuit à Arusha - fin des services

Transfert à Arusha (env. 2 hrs), fin des services.
J 12:

Departure or extension program

Transfer to airport or extension tour.
Point de départ:
The tour starts and ends in Arusha, a friendly, mid-sized town that is the main starting point for excursions in the area. See also the "Getting There" section further below.
Thème:
Trekking & safari: Nature et Culture - Animeaux sauvages - Photographie
Difficulté:
Modérée
Groupe:
1-12
Durée:
10 days (suggested)
Départs:
Départs sur commande possibles
Prix (p. p.): open
Le prix comprend:
All accommodation (prices based on shared room/tent) in hotel (2 nights in Arusha), guesthouse (1 night at Lake Manyara) and in camps (8 nights)
All transfers according to program: 4x4 in good condition, equipped with animal guide books, driver guide, max 5 clients per vehicle, roof-hatch access and window seats for each guest (i.e. max two clients per seat row)
No km limitation for excursions in the visited areas
Supply vehicle (to carry the camp) from 3+ pax
Two game safaris in Ngorongoro
Full board, all meals from dinner on day 1 to breakfast on last day
3 liters of bottled drinking water per person per day
Cook(s) and camp hand(s) to prepare all your meals, set up & break camps
Full camping equipment incl. spacious dome tents, thick matresses and liners, dining tent, table, chairs, washing water basin, towels
Frame beds in tents
Private services of a professional English-speaking safari guide(s) and a Maassai walking guide
Donkeys and donkey handlers
An armed Ngorongoro Park Ranger for the walks in Olmoti and Empakai Crater
All park fees and camp fees (Lake Manyara, Ngorongoro, Lake Natron + transit fees) and eco-tourism fee