Highlights of Ethiopia
15 days expedition and trekking to Erta Ale volcano, Dallol, Lalibela and Semien mountains (Ethiopia)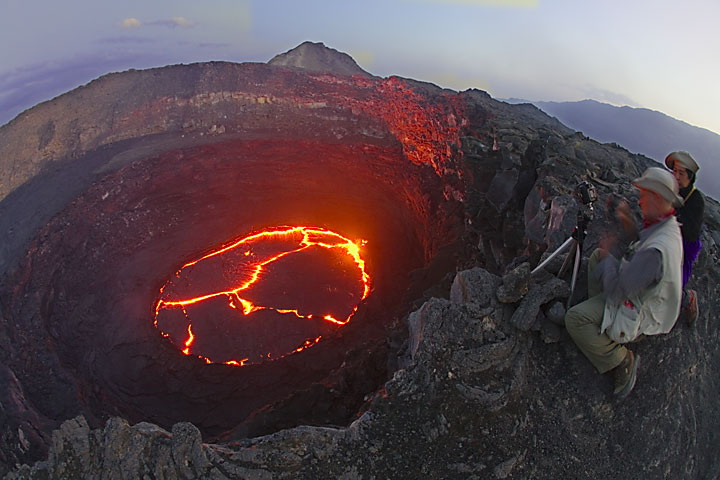 Erta Ale's lava lake
Exploding lava bubble
Hot spring on the salt lake
Watching the lava lake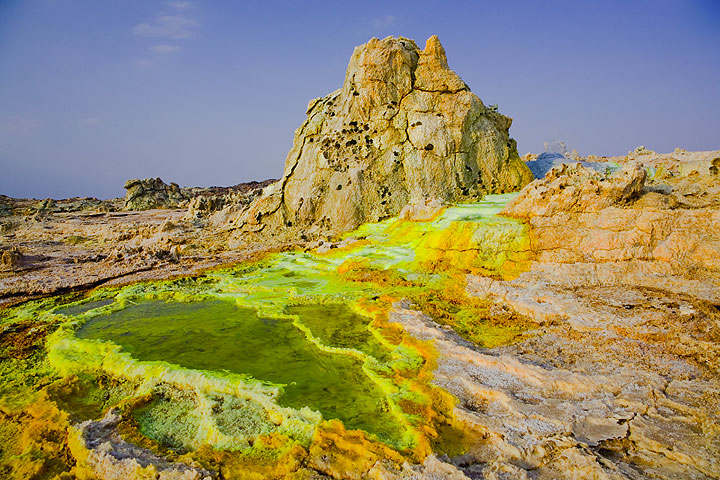 Bizarre salt structures at Dallol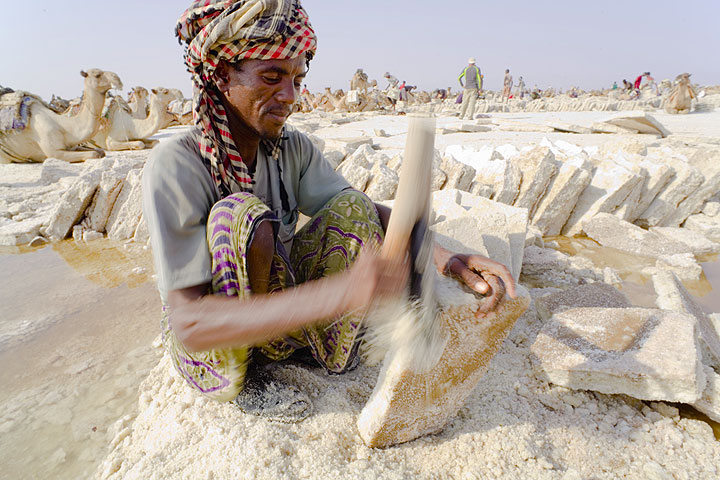 Cutting salt blocks
Bizarre salt geysers at Dallol
A tour which combines 2 different natural phenomena: Danakil Depression (the lowest place - 125 m below the sea level) and Semien Mountains («the roof of Africa" with the highest elevation of 4620m, Mount Ras Dashen). Both of them are the parts of Great Rift Valley with the same geological process: the result of Plate Tectonic process which dates back to 30 million years.
During the trip we spend 4 days in Danakil Depression (which is the result of the triple plate margins in the Northeastern part of Ethiopia and yet is still active) visiting active volcano Erta Ale (with the possibility to see some activity inside the crater), Dallol volcano with its fascinating fumaroles, amazing rock formations, crystal and mineral deposits. At the miners'town of Ahmed Ela near Lake Assale we'll watch the centuries-old ritual of salt cutting, the shaping of salt blocks and the endless caravans arriving and leaving loaded with the precious "white gold".
In the Semien Mountains (which is the result of the destruction of shield volcanoes into numerous peaks and now the UNESCO world heritage site) we also spend 4 days enjoying the most spectacular mountain scenery, climbing the second high mountain Mount Bahwit (4,430m), meeting animals like the Gelada, the Ethiopian wolf, the Walia ibex, the giant Lammergeir) .
On the way we visit ancient towns such as Wukro, Axum, Gondar and of cause Lalibela with its famous rock hewn churches.
4 days in Danakil Depression (Erta Ale, Dallol, Lake Assale, salt mining)
4 days in the Semien Mountains (climb Mount Bahwit (4,430m)
Spectacular and varied landscapes of highlands, mountains, volcanoes and deserts
Watch Endemic wildlife (the gelada, the Ethiopian wolf, the Walia ibex, the giant Lammergeir)
Small international groups
Experience - we organise Danakil adventures since 2007
Professionally outfitted expedition and thorough preparation
Excellent Ethiopian volcanologist as main guide
Comfortable travel in 4x4 jeeps (window seat guaranteed)
Dedicated supply vehicle and experienced cook
Competent and friendly local team and drivers
Interaction with local people, introduction into local customs
9 jours Danakil: Erta Ale & Dallol
Remarque:
C'est un itinéraire type pour visiter le Danakil avec les deux phares : Erta Ale et Dallol. Si vous avez un temps limité. Nous ne recommandons pas de faire ce voyage sur une durée encore plus courte, ce qui aurait pour conséquence d'enlever des jours à l'Erta Ale et Dallol.
J 1:

Arrival in Mekele

Arrival in Mekele, pickup at airport and transfer to hotel, group meeting at welcome dinner.
J 2:

Mekele - Erta Ale

Morning start of the 4X4 drive into the Danakil to the base camp of Erta Ale, first on asphalted road but last part off road over old lava flows.
J 3:

Ascent to Erta Ale's summit

Early morning ascend to Erta Ale´s summit (ca. 1,5-2 h, 10 km, 500 m height), breakfast on the rim and morning group tour around Erta Ale´s caldera. After lunch, free to relax and explore the summit caldera.
J 4:

Descente de l'Erta Ale, conduire à Hamed Ela

Au début du matin, descendez d'Erta Ale de retour au camp de base, petit-déjeuner, voyage au jeep 4x4 pour retourner à la route principale et continuer notre voyage dans le village Afar de Hamed Ela.
J 5:

Visit Dallol and transfer to Wukro

From our base in Hamed Ela we undertake a number of morning and afternoon expeditions to explore the colourful hydrothermal system of Dallol, the vast salt deposits and saline Lake Assale, the traditional way of salt cutting and transport by camel caravans. After all the visit is over, drive to the highland town of Wukro. Overnight at the Wukro Lodge.
J 6:

Wukro – Axum (210 km)

Drive to Axum. On the way visit the Wukro Cherkos Rock Hewn Church and Yeha Temple where the Jew community, before the introduction of Christianity in Ethiopia, has practiced their rituals.

Overnight at Axum
J 7:

Axum - Debark (250 km)

Drive to Debark, where the Semien Mountain National Park head quarter is located. On the way we pass by the stunning Landscapes of the Semien Mountains, cross one of the biggest rivers in Ethiopia, Tekeze and many different villages. Overnight at Debark.
J 8:

Debark – Sanka Ber Camp (50 km by car)

Morning Drive to Semien Mountain National Park, Bauit – Ras (3,000m), 25 Km from Debark town. Walk 1h30m to the camp Sankaber (3250 m), acclimatization.
J 9:

Trek Sanka Ber – Geech (18 km, 5 – 6 h)

Trek to Geech camp (3580 m) will take about 5 – 6 hours.

The walk will start by following the escarpment to Gean Bar Falls and Gean Bar River where we have a picnic Lunch. You have the chance to see many birds like Vultures, European Griffin, Lammergeyers and etc. At the end we reach the small village of Geech where the second camping is. The camp site offers great views of the mountains and is characterized by giant Lobelia plants. It is situated at an altitude of 3600m. Night at camping at Geech
J 10:

Trek Geech – Intye - Chenke (23 km, 6 – 7 h)

Trek to Chenke, along the whole escarpment to up to 3620m, which is bounded by a semi-circular ring of cliffs. It takes about 6 -7 hours of walking, with some steeps up and down and passing the Intye Mountain (4070m), where we have a lunch. Intye mountain is the highest in the area with an amazing landscape. Camping at Chenke, which is located in a beautiful valley at the foot of Bwahit peak, at the altitude of 3680m.
J 11:

Chenke – Bahwit – Chenke (14 km, 3-4 h). Return to – Gondar

Today we climb Mount Bahwit (4,430m). It takes about 3-4 Hours. After we admire the beauty of the surroundings, we star the descend. When we return to the camp, we take the things and walk back to the main road to meet with our vehicle and transfer to Gondar. Overnight at Gondar.
J 12:

Full day in Gondar

Full day in Gondar. The visit of the 17th century, the royal enclosure containing several medieval castles and churches lies surrounded by tall stone walls. Gondar has been staying the capital city of Ethiopia for about 300 years and it has got lots of historical relics.
J 13:

Gondar - Lalibela

Drive from Gondar to Lalibela with the stunning view of Checheho mountain and Awra Amba community with their unique living style. Overnight at Lalibela.
J 14:

Les églises taillées dans les roches à Lalibela

Visite d'une journée complète du site du patrimoine mondial de l'UNESCO des églises rocheuses de Lalibela.
J 15:

End of the trip

Transfer to the airport for your flight back Addis and home. End of the trip.
Point de départ:
The expedition starts in Mekele and ends in Lalibela. On request, we can book your flight to Mekele/from Lalibela as well.
Thème:
Expédition: Volcans Actifs - Photographie - Aventure
Difficulté:
Modérée
Groupe:
4-10
Durée:
Départs:
Départs sur commande possibles
6-20 mars 2022
Prix (p. p.): $ 4100 €£¥
Le prix comprend:
Accommodation in double rooms / tents
Full board from dinner on the first day until breakfast after last hotel night
Drinking water, up to 2 liters per person per day from day 2 to 13
Professional Ethiopian guide who is an English-speaking geologist
Private transport in 4WD vehicles
Guaranteed window seat in 4WD jeeps
Experienced 4WD drivers and cook
Full camping equipment
Camels, camel drivers and porters to and from Erta Ale´s summit
Armed Afar guards and guides on Erta Ale and in Dallol
All fees for transits, entries etc.
Tips for local staff (porters, camel drivers, guards, local guides, ...)