8-day expedition to Erta Ale, Dallol, salt lakes (Danakil depression, Ethiopia)
"...Few holidays will be more memorable than a week like this in Ethiopia..." (Simeon B, UK - June 2018)
Strong nighttime glow of the active lava lake as seen from the caldera rim (bluish lights to the right are observers at Erta Ale camp site) (Dec 2010; image: Tom Pfeiffer)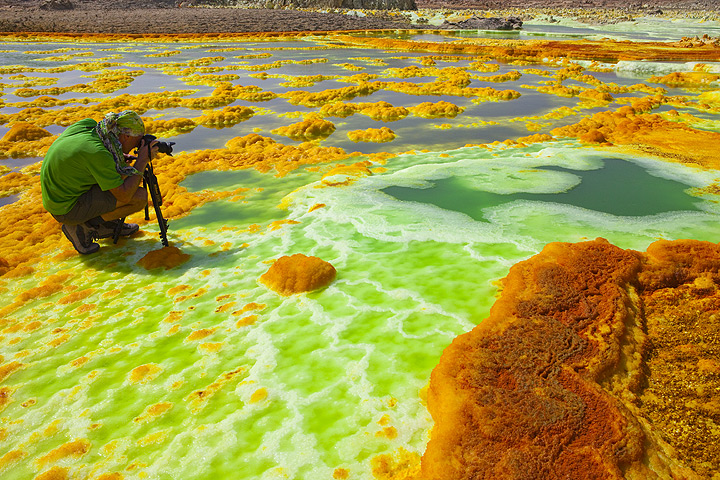 Photographing the abundant green acid ponds amidst the white-yellow-orange salt deposits (Dec 2010; image: Tom Pfeiffer)
Aerial view of the north and south active craters in Erta Ale's summit caldera (Jan 2018; image: Stefan Tommasini)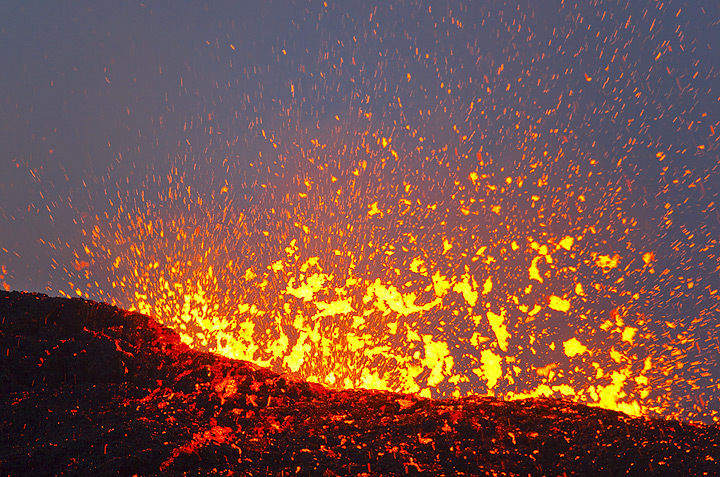 A large lava bubble explodes at the surface of the full lava lake (Dec 2010; image: Tom Pfeiffer)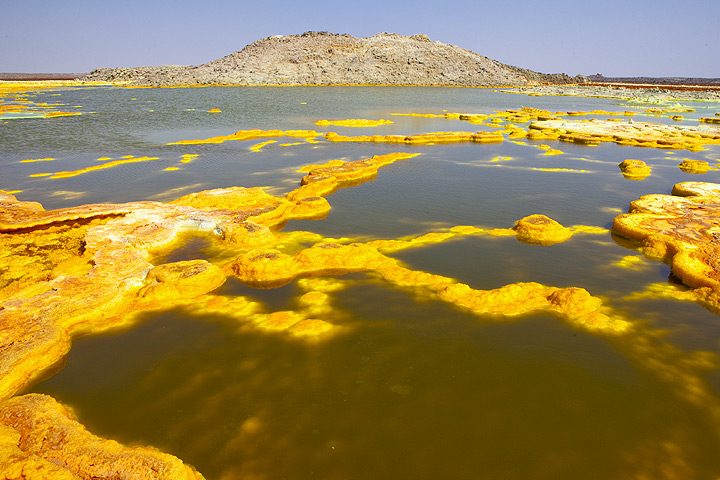 The Dallol salt dome with a foreground of dark green acid ponds with yellow ´salt cakes´ (Dec 2010; image: Tom Pfeiffer)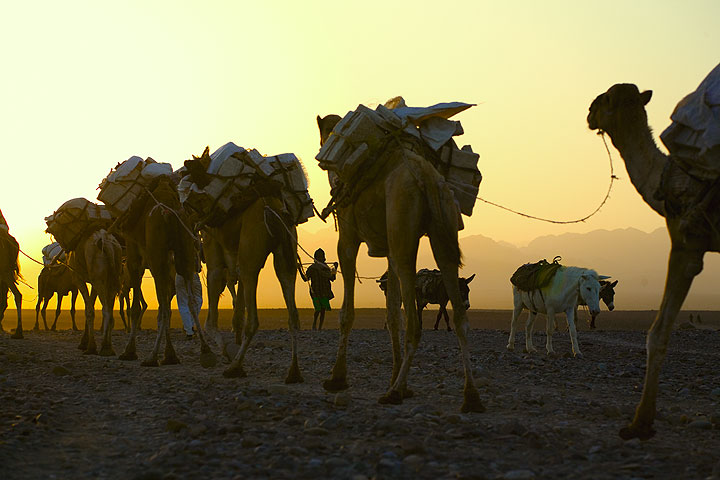 Long camel caravans transporting the salt from lake Assale pass through the village of Hamed Elah around sunset (Dec 2010; image: Tom Pfeiffer)
Bubbling yellow water in a hydrothermal acid pond near Dallol (Jan 2018; image: Stefan Tommasini)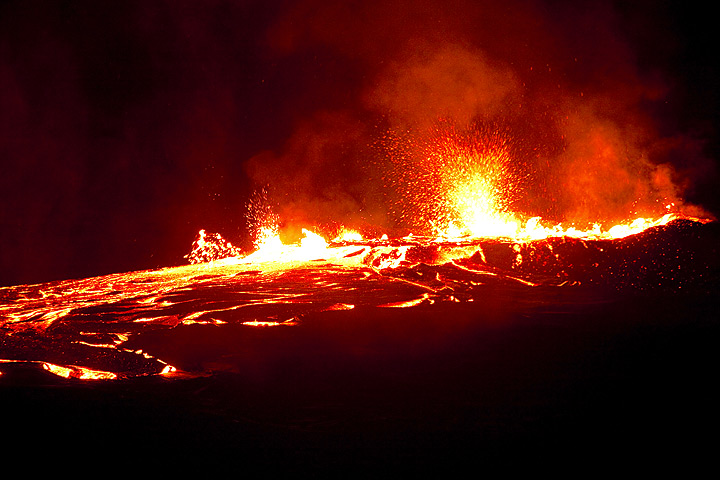 Nighttime impression of lava flow and spattering from the overflowing lava lake (Dec 2010; image: Tom Pfeiffer)
Bizarre miniature geysers or salt springs at Dallol (dec 2010; image: Tom Pfeiffer)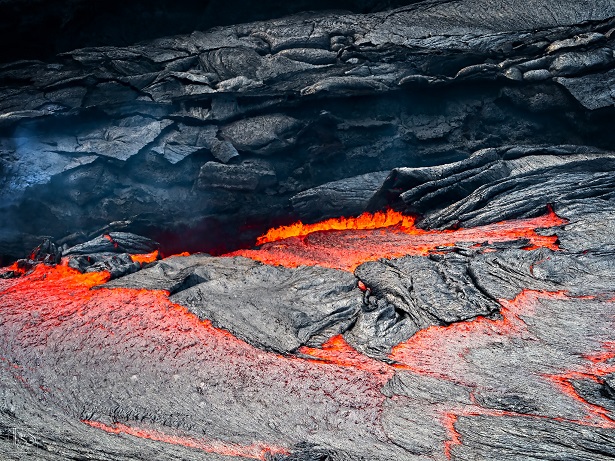 The thin crust of the lava lake at the new fissure eruption site is being overflown and consumed by red hot liquid lava (Jan 2018; image: Stefan Tommasini)
Dallol´s hydrothermal system creates an ever changeing alien landscape of colourful salt deposits, acid ponds and miniatyre geysirs (dec 2010; image: Tom Pfeiffer)
8 days expedition, starting and ending in Semera, going straight to the heart of the Danakil desert to explore the Erta Ale shield volcano and Dallol hydrothermal fields! After climbing to the volcanoes summit in the morning you meet a beautiful sunrise at the rim of the crater. Spending 2 days allow you to study the volcanoes craters and the new fissure eruption site on the volcano's flank. After descending the volcano you travel onward to the Danakil Depression, where you spend about 2 days exploring the colorful hydrothermal deposits of Dallol, acid lakes, salt formations and camel caravans. At the end you will stay at Afdera Salt lake.
Visit famous craters of Erta Ale volcano
Exploration of fascinating Dallol,
Sunset at Assale salt lake
Watching camel caravans
Visit Afdera Salt Lake
Experienced Ethiopian volcanologist as main guide
Small international group
Dedicated supply vehicle with excellent camping cook
Competent and friendly team and drivers
Interaction with Afar people, introduction into local customs
8 days itinerary
Remarque:
8 days expedition to the heart of the Danakil desert to explore the volcano Erta Ale and the fascinating alien landscape of the hydrothermal deposits at Dallol, Assale salt lake and the camel caravans.
J 1:

Arrival to Semera (Capital city of Afar Region)

Arrival to Semera, pick up at the Airport, transfer to the Hotel. After check in to your Hotel, we drive about 40Km as an excursion short sightseeing Tour and acclimatization of Afar Region Desert , with active Geothermal and volcanic ranges of Alelo Bad hot springs pools and hydrothermal deposits south of Manda Harraro. Overnight at Semera
J 2:

Semera – Erta Ale (300 km)

After breakfast at the Hotel, we meet with Enku (your organizer and Guide) at your Hotel about 07:00 Am and proceed to Erta Ale Volcanic Field through the Old Danakil sea . Today you have a chance to see a glance of the fresh lava flow and tectonically affected mountain ranges. Both recent basalts of spreading Axes, recent sediments and Highland rock sequences dominate the road Geology of the area where you are driving through. Paper work Processing with Erta Ale area chief and administrators for further continue of Erta Ale active volcano and get a permission for the visit. More to see the fresh lava flows. Overnight at the Base camp of Erta Ale
J 3:

Ascent to Erta Ale's summit

Early morning ascend to Erta Ale´s summit (ca. 1,5-2 h, 10 km, 500 m height), breakfast on the rim and morning group tour around Erta Ale´s caldera. After lunch, free to relax and explore the summit caldera.
J 4:

Descend from Erta Ale to basecamp, drive to Hamed Ela

Early morning descend from Erta Ale back down to basecamp, breakfast, 4X4 drive to return to the main road and continue our journey to the Afar village of Hamed Ela.
J 5:

Full day to explore Dallol and surroundings

From our base in Hamed Ela we undertake a number of morning and afternoon expeditions to explore the colourful hydrothermal system of Dallol, the vast salt deposits and saline Lake Assale, the traditional way of salt cutting and transport by camel caravans.
J 6:

Assale salt lake - Afdera

Morning visit of Lake Assale, salt mining and camel loading – and transfer to

Abala / Afdera .
J 7:

Afdera Salt lake - Semera

Afdera Salt lake. Drive to Semera
J 8:

Flight Addis Abeba and back home or extension

Fly back to Addis and take your international flight back home .

City tour in Addis Abeba can be organized for extra charge or extension program to Lalibela or Semien mountains
Thème:
Aventure, Trek et Volcans: Volcans Actifs - Photographie - Aventure
Difficulté:
Modérée
Groupe:
4-10
Durée:
6 - 8 days
Départs:
Départs sur commande possibles
30 oct. - 6 nov. 2022
4-11 déc. 2022
Prix (p. p.): $ 2650 €£¥
Le prix comprend:
Accommodation in double rooms / tents
Full board from dinner on the first day until breakfast after last hotel night
Drinking water, up to 8 liters per person per day from day 2 to 6
Professional Ethiopian guide who is an English-speaking geologist
Private transport in 4WD vehicles
Guaranteed window seat in 4WD jeeps
Experienced 4WD drivers and cook
Full camping equipment
Camels, camel drivers and porters to and from Erta Ale´s summit
Armed Afar guards and guides on Erta Ale and in Dallol
All fees for transits, entries etc.
Tips for local staff (porters, camel drivers, guards, local guides, ...)
Encadrement:
Enku is the main guide on all our Danakil volcano expeditions. After obtaining a Diploma in Travel Organising and completing his BSc in Geology at the University of Addis Ababa, he spend
10 years
traveling through Ethiopia whilst working both as
free-lance travel guide and a contracted mining geologist
for different oil and gold mining companies.
Since 2006
he
specialised
in
geological travel
guidance for the
Danakil depression
and hence has lots of
experience and competence
in organizing
expeditions to Erta Ale and Dallol
. He likes to share his vast knowledge on the geology of the Danakil but will also gladly answer any questions you might have regarding Ethiopia´s fauna and flora, culture, history, food or traditions!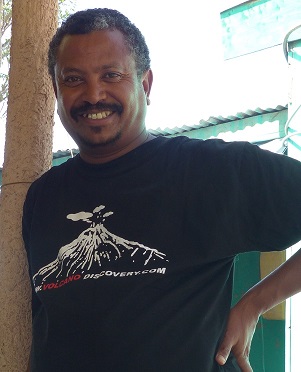 Our excellent Ethiopian main guide and geologist Enku!