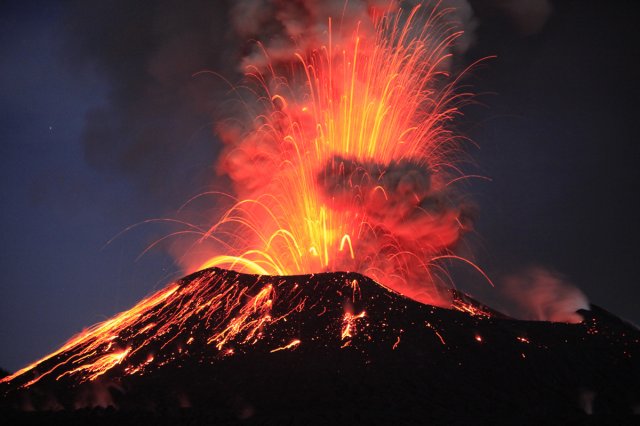 14 days expedition to Papua New Guinea with Ulla Lohmann
"I am excited to share one of my favorite places on earth, with its amazing people, weird rituals, breathtaking jungles, sheer mountain cliffs and explosive volcanoes with you!" (Ulla Lohmann)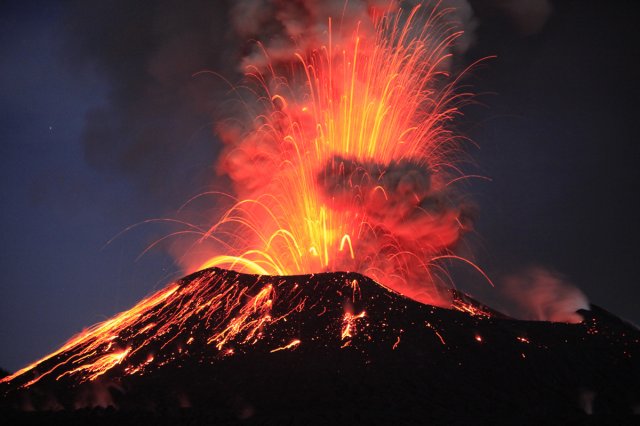 Eruption of Tavurvur volcano (Rabaul) (photo copyright: Ulla Lohmann)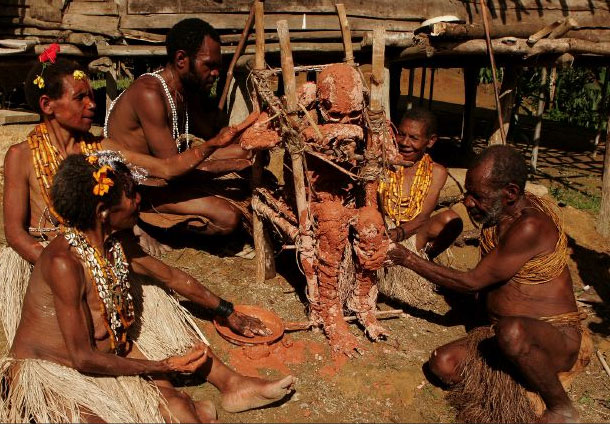 Preparing a mummy (photo copyright: Ulla Lohmann)
Expedition Papua
14 days expedition to Papua New Guinea with Ulla Lohmann
Tour type
Expedition: nature & culture - adventure - active volcanoes
no scheduled dates at present

Thank you very much for your interest in our exciting expedition! We are excited to share one of our favorite places on earth with its amazing people, weird rituals, breathtaking jungles, sheer mountain cliffs and explosive volcanoes with you!
« Expect the unexpected » is the slogan of Papua New Guinea. Be prepared for real adventure! The tribal traditions and rituals are still deeply anchored in the mind of its people, but the Westernized world is approaching quickly. PNG is a rich, overpriced (and corrupt) country, where you can buy everything for money. But we want to show you the original Papua New Guinea and abstain deliberately from expensive hotels. We stay in simple, but comfortable guesthouses and in tents in the village to immerse into the tribal life and customs and be closer to the people.
Since Ulla's first visit to Papua New Guinea in 2001, she is intrigued by the country and its people. She always keeps coming back, since 2011 together with Basti. All together, they have spent several years in the country. You will benefit from their unique insight, contacts and their experiences, gained in over 20 voyages to PNG in over 10 years.
See the active Volcano Tavurvur in Rabaul
Visit the world's youngest mummies in a very remote village at the foot of the Highlands
Celebrate with the locals at a SingSing, a famous Tribes gathering
Snorkel to experience the colorful underwater world of one of the world's best reefs
Explore a wonderful lime stone cave and observe the rainforest animals and birds
Learn in scientific lectures and explanations from your guides Ulla Lohmann and Basti Hofmann
Get to know what it takes to take perfect pictures during photo- lectures
Expedition itinerary
Note:
Only a rough schedule is given due to the expedition character of this trip. If you need more information, don't hesitate to contact us.
The program starts with your arrival in Port Moresby, the latest at 1 pm. Please do book your international flights accordingly. We are happy to assist you.
Day 1:

Flight from Port Moresby to Rabaul

The program starts at 1 pm with our first meeting at Port Moresby domestic airport. At 3 pm, we will fly together to Tokua/ Rabaul.

We will take it easy, and you can snorkel or relax at the beach in front of our guest house in Kokopo and enjoy the sunset with view of the volcano.
Day 2:

Rabaul

The day starts early at the beach to witness the arrival of the Dukduk and Tumbuan spirit figures dancing in their Canoes, with a spectacular background of the active volcano.

The entire day will be spent at the showgrounds, midst colorful dressed people. Great opportunity for photographs and for a small photoworkshop - how to take the best images in high contrasted light, how to show movement, and how to use fill-in flash.

Evening: Introduction to Volcanology and introduction of East New Britain province, formerly a German colony, with its Tolai and Baining tribes.
Day 3:

Rabaul and Tavurvur volcano

In the morning, we will return to the festival. After lunch, we drive to "Vulcan", a volcano, which has destroyed in a twin eruption together with "Tavurvur volcano" the entire township of Rabaul in 1994.

We continue to Tunnel Hill with scenic lookouts. We visit the Volcano Observatory and meet the volcanologists who will inform us about the volcanic activity and about the volcanoes of PNG. After a stop at the colorful market of Rabaul, we continue to Matupit. Here, we'll pitch out tents in the garden of our friends opposite the volcano and we can observe its activity at night.
Day 4:

Rabaul and Tavurvur volcano

Full day for Tavurvur volcano (

schedule depends on volcano condition

).
Day 5:

Rabaul and Tavurvur volcano

Full day for Rabaul and Tavurvur volcano

(

exact schedule depends on volcano condition

)

Visit of Rabaul, formerly one of the most beautiful cities in the South Pacific, and now a city in ruins. We will also see a B52 plane wreck and venture back in time inside the General Yamamotu's Bunker, still intact today. Or- depending on day 4- we will catch up today with the egg diggers.

In the afternoon, we depart for our own deserted island. We only share it with hundreds of Frigate birds at night, with hermit crabs, countless fish on the colorful and unspoiled fringing reef surrounding the island- including turtles! You might never have had a more beautiful spot to play soccer or to take a photo workshop. We'll have plenty of time to do answer all your photo questions, take spectacular sunset pictures and do long-time exposures with the Southern Sky Stars. We'll cook our dinner together on a fire- hopefully, with freshly caught fish.
Day 6:

Return to Kokopo

Around noon, we have to say good-bye to our island paradise and return to Kokopo. Our friends from the lodge will make Mumu for us, a local "earth oven" with volcanic rocks. You can participate and learn how grate coconut and also, how to make money! In East New Britain, shell money is still an accepted form of payment.
Day 7:

Flight to Lae

Early in the morning, we will catch the flight to Lae, where our second week of adventure awaits us.

Travel by 4x4 car to a former gold-mining town (3 hrs.). Free afternoon: Relax at the beautiful gardens of the hotel full of orchids, take Macro-photographs, and listen in the evening to our talk about the mummification traditions of the Anga.
Day 8:

Jungle road to Cold Mountain

Sleep in and relax! After a drive around the city, we leave the town around noon and drive approximately 1,5 hrs. on adventurous jungle roads towards « Cold mountain ».

At the foot of the mountain, we overnight in a small village at 1000m altitude, where we are allowed to sleep in the school. Depending on our time of arrival, we might be able to take part in the classes. During the night, we will have the opportunity to photograph the stars and the impressive milky way.
Day 9:

The Mummies

We continue our journey across "Could Mountain" with spectacular vegetation (tree ferns, pandanus palms, orchids). We will travel 2,5 hours until we reach our goal; the mummies.

Finally arrived, we have the opportunity to meet the spirits of the deceased, soak in the atmosphere and of course, we'll also have plenty of time to photograph.

On the way back, we will have to opportunity to hike at "Cold Mountain". We travel back to our lodge in the small gold mining city.
Day 10:

Gemtasu village

Sleep in and opportunity to archive the images and recharge batteries.

Then, our adventure continues! We drive through an idyllic river valley, where photo opportunities wait at each corner. After 2 hours (driving time, without photo stops), we reach an isolated village, where we'll be warmly greeted by our hosts for the next three nights.
Day 11:

Mummy gallery in limestone cave

Today, we will explore an enormous lime stone cave. You will have your individual guide for the day who will help you and answer all your questions. We will show you how to make fantastic images of the impressive stalagmites formations in the cave.

The next highlight is already waiting: A burial ledge! Exposed on a rock ledge, lie skulls and bones from a bygone area. They have also mummified in the past, and we have the chance to photograph the remains up close. Above the sacred site are mysterious rock paintings- nobody knows who made them and how old they are.
Day 12:

Spare day - wildlife spotting

We will go wildlife spotting in the jungle, where we'll have the chance to see tree kangaroos, birds of paradise, spotted cuscus and others. The hike (4 hours) is optional, as an alternative, you'll have to opportunity to accompany your hosts to work in the fields, to see their vanilla plantation and to help with the preparations for the SingSing.

Today, there is a surprise waiting: We'll have SingSing just for us!
Day 13:

Return to Lae

We have to say good bye to our friends. A three-hour drive to Lae awaits us, where we will visit the zoological garden of the Lae University.
Day 14:

Return to Port Moresby, end of expedition

Transfer to airport, and 45min flight back to Port Moresby. The Expedition ends at 9 am with our arrival in Port Moresby.
Arrival info:
The expedition starts and ends in Port Moresby, the capital of Papua New Guinea (airport code POM). Your arrival in Port Moresby airport must be at the latest at around 1 pm on day 1.
If you can't find cheap flights (around 1500 Euro the most), please contact us, we are happy to help.
Tour guide
Diese Reise wird veranstaltet und organisiert von
Ulla Lohmann und Basti Hofmann
:
Ulla Lohmann
- ist eine anerkannte, internationale Fotojournalistin, Leiterin auf Abenteuer- und Expeditionsreisen. Ullas Tätigkeit umfasst Dokumentarfilme und Artikel u.a. für ARTE, GEO, National Geographic. Sie organisiert auch Kletterworkshops ind en Alpen, National Geographic Studentenreisen nach Australien und vieles mehr. Ullas Spezialgebiete sind der Südpazifik und Papua Neuguinea. Website:
ullalohmann.com
Basti Hofmann
- ist ein alpiner Kletterlehrer, Logistics Manager und studierter Geologet mit über 20 Jahren Erfahrung. Er ist ein begeisterter Filmer und Fotograf, mit vielen Auszeichnungen durch National Geographic, BBC, Terra X, ZDF und anderens. Website:
bastihofmann.com/.com
Auf vielen Reisen arbeiten Ulla und Basti zusammen.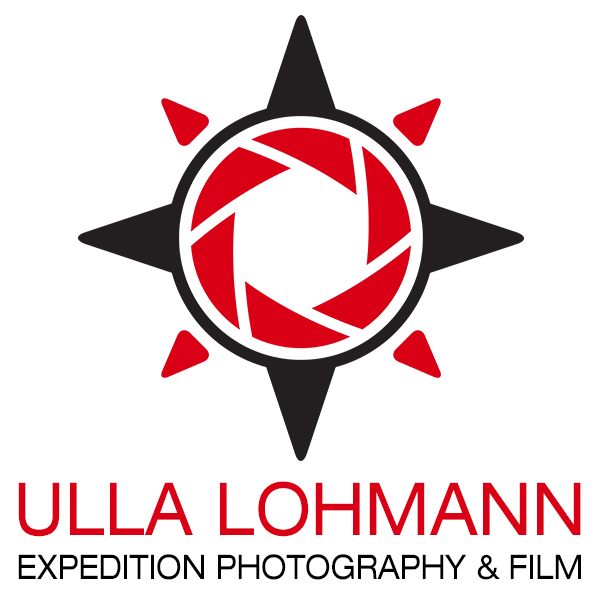 Ulla Lohmann - Expeditionen nach Papua und Vanuatu
###CONTENTWRAPPED###