8 days Etna
Note:
Changes in the exact itinerary could be necessary due to unpredictable weather and volcanic eruption conditions. In case of an eruption, seeing it will be prioritized.
Day 1:

Arrival

Arrival in Catania and own transfer to hotel in city center.

In the evening, we meet for dinner and a briefing of the tour ahead.
Day 2:

Transfer to Etna and excursion

Transfer to Etna's south slope where we will spend 6 nights. We will have 6 days for excursions to explore Etna and its surroundings.

Depending on the conditions the program can be changed.
Day 3:

Excursion to Etna's summit craters

Full day excursion on the summit region of Mt Etna to observe its smoking craters, volcanic phenomena and moonlike landscapes (weather and volcanic activity permitting)
Day 4:

Excursion to Valle del Bove

Whole-day excursion to Etna's summit region. Depending on circumstances, we visit the summit craters, the spectacular Valle del Bove or sites of possible volcanic activity if present.
Day 5:

Castelmola, Taormina, Alcantara

Excursion to Castelmola and Taormina, gorge of Alcantara.
Day 6:

Etna Nord East

A full day excursion to Etna nord-est and climb to Serracozzo for an overview of the Valle del Leone, visit 1991-93 lava flow at Zafferana. Wine /oil/honey testing (extra cost)
Day 7:

Etna Nord

Full day tour on Etna nord, starting from Mt. Sartorius (one of the biggest parasitic cone of Etna born on 1865) to the bottom line of 2002 eruption: from Piano Provenzana and cave exploration (Grotta Dei Ladroni or Grotta del Lamponi)
Day 8:

Departure

After breakfast, check out of the hotel and departure to Catania with arrival at the airport at 12:00.

If you need an earlier transfer, we can arrange it at additional cost.
Arrival info:
The tour starts and ends in Catania, Sicily´s second largest city, which is easily reached by plane or train from Rome or other large Italian cities. Travel arrangements to and from Catania are not included in the tour package in order to give everybody maximum flexibility to plan his/her trip. Please let us know if you like any assistance with your international travel to Italy and/or Catania - we will be happy to help.
Tour guide
Dr. Evelyne Pradal is a trained geologist and volcanologist with a passion of showing and teaching her subject to the general public. Born in Cantal, in the heart of the Auvergne French volcanic field, she studied in the renowned Center of Earth Sciences of the university of Clermont-Ferrand, one of France's leading research institutes in the field of volcanology.
Her research and trips led her to study volcanoes in Mexico, the Caribbean,
East African Rift
and other areas.
After completing her doctorate degree in 1990 she went on to work as consultant and teacher in earth sciences, and she has been organizing expeditions and study trips to volcanoes in
Italy, France, the Caribbean, Ethiopia and Tanzania, Djibouti, Canaries islands, New Hebrides trench, Indonesia,
... designed to share knowledge and the fascination of her subject, the beauty of our living earth, to the general public. She is also (co-)authored the books:
"Tout savoir sur les volcans"
(2018, Ed. Fleurus jeunesse) ("A la découverte des volcans extrêmes" (2013, Vuivert De Boeck Ed) "Au coeur des volcans" (2004, Ed. Fleurus - Geo Ados). Evelyne with her charming smile joined our team in 2010 and guides trips to Ethiopia, the Caribbean, Canaries islands, Italy and new study trips such on Auvergne volcanoes, her homeland, and Tanzanian Rift Valley.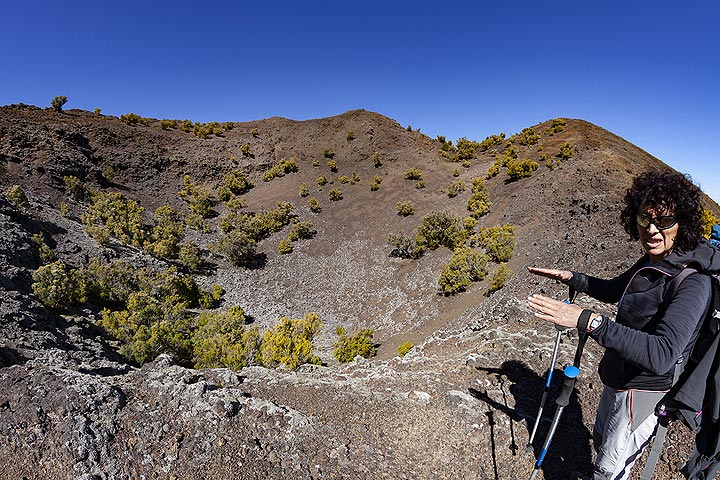 Evelyne Pradal at the Tanganasoga crater on El Hierro (Feb 2019)