8 days itinerary
Note:
8 days expedition to the heart of the Danakil desert to explore the volcano Erta Ale and the fascinating alien landscape of the hydrothermal deposits at Dallol, Assale salt lake and the camel caravans.
Day 1:

Arrival to Semera (Capital city of Afar Region)

Arrival to Semera, pick up at the Airport, transfer to the Hotel. After check in to your Hotel, we drive about 40Km as an excursion short sightseeing Tour and acclimatization of Afar Region Desert , with active Geothermal and volcanic ranges of Alelo Bad hot springs pools and hydrothermal deposits south of Manda Harraro. Overnight at Semera
Day 2:

Semera – Erta Ale (300 km)

After breakfast at the Hotel, we meet with Enku (your organizer and Guide) at your Hotel about 07:00 Am and proceed to Erta Ale Volcanic Field through the Old Danakil sea . Today you have a chance to see a glance of the fresh lava flow and tectonically affected mountain ranges. Both recent basalts of spreading Axes, recent sediments and Highland rock sequences dominate the road Geology of the area where you are driving through. Paper work Processing with Erta Ale area chief and administrators for further continue of Erta Ale active volcano and get a permission for the visit. More to see the fresh lava flows. Overnight at the Base camp of Erta Ale
Day 3:

Ascent to Erta Ale's summit

Early morning ascend to Erta Ale´s summit (ca. 1,5-2 h, 10 km, 500 m height), breakfast on the rim and morning group tour around Erta Ale´s caldera. After lunch, free to relax and explore the summit caldera.
Day 4:

Descend from Erta Ale to basecamp, drive to Hamed Ela

Early morning descend from Erta Ale back down to basecamp, breakfast, 4X4 drive to return to the main road and continue our journey to the Afar village of Hamed Ela.
Day 5:

Full day to explore Dallol and surroundings

From our base in Hamed Ela we undertake a number of morning and afternoon expeditions to explore the colourful hydrothermal system of Dallol, the vast salt deposits and saline Lake Assale, the traditional way of salt cutting and transport by camel caravans.
Day 6:

Assale salt lake - Afdera

Morning visit of Lake Assale, salt mining and camel loading – and transfer to

Abala / Afdera .
Day 7:

Afdera Salt lake - Semera

Afdera Salt lake. Drive to Semera
Day 8:

Flight back to Addis Abeba or extension

After breakfast, transfer to the airport if you fly back to Addis Ababa.

On request, we can arrange a city tour in Addis Abeba or extension programs, for example to Lalibela or the Simien mountains.
Tour guide
Enku is the main guide on all our Danakil volcano expeditions. After obtaining a Diploma in Travel Organising and completing his BSc in Geology at the University of Addis Ababa, he spend
10 years
traveling through Ethiopia whilst working both as
free-lance travel guide and a contracted mining geologist
for different oil and gold mining companies.
Since 2006
he
specialised
in
geological travel
guidance for the
Danakil depression
and hence has lots of
experience and competence
in organizing
expeditions to Erta Ale and Dallol
. He likes to share his vast knowledge on the geology of the Danakil but will also gladly answer any questions you might have regarding Ethiopia´s fauna and flora, culture, history, food or traditions!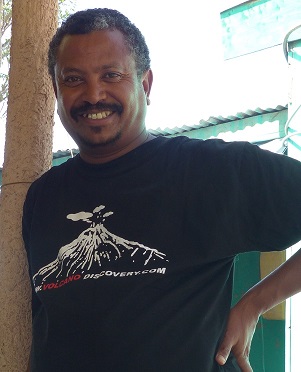 Our excellent Ethiopian main guide and geologist Enku!