9 Tage Danakil Expedition
Tag 1:

Arrival to Semera (Capital city of Afar Region)

Arrival to Semera, pick up at the Airport, transfer to the Hotel. After check in to your Hotel, we drive about 40Km as an excursion short sightseeing Tour and acclimatization of Afar Region Desert , with active Geothermal and volcanic ranges of Alelo Bad hot springs pools and hydrothermal deposits south of Manda Harraro. Overnight at Semera
Tag 2:

Semera – Erta Ale (300 km)

After breakfast at the Hotel, we meet with Enku (your organizer and Guide) at your Hotel about 07:00 Am and proceed to Erta Ale Volcanic Field through the Old Danakil sea . Today you have a chance to see a glance of the fresh lava flow and tectonically affected mountain ranges. Both recent basalts of spreading Axes, recent sediments and Highland rock sequences dominate the road Geology of the area where you are driving through. Paper work Processing with Erta Ale area chief and administrators for further continue of Erta Ale active volcano and get a permission for the visit. More to see the fresh lava flows. Overnight at the Base camp of Erta Ale
Tag 3:

Ascent to Erta Ale's summit

Early morning ascend to Erta Ale´s summit (ca. 1,5-2 h, 10 km, 500 m height), breakfast on the rim and morning group tour around Erta Ale´s caldera. After lunch, free to relax and explore the summit caldera.
Tag 4:

Abstieg vom Vulkan Erta Ale - Zeltlager in der Wüste

Nach einem letzten Sonnenaufgang über dem spektakulären Lavasee brechen wir unser Zeltlager ab und steigen mit den Kamelen zum Ausgangspunkt der Tour hinab, wo auch die Jeeps auf uns warten. Nach dem Mittagessen fahren wir ca. 1-2 Stunden in die Wüste, wo wir bei einem saisonalen Afar-Dorf uns an einfachen Brunnen waschen können. Wer Interesse hat, kann sich das Dorf und seine Einwohner zeigen lassen. Man bekommt einen guten Einblick in die nomadische Kultur der Afar.
Tag 5:

Dallol – Abala (200 km)

Full day visit of the Salt plain ,surrounding the Erta Ale Volcanic Range and trasnsfer to Abala.
Tag 6:

Abala – Logia (300 km)

Drive to Logia visiting on the way Afdera Salt Lake. Overnight at Logia Local Hotel with Basic facilities
Tag 7:

Logia – Woldyia (250 km)

Drive through the whole range of Tertiary / Quaternary volcanoes with lots of Quaternary alluvial Sediments and Paleosoil. Arrive at Woldia, a town surrounded by old Tertiary Basaltic high mountains. Overnight at Local Hotel.
Tag 8:

Woldyia – Lalibela (270 km)

Drive from Woldia to Lalibela through the stunning view of Sekota Mountains. Arrival to Lalibela. Free time. Overnight Hotel at Lalibela Roha Hotel.
Tag 9:

Ankunft in Mekele

Ankunft und Abholung in Mekele (Flüge nach Mekele können auf Anfrage mitgebucht werden). Abendessen und Briefing mit dem Guide.
Tag 10:

Lalibela – Gondar (300 km)

Drive to Gondar through Checheho Tertiary volcanic mountain and Awra Amba community with their unique living style. Overnight at Gondar Goha Hotel.
Tag 11:

Debark – Sanka Ber Camp (50 km by car)

Morning Drive to Semien Mountain National Park, Bauit – Ras (3,000m), 25 Km from Debark town. Walk 1h30m to the camp Sankaber (3250 m), acclimatization.
Tag 12:

Trek Sanka Ber – Geech (18 km, 5 – 6 h)

Trek to Geech camp (3580 m) will take about 5 – 6 hours.

The walk will start by following the escarpment to Gean Bar Falls and Gean Bar River where we have a picnic Lunch. You have the chance to see many birds like Vultures, European Griffin, Lammergeyers and etc. At the end we reach the small village of Geech where the second camping is. The camp site offers great views of the mountains and is characterized by giant Lobelia plants. It is situated at an altitude of 3600m. Night at camping at Geech
Tag 13:

Trek Geech – Intye - Chenke (23 km, 6 – 7 h)

Trek to Chenke, along the whole escarpment to up to 3620m, which is bounded by a semi-circular ring of cliffs. It takes about 6 -7 hours of walking, with some steeps up and down and passing the Intye Mountain (4070m), where we have a lunch. Intye mountain is the highest in the area with an amazing landscape. Camping at Chenke, which is located in a beautiful valley at the foot of Bwahit peak, at the altitude of 3680m.
Tag 14:

Chenke – Bahwit – Chenke (14 km, 3-4 h). Return to – Gondar

Today we climb Mount Bahwit (4,430m). It takes about 3-4 Hours. After we admire the beauty of the surroundings, we star the descend. When we return to the camp, we take the things and walk back to the main road to meet with our vehicle and transfer to Gondar. Overnight at Gondar.
Tag 15:

Gondar - Bahir Dar

Half day visit of Gondar. After Lunch drive to Bahir Dar where Lake Tana is Located, the Origin of Blue Nile River. Overnight at Hotel, Bahir Dar (The Capital City of Amhara Region).
Tag 16:

Blue Nile falls and fly back home

Early morning drive to the Blue Nile falls (30 Km one way) and in the afternoon transfer to the airport for your flight back Addis and home.
Anreise:
The expedition starts in Semera and ends in Bahir Dar. Please note it while the tickets reservations.
Reiseleitung
Enku Mulugeta
ist unser Hauptreiseleiter bei allen Expeditionen in die
Danakilsenke
. Nach einem Diplom in Touristik und des Abschlusses seines BSc in Geologie an der Universität von Addis Abeba arbeitete er 10 Jahre als
Geologe /Prospektor
für seltene Erze für verschiedene Öl- und Goldminenunternehmen und daneben auch als freiberuflicher Reiseführer in ganz Äthiopien.
Seit 2006 spezialisiert er sich auf geologische und vulkanologische Reisen in der Danakilwüste. Er hat viel Erfahrung und Kompetenz bei der Organisation von Expeditionen zum Erta Ale und Dallol Vulkan gesammelt und teilt sein umfangreiches Wissen über die Geologie des Danakil gerne. Enku wird Ihnen alle Fragen beantworten, die Sie bezüglich Äthiopiens Fauna und Flora, Kultur, Geschichte, Essen oder Traditionen haben könnten!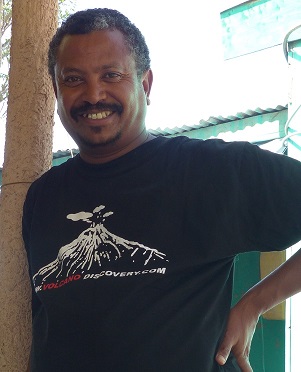 Unser exzellenter Reiseleiter & Geologe bei den Reisen in die Danakil Wüste und zu den Vulkanen Erta Ale & Dallol.