8 days itinerary (2 nights on Nyiragongo)
Note:
If you are not interested in the unique opportunity to visiting the mountain gorillas, you can shorten the itinerary by 3 days and plan arriving in Goma on Day 4. A part of the tour cost can then be refunded to you.
Day 1:

Arrival in Kigali (Rwanda)

Pick up from Kigali airport and transfer to a good hotel. Depending on your arrival time you can visit the city center. In the evening the group meets for a welcome dinner at the hotel.
Day 2:

From Kigali (Rwanda) to Goma (DR Congo)

Transfer in private 4WD minibus through the beautiful landscape of western Rwanda to the Congolese border. In the afternoon we cross into the DR Congo and arrive at our accommodation in Goma which is at the shore of Lake Kivu.
Day 3:

Transfer to Kibumba camp

Meet the Virunga Nat. Park officer and transfer to Kibumba camp.
Day 4:

Mountain gorilla tracking in Virunga National Park

Morning transfer to the base of Mikeno volcano from where the trek through rain-forest to track down the mountain gorillas starts. In a small group, you will have one hour with a specific gorilla family before returning to the camp.
Day 5:

Climb to the summit of Nyiragongo volcano

Hike to the summit caldera of Nyiragongo volcano (5-6 hours, about 7 km distance and ca 1400 m elevation) along a well established trail through rainforest and across the 2002 lava flows. Virunga National Park daily organises the volcano´s climb in one group, starting around 10 am in the morning and arriving at the campsite just below the crater rim in the afternoon. Evening and nighttime are free for observation of the volcano´s active lava lake.
Day 6:

Full day at Nyiragongo's summit

From dawn to dusk, this entire first day on Nyiragongo´s summit is dedicated to discover the volcanic activity of the lava lake and explore the structure and volcanic phenomena of the surrounding caldera.
Day 7:

Descend from Nyiragongo - Goma Volcano Observatory

Morning descend from Nyiragongo´s summit back to the Kibati patrol post and transfer back to the hotel in Goma for a welcome shower and lunch. Afternoon visit of the Goma Volcano Observatory and optional walk around the town.
Day 8:

Return to Kigali, departure (or own extension)

Morning transfer back to Kigali, goodbye lunch and drop-off at the airport for your afternoon/evening return flight(s) or start of your travel extension in Rwanda.
Tour guide
Sam will be your main tour guide and driver throughout your travels in Rwanda and the DR Congo. He was born from Rwandese parents when they were in a refugee camp in Uganda and returned with them as a young man to settle in Kigali. Throughout the past few decades he traveled extensively throughout Rwanda, Uganda, Eastern Congo and Burundi and guided countless tours in this region. Being fluent in 5 languages (English, French and 3 local languages) and having a great interest in local history, culture, fauna and flora he is an excellent tour guide with lots of experience traveling to the DR Congo and hiking up Nyiragongo volcano. His good spirits, humour, practical mind and willingness to help will surely contribute to good memories of an unforgettable expedition!
As Sam is not a geologist, there will be a volcanologist from Goma Volcano Observatory accomopanying the group throughout the time spend on Nyiragongo to explain any volcanic phenomena or deposits and provide more insight into the history and activity of Nyiragongo and the wider volcanic region with Lake Kivu. If the group size is larger than 6 participants, there will also be a VolcanoDiscovery co-guide and volcanologist joining in the expedition.
Additionally, there is a park ranger assuring extra safety during each activity within Virunga National Park (Nyiragongo hike, summit camping and descent & mountain gorilla tracking).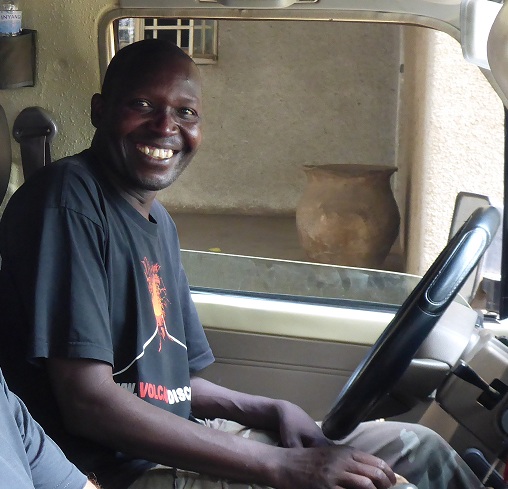 Samuel Gasana, your main guide and driver during the Nyiragongo lava lake and mountain gorillas expedition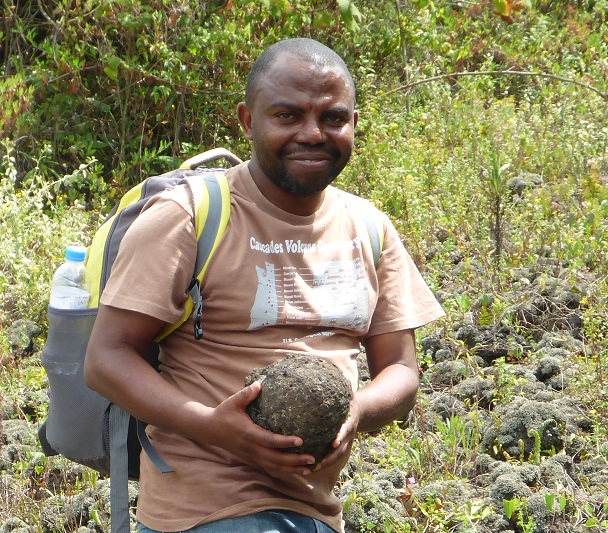 Marcellin Kasereka, volcanologist at the Goma Volcano Observatory, showing a large lava bomb along the way to the volcano´s summit